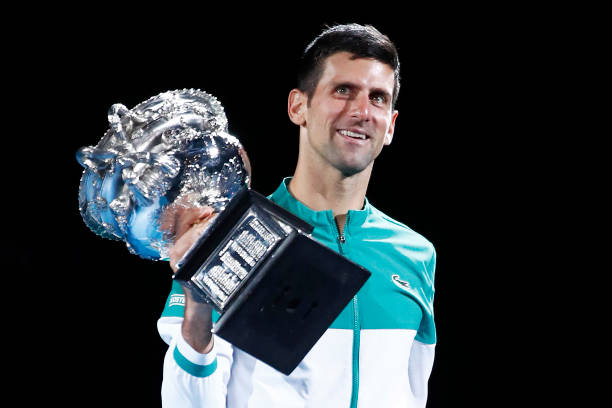 The pressure and weight of expectation was on his shoulders, but world number one Novak Djokovic relished the challenge as his big-match experience showed. He made quick work of an in-form Daniil Medvedev to reign supreme again in Melbourne, lifting a ninth Australian Open title after a 7-5, 6-2, 6-2 victory, ending the Russian's 20-match winning streak with aplomb.
Medvedev's sluggish start costs him dearly
The key to victory for Medvedev was a purposeful start, embrace whatever the fans threw at him while forcing Djokovic into uncomfortable situations – after all, the world number one's resiliency is unrivalled on tour and once he establishes full flow, it's a near-on impossible job to stop him.
After eight minutes, he was down a break at 3-0. So much for that, then.
Djokovic fired a return ace to go up 0-15 and there was suddenly an ominous feeling, though Medvedev responded with successive aces and an error to eventually get on the scoreboard.
After winning a long rally, he earned two break point opportunities of his own and produced some great smash defence to recover under pressure before returning to serve. 3-2 quickly became 33, as he hit a backhand crosscourt winner, ace and forced two forehand errors.
Maybe his poor start was a false alarm? Not quite. Djokovic continued incorporating short shots to keep Medvedev guessing, bringing him towards the net where the Russian is unconvincing.
Despite a 6ft 6in frame, Novak's shot selection brought the best out of him as he was able to showcase his movement during their gruelling rallies.
Perhaps this would be a four-hour, five-set thriller after all. They exchanged service holds, before Djokovic seized the advantage when things got tight with set points increasingly in sight.
Djokovic was 6-5 up and continued manoevuring him one way, then the next with increasing levels of success.
Medvedev blasted a serve, received it back with interest and despite a clever drop shot response, made another error as Djokovic raced forward before returning it with a similarly delicate reply.
Daniil's weakness when approaching the net was key: scuffing a smash into Djokovic's backhand side, rather than down-the-line where more than half the court was open, and could only watch helplessly as the world no. 1 swung home a brilliant winner to present three set points.
He did well to save the first two, but fired a forehand into the net on the third and final opportunity as Djokovic deservedly took set one 7-5. There was more where that came from.
Djokovic's shot defence and ability to make returns when it really mattered cost Medvedev, who had done well to get out of a 3-0 deficit but shouldn't have been in that situation anyway.
The mental fortitude to recover, then having to reset after still losing set one ultimately took its toll in rather drastic circumstances, as play over the next two sets showed. Small margins often make the most difference and the same could be said early in set two, as Djokovic was facing break point on serve after the umpire's let call on an ace halted him from going 40-30 up.
Medvedev was 1-0 up, but Djokovic broke back immediately and won six of the next seven games as set two flew by rather abruptly. Daniil smashed his racquet at the changeover as he began to unravel rather quickly, down 5-2 and suddenly facing two more set points on serve.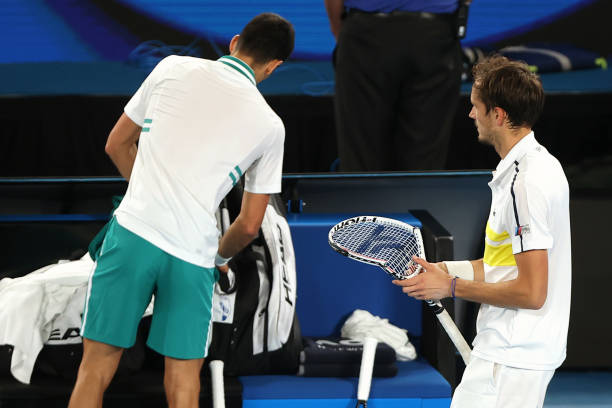 A double fault and two errors helped Djokovic take control, but even with Medvedev imploding at the opposide end, he didn't need a second invitation to race even further ahead. Novak then saved two break points early in set three, as you could sense an eagerness to finish this quickly.
Medvedev's spiral continued as he relinquished another break with more poor serving, Djokovic content squashing his confidence by producing a plethora of returns to shots that would win him points against most players on tour.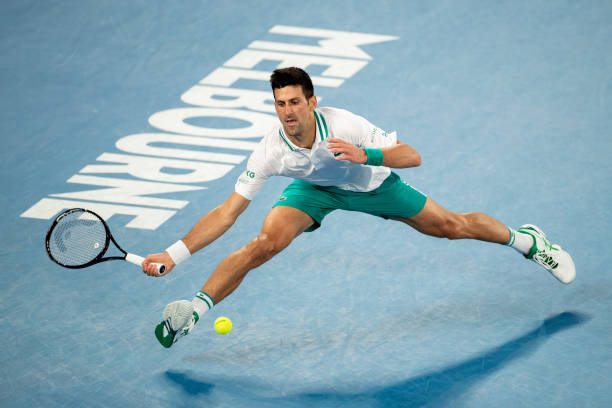 The speed between points was subtle but important, not allowing the Russian an opportunity to settle and instead applied suffocating pressure as the finishing line drew ever closer.
Whether he played extra shots, making him miss or continuing to serve well, Medvedev's rallying call midway through set one proved a false dawn as his unforced error count flew (30 total).
The art of steely defiance
The match's final two games perhaps said it all.
Medvedev finished a 16-shot rally with a forehand winner to go 30-15 up on Djokovic's serve, raising his arms and calling for the crowd who roared him on. After all, they didn't want this match to be over – it'd only been an hour and 48 minutes.
Within seconds, he was bemused again as Djokovic fired a serve out wide to level it (30-30) before forcing successive errors with more remarkable shot defence behind the baseline as Medvedev threw the proverbial kitchen sink at him. He defiantly threw it straight back.
Medvedev served to stay in the match down 5-2 and despite tying it at 30-all again, it was only a matter of time. A wild forehand long offered championship point, which Djokovic seized at the first time of asking at the net – an inch-perfect volley return on the stretch with his back turned.
---
Post-match comments as medvedev tells a warm story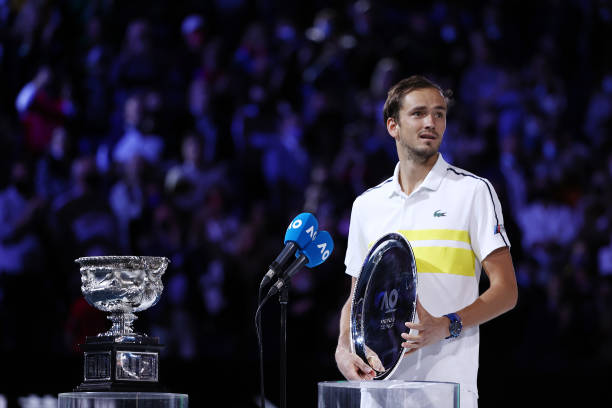 Medvedev admitted it's never easy to speak after a loss, especially one in a Grand Slam final, but had plenty to say – including nice words for the victor:
"It's never easy to speak having lost a Grand Slam final, I'm going to do my best, hopefully better than on the court.

Firstly, congratulations to Novak and your team – nine in Australia, 18 in total is amazing and it's probably not your last one, I have no words to say.

A small story to tell you guys: I first practiced with Novak when I was 500 or 600 in the world in Monaco, he was already no. 1, just won Wimbledon.

I thought okay, he's not going to speak to me, he's a God to me, I was shy and didn't speak, he asked me questions, spoke to me like a friend, it's never changed whether I was 600 or no. 4 in the world, you're a great sport, great person so congratulations.

Big thanks to [coach] Gilles and [wife] Dasha, not the best day today but a good three months after some tough circumstances, thanks for being with me in Australia – hopefully we're going to have a Grand Slam soon.

I want to thank Craig and Tennis Australia for making this happen: I wouldn't be standing here with a finalist trophy if this tournament wasn't in place, so thank you for making it happen.

Last but not least, thank you guys [fans] for inviting us, even if it wasn't easy for some of you as we know, we're still here, you're happy to see tennis and I really wanted to make it longer, more entertaining but today was not the day, thanks a lot for coming and supporting, your energy is amazing.
---
Djokovic thanks his support team – especially physio and more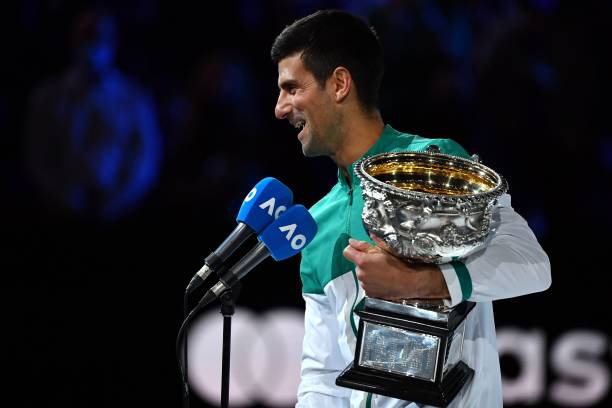 Djokovic had his say, from praising Daniil's win streak and support team to discussing how difficult the past few weeks have been and reflecting on a successful tournament:
"I would like to return nice words to Daniil, first of all, a class act, you show again why… we used to spend more time together, practice more in Monaco, you're not calling me anymore the last few years but it's nice to see you thinking good things about me. Thanks!

I really like Daniil as a person off-the-court, always very friendly, outgoing but on the court, definitely one of the toughest I've ever faced in my life, it's only a matter of time before you hold one – if you don't mind waiting a few more years.

I would like everyone to just appreciate what he's done, 20-match winning streak in the last couple of months, amazing.

Next, to thank my team. Everyone who is also back at home. They've been with me all the way through this ride, a rollercoaster especially these last couple of weeks, special thanks to Uli [physio], you dedicated so much time to make sure I was ready to play, I'm eternally grateful, thank you very much.

There are a lot of mixed feelings about tennis players coming to Australia, but when we draw a line… it was a successful tournament, want to thank Craig Tiley, it wasn't easy, challenging on many different levels but they made a great effort – they should be proud of themselves for what they put together, allowed us to come here, thanks for making this all possible.

Last but not least, I want to thank this court, Rod Laver Arena, I love you each year more and more.. the love affair keeps going, thank you very much."
ANALYSIS as djokovic teaches medvedev a valuable lesson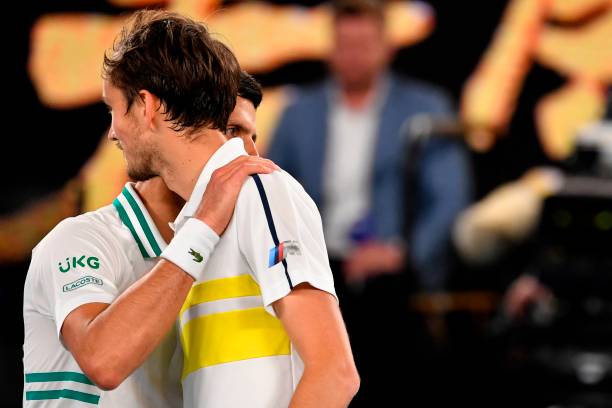 Whether it was subtle mind games or a harmlessly honest comment overblown in the media, Medvedev's insistence the pressure was firmly on Djokovic ahead of this final didn't age well.
"It was risky at the time, I think over the years I deserved a position to say something confident about myself, my game and record in Finals here but nonetheless, didn't mean any disrespect to Daniil or the next generation.

They're slowly but surely going to take over but it's not happened yet, people are talking like it has already. Me, Rafa, Roger will give them a hard time."


– Djokovic during his Eurosport interview discussing his comment saying he's unwilling to 'hand it [Slam wins, titles] over' to the younger players. 
Not because Novak extended his record to a ninth Open era title – three consecutive trophies – but because he produced such an impressive display that left critics quick to blame Medvedev's capitulation, rather than the Serb's brilliance. An oblique muscle tear? He played through it.
Like he himself said in the post-match presser, it's not the first nor the last time he's been scrutinised unfairly – such is life as a world number one when most who consume the sport would much rather prefer either Roger Federer or Rafael Nadal reigning on top instead.
Being able to embrace the villain role and remain mentally strong when things are at their toughest has helped him overcome countless hurdles. Medvedev needs to learn to do the same.
If not for his disqualification at Flushing Meadows last year, you'd expect Novak would've won that tournament too, rather than first-time champion Dominic Thiem.
Medvedev feels closer to winning a Slam than both Tsitsipas and Zverev: the latter crumbled from two sets up in last September's US Open final, while the former has never reached one and was stifled in these semi-finals by the Russian.
Back in November, I wrote a piece on Medvedev's historic ATP Finals win and how it sets up a promising 2021 campaign – not just for him, but the rest of those who feel on the outside looking in, as far as the Big Three is concerned.
Federer (knee surgery) returns in Qatar next month, Nadal squandered a two-set lead to lose against Tsitsipas but it still feels like none of them can yet solidify their results in a best-of-five format when it matters most. What I said to finish the piece three months ago still rings true:
"There's long been a rush to crown the next generation, anticipating a wave of bullish challengers truly ready to knock the Djokovic-Nadal-Federer dominance for good. There have been many pretenders to the throne, but we've entered the most promising period. Time will tell, though."
One thing is for sure: Djokovic isn't satisfied yet. Considering the way he crashed out from such a promising position, neither is Nadal. Federer? He'll be itching to make up for lost time.
Picture source: Getty