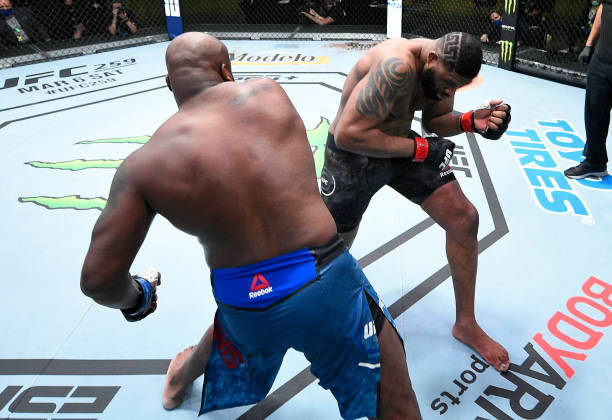 #4 ranked heavyweight Derrick Lewis relished the underdog tag and showcased timely takedown defence en route to blasting Curtis Blaydes (#2) into unconsciousness, after #7 ranked bantamweight Yana Kunitskaya's big decision win over Ketlen Vieira (#6) in the co-main event.
Lewis makes more history with vicious uppercut win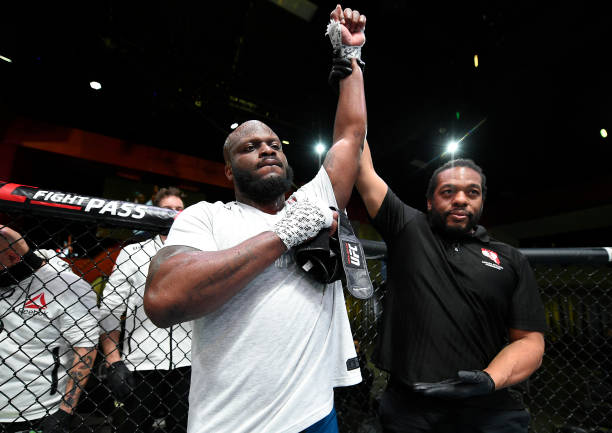 R2, 1:09: Derrick Lewis (#4) defeats Curtis Blaydes (#2) via KO (punch)
It feels fitting that Derrick Lewis is now tied for the most knockouts across all divisions in UFC history (12) alongside Vitor Belfort, while joining Frank Mir with second-most HW victories (16).
Although he and Curtis Blaydes admitted a title fight wasn't in their immediate future this week, the Black Beast blasted his way to a Performance of the Night bonus without too much trouble.
Blaydes closed the distance early on and threatened a takedown but as he shot in, Lewis landed a big right-hand punch that quickly forced the 30-year-old to reconsider his execution.
They exchanged shots in the pocket but Lewis was on wobbly legs as Blaydes tried cutting the cage off, though his patient approach was being mirrored – even if it didn't look like it.
He landed a few heavy leg kicks before an inadvertent eyepoke saw the action halted just seconds before the end of R1, giving Lewis a moment to catch his bearings.
At the start of R2, Blaydes charged in for another takedown and again Lewis was ready for it, absorbing the contact well against the fence before shrugging him off.
The lure of heavyweight fighting is such that one punch can often prove a violent ending and that was the case here, without warning.
Lewis timing a beautiful uppercut perfectly, leaving Blaydes in a crumbled heap on the mat. He landed a few hammer fists for good measure, before referee Herb Dean stopped the fight.
"That was the only punch I was waiting for all night, the uppercut or knee was going to land."

On what's next:

"I heard Jones is coming up, doesn't make any sense for me to fight for the belt, we'll see. I guess [if I had to choose] Stipe, I like them wrestlers."
With no title shot in sight for now, it'll be interesting to see who is next for Lewis, though he again proved you can't afford to overlook him and the power in his hands – no matter his demeanour.
---
Kunitskaya seizes her moment in co-main event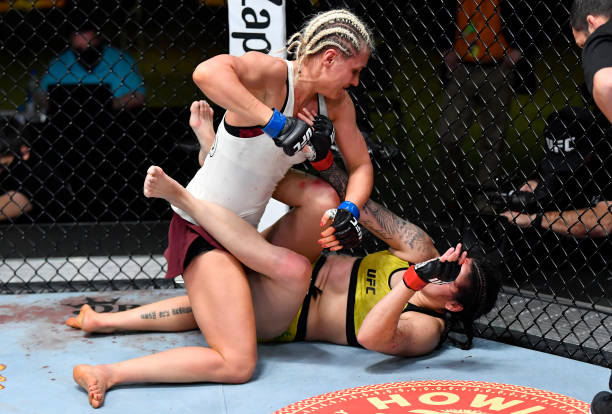 29-28, 29-28, 29-28: Yana Kunitskaya (#7) defeats Ketlen Vieira (#6) via unanimous decision
In a duel between two top-10 bantamweights, Yana Kunitskaya also relished her underdog tag to prevail after a gruelling 15-minute battle against Brazil's Ketlen Vieira, who completed three takedowns but simply didn't do enough with her seven minutes and 25 seconds of control time.
Vieira, ranked number six in the division ahead of this bout, missed weight which made this a catchweight clash at 138lbs but remained an early favourite as she pushed the pace early on.
Suffocating Kunitskaya against the cage, the Russian did well to get up before long and landed knees to the body in the clinch after reversing the position, much to her corner's audible delight.
Vieira charged for another takedown and eventually got it, establishing wrist control as she tried for an advantageous mount position with admittedly limited success considering her efforts.
Between rounds, Kunitskaya's corner stressed the importance of maintaining distance and not being taken down anymore, which she needed despite landing multiple strikes on the ground.
R2 was much better, as she utilised nasty elbows to finish even with Vieira posing a threat from bottom position. A graphic flashed across the screen showing both had more than four minutes' control time, though it was clearly 1-1 through ten minutes and the fight was still up for grabs.
Kunitskaya loaded up on leg kicks early, Vieira responded with a timely takedown as she looked to continue dominating on the ground. However, it was the Russian's furious finish which proved pivotal in the judges' eyes, as she tried for an armbar submission before landing more big blows.
There was a nasty cut across Vieira's face by the final horn, with the striking differential considerably stark: 178 to 16 after 15 minutes, even with the Brazilian's additional control time.
That proved decisive as Kunitskaya had done enough to prevail in a gritty battle that could've gone either way, but for her striking and awareness on the ground.
---
Rest of the main card
Minner stifles rosa with suffocating ground game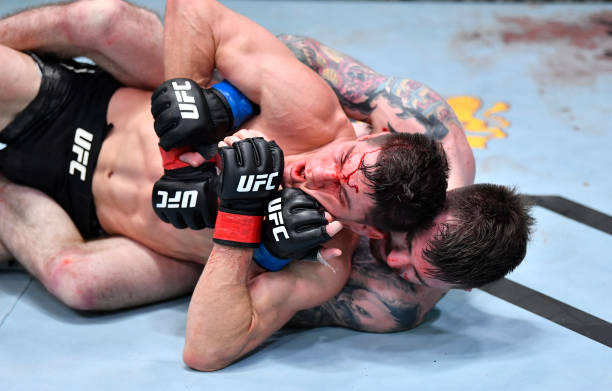 30-26, 30-27, 29-28: Darrick Minner defeats Charles Rosa via unanimous decision
After losing on the Contender Series in 2019, being submitted early last year in his UFC debut and having a June fight fall through, featherweight Darrick Minner is now on a two-fight win streak after a surprisingly dominant display as he eased to a unanimous decision win vs. Charles Rosa.
He raced to a 52-second guillotine choke win over T.J. Laramie on the Covington-Woodley prelims but this was a significantly different test against much higher competition.
Rosa, whose own seven-year UFC career has been mixed, was firmly second best as he absorbed 83 strikes (78% striking accuracy), three submission attempts and had no answers against another of James Krause's students.
Minner had 12 minutes of ground control time – from 15 minutes – and stressed his eagerness to be rewarded with a Performance of the Night bonus during his post-fight interview. While he didn't get one, this was nonetheless a commendable display and one he should look to build on.
---
Daukaus wastes no time in staking his heavyweight claim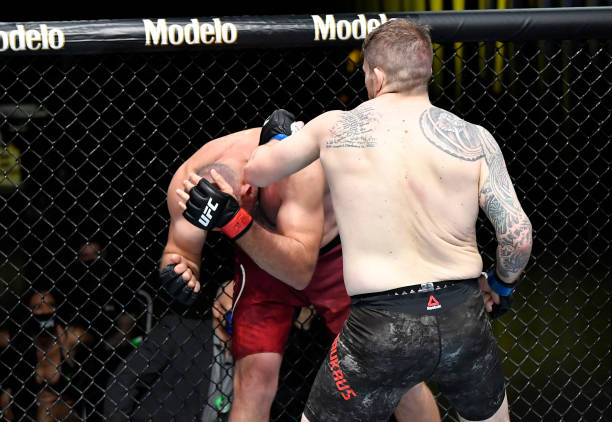 R1, 1:55 – Chris Daukaus beats #10 ranked heavyweight Alexei Oleinik with TKO (punches)
He might look deceiving upon first glance, but Philadelphia police officer Chris Daukaus wasted no time during his step up in competition – passing the test with a furious flourish to showcase his blistering boxing skills, landing a series of punches early and leaving Oleinik (#10) helpless.
During the pre-fight media day, he revealed his desire to become a full-time fighter and will find himself in the top 15 when the rankings update next week.
"Whoever is in-front of me, everyone is going to get it." 
This latest victory means he's tied for the second-longest active knockout streak (3), one behind upcoming title challenger Francis Ngannou.
---
Hawes survives Imavov's late surge in gritty battle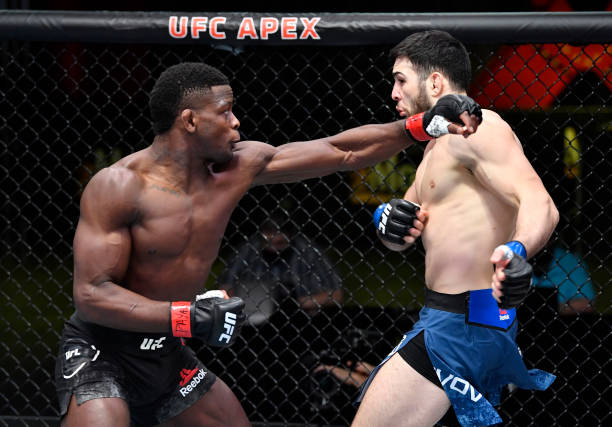 28-28, 29-28, 29-28: Phil Hawes defeats Nassourdine Imavov via majority decision
After an 18-second KO of Jacob Malkoun at UFC 254, promising middleweight Phil Hawes faced a much stiffer test of his credentials against Nassourdine Imavov.
Both entered this matchup with 9-2 records after debut wins but it was the 32-year-old's durability that proved decisive as he was brought into deep waters with Imavov's late R3 flurry.
Hawes did well to counterstrike early, engage in the clinch and eventually secure a takedown despite Imavov's best efforts.
Wrestling was clearly his modus operandi as he pressed the Russian-born youngster into the fence, though a reversal was next as Imavov landed two hand left hands to stumble Hawes.
Hawes sensed danger and again went for the level change to finish R2 strong, though the final five minutes featured a frantic ending. Imavov landed a nice uppercut, an elbow and huge knee to stun Hawes after he tried but couldn't sustain a return to his wrestling.
Hawes was increasingly in danger but while Imavov landed more combinations, he survived the onslaught and kept moving forward, almost into a clinch against the cage. One judge gave Imavov a 10-8 round to draw, though the other two felt Hawes did enough beforehand to win.
Aspinall thrives where others have failed, submits Arlovski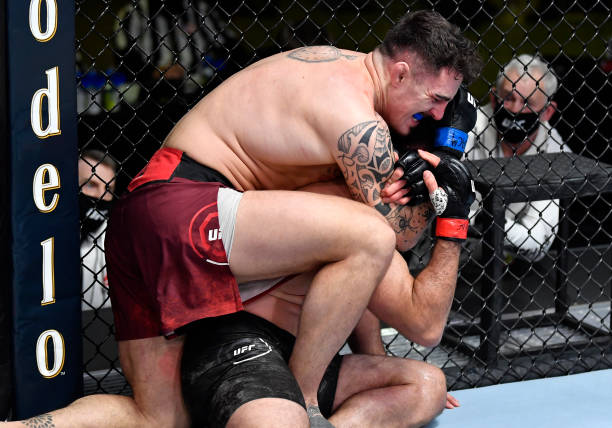 R2, 1:09 – Tom Aspinall defeats Andrei Arlovski via submission (rear-naked choke)
English heavyweight prospect Tom Aspinall (27) landed 64% of 64 strikes thrown, picked his moments to go forward and seized the initiative in a matchup between youth and experience.
Arlovski wasn't given a chance to assert himself like he did against Tanner Boser in November or Philipe Lins last May.
It felt like R1 was going at 1.5x speed as Aspinall established himself aggressively early on and immediately earned the legend's respect, which rather set the tone for an impressive display – even if he didn't maintain his first-round finishing streak after three UFC appearances.
Post-fight, he revealed a willingness to fight either Daukaus or Sergey Spivak next, as the night's two winners elsewhere in what promises to be an increasingly active heavyweight division.
---
Prelim results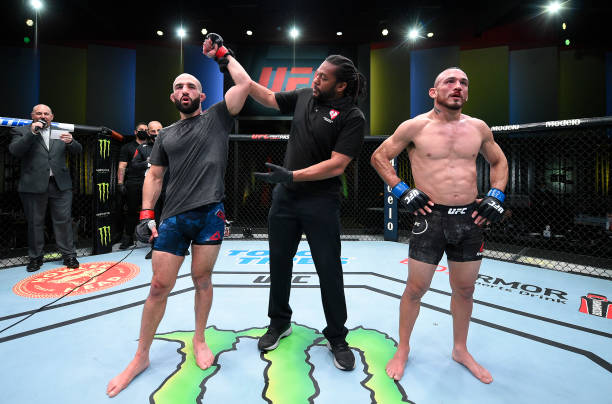 Although there were more late cancellations, this was still an interesting preliminary card with five stoppages from the six fights contested. To finish in the featured prelim, Jared Gordon earned a UD win (30-27 x 2, 29-28) against Danny Chavez during their 150lb catchweight bout.
The 32-year-old is on a two-fight win streak for the first time since October 2017, having dominated Chris Fishgold en route to another decision victory during the Kattar-Ige prelims.
After being blasted by Sean O'Malley inside two minutes at UFC 250 last June, it wasn't a good Octagon return for bantamweight Eddie Wineland as John Castaneda (18-5) bounced back from his UD loss against Nathaniel Wood with a R1 finish on his second UFC appearance.
Featherweight Julian Erosa needed just 56 seconds to reign supreme against Nate Landwehr, connecting with a flying knee in his first TKO finish since beating Jamall Emmers on Dana White's Contender Series three years ago.
After a Performance of the Night showing on his Octagon return last June, the 31-year-old is now riding a three-fight win streak and should hope for more activity going forward.
Scottish 23-year-old debutant Casey O'Neill kept her unbeaten record intact with a R2 TKO win (ground and pound) vs. Shana Dobson, improving to 6-0 in the women's flyweight division.
In a catchweight bout at 140.5lbs, Aiemann Zahabi returned to winning ways with a R1 overhand right punch knocking out Drako Rodriguez.
Younger brother of highly-rated head coach Firas, the 33-year-old bantamweight bounced back from successive defeats to Ricardo Ramos (November 2017) and Vince Morales (May 2019).
After earning a majority decision win to end Carlos Felipe's previously undefeated streak in mid-July, heavyweight prospect Sergey Spivak had two scheduled bouts fall through.
He kicked off this card with an impressive second-round TKO (punches) win over promotional debutant Jared Vanderaa, who emerged from the Contender Series last November.
Picture source: Getty