After ending his 25-month layoff with a difficult yet successful decision victory against previously unbeaten Puerto Rican Jovanie Santiago on Saturday night, Adrien Broner (34-4-1, 1 NC) passionately revealed post-fight his eagerness for an in-ring return as soon as possible – admitting that the presence of a training camp helps keep him focused and out of trouble.

it wasn't easy, but Broner returns with a win
After original opponent Pedro Campa contracted COVID-19 last month, late replacement Santiago was both unknown and unproven at a high level but significantly more active than a sluggish-starting Broner, who was outworked over the full 12 rounds in their main event clash.
Crucially, this proved a competitive matchup settled by efficiency rather than activity – Broner rallied in the later rounds and connected with quality punches to help him on all three judges' scorecards despite Showtime commentators suggesting otherwise (116-111, 115-112, 117-110).
Santiago's consistent aggression and body punches proved successful throughout, though referee Arthur Mercante Jr wouldn't have expected to be so busy warning them on multiple occasions – while deducting a point as Jovanie hit Broner after the bell to end round four.
After their 12-round welterweight fight, many suggested Santiago was right to feel hard done by on the scorecards – a view Broner didn't share despite praising his opponent for being physically strong and a good body puncher. During his post-fight presser, he was quoted as saying:
"Until I go home and really look at my performance, you know, then I can say, but I felt good and lost probably three rounds.

Other than that, I know I beat him easy off the jab and was countering him pretty good, doing my thing, having fun. Had to use my jab and get him to open up, and that's when I was able to counterpunch.

Two mo' [fights this year], three if I can. If they don't get me in the ring, I fuck around and be fightin' some mo' cases, bro. I don't know, trouble just find me somehow. The only way I stay out of trouble is if I'm training."
This was Broner's first win since a split-decision result against Adrian Granados in February 2017 and he's understandably eager to return sooner rather than later.
"There is a lot of work out there at 140. Right now we're going to the drawing board with Al Haymon to see what's best for me, but I'm definitely going back to the gym and looking forward to getting one of those titles this year at 140."
---
What could await broner at 140, with a stern warning
Santiago was listed at #15 in the WBA rankings at super lightweight (140lbs), which is currently held by Scotland's Josh Taylor (17-0, 13 KOs).
Jose Ramirez (26-0, 17 KOs) is the existing WBC and WBO title-holder, while 25-year-old American Mario Barrios – also 26-0 with 17 KOs – is the regular WBA champion below Taylor.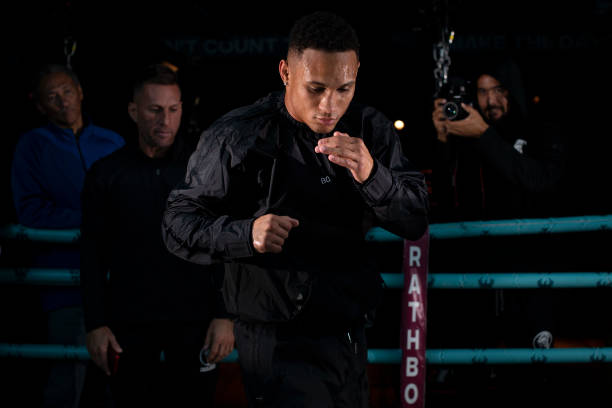 Regis Prograis (25-1, 21 KOs) lost to Taylor via majority decision in October 2019, but features highly across all sanctioning bodies (#1 IBO, #2 WBC, #4 WBA, #5 WBO) and has already warned he would damage the four-weight world champion, should they fight in future.
When asked about the validity of Broner's title prospects going forward, he didn't hold back:
"He might have more luck with somebody like Ramirez, but I still don't think he'll beat Ramirez because of his activity.

Definitely can't beat Josh Taylor, definitely can't beat me and that's really the three top dogs at 140lbs right now. I don't think he'll beat any one of us.

I think he's shot, don't think he has it anymore. It will be very, very apparent once he fights a high level fighter like myself, Taylor or a Ramirez, once he does fight somebody like that, then I think it'll be over for him."
Picture source: BoxingScene