Recent reports claim the Houston Rockets' experienced power forward PJ Tucker continues to attract interest from teams across the league – including the Denver Nuggets and Utah Jazz out West, as they prepare to field offers from those title-contenders ahead of next month's deadline.

PJ Tucker's Houston tenure seemingly numbered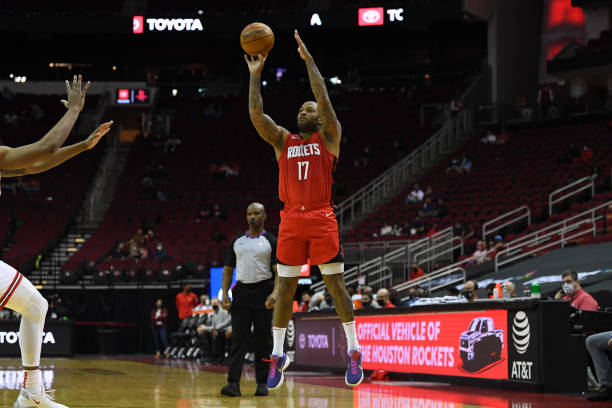 Multiple reports in recent months have linked Rockets PF PJ Tucker with the exit door, and it appears the 35-year-old will depart at some stage between now and the March 25 deadline.
ESPN, The Athletic and Bleacher Report are among the sources who've claimed interest in his services is ever-present – he'll be a free agent this summer and a struggling Houston side would rather trade him now for draft picks rather than risk losing him for nothing in a few months' time.
Tucker was said to be "irate" over his contract situation last season, having felt insulted by the front office's decision to delay extension discussions while also waiting until after the February 6 trade deadline before guaranteeing his 2020-21 salary.
It's just another problem first-year head coach Stephen Silas has ultimately been forced to deal with, from crisis management – from COVID-19 protocols – to disgruntled stars and more besides.
ESPN's reputable basketball insider Brian Windhorst said Houston are looking to get a first-round draft pick, or three second-rounders, to agree a Tucker deal.
During a podcast episode last month, he mentioned the Philadelphia 76ers, Denver Nuggets and the team who drafted him – Toronto Raptors as destinations not barred from trading their first-round pick and may look at adding Tucker to bolster them defensively come playoff time.
ALSO READ: Sixers among teams eyeing Kyle Lowry trade before next month's deadline
Last year's finalists Miami Heat and their Eastern Conference playoff rival Boston Celtics are among those who would "make sense" as suitors for the ten-year veteran, whose impact goes beyond the stats – which are admittedly far from sexy as he continues to age.
He's averaging 4.6 rebounds, 4.4 points, 1.4 assists and a career-low 35.9% FG in 28 regular season games to date, though it's fair to say Houston are undergoing a transitional period after the departures of Russell Westbrook and franchise guard James Harden in recent months.
His defensive versatility to guard multiple positions at a 6'5, 245lb-frame makes him a useful fit on most contending teams, whether he's starting or a reliable glue guy off the bench.
Although his offensive numbers are poor this term, he's a 35.9% shooter from three-point range in his career and could provide the missing link many teams want down the stretch in what's shaping into another intriguing race to the postseason positions.
Since beating the Memphis Grizzlies on February 5, an undermanned Houston team have now lost nine straight games and currently hold a grim 11-19 record. They play Toronto overnight.
Picture source: Getty Images