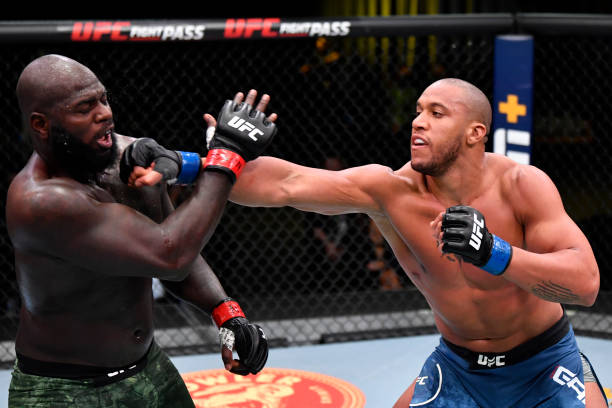 French heavyweight contender Ciryl Gane (#7) extended his unbeaten streak to 8-0 with a dominant decision win over #4 ranked Jairzinho Rozenstruik, earning some welcome Octagon time in his first main event matchup, before revealing he's willing to be the backup for UFC 260's PPV event – Francis Ngannou rematches defending champion Stipe Miocic this time next month.
shrewd striker Gane seizes his biggest opportunity yet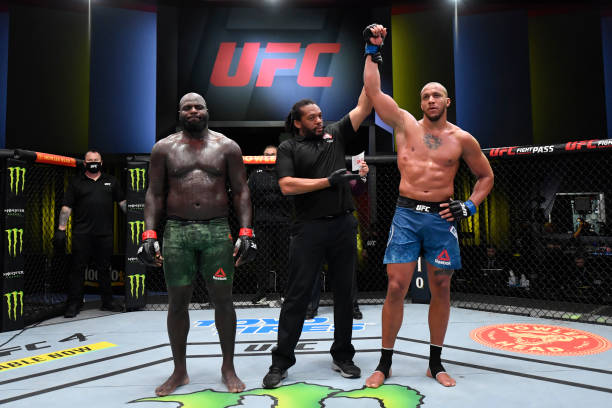 50-45, 50-45, 50-45: Ciryl Gane (#7) beats Jairzinho Rozenstruik (#7) via UD
He didn't get the finish, was only 2-of-14 on his takedown attempts but Gane impressed in a disciplined display across all areas that many critics weren't expecting to go the distance.
After all, he was against a Surinamese knockout artist. Rozenstruik (11-2) had finished all five of his UFC wins and only ever gone to a decision once in his career – back in Rizin three years ago.
After being blasted to bits in just 20 seconds against upcoming title challenger Ngannou last May, he returned to winning ways with a second-round TKO over former champion Junior dos Santos, but it's fair to say the Brazilian's demise has been rough and ruthlessly rapid recently.
Gane earned this opportunity with a TKO victory over him just four months later at UFC 256 and quickly went to work on Rozenstruik with a sharp, probing jab that continued to land all night.
Both were patient and understandably so, though Rozenstruik's inactivity and posturing was not too dissimilar to Derrick Lewis last weekend, possibly lulling Gane into a false sense of security.
He caught one of the Frenchman's kicks and returned fire with a furious combination, almost as if to warn him against charging in over aggressively. But those flurries – while dangerous – were not enough to help him win rounds, as Gane earned a double-leg takedown to finish R1 on top.
His clinch work proved effective in R2, while feinting well, throwing leg kicks and threatening with a rear-naked choke as you could see he pushed Rozenstruik into uncomfortable waters, making him deal with different offensive weapons, rather than just a straight stand-up battle.
By the start of R3, Jairzinho looked visibly perplexed as he tried to find openings but continued coming up short as Gane kept his distance but jabbed effectively. As a statistic flashed up on screen showing he had connected with 34 strikes at distance – just nine for Bigi Boy by contrast.
The counter-punching, waiting for mistakes tactic was proving problematic for Rozenstruik as Gane had a significant speed advantage and made a conscious effort to only engage in close quarters when he felt comfortable.
A stationary target as the fight wore on, his protests and irritable frustration caused by Gane's outstretched fingers and a few dubious low blows typified a night to forget for the 32-year-old.
Ringside commentator Michael Bisping was disappointed with Gane's lack of urgency to go for a finish as time wore on, but you can't afford to take unnecessary risks at heavyweight.
Ciryl continued pushing the pace fighting at range, looked relatively fresh afterwards with no visible damage and admitted his surprise at Rozenstruik's inactivity in his post-fight interview.
"I'm really happy for the win, he's tough and dangerous, I just wanted to manage [the fight] and did – expected a little bit more from him, more attack and pressure but I [forced it], was a little surprised but I'm happy. 
On what's next for him at heavyweight and when he wants to fight again:
"I want to be in the [title] discussion now, I'm 8-0, just three years' experience but I feel confident, if you need a man, I'm here. As [whenever] you like. If someone is injured for the belt, I'm here." 
---
Ankalaev's counter-attack response sees him prevail in co-main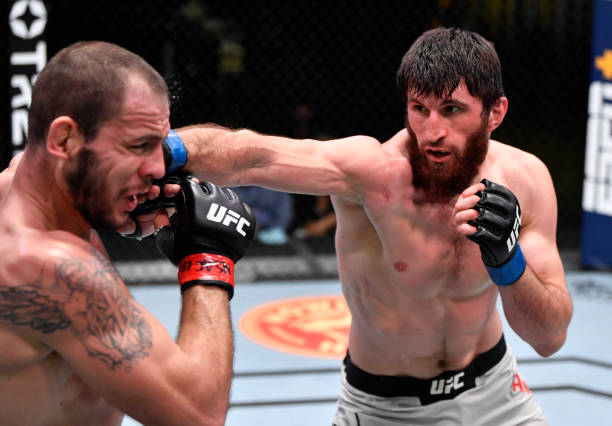 29-28, 29-28, 29-28: Magomed Ankalaev (#11 light-HW) defeats Nikita Krylov (#8) via UD
Ankalaev endured a sluggish start in R1 but his counter-attacking offense proved Krylov's downfall, as the Ukrainian is now 2-3 in his second UFC run.
Having mixed kicks and punches before wrestling Ankalaev to the ground against the cage, the #8 ranked light-heavyweight was much more active than his agemate in the opening stanza.
Despite initially more of the same to start the next round, Ankalaev landed big shots after catching a body kick, then completed a takedown as Krylov clearly hadn't learned his lesson with leg attacks. He was outstruck 32-17 in round two, making the third a deciding round.
Both came out swinging to start with, though Ankalaev connected with a big right hand and again dragged Krylov down – completing two further takedowns – to continue what was an exhausting strategy that worked wonders, despite Krylov's best efforts to recover back to his feet.
Ankalaev (15-1, 6-1 UFC) will have a shiny new top-10 light-heavyweight ranking next to his name on Monday, having adapted well under pressure and showing new crinkles to his game against higher level opposition, after ending the Ion Cutelaba saga in style four months ago.
---
Rest of the main card
Fence grab costs Bueno Silva dearly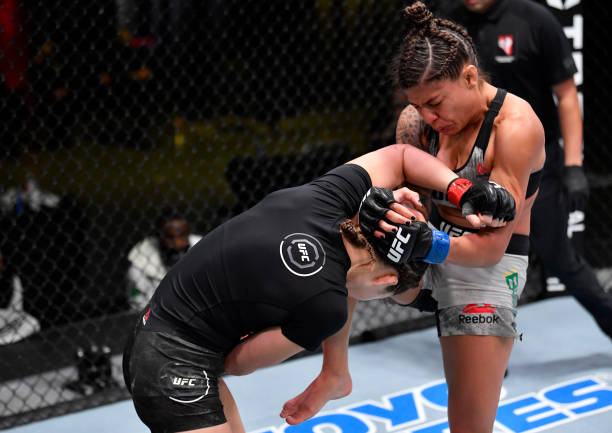 29-28, 28-28, 28-28: Montana de La Rosa and Mayra Bueno Silva fight to majority draw
In the women's flyweight division, Bueno Silva was made to regret her R1 fence grab stopping de La Rosa's takedown, which saw the action pause and an immediate point deduction issued.
After an early takedown attempt was broken free relatively quickly, De La Rosa charged for another one near the fence and Bueno Silva could have no complaints as referee Jerin Valel was firm but fair with his punishment.
Although the Brazilian legally stuffed six of the next seven takedowns, the previous one mattered most and simply came back to haunt her on the judges' scorecards after a bruising 15 minutes.
Silva started R2 furiously with a head kick, punch combinations and she clearly had the power advantage over the American – who fought through pain, as her eye had swollen up fairly profusely, landing another takedown to finish a losing round strong.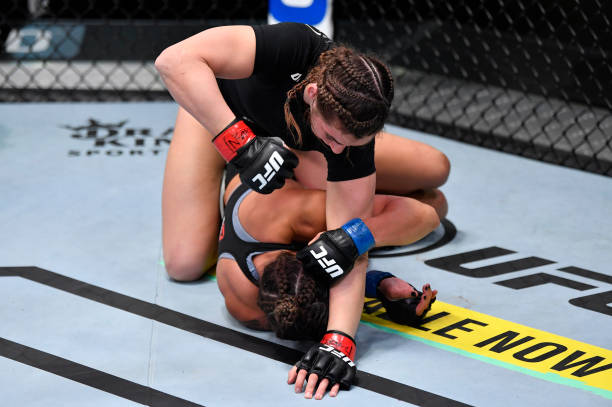 When De La Rosa worked for a takedown in R3, Silva defended any way she could: a choke attempt, punches, multiple nasty knees which saw blood gush from her nose and bail on it.
Although she did eventually secure a third takedown of the fight (12 attempted), it was in the final half-minute and proved futile as she didn't have enough time to do much with it anyway.
---
Munhoz wins Fight of the Night rematch against gutsy Rivera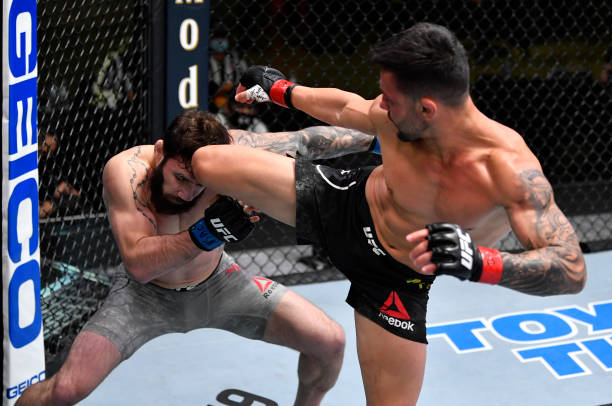 30-27, 30-27, 29-28: Pedro Munhoz (#8 bantamweight) beats Jimmie Rivera (#9) via UD
Six years after their first battle, Munhoz exacted revenge in style over Rivera – who was forced to survive and acquitted himself valiantly with increasing pain, a duel fully deserving Fight of the Night honours. Munhoz began with a furious flying high kick in R1, which had an electric pace.
They traded calf kicks but Rivera limped as he trudged back to the corner between rounds, having absorbed damage aplenty by comparison and doing his best to firm it.
He told his corner that his leg was killing him and despite having ice throughout the break, the 31-year-old couldn't hide the pain any longer through R2 as Munhoz chopped with increasing regularity while mixing up his strikes.
They exchanged hard-hitting strikes in the pocket on multiple occasions, though there was no questioning who was winning after ten minutes.
Passionate corner work between rounds in Rivera's corner showed they were aware he needed a finish to emerge victorious, throwing more punch output and targeting a KO stoppage.
Munhoz has never been finished in his 25-fight professional career and despite Rivera's best efforts, he wasn't helped with compromised mobility evident for all to see.
---
Caceres makes light work of Croom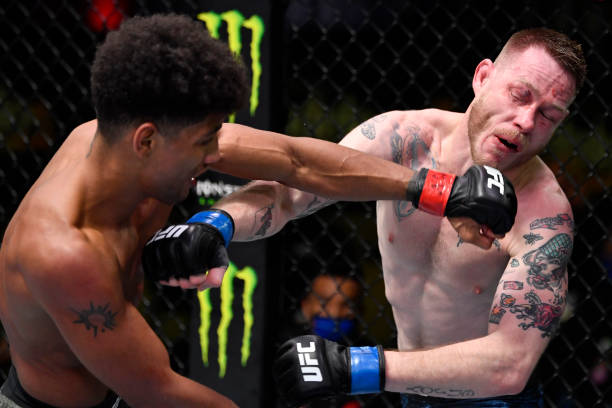 30-26, 30-26, 30-27: Alex Caceres defeats Kevin Croom via unanimous decision
Ten-year veteran and featherweight Caceres showcased his takedown defence (15-of-16 stuffed, 94%), outstruck Croom 97-26 over 15 minutes and cruised to a UD win to kick off the main card.
Despite Croom's best efforts, the lanky 32-year-old showed great awareness and timing when called upon: simply refusing to allow him to fight on the inside nor continually take him into a wrestling exchange – all that persistence had tired the 33-year-old out, which really showed in R3.
Croom, who had a Performance of the Night submission win on his UFC debut over Roosevelt Roberts overturned after testing positive for marijuana in September, was initially scheduled to fight Caceres last August as a Giga Chikadze COVID-enforced replacement.
Caceres meant business from minute one and was in no mood to suffer one of those surprising upset statistics and has now won four successive fights – the last time he did so was back in 2013.
---
Prelim results
There were three fights that went the distance in a four-fight prelim slate, with big wins for lightweight Thiago Moises and bantamweight debutant Ronnie Lawrence in particular.
Moises was more active and earned a hard-fought result (30-27 x 2, 29-28) against Alexander Hernandez in the night's featured prelim. Before then, Alexis Davis snapped a three-fight losing streak with a dominant decision win over Sabina Mazo in the women's bantamweight division.
Lawrence, who won on Dana White's Contender Series in September, got the better of Vince Cachero with a TKO (punches) finish midway through the final round of their 15-minute duel.
To start the night, Dustin Jacoby earned his fourth straight victory in a catchweight (210.5lbs) against Maxim Grishin – a first streak of this kind since 2011.
Picture source: Getty Images