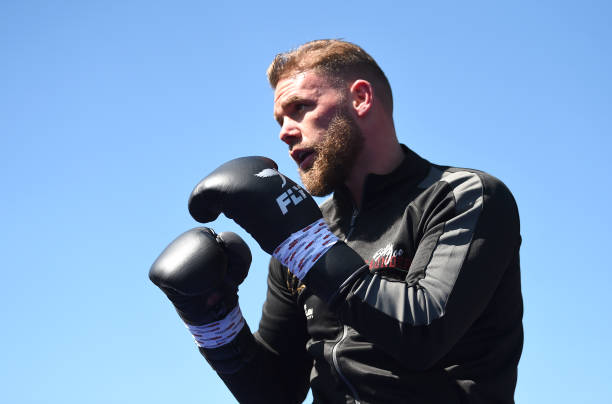 Having watched his last two fights ringside, Matchroom promoter Eddie Hearn doesn't need convincing Canelo Álvarez (55-1-2, 37 KOs) is seemingly unbeatable. But if he's to become boxing's undisputed super-middleweight champion, he must beat Caleb Plant (21-0, 12 KOs) after beating Billy Joe Saunders (30-0, 14 KOs) on May 8th – a fight Hearn feels may be an upset.

After easing to a third-round TKO – corner retirement – against his Turkish WBC mandatory opponent Avni Yildirim on Saturday night, Canelo was alongside Eddie Hearn in the ring.
There, they officially announced the sport's worst kept secret in recent months – the Mexican superstar would be facing WBO title-holder Saunders on May 8, at a venue TBC in the US.
Hearn, who inked a two-fight promotional deal with Canelo in January, revealed his own belief that Saunders – a smart, skilful southpaw – is likely to present trouble for the sport's pound-for-pound number one with his defense, footwork and boxing ability in two months' time.
Saunders ended a 13-month layoff with a UD win over Martin Murray in December 2020, but hasn't truly been tested by an elite fighter since an impressive decision result (120-108, 117-111, 118-110) against Canada's David Lemieux in December 2017 to retain his WBO strap.
That was over three years ago now and while a proposed mandatory defence against current WBO middleweight champion Demetrius Andrade (29-0, 18 KOs) fell through the following year, he hasn't looked impressive in the four bouts he's had since (two decisions, two stoppages).
During an interview on Saturday night at Hard Rock Stadium, Hearn was quoted as saying:
"I think it's a really tough fight. I was actually watching there tonight, thinking about that and the movement of Billy Joe – do you know what I mean?

Canelo has good feet, but Billy is gonna be spinning out everywhere. I actually think it's gonna take [Alvarez] a long time to get a hold of him. I think it's by far the toughest fight for Canelo in the division – tougher than Caleb Plant – because Billy's fast and got better foot movement, speed than Plant.

Plant is a good fighter, but I just feel that Saunders is definitely the toughest fight for him in the division."
---
Caleb Plant patiently awaits
Should Álvarez emerge victorious as many expect with limited damage sustained against Saunders, he's then expected to face current IBF champion Plant at some stage in September. That bout, if finalised as planned, determines boxing's undisputed champion at 168 pounds.
Although there is criticism aplenty about the quality of opposition, Canelo has remained active as usual and this will be his third fight in 140 days – having produced a classy twelve-round showing to dismiss Saunders' compatriot Callum Smith just before Christmas.
Saunders stressed confidence that he has what it takes to beat Canelo and cement his legacy, daring to be great while doing something others haven't.
"He's the main man in the sport, the face of boxing.

You have to give him respect, he hasn't ducked anyone, beaten good names but nobody is unbeatable and I believe I have got the tools to beat him if I use them properly, if the gameplan comes off that I believe works."
Smith, who has first-hand experience, isn't exactly convinced and questioned Saunders' power to establish Canelo's respect early while avoiding constant waves of forward pressure.
"Everybody always said me and Billy Joe had styles to trouble him but completely different ways, we're completely different.

He's a bit awkward and can probably stay out of trouble but I don't know if he's got anything to keep Canelo off – enough power.

Canelo is hard to hit clean and I don't know if Billy Joe has enough to get his respect, put a dent in him.

I see Canelo finding a way: walking him down, starting to land as the fight goes on. I will always back a Brit but don't think anyone beats Canelo."
Plant meanwhile, also expects a Canelo win in early May, but during an interview with BoxingScene, revealed an eagerness to accept the biggest fight of his career this autumn.
"I've been saying that I'm looking to become undisputed, that I wanted the Canelo fight. Hopefully, we can get in there soon and make it happen – the stars are now aligned for me to do what I've always set out to do as a kid: become undisputed champion."
Picture source: Getty, BoxingJunkie – fighter quotes via BoxingScene