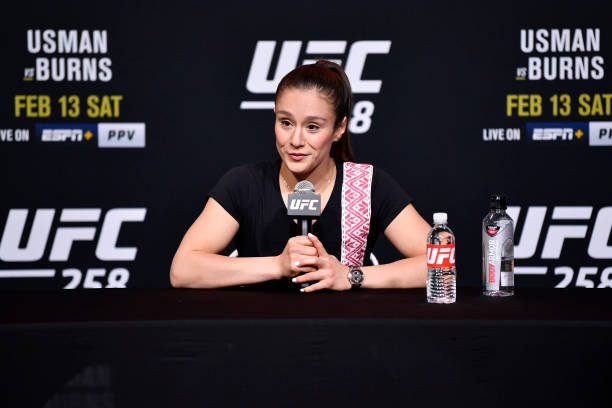 Nearly three weeks removed from her impressive unanimous decision win over a returning Maycee Barber at last month's UFC 258 PPV, #10 ranked flyweight Alexa Grasso is motivated and itching to get back into the Octagon before long – with sights set on facing another oppponent above her in the rankings as she continues her promising ascent in a new division.
Since moving up to 125 pounds, Grasso (13-3) is 2-0 – having showcased her slick boxing skills en route to a comfortable decision win against Ji Yeon Kim at the end of August.
During an interview with MMAFighting's Mike Heck, she was quoted as saying:
"I feel good, full of motivation, watched the fight with my coaches and we are ready to improve my skills for the next one."
This was an intriguing contest on paper and despite a sloppy striking start from Barber, it didn't particularly come as a surprise.
Plenty in the build-up centred around this being the youngster's comeback fight, having suffered a first professional defeat against Roxanne Modafferi at UFC 246 last January.
She tore her ACL and this was her first appearance after a 13-month layoff, with plenty of unanswered questions over whether she could cement the high esteem she and others had previously placed on her shoulders.
Grasso, as usual, let her skills do the talking and clearly showed an evolution to her ground game while adapting against a physically bigger Barber by being first to strike in their clinch exchanges.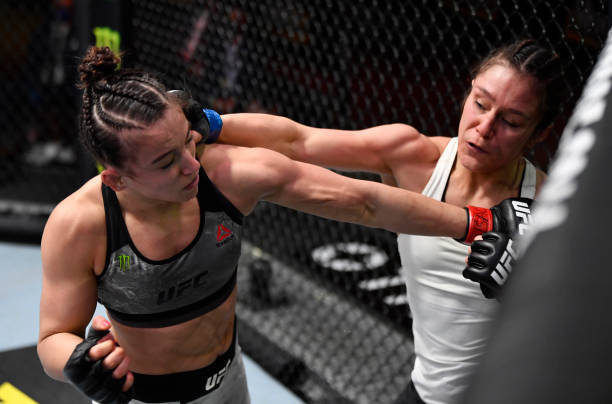 Having lost the first two rounds, Barber was aggressive in the third and frantically looked for a finish that ultimately didn't arrive despite her best efforts. Grasso showed composure to weather the storm, fighting through some big shots as the clock winded down to a commendable finish.
"She needed a KO or to submit me to win the fight, we knew it – I was able to absorb some of her bombs so I wouldn't get hurt. I kept scoring some punches and not accepting the pressure."
Looking forward with a promising 125-lb future ahead
Grasso has fought plenty of credible strawweight contenders in recent years – unbeaten Tatiana Suarez, one-time title challenger Karolina Kowalkiewicz and inaugural champion Carla Esparza with contrasting success.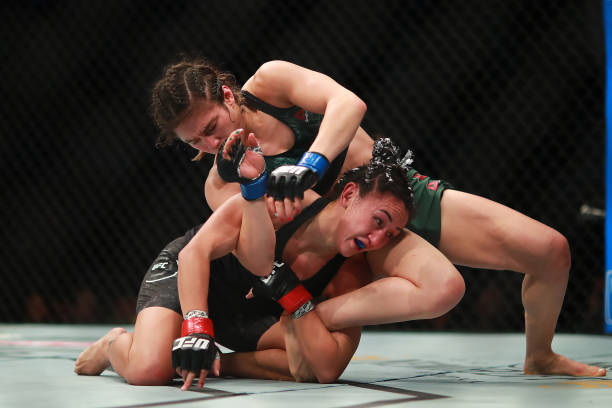 The lessons she's learned will stand her in good stead going forward, as the level of competition increases.
"Indeed, the experience I've gained I feel is huge, now I step in the octagon with a controlled heart. I liked fighting them [tough opposition] because it taught me that I had some areas I needed to work on, some mentally and some on my technique. I feel like the puzzle is taking shape.
She's staying realistic with expectations and also not too picky on which opponent is next, provided they're ranked ahead of her:
"I'm ranked no. 10 right now so anyone above me on the rankings would be good, I'm excited to see what happens next – Mexico is well-known for our boxing, and our goal is to take that stamp to the top of my sport."
Only time will tell, but the early signs are certainly in the right direction.
Picture source: Getty Images