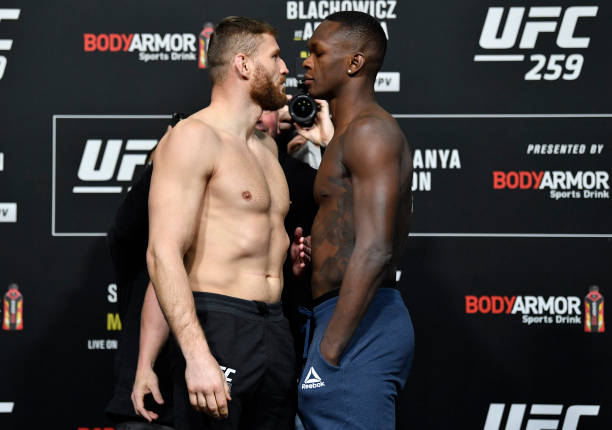 After blasting uncrowned champion Dominick Reyes to bits in September, Jan Blachowicz (27-8 MMA, 10-5 UFC) makes the first defence of his light-heavyweight strap against an undefeated middleweight star in Israel Adesanya – going up a weight class and looking to make his own history this weekend. An underdog perhaps, Jan offers Izzy's most dangerous challenge yet.
How did we get here?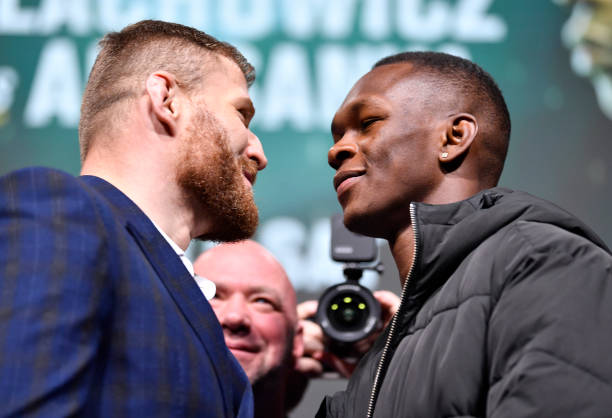 Maybe 30 minutes before Adesanya dismantled previously unbeaten Paulo Costa at UFC 253 on September 27, Blachowicz inflicted the first knockout defeat of Reyes' promising MMA career.
Seven months earlier, the MMA world was set ablaze after Jon Jones' latest light-heavyweight title defence – many felt he lost three rounds against a plucky first-time challenger in Reyes.
The 31-year-old will lick his wounds and will return stronger again, May 1, against #5 ranked LHW contender Jiri Prochazka but this main event collision course felt like it was booked overnight.
Both Adesanya and Blachowicz earned second-round wins in impressive fashion against tough opponents, the latter over someone many deemed the division's uncrowned champion.
Addressing the middleweight division
Adesanya was to defend his middleweight strap vs. Jared Cannonier next (13-5, 6-5 UFC), but Robert Whittaker made sure that didn't come to fruition with an efficient showing at UFC 254.
Whittaker, who Adesanya dethroned to become middleweight champion in Oct. 2019, has responded with impressive post-lockdown wins over Darren Till and Cannonier. However, there's not much appetite to see a rematch immediately like there is for Holloway-Volkanovski 3.
Whittaker defends his #1 status against Costa on April 17 but as far as the middleweight rankings are concerned, it feels the champ and top contender have already separated themselves from the pack in two different sub-sections of the 185-lb division.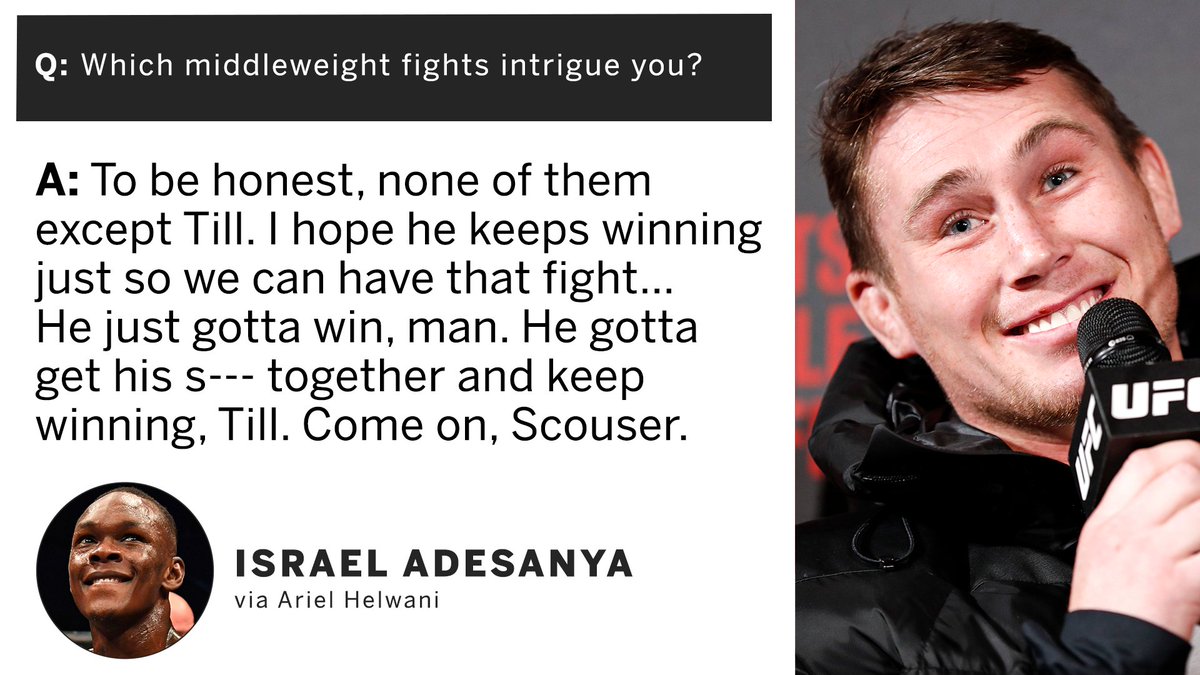 Naturally, Till (#4), his next opponent Marvin Vettori (#5) and Kevin Holland (#10) will all have something to say about that last paragraph. We'll just have to wait and see on that front.
Blachowicz enjoying second ufc four-fight win streak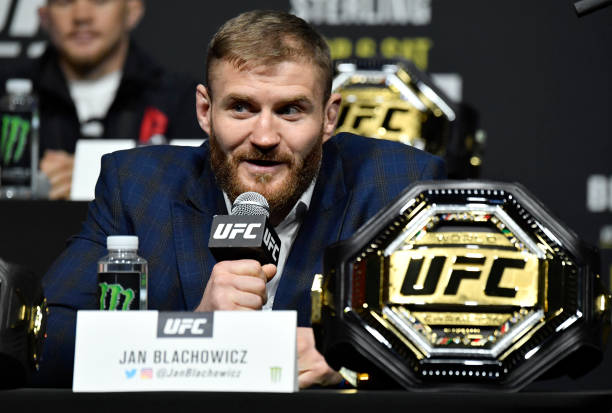 But plenty of chips had to fall to get here – a Blachowicz-Adesanya title fight, champion versus champion, where the underdog is the one who holds more power and a weight advantage.
Having celebrated his 38th birthday during fight week, Jan is on his second four-fight UFC win streak – the first ended by Thiago Santos (21-8, 13-7 UFC), also featuring on a stacked main card.
Adesanya will become the fifth simultaneous two-division titleholder in UFC history should he win, though suggestions of a superfight with Jones are on ice for now. He told MMA Junkie:
"I'll definitely go back down to 185, I have something else in my head that might interest [me after], but definitely going back down to 185 is my goal. I want to keep my division moving."
Jones' tweet-and-delete prediction of a Blachowicz victory is what he'd want to see, but not what he needs to this weekend. After all, Adesanya remains undefeated and puts that record on the line again here. As for Blachowicz and the stale LHW division Bones left behind? Not quite.
That's part of what makes the Polish veteran so dangerous: he's aware the UFC wants to crown Izzy as their shiny new superstar and purposely didn't waste any time in giving him a more difficult obstacle to overcome for his first title defence.
This has been billed as power versus precision, just like Adesanya-Costa was. Especially in a smaller 25ft octagon, you'd like to think this matchup is more nuanced than that, not least if Israel wants to showcase something other besides his stand-up or Jan forces him to the ground.
Teixeira still going strong at 41, after Overeem and Jds released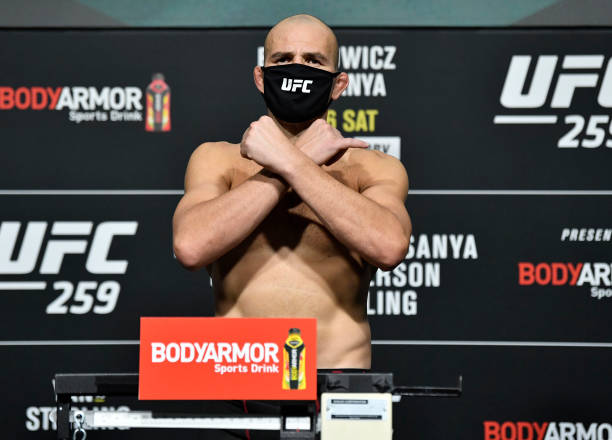 Glover Teixeira's defiant return to a second title shot was glossed over in November, despite an impressive R3 submission win over Santos – who himself beat Blachowicz two years ago.
He made championship weight on the scales yesterday after agreeing to be the back-up fighter for this main event matchup but the 41-year-old's next in line, regardless of who wins.
Yes, you read that right. 41-years-old. For context, former heavyweight champion Junior dos Santos (37) and perennial contender Alistair Overeem (40) were both released earlier this week.
They both still appear in the HW rankings as displayed below, but it just goes to show how quickly a fighter's demise can spiral after taking one too many losses or sustained damage.
They both still appear in the HW rankings as displayed here, but it just goes to show how quickly a fighter's demise can spiral after taking one too many losses or sustained damage.
dos Santos had lost four in a row, most recently against Ciryl Gane – who cruised to a valuable decision win over Jairzinho Rozenstruik last weekend.
Overeem was sloppy and looked every part his age against Alexander Volkov early last month, in a brutal second-round TKO defeat.
Although it justifiably appears unlikely right now, Blachowicz could easily find himself in a similar spot of bother and indecision if he's not careful.
Besides Teixeira, who previously flirted with retirement and has earned one more title push before he hangs up for good, he's the oldest of the UFC's active light-heavyweight top-15.
Considering he's also the newest champion with a 160-day reign, it means he is figuratively a wounded animal and when they feel threatened, that's when they are at their most dangerous.
Daniel Cormier's words of wisdom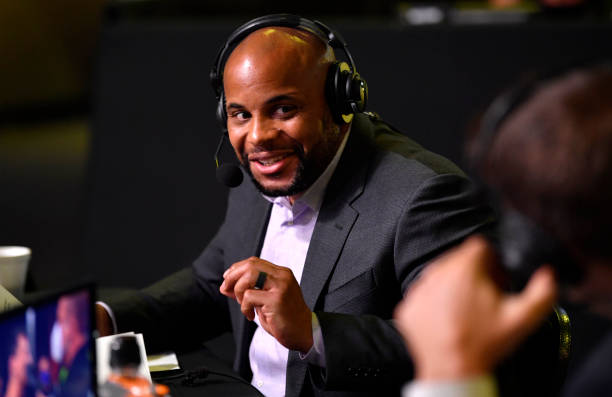 Cormier was asked multiple questions from the journalists in attendance but on the subject of Adesanya and whether he'll move up like Jones did to heavyweight should they eventually meet:
"He can do whatever he wants, he's that good – this line of questioning speaks to who he is, that this is even a conversation, attempt to do something that outlandish… now we're talking about someone who could pursue three titles?

Blachowicz is a whole different animal, he knocked out Reyes with his weaker hand walking backwards.

There's no equal, he [Israel] hasn't felt the power he has faced – Jan will plough forward in a smaller octagon, it favours him and be easier to set traps. Israel will be forced to stand in closer vicinity than he wants to."
---
Other storylines to follow, featuring Nunes and Yan-Sterling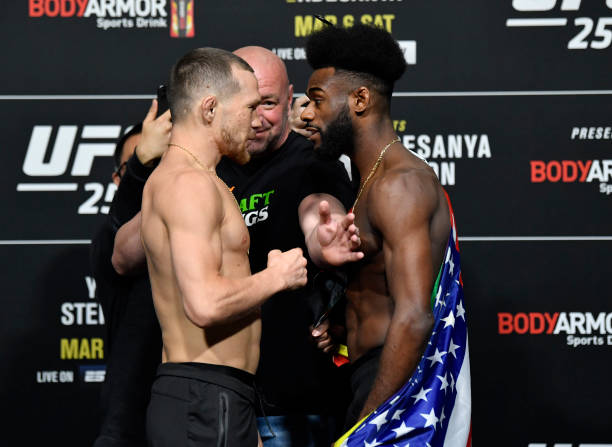 It can feel forced, exaggerated or manufactured but there's genuine animosity between Petr Yan and Aljamain Sterling – as if their bantamweight title fight wasn't already a compelling watch.
Nine months removed from his remarkable R1 win over Cory Sandhagen at UFC 250, recency bias is on Aljo's side – though he only has 88 seconds of octagon time in the last 21 months.
That isn't exactly his fault after the initial December date was scrapped but questions over his suitability to potentially go five championship rounds for the first time in a decade are justified.
Yan is said to get stronger as the fight progresses, so it'll be interesting to see how both fare if they go into deep waters, not least given Sterling's undeniable jiu-jitsu prowess.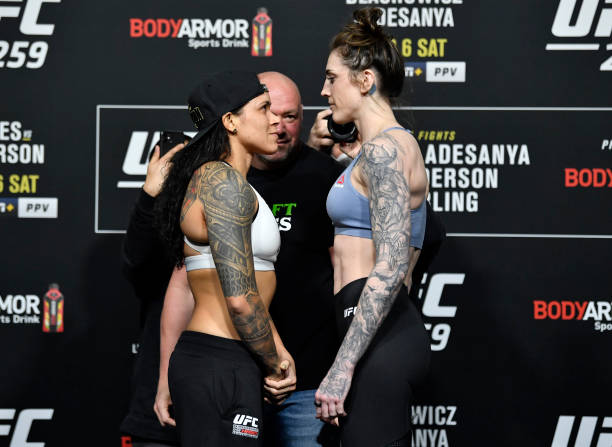 Two-weight champion Amanda Nunes (20-4, 13-1 UFC) is the consensus greatest women's fighter of all-time, but is there a women's featherweight division? MMA math doesn't always add up, but if it does, Megan Anderson (11-4, 3-2 UFC) should brace herself for a rough evening next.
After all, she got submitted by Felicia Spencer in May 2019 and has been out of action for 13 months – following first-round wins against Zarah Fairn Dos Santos and Norma Dumont Viana.
Spencer was on the receiving end of a lopsided 25-minute decision defeat by Nunes last time out at UFC 250, so while there are genuine questions over how the Brazilian will handle their height discrepancies and the undisclosed injury, it doesn't feel like that should trouble her too much.
The fact there are no FW rankings is an ominous sign for the division's health, though Nunes' press conference demeanour Thursday suggests she'll continue looking to dominate both the 135 and 145-lb weight classes should Dana want to offer up fresh challenges. Again, time will tell.
---
The stacked 15-fight card is as follows:
Main card (Sunday, 3am GMT) 
Light-heavyweight: Jan Blachowicz (c) vs Israel Adesanya
Women's featherweight: Amanda Nunes (c) vs Megan Anderson
Bantamweight: Petr Yan (c) vs Aljamain Sterling (#1)
Lightweight: Islam Makhachev (#14) vs Drew Dober
Light-heavy: Thiago Santos (#2) vs Aleksandar Rakic (#4)
Prelims (Sunday, 1am GMT)
Bantamweight: Dominick Cruz (#11) vs Casey Kenney
Bantamweight: Song Yadong (#14) vs Kyler Phillips
Catchweight (127lbs): Joseph Benavidez (#2) vs Askar Askarov (#3)
Flyweight: Rogerio Bontorin (#8) vs Kai Kara-France (both tied #8)
Early prelims (Saturday, 10.15pm GMT)
Flyweight: Tim Elliott (#12) vs Jordan Espinosa
Light-heavy: Kennedy Nzechukwu vs Carlos Ulberg
Welterweight: Sean Brady vs Jake Matthews
Women's strawweight: Livia Renata Souza vs Amanda Lemos
Lightweight: Uros Medic vs Aalon Cruz
Bantamweight: Mario Bautista vs Trevin Jones
Picture source: Getty