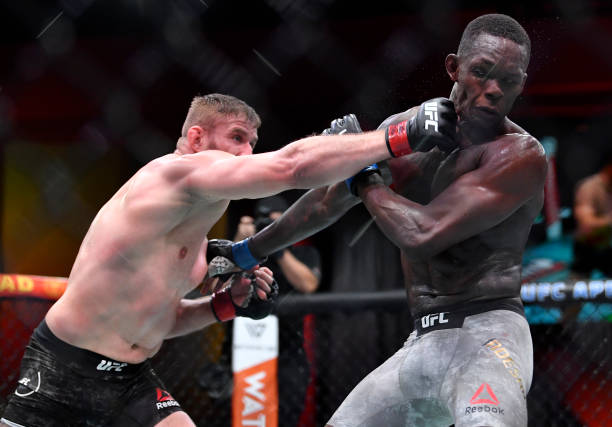 Jan Blachowicz defended his light-heavyweight strap for the first time with a UD win after a closely-fought duel against middleweight champion Israel Adesanya, following Amanda Nunes' ruthless decimation of her latest featherweight challenger in Megan Anderson. Prior to that, bantamweight Petr Yan's R4 illegal knee on Aljamain Sterling saw the Russian lose his title.

Blachowicz' fight iq stifles Adesanya's double-champ bid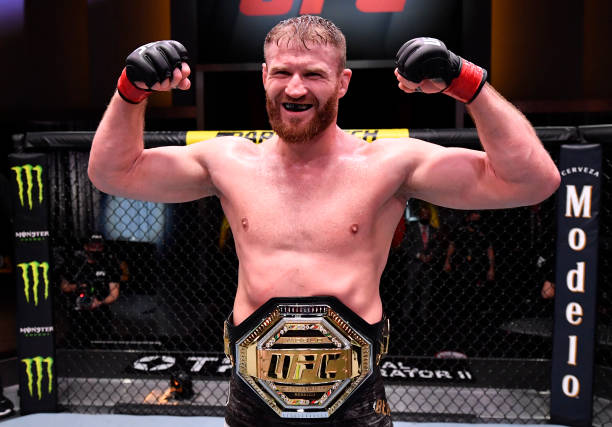 49-45, 49-45, 49-46: Jan Blachowicz (c) defeats Israel Adesanya via UD, ends his 20-0 streak
I love this win because he's one of the best in the world, I am the first to defeat him, have a lot of respect for him, a great person but I'm the true champion."
It wasn't straightforward but it didn't need to be: Blachowicz made the first defence of his light-heavyweight title, edging a technical striking battle before two timely takedowns – one in round four and another to finish round five – exhausted Adesanya en route to a first career loss.
A tentative start: Adesanya clearly respected Blachowicz's power but the champion held his ground well as there were plety of feinting and counter-striking attempts by the pair early.
Jan jabbed his way forward as Israel cautiously tried to remain elusive, dodging blitz attacks and landing a few shots while keeping distance. You saw Jan flinch whenever Adesanya threatened to throw a punch or kick, but the challenger couldn't mask his own striking hesitancy either.
After all, he didn't want to get hit clean by the Polish power that headlined all of the pre-fight buzz suggesting this matchup would truly prove his toughest test yet. It certainly was.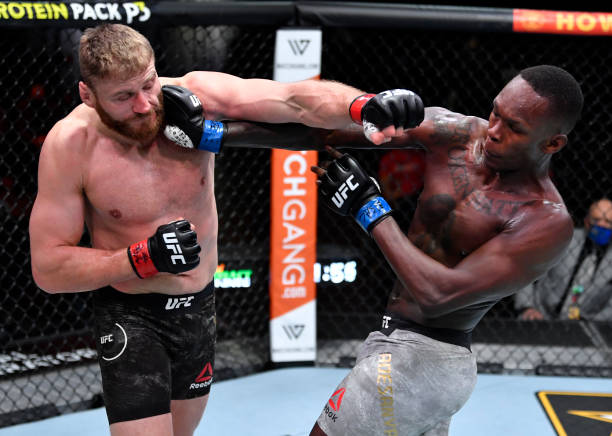 Jan continued to threaten with dangerous flurries, jabs to the body and threatened a takedown before landing a knee as they broke.
These rounds were tough to score, as the technical exchange continued into R3 where they both landed big bombs – Blachowicz charged for a takedown and had some brief success, before he got stung with a left hand against the cage.
Jan clinched and began trying to wear on Adesanya, who landed clubbing blows in response.
After doing well to escape safely, they exchanged jabs again as Jan continued imposing his will – and sheer physicality – once more, with timely clinch work.
Blachowicz stumbled Adesanya with another straight right hand in R4 and just as the challenger landed a pair of combinations, the Pole's fight IQ and ringcraft saw him seize an opening to charge forward, completing a timely takedown in the middle of the cage.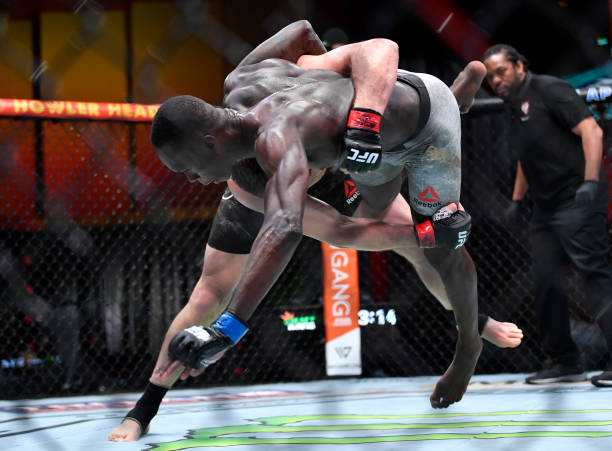 Jan controlled top position with his wrestling visibly weighing on Israel, logging three minutes of dominance on the ground before the horn sounded. Potentially 2-2 through four rounds, this was likely a decisive round – though not as evidenced by the lopsided post-fight scorecards.
That grappling tactic had understandably taken plenty out of Jan, who was breathing heavy but continued to jab – ultimately landing 17 significant strikes to twelve in round five at distance.
After absorbing a spinning back-kick to the body, he again sensed his opportunity and secured a big double-leg takedown. Adesanya, who was fresher, frantically scrambled to try returning to his feet but inadvertently found himself giving the champion a better position to work with.
The 20-lb weight difference was clear in these exchanges on the ground, proving decisive as Blachowicz waited patiently and executed his gameplan smartly after their closely-fought duel in the first 15 minutes. The championship rounds were key though, as he remained composed.
Adesanya on the effectiveness of Blachowicz's wrestling:
"That was my legs being fatigued, I don't know what from but the size… it did play a factor but it was a bad day in the office. Going back down to 185lbs, back to the drawing board."
Blachowicz on what he expected and who is next:
"I thought he [Adesanya] would be a little faster, but he also hit harder, which I didn't expect. I knew I would be better on the ground, just had to wait for the good moment. I should have put more pressure on him, more boxing.

He [Glover Teixeira] deserves it next. He's old like me and doesn't have that much time, haha. If he wants to wait, he'll be next."
Picture source: Getty
---
Nunes races to another dominant finish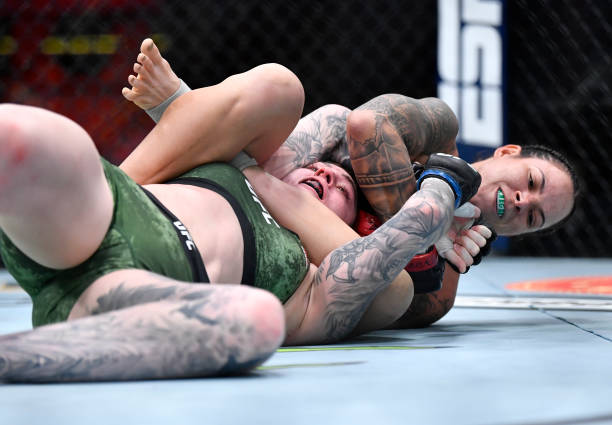 R1, 2:03 – Amanda Nunes (c) defends title vs. Megan Anderson via submission (armbar)
Nunes wasted absolutely no time at all and by the time she landed a few hard shots on Anderson, you could already sense this was going to be a quick defence.
Just like compatriot Jessica Andrade did against Katlyn Chookagian, the two-weight champion nullified the heavily-stated height and reach disadvantages with ease. She closed the distance, pounced and you could see Anderson wince as she looked like a deer in headlights.
Referee Jason Herzog could've stopped the fight as she rained down with hammer fists, but instead Anderson ultimately tapped to an armbar sub seconds later. Just like that, all over.
There is one competitor calling Nunes' name though, in the bantamweight division. After news broke confirming Holly Holm is out of their May 8 clash, Pena (10-4) wants the champion next:
---
Yan-Sterling marred by unforgettable DQ finish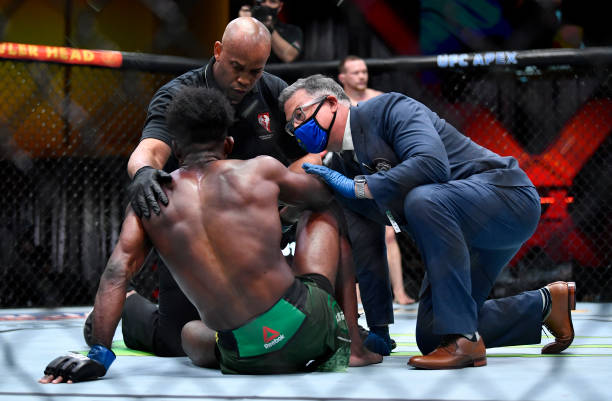 R4, 4:29 – Aljamain Sterling beats Petr Yan via DQ (illegal knee), new bantamweight champion
For the first time in UFC championship fight history, the belt changed hands after a disqualification – but Sterling angrily threw the strap away as he was unable to continue and clearly suffering concussion following a heavy knee while down on one knee late in round four.
It was a frantic start by the challenger – landing a flurry of leg kicks and flying knees as Yan backed up against the fence. However, Yan grew in confidence after a leg trip and kick exchanges. His takedown defence delayed Sterling's first attempt but not the second.
However, Yan landed a knockdown with an overhand right and completed a takedown too, before Sterling reversed the position.
You'd hope Sterling's nervous energy had effectively been wiped from his body after being stunned in the previous round, though Yan happily continued wearing the challenger down, stuffing more takedown attempts and showing great ringcraft to escape dangerous situations.
Sterling's activity and forward pressure was still posing Yan problems, as he questioned why he was "so nervous" after the horn sounded. That energy was clearly still there, then. They both landed body shots in R3 but Yan looked increasingly comfortable in their stand-up exchanges.
Yan's heavy leg kicks and his own persistently incomplete takedowns had clearly taken a toll on Sterling, whose pace slowed and provided the champion a golden opportunity to earn a career-best six of his own through 15 minutes.
The Russian's takedown defence was diminishing Sterling's confidence as time wore on – Yan starting to pick him apart with heavy-handed punches at distance. Then, referee Mark Smith shouted "he's down", Yan didn't heed the official's warning and landed a nasty kick on Sterling.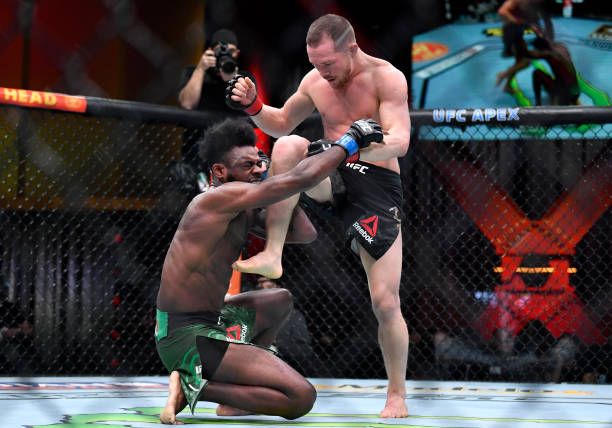 Although he needed to be helped up and escorted to an interview with Joe Rogan, Sterling said:
"Everything I worked for, to this point, to have it go like that.

I thought it [the fight] was very close, thought I was down two rounds, that's not the way I wanted to win – I took the belt off, tried to continue even being all fucked up like that, I was in bad shape and it was [my] ego taking over. 

It's bullshit, sorry to the fans, I hope we get to run it back again."
---
Makhachev and Rakic with contrasting victories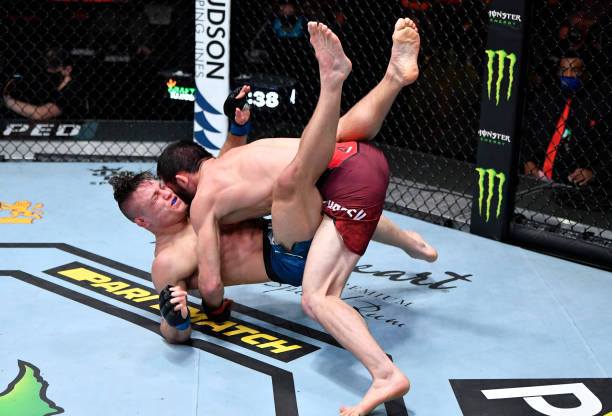 R3, 1:37: Islam Makhachev (#14) beats Drew Dober via submission (arm-triangle choke)
After COVID-enforced travel restrictions and a staph infection forced him out of fights with Alexander Hernandez (April) and Rafael dos Anjos (October), Russian lightweight contender Makhachev returned after an 18-month layoff to show why Khabib and others rate him so highly.
Dober was riding his second three-fight winning streak heading into this matchup, but didn't have a chance to assert himself early on. By the time he knew it, he found himself outlanded 34-3 in round one and had been taken down with ominous ease. Things only worsened with time.
He named Tony Ferguson (#5) and others who don't have fights booked as he pleaded for an opportunity against someone in the top-5.  On his gameplan, which was executed to perfection:
"I knew Drew is tough, a heavy-hitter so I choose the easy way – take him down, make him tired and tap out."
Statistic: Makhachev now has the second-longest active win streak (7), with #3 ranked Charles Oliveira (8) the only fighter currently enjoying more in the lightweight division.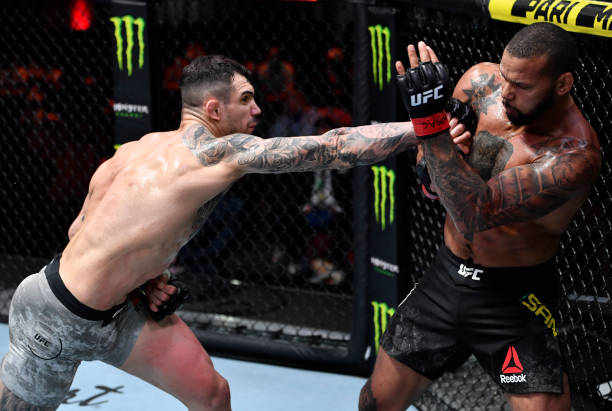 In an uneventful affair at light-heavyweight, Aleksandar Rakic (#4) handed former title challenger Thiago Santos (#2) his third successive defeat with a UD win (29-28 x 2, 30-27).
On paper, this was supposed to kick off the main card with a bang, but instead there were only flickers of brief excitement as they largely fought from distance and remained cautious – probably weary of the devastating knockout power that stood a few feet across them.
While Santos came agonisingly close to beating no. 1 contender Glover Teixeira in November, the same couldn't truly be said on this occasion.
Rakic was more active on the feet, controlled Santos in the clinch and took advantage against the Brazilian's inconsistent attack – even though UFC stats showed Marreta landed more strikes over 15 minutes with increasing efficiency (56% total strikes to 49%) by comparison.
---
Prelims as cruz earns first win since 2016, kyler phillips shines
It was far from an easy clash for former bantamweight champion Dominick Cruz (#11), though he outworked an active Casey Kenney and utilised two third-round takedowns to edge a split decision victory (28-29, 29-28, 30-27) in the night's featured prelim.
"Closer than I wanted, but got the job done.

He kept a good pace for two rounds, the workrate was surprising, I don't know what's next but it's been a long, amazing journey."
The result is Cruz's first victory since beating Urijah Faber in January 2016 at UFC 199, the defence of his former strap. After an abrupt championship defeat against Henry Cejudo last summer, Cruz acquitted himself well despite Kenney's successful tactic loading up on leg kicks.
---
Phillips makes no mistake with top-15 opportunity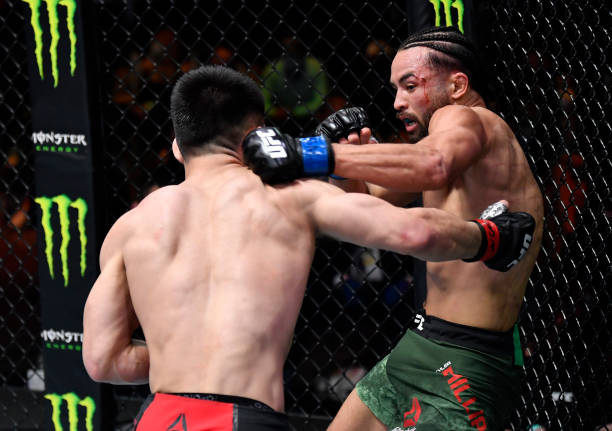 By contrast, 25-year-old Kyler Phillips will find himself into the bantamweight's top-15 rankings next week after a mature, composed display to dethrone highly-rated Song Yadong (#14).
After connecting with a vicious head kick that would've ended the night for most at 135lbs, Phillips grew in stature as his bouncy movement and slick striking gave Yadong plenty to defend.
A brilliant start helped him establish control against the 23-year-old and while Yadong gamely matched him in most of their stand-up exchanges, timely takedowns as well as shrewd fight-management helped Phillips take a commanding lead into R3.
Despite tiring and sustaining damage as he left his head in the pocket too long at times in the final stanza, the 25-year-old American earned a hard-fought 29-28 scorecards across the board.
Contrasting victories for Askarov and Kara-France
Unbeaten flyweight Askar Askarov (#3) came in overweight but still delivered a clinical display to ease past perennial title challenger Joseph Benavidez (#2) in their 127-lb catchweight bout.
Benavidez landed 61 of his 130 strikes thrown (47%) and started well but as soon as Askarov got into his groove, it was downhill from there.
He enjoyed considerably more striking accuracy (66% success, 71-of-107 strikes), looked more assertive while completing five of his six takedown attempts over a bruising 15-minute affair.
#8 ranked flyweight Kai Kara-France delivered a remarkable comeback to starch Rogerio Bontorin – who he was tied with in the divisional rankings coming into this matchup – and return to winning ways, despite finding himself in deep waters trying to avoid submission attempts.
It was a truly frantic finish, but having been dominated on the ground for large periods in R1, Kara-France responded well after Bontorin threatened to complete multiple rear-naked chokes.
Kara-France returned to his feet and landed a timely punch combination to stun the Brazilian, before dropping him and jogging away to celebrate before returning for more and stopping himself as referee Herb Dean intervened – all of this happened in the final seconds of round one.
---
Early prelim results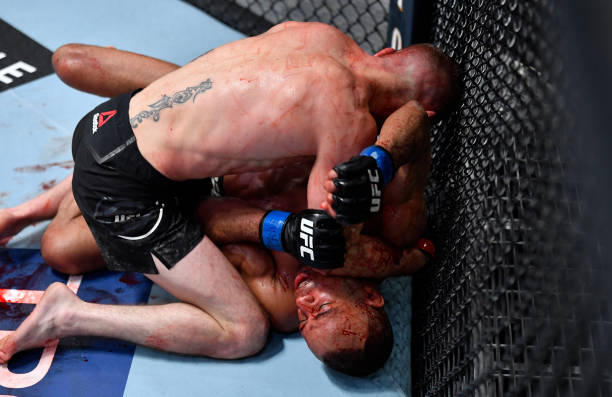 After five consecutive finishes to start the prelims, Tim Elliott protected his #12 flyweight ranking with a gritty, bloody and suffocating decision win (30-27 x 2, 30-25) over Jordan Espinosa.
Espinosa has now lost four of his last five fights and simply couldn't contend with Elliott's tough ground game, which only intensified after some round two trash-talking as he finished on top.
In the light-heavyweight division, we were treated to a firefight between two relatively untested but equally rangy prospects. Carlos Ulberg started furiously and almost had an early stoppage as referee Herb Dean watched him pick his shots with knees and kicks which continued to land.
Kennedy Nzechukwu hadn't thrown a single strike in the first 90 seconds, was in deep trouble and still managed to recover with an emphatic flurry that connected flush in round two to win.
After they exchanged in the pocket with limited head movement by both, Ulberg's striking intensity visibly slowed down and the 30-year-old needed to pace himself as an insistence on keeping his hands low was worrying. However, he didn't heed the warning and paid the price.
As for welterweight prospect Sean Brady, he's eyeing a top-15 opponent next after remaining unbeaten (14-0, 4-0 UFC) with a third-round submission (arm-triangle choke) win against Jake Matthews – the necessary exclamation point to complete an impressive all-round showing.
"I'm stoked, Jake is a super tough guy – I think I deserve a top-15 guy [next]."
The commentators all agreed, in what remains an intriguing division despite champion Kamaru Usman's relative dominance – and a top-heavy feel to the 170-lb division over recent years.
After suffering a second-round TKO loss by Leslie Smith on her promotional debut in July 2017, women's strawweight Amanda Lemos is now 3-0 since – producing an excellent striking display before leaving Livia Renata Souza helpless on the mat with a jab and ground and pound shots.
After an impressive first-round Contender Series win in August, lightweight debutant Uros Medic (7-0) stayed perfect with a similarly quick and relentless TKO finish to ease past Aalon Cruz.
On the finish, which was delayed and saw criticism of referee Mark Smith by the ringside commentators, the Serbian said:
"I think it was a late stoppage. I feel bad for him, saw him taking the damage and he wasn't defending himself properly.

A lot of it was landing; he was bleeding a little bit. I thought it could've been stopped sooner. I hope he's okay and nothing bad happened."
In the bantamweight division, Trevin Jones got the night started with a second-round TKO win over Mario Bautista, landing a beautiful uppercut to finish in style for his first UFC victory.
Pictures source: Getty