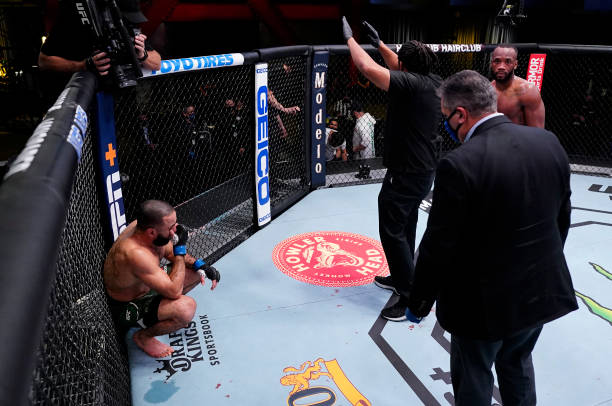 #3 ranked welterweight Leon Edwards' Octagon return after a 20-month hiatus lasted little over a round as his main event matchup against Belal Muhammad (#13) ended rather abruptly: an unintentional eye poke rendered Belal unable to continue as his eye swelled up quickly and he was unable to see. Beforehand, there were big first-round finishes for Dan Ige and Ryan Spann.

anti-climatic main event finish: Time to change the gloves?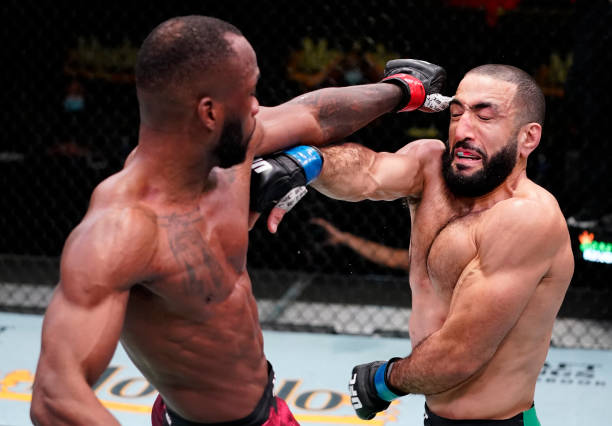 R2, 0:18 – Leon Edwards (#3) vs. Belal Muhammad (#13) ends in no contest after eye-poke
Edwards was on the front foot early and pushed the pace against a gamely Muhammad, who was visibly wobbled by a big head kick and found himself on the receiving end of the more impactful shots early – one-twos and a composed approach by the returning contender.
His encouraging start and the way Belal rode Edwards' success as the 29-year-old continued switching stances and mixing up his offense suggested this would be an intriguing firefight as things advanced – making it all the more heartbreaking to see it finish in the manner it did.
You could hear Muhammad audibly swear and moan, both in frustration and pain, as referee Herb Dean ushered the doctor into the cage after pausing the action. He knew instantly after falling to the canvas he couldn't continue, telling the officials he couldn't see out of his right eye.
Edwards spoke to Daniel Cormier post-fight, saying:
"First of all, I apologise to Belal, I didn't mean to do it [the eyepoke]… I'd rather [have] a loss than that, I'm heartbroken and don't know what to say.

What now? I was focused on my next chapter, it's been a long year-and-a-half and to comeback like that, it's like [shrugs]. No, I don't believe in ring rust.

I was just getting into the flow of it, into my combinations and so to have that taken away is heartbreaking, I'm disappointed.

I don't know what to say. I felt great, won the first round clearly and wanted to show more – obviously accidental but I'm heartbroken."
Edwards went for a body kick and poked Muhammad in the eye as he charged forward, with Belal falling and immediately yelping in pain. With the number of eye-poke related incidents increasing recently, this will undoubtedly see the debate about changing the gloves resurface.
As far as Edwards' fighting future is concerned, he isn't interested in running this one back:
---
Emotional Spann wastes no time starching Cirkunov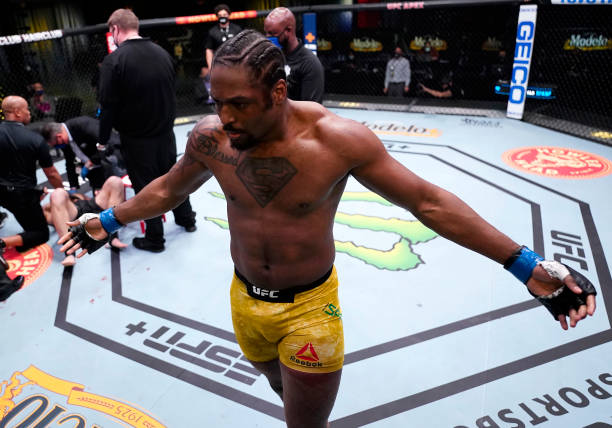 R1, 1:11 – Ryan Spann (#13 light-heavyweight) beats Misha Cirkunov (#11) via TKO (punch)
Spann ate a right-hand early but charged forwards and didn't hesitate to return fire: landing two knockdowns in quick succession en route to a fantastic finish against Cirkunov.
Spann, who suffered a first-round knockout against Johnny Walker in September, returned to winning ways in style and Cirkunov – who hadn't fought since Sept. 2019 – couldn't recover quickly enough after being initially rocked to the ground, punished for exchanging in the pocket.
"I wanna be in the top-10, he was #10 when this was scheduled. Jimmy Crute vs Anthony Smith? I'll take the winner of that… give me that guy." 
In a short-notice bout, rising light-heavyweight Crute (#12) faces Anthony Smith (#6) at UFC 261 on April 24, in a PPV headlined by two title fights – Weili-Namajunas and Shevchenko-Andrade.
---
Ige returns to winning ways in style, calls out Korean Zombie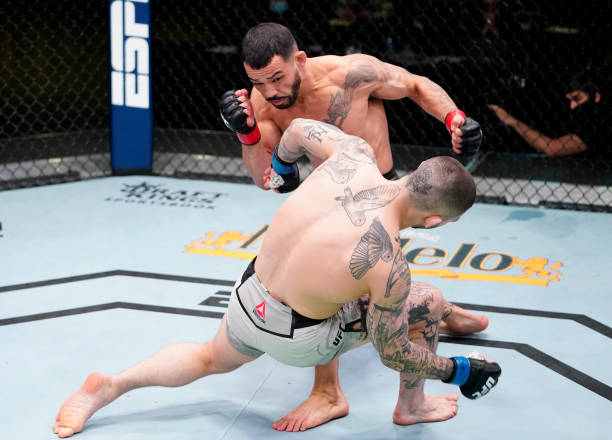 R1, 0:22 – Dan Ige defeats Gavin Tucker via KO (punch)
In the build-up to this interesting featherweight scrap, Canada's Gavin Tucker questioned Dan Ige's one-punch power but soon found his answer – lasting just 22 seconds before eating a beautiful counter right hand that shut his lights out immediately. Blink and you'd have missed it:
After losing a competitive main event against Calvin Kattar last July, Ige retained his #9 ranking before calling out The Korean Zombie – Chan Sung Jung (#5) – a name he's chased for a while.
"I've been trying to fight the Zombie, he said he doesn't know who I am… please give him to me."
After a sluggish start which saw him knocked down in R1, English bantamweight Davey Grant laughed it off in-between rounds and responded emphatically with a thunderous R2 finish.
26-year-old prospect Jonathan Martinez didn't know what hit him: a body shot and left hook over the top sent him to the canvas motionless, minutes after being picked apart at range as you could sense the underdog was slowly but surely recovering, growing in confidence with success.
The 35-year-old has successive knockout finishes and said:
"I'm absolutely over the moon, feel like my foot is broken, was called out for main cards and we'll keep doing this until we get to the main event."
---
Kape visibly aggrieved after Nicolau edges split decision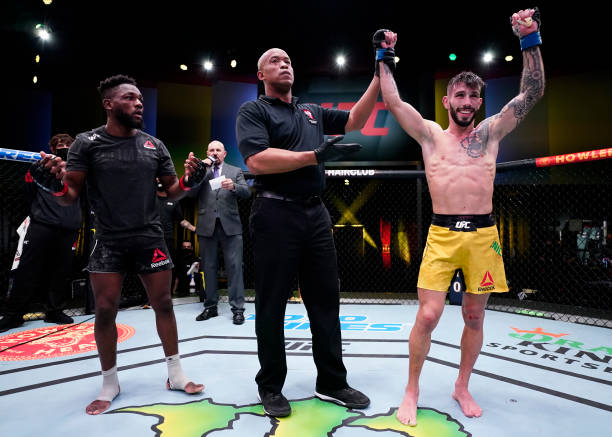 28-29, 29-28, 29-28: Matheus Nicolau defeats Manel Kape via split decision
Highly-rated flyweight Manel Kape couldn't have any complaints after losing on the scorecards against Alexandre Pantoja (#3) in his UFC debut last month, but rightly felt aggrieved tonight.
Matheus Nicolau did his reputation no harm at all and happily posed for pictures after earning a split decision win, though Kape couldn't mask his disbelief as the scores were read out.
After a slow, careless first-round – where you could be forgiven for thinking he slipped back into old habits – his corner stressed the importance of aggression.
Having been taken down twice in R1, he defended seven more attempts and outstruck the Brazilian 63-49 from the second round onwards on his return after a three-year absence.
Kape was significantly outworking him as he found his flow, showing great ringcraft and takedown defence while Nicolau looked to extend his punch combinations whenever they exchanged shots in the pocket.
Neither wanted to swing recklessly in the final minute, though Kape was the aggressor with big knees down the stretch. All of that in mind, he still didn't do enough to edge a hard-fought decision on two of the three judges' scorecards.
---
Anders-Stewart ends abruptly with a sense of foreshadowing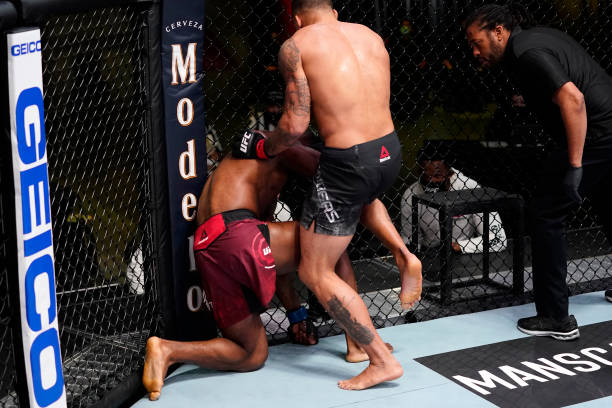 R1, 4:37 – Eryk Anders vs. Darren Stewart ends in no contest (illegal knee)
Just like the Yan-Sterling title fight last weekend, the night's first main card encounter ended with an illegal knee.
You could hear Stewart's corner shouting enthusiastically as the Englishman started brightly, forcing Anders into a takedown attempt. Anders did well to impose his physicality on the 30-year-old, landing a number of punches and knees before dropping him with a left.
Just as you could sense the end was near, with referee Herb Dean watching intently to the right, Anders landed a clearly illegal knee on Stewart up against the cage. The doctor was involved and despite Stewart's desire to continue, a brief assessment deemed him unfit to compete.
The fight was swiftly ended. The end result was a no decision – no contest – as the fight had completed less than two rounds and the blow was judged to have been an unintentional one. It's likely they'll look to run this one back in the near future if possible, all things considered.
---
Prelim results featuring wins for Hill, Jourdain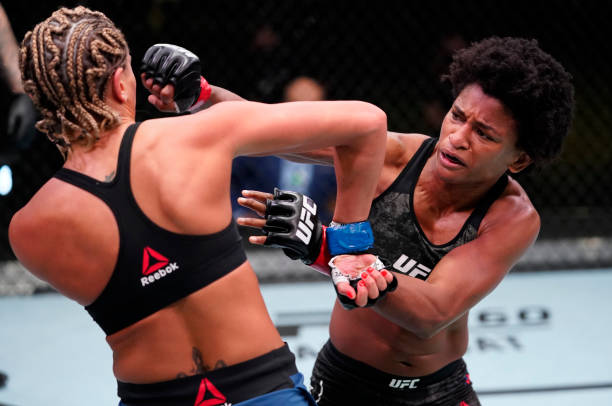 Women's strawweight Angela Hill landed 97 strikes (59% success) as she cruised to a second career victory over Ashley Yoder and protected her #12 ranking (30-27, 30-27, 30-27) – but still showed some weaknesses and an overeagerness for a finish saw her taken down twice.
Angela felt like it was a dominant win – no questions over the result – and said that's how she wants to continue moving forwards. With stuff still to work on, she lamented an inability to finish the fight but needed a return to the win column after successive defeats in May and September.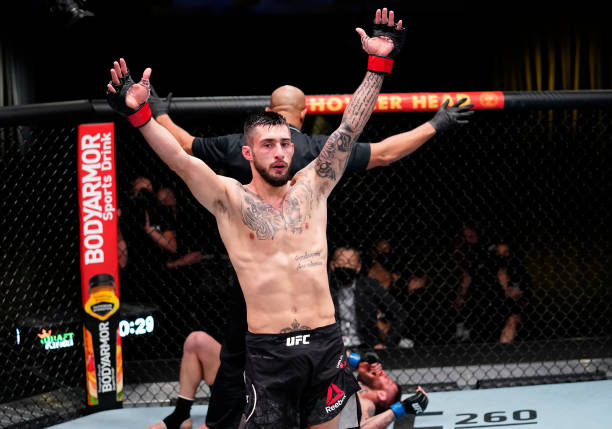 It wasn't easy, but featherweight contender Charles Jourdain recovered after a sluggish start to produce an inspired third-round showing and pick apart spirited debutant Marcelo Rojo.
Jourdain grew in confidence and his accuracy increased as the fight wore on, after Rojo's purposeful start saw him up on the scorecards. Through two rounds, you could certainly argue the Argentine was 2-0 up – both were competitive and evenly-matched duels.
That much was stressed by the Canadian's corner and Jourdain landed 56 of his 128 strikes with two knockdowns in a brilliant third-round, before referee Mark Smith ultimately ended the fight.
"No victory for me last year, I was questioning myself – reflected on 2020 and wanted to make sure 2021 was a great year for me, so started great.

I knew this guy was legit, a very dangerous fighter, he took the fight on two weeks' notice and will do great in the 135-lb division."
Exactly a year after his last fight – a majority draw against Enrique Barzola – Brazilian veteran Rani Yahya earned a second-round submission win (arm-triangle choke) against Ray Rodriguez.
Afterwards, the 36-year-old praised commentator Cormier and Jan Blachowicz for inspiring him with their success at significantly older ages than most fighters during his post-fight interview with the former, as he has championship aspirations in a deep bantamweight division.
In the lightweight division, Rafa García had an unforgettable Octagon debut and learned plenty along the way – despite losing his 12-0 undefeated streak via decision to the night's biggest pre-fight favourite in Germany's Nasrat Haqparast.
Haqparast landed one strike shy of 100 through 15 minutes, with both defending a combined five takedown attempts in an exciting stand-up battle.
Cortney Casey landed significantly more strikes (121 – 58) and looked close to a stoppage but JJ Aldrich's four takedowns helped her to a split decision victory in the women's flyweight division.
Women's strawweight Jinh Yu Frey was an underdog but relished the challenge vs. Gloria de Paula and outlasted her, winning on all three judges' scorecards 29-28 through 15 minutes.
After defeats against Kay Hansen and Loma Lookboonmee post-lockdown last year, she has earned her first UFC win against the Dana White's Contender Series graduate.
Matthew Semelsberger made welterweight history, with the seventh-quickest knockout in divisional history – blasting past Jason Witt after just 16 seconds after landing a devastating right hand, taking advantage of the 34-year-old's low calf kick being too close for comfort.
Picture source: Getty