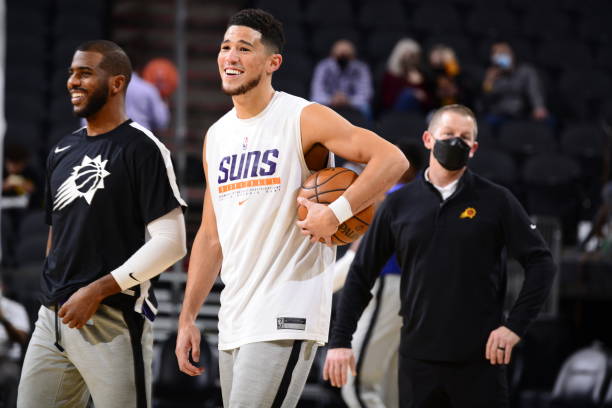 Midway through an unprecedented season hampered by COVID-19 protocols, troublesome injuries and more too, I spoke to LA Clippers fan and NBA expert Jack Brown shortly after the All-Star game – discussing multiple topics including: standout rookies, possible moves between now and the March 25 trade deadline while assessing true contenders from the pretenders.
It feels like not long ago, we were mulling over the futures of Giannis Antetokounmpo and Fred VanVleet – they've both re-upped with big, deserving deals in Milwaukee and Toronto respectively. Yet, there's a new superpower in Brooklyn ready to dominate their Eastern rivals.
Zion Williamson's a first-time All-Star for an intriguing New Orleans team, Devin Booker finally has help in Phoenix and the New York Knicks… are good? Will the Utah Jazz sustain their league-leading start? As you can tell, plenty of questions and interesting storylines as usual leaguewide.
So, I chatted with LA Clippers expert and fan Jack Brown, for his thoughts after a short offseason ended before Christmas as the Lakers look to defend their championship crown this summer.
With the Tokyo Olympics being moved to this July, the NBPA agreed to a 72-game regular season that began in late December. Players will thus still be able to compete for their nations.
All player stats mentioned in this piece are correct to March 10th, unless stated otherwise. As this is a Q&A, Mosope (MO) and Jack (JB) are denoted in the conversation throughout.
---
three months on: perspective on a short offseason post-bubble
Mosope: Remember the final question from the last time we spoke for a Q&A?
Jack: Nah, you'll have to remind me.
MO: No worries, I'll jog your memory. Now this season is halfway through, let's reflect. Was the short offseason a good or bad idea after all? You said it would only damage those teams still competing in the bubble come September, October time like the Heat and champion Lakers.
JB: It wasn't well-received, understandably, but things had to continue going. This way, it resets for this upcoming offseason and there will be a significantly bigger gap between the last Finals game and the 2021-22 season opener. They had to sacrifice short-term, with long-term in mind.
MO: Yeah, I'm just going to echo what I said at the time..
Someone will always feel aggrieved and in truth, maybe the first month or so might be rough – worst case scenario – but we've all seen it doesn't really matter until the business end [of regular season] and playoffs anyway.
I mean, just look at the Heat for example! They started 6-12 and they've been really good since, despite all that has gone on.
JB: Yeah, they were unlucky because they had COVID-19 problems but not enough for the games to be postponed – playing with the bare minimum or just above that for a chunk of matches.
---
Rookie watch with Ball and Haliburton starring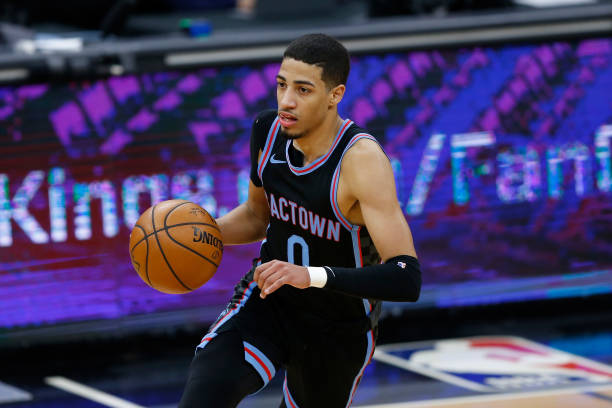 MO: More on the Suns later but first – which names have stood out to you from this year's draft class so far?
JB: Sacramento Kings' Tyrese Haliburton. Got a good frame, unafraid to shoot and has a really good arch on his shot. With a bit of off-season body improvement, he could be a quality starter for quite a few teams. That said, LaMelo Ball out in Charlotte is proving the real star of the show.
MO: Right, but why is that?
JB: The first word that comes to mind when mentioning him is effortless. When a player makes it look easy (Durant, George for example), that's usually a sign of greatness. Just from a passing perspective he's a prodigy, already got a variety of dimes midway through his first season!
His court vision is already elite and will continue improving once he figures out NBA defences, plays with flair and doesn't hide it, which I really like because it's important to play how you want to. My favourite part? He's having fun and that goes a long way.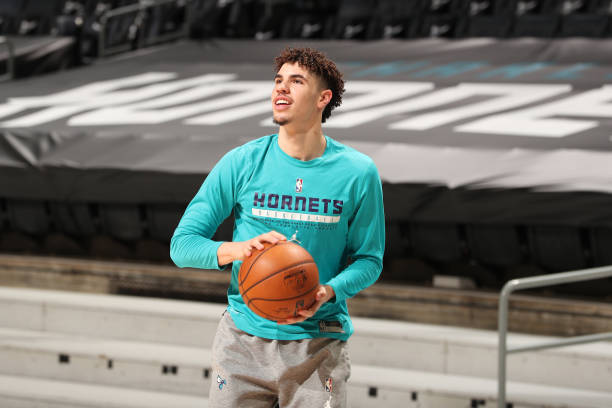 Fearless and eager to play hard every game, it means despite being a little turnover-heavy at times, those rookie mistakes will iron themselves out – he's a basketball genius almost.
MO: Wow, that's some big praise there!
Despite the weaknesses; turnovers, questions over defence and such, I've been high on him for a number of years now, so naturally glad to see how seamlessly he's settled in so far and silenced those who criticised whether he'd be a justifiable top pick or just name value and hype.
Do you think it's too early to say whether the Timberwolves (Anthony Edwards) and Warriors (James Wiseman) made a mistake passing on him with the first two draft selections?
JB: Yeah, it's too early. Edwards has real potential and for all we know, could grow exponentially while Melo could've already reached his heights. Let's wait and see.
MO: I think so too, but have you seen this? [sends link showing the below]
JB: Yeah I did! It's a little strange to say the least.
MO: Oof. Have you seen much of the guy you originally picked for this rookie section, Cole Anthony out in Orlando?
JB: Yes but in parts… Cole got injured and has been effectively out pretty much since hitting a game-winner against the Timberwolves. From what I did see, after slotting into the starting five once Markelle Fultz's season-ending injury, it felt like he was still figuring things out.
His shot selection and size held him back a bit but he's been okay, just too small a sample size. Heard no updates on his injury recovery recently though.
MO: Yeah, the team said he'd be out until after the All-Star break at the earliest, having sustained a shoulder strain then fractured rib too. Not ideal but hopefully he's back fit soon!
---
Phoenix Suns, a bold prediction and leaguewide trade targets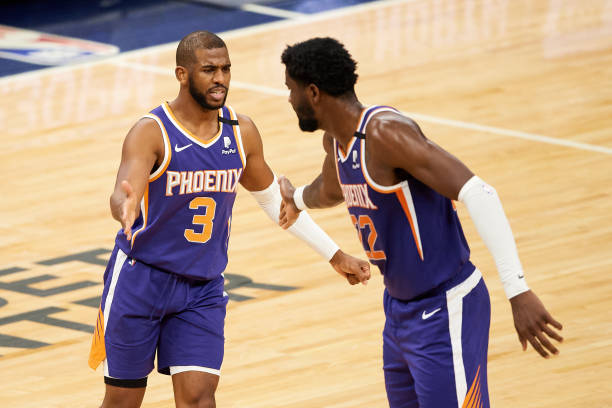 MO: So onto another of your perfectly-timed predictions… I asked you whether Phoenix could sustain their bubble play all year round, rather than when they knew there was an unprecedented opportunity to sneak into the playoffs. Let's remind the readers what you said:
JB: Was this before the CP3 trade?
MO: Yeah, I think the trade was finalised exactly a week after that piece went live!
JB: Well… if you had asked a week later, I'd have said something completely different. Once they got Chis Paul, I knew they would be good – he's an elevator of teams. Top 4 seed potential.
MO: How have they gone from middle of the road to this good so quickly?
JB: At the All-Star break, they were second in the West – that's no fluke. I think CP3 has done wonders for the team, both on and off-the-court, while they're better than OKC were because of a player like Devin Booker alongside him.
It's one of the league's best backcourts in terms of talent and they still have some chemistry things to manage. Well coached, hungry to end a playoff drought, it's a well balanced roster with a bit of everything and some much-needed depth.
MO: Is Deandre Ayton their x-factor? How far do you think they can go?
JB: Ayton is, definitely! He has a whole other level to reach. I think with some luck, they could make the Western Conference Finals. I wouldn't trust the Clippers health, nor fortune, to guarantee them a spot alongside the Lakers, so yeah.
MO: Ooooooooh…
JB: If they avoid LeBron, WCF is possible. That's their ceiling though. Realistically, a first or second-round exit.
MO: Ayton is actually averaging less points (14.5), but is marginally more efficient this year.
JB: That makes sense with Paul there.
MO: I feel like I'd be doing myself a disservice if I didn't, at least briefly, touch on the two guys who got left behind in all of this. Firstly, Kelly Oubre Jr – I really like him but his shooting and overall play saw him getting clowned pretty hard for the first six weeks of the new campaign.
Since then, the opposite. He's an unrestricted free agent this summer so there are options…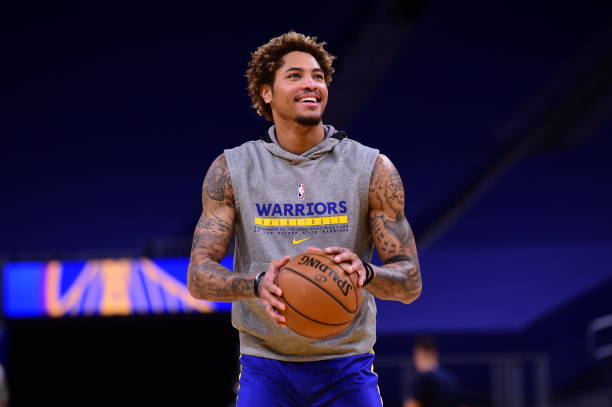 JB: I think he would make a good wing off the bench, if I'm honest.
MO: Yeah, not sure where the best fit is for him though. Any teams come to mind? Considering he signed a two-year, $30m deal.
JB: If they can, staying at Golden State works. They are a good passing team and he thrives playing off-ball.
MO: Fair, the thinking is that he'll command more money than they can afford and considering their existing contracts, they won't find a compromise so will look elsewhere instead.
Secondly, the guy I just don't rate unfortunately. Ricky Rubio – I quite literally questioned their ceiling if he was going to be eating up $17m-a-year on the Suns' books.
Averaging a career-low in points per game (8), assists are down (6.4), shooting is the worst it's been since 2015-16 for a Timberwolves team who need all the help they can get right now…
JB: Oh yeah, Rubio has been awful this season. Unfortunately, he and his game just doesn't seem to fit the modern NBA, at least anymore. He would've been quality a decade ago.
As for the T-Wolves, they are a lost franchise going backwards and need a complete reset.
By far the league's worst team, so much so that the second-worst would sweep them in a hypothetical seven-game series.
MO: Ouch. Ok, let's move from that tough note to something more… pressing. What are your opinions on possible PJ Tucker, Kyle Lowry and Andre Drummond destinations?
READ: Multiple teams interested in Cavaliers' available center Drummond
JB: Houston must get rid of everything, they're a joke right now. I could see Tucker on the Bucks, but I think Brooklyn might get him too – which is crazy. Drummond is going to the Lakers, I think. Marc Gasol was a mistake, Montrezl Harrell just isn't good enough to win a championship.
And Kyle? Maybe the 76ers?
MO: Okay, we'll ignore the Clipper bitterness with the casual Harrell slander there, but I definitely read somewhere that Houston were preparing a possible fire sale so that part makes sense. As for Drummond, I'm still unsure but just hope Lowry goes to a true contender, if he does leave.
---
All-Star snubs, under-the-radar players and early award races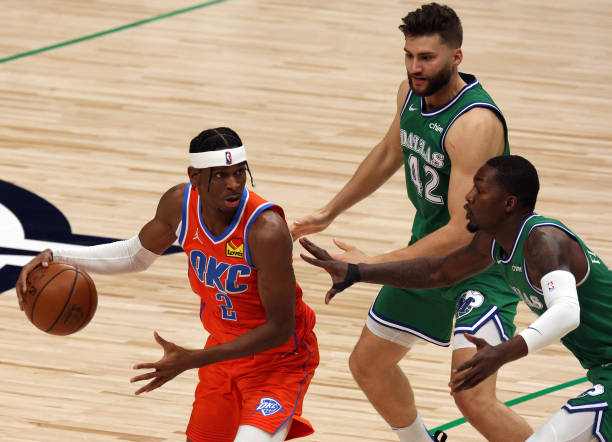 MO: The game's already happened and there's nothing we can do to change those selections but indulge me – give me your three biggest All-Star snubs this year?
JB: Shai Gilgeous-Alexander. Multiply it by three.
MO: Yeah, I agree. Didn't get it because he plays for OKC – besides Curry and Zion (for separate, albeit obvious reasons), there were no players selected from those mid-table Western teams.
Anyone else?
JB: I think Khris Middleton is a snub, especially considering loads of players missed the game [Anthony Davis, Ben Simmons, Joel Embiid, Durant, Booker] and he still wasn't a backup!
MO: I understood it, mainly as there are loads of guys who can get 25+ points and he's just not a sexy pick but the East was loaded and a lot missed out in what's seen as the weaker conference.
JB: Actually, Trae Young is the biggest snub.
MO: Yeah, I was gonna say…
JB: DeMar DeRozan?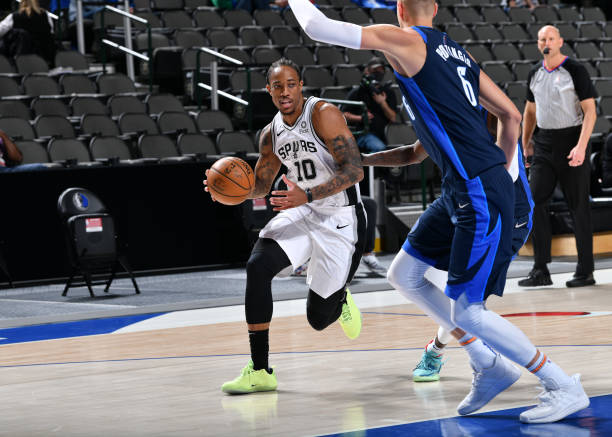 MO: I really admire Demar, he should've got *the spot* they handed Conley, that's lame.
So with SGA and Young already, pick one of these guys and you'll have your completed three:
Demar or… one of Fred VanVleet, Tobias Harris, Gordon Hayward, Bam Adebayo, Jerami Grant
JB: I'll go DeMar for my third pick, the Spurs are seventh in the West and he's averaging 20 PPG with good assist numbers, is a consistent performer and underappreciated.
MO: Difficult to disagree there! So… was the All-Star game worth playing after all?
JB: Could have done without it, but the league got its money. It still shouldn't have happened. Ben and Joel have suffered for it, yes players had fun but in the grand scheme of things? No.
Half season awards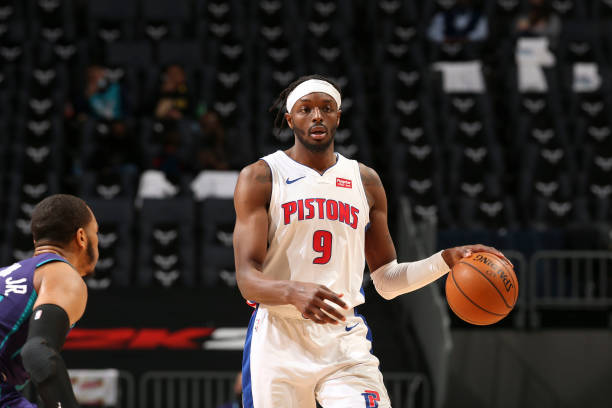 JB: Okay, mine are as follows –
Most Valuable Player: Joel Embiid (Philadelphia 76ers)
Defensive Player of the Year: Ben Simmons (76ers)
Rookie of the Year: LaMelo Ball (Charlotte Hornets)
Coach of the Year: Quinn Snyder (Utah Jazz)
Most Improved: Jerami Grant (Detroit Pistons)
Sixth Man of the Year: Jordan Clarkson (Jazz)
Game of the Year: Clippers 120-124 Nets on February 3
MO: Interesting, we've got a few of the same so far –
MVP: Nikola Jokic (Denver Nuggets)
DPOTY: Rudy Gobert (Jazz)
ROTY: LaMelo Ball
COTY: Monty Williams (Phoenix Suns)
MIP: Jerami Grant
6MOTY: Jordan Clarkson
GOTY: Nets 146-149 Wizards on January 31
I could've gone with the Nets-Cavs thriller, but instead picked Wizards' thrilling win instead – for obvious reasons as a Russell Westbrook fan. Those were some crazy games, must rewatch!
JB: Yeah, that game is a good pick in fairness.
MO: Just curious, why did you pick Ben for DPOTY?
JB: The eye test and the fact he's just so… disruptive. He makes players turn it over without him needing to touch it, has a fear factor, is a game-changer on defence and can guard literally anyone on the court.
MO: Yeah, I was thinking about him but Utah are doing too well not to acknowledge Gobert's defensive efforts – even though he's won it in successive years. The Giannis Antetokounmpo voter fatigue is a real thing too, so he won't get anything unless they [the Bucks] win it all.
JB: Plus, Milwaukee have been up-and-down so far this season too. That doesn't help.
Players you need to know about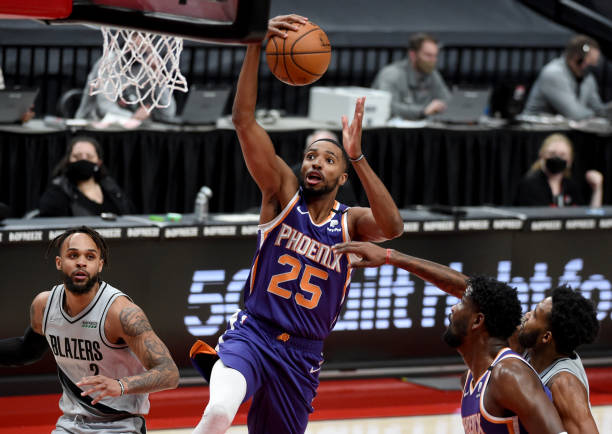 MO: Leaguewide, who is the best player that not enough people know about? I'll start off:  definitely Phoenix's Mikal Bridges with an honourable mention for PJ Washington in Charlotte.
JB: … [thinking]
MO: It's not a trick question, and you can't pick Luguentz Dort (Oklahoma City Thunder) either, after the way his profile exploded in the Orlando bubble. Someone new please!
JB: … Alright, I'll go with Coby White (Chicago Bulls) and the Indiana Pacers' TJ McConnell.
Zach LaVine's success means White is overlooked, but he can really light it up. He had eight threes in a game alongside Zach earlier this year, making history in that backcourt.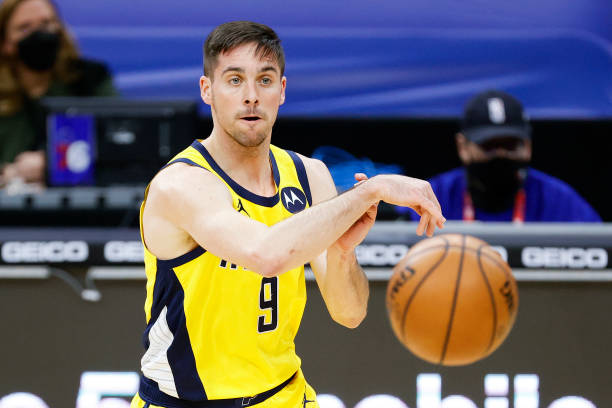 As for TJ? He's the definition of a team player, a super pass-first guy with some of the best defensive hands around, plays incredibly hard and is very smart to boot.
MO: Yeah, it's hard to argue with either of your picks. Coby is learning from a first-time All-Star, which is never a bad thing! It feels like he'll come into his own element the way SGA did, the way they hoped Lauri Markkanen would (and still can, but time is of the essence…)
As for TJ, the box score isn't always kind to him but he's really good when you sit down to watch.
JB: Chicago are in the playoff hunt too, and that last bit about TJ is why the eye test remains undefeated.
MO: Yeah, would you attribute that down to Billy Donovan's arrival and incremental improvements? Or something else? I'm so happy for Zach by the way, he deserves it all.
JB: It's called not having Jim Boylen anymore and just improvement – individually and as a team. They are 9th at 16-18, not too bad.
MO: 😂 Poor Jim was riding them too hard and they didn't play for him.
JB: His fault. Not playing Zach to close out games was just one of multiple sackable offences.
MO: Nine of their 18 losses have been by five points or less, too 😳
JB: Yeah, they have serious trouble in close games. Bad mistakes, poor game management, typical Billy [Donovan].
MO: 😂 It's as if you read my mind…
---
what to do about the Questionable officiating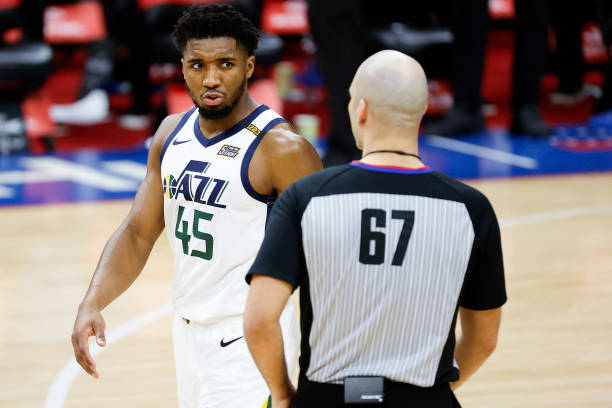 MO: Have officiating standards declined of late or is there too much recency bias and reactionary takes from critics/fans, all things considered? If yes, how do they go about fixing it? There are many recent examples – like Draymond, Booker and that Jazz game to name a few.
JB: I think the issue is more on some of the rules and how they [referees] are told to officiate is the problem. They need to fix offensive players throwing themselves into defenders and being rewarded – very inconsistent and stops the players being responsible for a game win or loss.
The Kawhi incident with Harden… you can't have that being the deciding play at the NBA level. There is nothing in that. It's a bucket and tie game, next possession. What's Jack referring to? 
MO: Yeah, this is a tough one. I've asked you before, some players seem to always get fouls and others… just don't.
The dissenting calls are jarring to watch, like Green getting a technical foul (and subsequent ejection) for shouting at rookie James Wiseman… when they thought it was directed at them.
The next five minutes were just us exchanging our frustration at specific incidents, but afterwards…
JB: As for the technical fouls, they're reputation based.
MO: I'm aware they are, but that's not a good enough excuse. How do they fix it?
JB: They just need to show restraint really, you can calm a player down without needing to eject them or needlessly punish them. The NBA needs its best players on the court, so find a balance.
MO: I don't know if they want to assert their authority with those calls but it ends up having the opposite impact, undermining them instead. You shouldn't need to eject someone for reacting angrily to a suspicious or contentious call and I'm seeing it more often than ever before.
JB: What do they expect them [the players] to do? Not complain? It's just too short a leash. Tempers flare, it's a competitive environment.
MO: Precisely. There have been some egregious decisions that stick in the mind, but enough of that for now… your favourite part of this Q&A is next.
---
Clippers corner and blake griffin joins brooklyn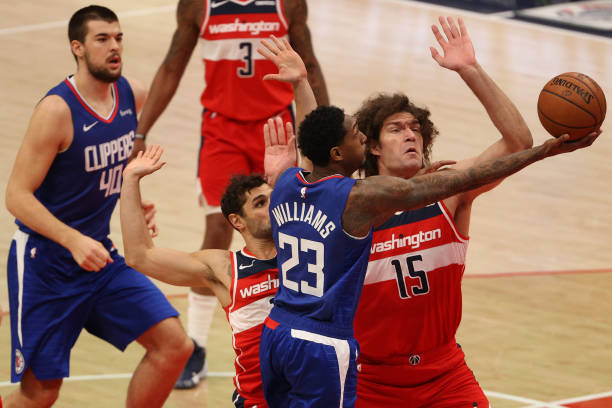 JB: Great, we focus on my team now! Do the Clippers really need a third guy or another guard?
MO: Well, it's fair to say the point has been laboured to death over the past few months. Obviously that doesn't always make it true, but it would certainly help their chances no – provided it's the right fit? How do you feel about it?
I'm seeing George Hill, Terry Rozier, Lonzo Ball, Eric Bledsoe and the aforementioned Lowry.
JB: I think it's more of a personnel issue where we don't have many players capable of playing off-the-dribble. The one guy who can, outside of PG and Kawhi, is Lou Williams. That said…
His defence and shot selection is hurting the team. Now, Lowry would be perfect for the Clips, a very good playmaker who would fill some of the aforementioned gaps but they'd need to sacrifice a little bench depth for additional firepower at the guard position if that's to come off.
Also read: Philadelphia 76ers among NBA teams eyeing Kyle Lowry trade before deadline
Assuming it doesn't, they should play from the post or the elbow using Nicolas Batum or George to make plays in closely-contested games.
MO: Fair enough, some good points in there – who would you be willing to sacrifice besides Lou? To say his potential trade stock dropped in the bubble is an understatement.
JB: It's not really feasible as a lot of our players are on small money, so it'd probably be internal improvements. We would have to trade Marcus Morris, Patrick Beverley or someone like that.
All of our bench players are on small contracts, so that Lowry move just wouldn't get done.
But saying that, we shouldn't trade the aforementioned duo! So if there is going to be a trade, it's likely to be a little tweak or signing a player from the buyout market.
MO: Yeah, I'm not particularly convinced it's wise to tinker too much with things as they are, though anything that helps in the long run is always good.
JB: I think we are a playoff-type roster anyway. Me saying this won't age well, probably…
MO: Perfect. That's definitely going in the final edit.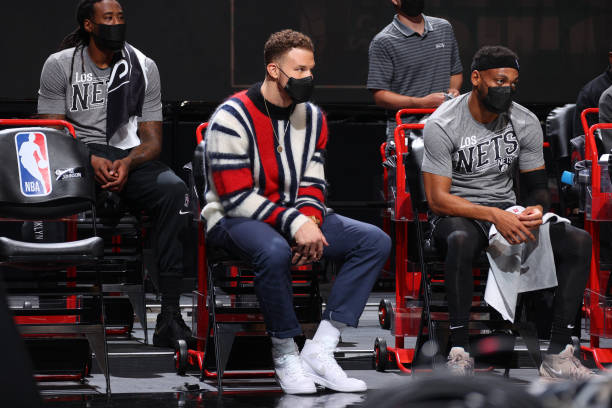 MO: Let's assume the Clippers – one reason or another – don't meet them again. Who else is good enough to beat a full-strength Lakers team out West?
JB: Nobody. I think they're better than any team not called the Clippers.
MO: Really? How about the league-leading Utah Jazz?
JB: They lack a superstar, a lot of their talent is in guard play – not exactly a recipe for success in today's league, just look at Portland.
They're too reliant on three-point shooting. And before you ask, no, Shaq was right: Mitchell isn't a superstar. In a seven-game series? I give them five games, maybe six if their three-ball is falling.
MO: Wow. Well then, that kinda lines up well enough with my next question. You sticking with your Brooklyn Nets championship pick? Especially now they've added Blake Griffin to the mix?
JB: Yes, they are just unstoppable. They found their groove without KD (hamstring) and when he comes back, it's going to be unfair. Blake – even past his prime – will make them even better.
His playmaking, for one. He's really unselfish and desperate for a ring, so will do anything to help. With the spacing they possess, he'll find it easier to get to the rim and can knock down threes (even though not right now…), naturally play better on a contending team going forward.
MO: Yeah, I find it hard to disagree there. His shortcomings this season have felt exaggerated, not really surprising though considering those troublesome injuries and how Detroit have weaned as a franchise in recent seasons. How time flies! This is the biggest opportunity for him now.
JB: Don't get me wrong on this. He's well past his prime and if he plays more than 25 minutes-a-night, he will make them worse.
MO: I think he and they [Nets' coaching staff] are aware of that, it's about managing his minutes carefully and ensuring he doesn't feel a need to force it – let it come naturally.
JB: It'd be nice if he could actually still dunk…
MO: Hey, leave him alone! Anything else you've observed or want to say?
JB: Ty Lue said he's holding back defensive schemes and 50% of his playbook for the playoffs, so naturally I'm intrigued to see what we look like come the postseason if this is the case.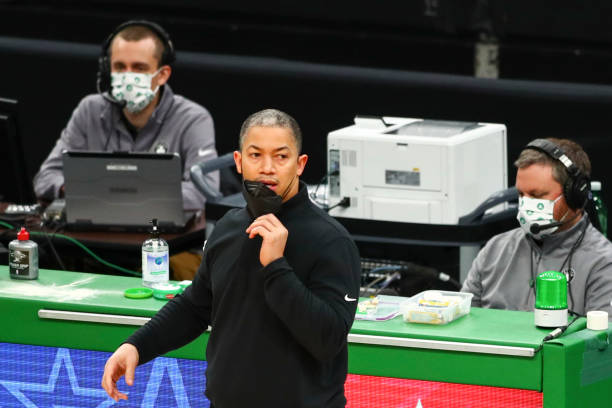 Also, the seeds are so tight in both conferences which is cool. Things change nightly, so it's hard to get a true grasp of who's truly better when it continues to fluctuate.
MO: Yeah, it'll be interesting to see for sure… just hope it doesn't get to a point where he says, "oh well, I'm disappointed we weren't able to showcase our full potential," and hint at the playbook.
I think it will start levelling out towards the business end but for now, it's really tight like you said and that makes for compelling teams.
JB: Indeed. If we can avoid the Lakers in the second-round, it might finally happen for us.
MO: The key word there is might, yeah. We'll see.
All pictures source: Getty
Although he's still unwilling to praise Doc Rivers for a job well done in Philadelphia so far…
As always, a big thank you to Jack (@CFCJack2712) for his time with this piece! If you've got this far down, I'm always looking to do more Q&A-type NBA articles like this one with other experts too. If you liked this and want to contribute in future, don't hesitate to contact me – email or on Twitter.
It's not the first time Jack has featured in my work and won't be the last, as we're likely to discuss some new topics once again come playoff time – even if his bold predictions rarely come off. With that in mind, be sure to stay tuned for more coverage as the business months continue to unfold!