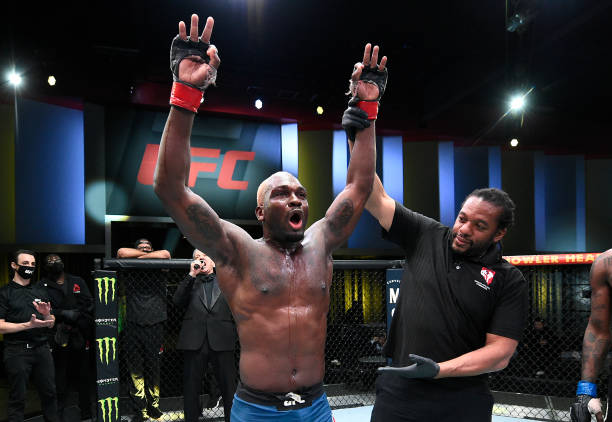 #7 middleweight Derek Brunson embraced his role as underdog again, riding the big punches to earn a composed, workmanlike UD (49-45, 49-46 x 2) win over Kevin Holland (#10) with a career-best six takedowns, before calling out Paulo Costa (#2) after a fourth straight victory.

Brunson defiantly dents Holland's middleweight surge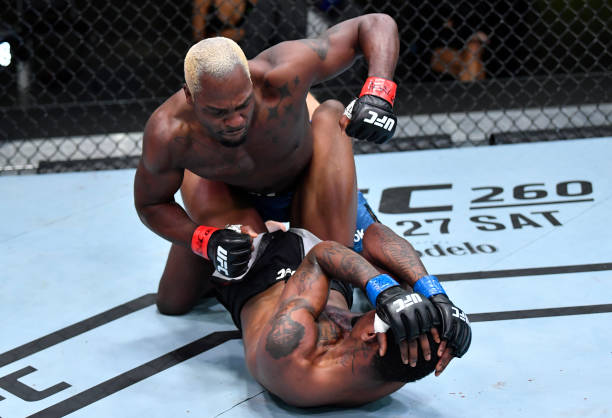 49-45, 49-46, 49-46: Derek Brunson defeats Kevin Holland via unanimous decision
It's easy to get lost in the bravado, the 2020 hype, talk and so much more but Brunson refused to engage throughout fight week and got what he came to Las Vegas for: a hard-earned win in another main event where he was the underdog, showing grit and awareness to nullify Holland.
The #10 ranked middleweight had won five straight fights, becoming only the third fighter in promotional history to do so last year, after Roger Huerta (2007) and Neil Magny (2014).
But Brunson had been here before, picking Ronda Rousey's protege Edmen Shahbazyan apart last August. Two fights into his new six-fight contract, he's won four straight for the first time since 2016 and it's hard to look past him getting another opportunity closer to the division's top.
In his pre-fight interview, Brunson said something fairly telling:
"I'm always looking for self-approval, you can never make anyone – especially the fans – happy. I'm more focused on myself, bettering myself, making sure I'm at the top of my game and getting better each fight."
Holland started furiously but almost paid for it immediately, after landing a few front kicks, as he slipped on the mat and Brunson seized the opportunity to wrestle him to the ground. It was a gifted takedown for the 37-year-old, as they exchanged strikes and Derek's control time rose.
Holland audibly asked Khabib Nurmagomedov for help in-between rounds, rather than listening to his coaches, as he flippantly brushed off the first five minutes as something he could retrieve later on. After all, it was a five-round main event. He came close to a second-round stoppage too.
Brunson was visibly hurt and stumbled after absorbing multiple wild strikes with his back against the cage, as Holland charged forward. He recovered to produce a timely takedown, though Holland did well to break free from an arm-triangle choke that could've ended the fight too.
Brunson had 7:31 worth of ground control time through two rounds so you could sense he was going back to that tactic, whenever the opportunity presented itself.
Holland's right-hand continued to land in R3 but the wily veteran patiently bided his time before securing another takedown – even though he was starting to tire. Kevin allowed him to coast in top position without having to do much, as Trailblazer landed more strikes from the bottom.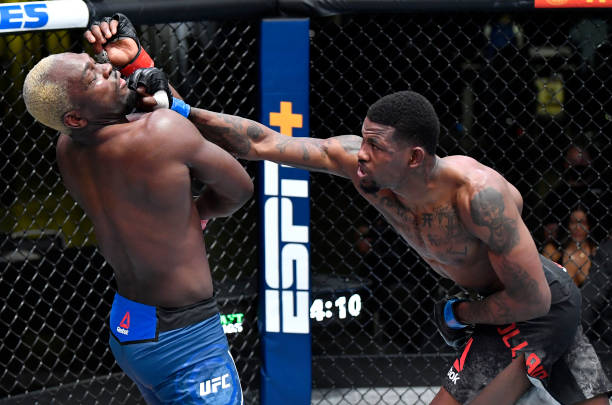 A graphic across the screen showed both fighters were entering the fourth round for the first time in their respective careers and again, it was more of the same and becoming increasingly frustrating to watch from Holland as this main event matchup was slipping from his grasp.
His wild movement and footwork gifted Brunson a favourable angle to shoot in for more takedowns, despite a promising start to their stand-up exchanges with sustained success. Had he stayed composed and kept him at distance, this could've been a completely different story.
Holland was happy with his work, taking Brunson down after they clinched for sustained periods early in R5, loading up on body shots and trying to slam the #7 contender on his head.
Aware, Brunson turtled up and eventually kicked him off after absorbing one too many shots for his liking, before returning to the ground on top with a sixth and final takedown of the night.
In the post-fight press conference, Brunson revealed he was unhappy not to get a finish but said he'll work on his ground-and-pound and believes a step-up in competition is next.
"I want one of these top guys that will elevate me, a Whittaker rematch or Costa, I have a little cut so will let it heal but get back in a couple months."
On Holland's gameplan and why he didn't engage in trash talk mid-fight:
"You've got to do better than that, work to get out of positions, he's just laying here talking so I didn't want to break his rhythm and let him do his thing.

I think he'll learn from this. He wants to entertain but this is the fight game, it's good to have fun but need to be more focused. He knocked Jacare out, was getting all these bonuses and only had one good moment in the fight."
---
Rest of main card as griffin seizes co-main event opportunity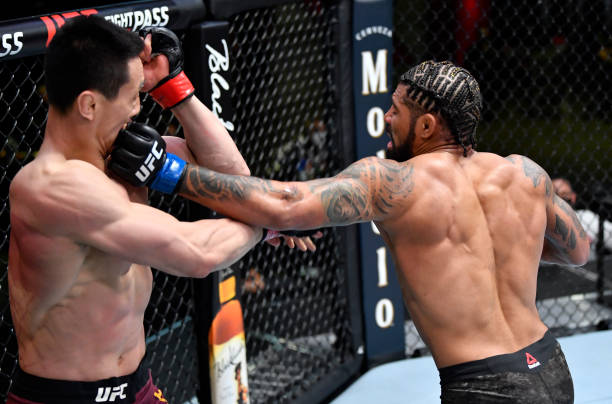 R1, 2:20 – Max Griffin defeats Song Kenan via KO (punch)
Max Griffin has strung together successive victories for the first time in his UFC career, earning a personal fastest finish since November 2016 in the night's co-main event against Song Kenan.
After beating Ramiz Brahimaj on the Santos-Teixeira card in November, the 35-year-old welterweight wasted no time letting his jab fly at Kenan – who simply didn't know what hit him.
It was a fast start by both with counters aplenty, though Griffin's right-hand jab then vicious left-right combo knocked the China international face down on the canvas, with follow-up shots too.
Griffin said he cried when hearing his fight was moved to the co-main event after Gregor Gillespie vs. Brad Riddell was cancelled due to COVID-19 protocols and had a callout for UFC 262:
"I feel good, got the call this morning. I'm a star and the world's going to see it? It's on ESPN right now – man, it doesn't get bigger than this.

I heard they're going to Houston, [#11 ranked welterweight] Geoff Neal is from Texas, that would be lit, no-one wants to fight him … holla at your boy."
---
Conejo stifles fellow debutant Buys with persistent grappling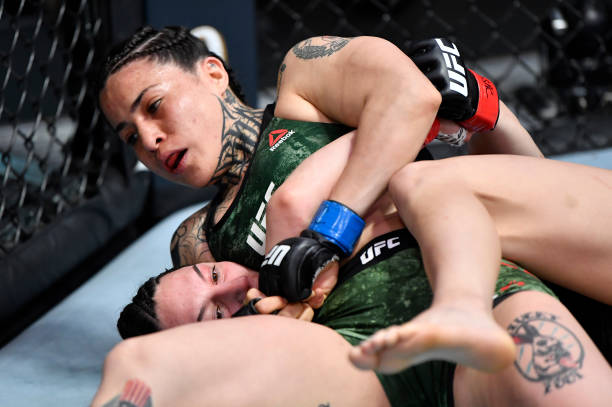 29-28, 29-28, 29-27: Montserrat Conejo beats Cheyanne Buys via unanimous decision
In the women's strawweight division, Cheyanne Buys was given a rude awakening on her Octagon debut vs. fellow newcomer Montserrat Ruiz – who excelled with persistent wrestling.
Her corner told her to throw the round away and go again after a sluggish start, little did they know there was more to come from a determined underdog in Mexico's Conejo.
Having punched her way into the clinch with a takedown and sustained control time as she continued to relentless wear on Buys, the 25-year-old was absorbing damage aplenty.
Despite a promising first minute from Buys, there was more of the same in R2 and it became clear she needed a finish if she was to seal an unlikely comeback win.
Again, she looked threatening in the early going but Conejo promised pre-fight that Buys wouldn't be able to cope with her wrestling skills and it proved a prophetic statement.
The referee and other officials had to separate them after a frantic finish at the horn, as they exchanged trash talk and were clearly ready for more action than their allotted 15 minutes.
---
Yanez asserts his bantamweight potential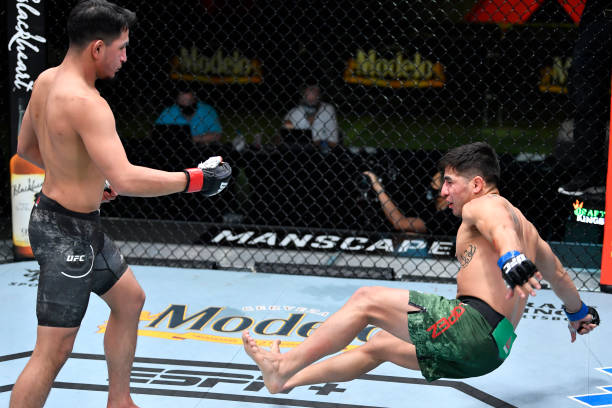 R3, 0:27 – Adrian Yanez defeats Gustavo Lopez via KO (punch)
If you didn't know, well now you do. There's a new player in the bantamweight division – Contender Series signee Adrian Yanez, now 2-0 in the UFC and enjoying a six-fight win streak.
The 27-year-old was getting the better of stand-up exchanges against Gustavo Lopez, who had bouncing and feinting aplenty but not enough activity nor head movement as he found himself frequently backed up against the cage.
A finish was coming, though Yanez needed to exercise patience and not throw extravagant strikes – flying knee attempts for example – before he landed a counter right-hand dropping Lopez.
A futile attempt at a single-leg takedown to buy himself some recovery time was defended before R2 fizzled out, though the final round certainly didn't.
Lopez certainly respected the Houston native's power and didn't fancy getting rocked again, but also didn't throw enough as both were aggressively posturing at distance. Yanez landed another rapid counter right as Lopez attempted to throw one of his own, but this time, it was lights out.
He called out Nate Maness (13-1) after telling an anecdote about driving past Toyota Center with his dad and says it would be a dream to be on the promotion's Houston PPV card on May 15.
---
Tuivasa wastes no time with another first-round KO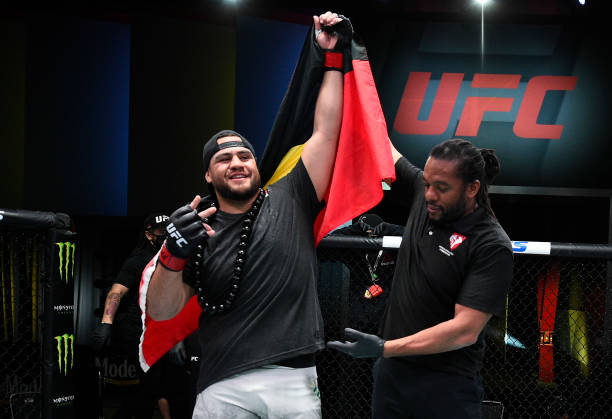 R1, 0:49 – Tai Tuivasa beats Harry Hunsucker via TKO (punches)
Tai Tuivasa's fights are always short, often sweet and this one was no different – needing just 49 seconds to blast short-notice opponent and Contender Series graduate Harry Hunsucker, after original opponent Don'Tale Mayes (8-4) was removed during fight week (not medically cleared).
Softening him up with leg kicks as the 32-year-old charged forward, Hunsucker soon realised distance management was important to his chances of an unlikely upset victory – but it was too late as Tuivasa sensed and seized the opportunity, throwing a succession of nasty right hands.
It was a furious finish and the fan favourite heavyweight, who turned 28 on Tuesday, revealed post-fight that he's prepared to have a quick turnaround but needs to know soon, after a five-month break between this matchup and his first-round KO of Stefan Struve last October.
---
Prelim results, featuring dramatic finish and cornerman cejudo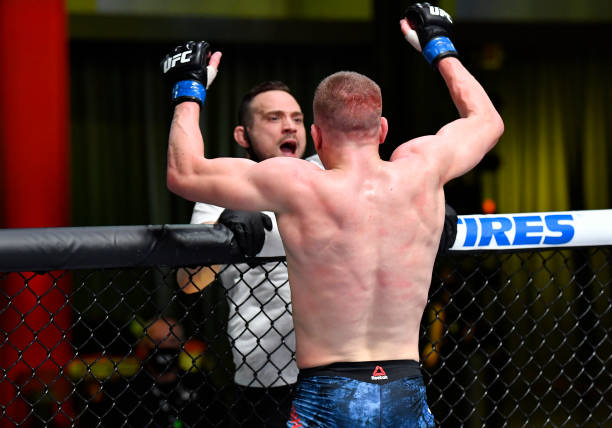 In the night's featured prelim, #11 ranked bantamweight Macy Chiasson earned a comeback win against Marion Reneau (#9) as she grew into proceedings after a sluggish start.
Persistent jabs and liver shots visibly hurt Reneau who was bloodied early. The promotion's oldest fighter at 43, she's now lost four straight and her future prospects appear ominous.
Afterwards, the 29-year-old reflected on a big win after 13 months out:
"I wanted to show more composure, show people that I've developed, the division isn't getting any easier and I wanted to have fun in there.

I deliberately try to hurt people, was picking my shots and we've been working the check hook, focus on being persistent, consistent."
Beforehand, there was a dramatic finish as lightweight Grant Dawson earned a KO win over Leonardo Santos, ending the Brazilian veteran's 12-year undefeated run with an official fight time of 4:59 in the final round. He's now 17-1 (5-0 UFC) and called out Clay Guida afterwards.
Middleweight Trevin Giles earned a gritty decision win vs. Roman Dolidze – ending the Georgian's 8-0 record in a closely-contested encounter with 29-28 scores across the board.
In a catchweight bout at 137.5lbs, Montel Jackson wasted no time blasting past short-notice opponent Jesse Strader, showing why he was the card's biggest favourite and returning to winning ways after losing to Brett Johns on the Figueiredo-Benavidez 2 card last July.
With former two-weight champion Henry Cejudo in his corner, Brazilian flyweight Bruno Silva earned a long-awaited first UFC win at JP Buys' expense on the South African's Octagon debut – landing a counter right-hand that flattened the 24-year-old midway through R2.
Picture source: Getty — quotes via ESPN broadcast unless hyperlinked