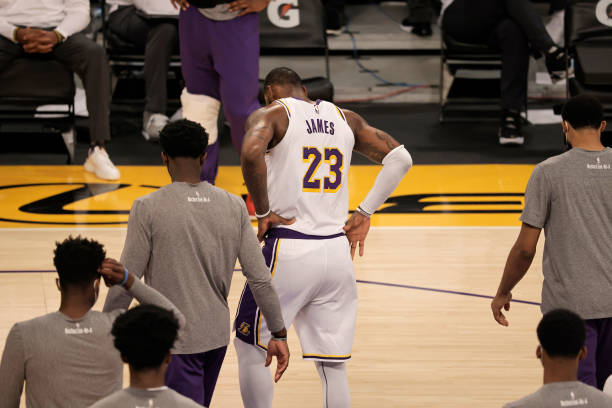 After news confirmed perennial All-Star Anthony Davis (tendinosis, calf strain) would miss at least the next fortnight as he continues to recover from troubling injuries, his star teammate LeBron James is bracing himself to also miss a large chunk of what remains in the regular season after sustaining a right ankle sprain in their loss by the Atlanta Hawks over the weekend.

LeBron expected to be out until mid-April, earliest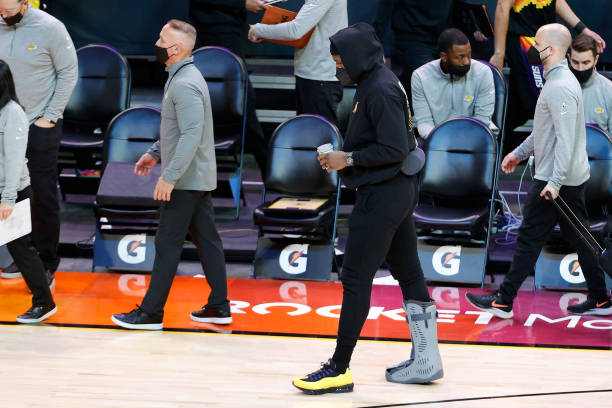 Although plenty of news is centred around possible trades and deals to be done before the impending March 25 deadline, the Lakers (28-15) find themselves in a far-from-ideal situation right now. So much so that Dennis Schroder believes they have to overhaul their approach.
READ: Jury is out: Milwaukee Bucks acquire PJ Tucker in four-player trade deal
As quoted by ESPN, their PG – acquired in a trade from the Oklahoma City Thunder said:
"I think how we played before with them two [AD-LeBron] on the court, it's totally opposite now. We got to move the ball, play with more pace and be more scrappy on the defensive end. Everybody coming on the floor has to be confident to knock down the shot or impact defensively."
Davis isn't expected back for at least a fortnight, though he has already been joined on the sidelines by LeBron – expected to miss 3-4 weeks according to recent reports.
Atlanta SF Solomon Hill fell on James' right ankle while trying to steal the ball. LeBron was already in an awkward position trying to retrieve his dribble under pressure from former teammate Rajon Rondo and Hill, immediately shouting in pain and rolling off the court.
Among the frontrunners for this season's MVP award, the 36-year-old has averaged 25.4 points, 7.9 rebounds and 7.9 assists per game in 41 matches to date.
Also read: NBA Q+A: Rookie watch, look at multiple trade targets and the surging Suns
Golden opportunity for Talen Horton-Tucker, among others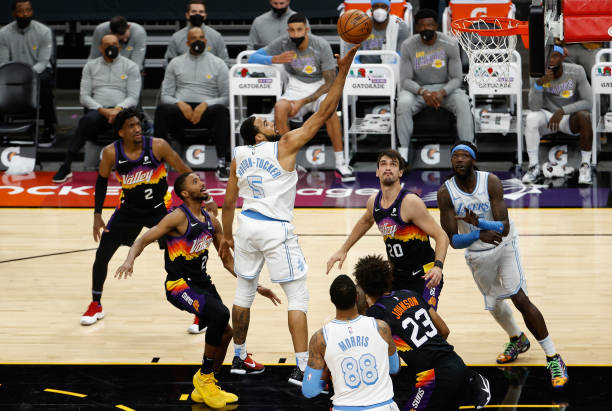 As per head coach Frank Vogel, this signals a golden opportunity for Talen Horton-Tucker in the short-term. The second-year shooting guard has increased his production in recent months as the season has unfolded, averaging 8.1 points and 2.3 assists with 18.3 MPG so far this term.
The Athletic claim rival teams are monitoring the 20-year-old – expected to command a "significant" market in the upcoming offseason, having signed a two-year $2.4m rookie deal.
Head coach Vogel said that high ankle sprains typically take "a while to heal" and are slow recoveries, while Schroder preferred to look at the silver lining when asked.
He said their big injuries are great for everyone else, who now have a chance to show teammates and the organisation they can play – not as important as when their two superstars are on court.
Pictures source: Getty Images