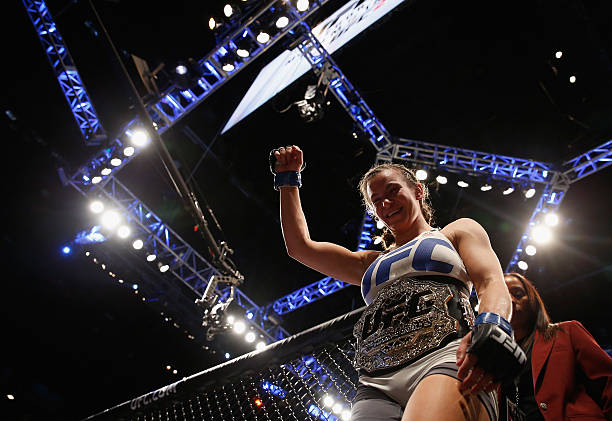 A one-off or necessary acid test as she targets becoming a two-time champion? After a four-and-a-half year retirement, former UFC bantamweight champion Miesha Tate (18-7, 5-4 UFC) makes her return on July 17 against Marion Reneau in the latter's final professional fight.

Per ESPN reports last night, Tate is making a comeback and preparing to face Reneau (9-7-1), who will make that July matchup her final one, aged 43 and on a four-fight losing streak.
"My heart is full of passion, the fire has been lit! The sport has been calling for me, it's time I answer." – Tate's text message to ESPN, delivering the news
Tate, who turns 35 the following month, has remained involved in the sport as an ambassador and executive for Asian promotion One Championship.
Aptly described as one of the biggest stars in the history of fmale MMA, her 2012-13 rivalry with former champion Ronda Rousey is considered one of the all-time great rivalries in history.
Tate had two children while not competing – daughter Amaia (June 2018) and son Daxton (June 2020) and in recent months, subtly left the door open to a possible return during interviews.
In January, she spoke about wanting to return to competition shape again while revealing an eagerness to grapple, as she did against #8 flyweight Jessica Eye five years ago:
"I'm training everyday, haven't sparred in a while but been training grappling, wrestling, a lot of mitt work, shadow boxing, strength and conditioning. Right now, geared towards grappling.
The legal bit
Under the promotion's anti-doping policy, an athlete returning from retirement is subject to a six-month testing window before resuming competition – a rule unique to the UFC, administered by the United States Anti-Doping Agency (USADA).
That said, the UFC are able to waive this requirement depending on various circumstances.
Tate left the doping testing pool after losing via unanimous decision to Raquel Pennington at UFC 205 on November 16, 2016. She was tested 12 times that year alone, but none since then.
part irony as Reneau herself retiring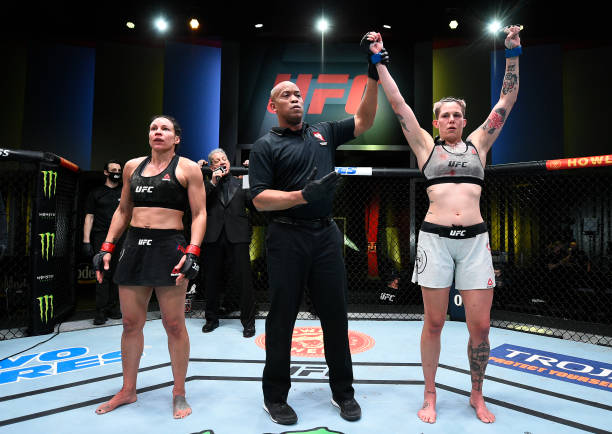 Reneau is on the final fight of her UFC contract and has gone the distance in all of her seven defeats, most recently by Macy Chiasson last weekend.
Pennington beat her on the Blaydes-Volkov card last June, while losses to Cat Zingano (July 2018) and #5 bantamweight Yana Kunitskaya (March 2019) mean the veteran's record is rough.
Nonetheless, on the matchup itself and facing Tate, she was looking forward to it saying:
"I knew my last fight would be when I was 43 or 44-years-old.

I feel amazing, the best I've ever felt but there just comes a time when it's time to move on and in my mind, I always knew I would finish out my contract and that was going to be it.

I can't think of a better situation, just because I grew up watching Miesha. She was one of my first idols when I started fighting. I used to dream about fighting her, and now it's coming to pass in what happens to be my last hoorah."
Reneau, currently ranked #12 in the bantamweight division, was close to a title shot before her recent losing skid.
Good timing in an uncertain division?
In a weight class with plenty of injuries, inactivity and stagnation from top-to-bottom, it makes sense Tate has a tune-up fight before truly testing herself against better competition.
That is, of course, presuming she wants a successful second run in the promotion.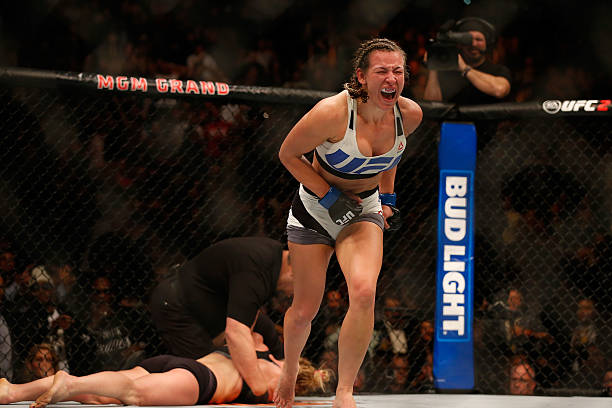 She recovered to beat former champion Holly Holm and win the belt five years ago this month, before getting choked out in her first defence by Amanda Nunes at UFC 200 four months later.
Holm (#2) pulled out of her scheduled bout with #6 ranked Julianna Pena, while Aspen Ladd (#3) hasn't fought since December 2019 and won't be making a return until July at the earliest.
Germaine de Randamie (#1) beat Pena in October and Nunes appears ready to complete a trilogy after blasting past title challenger Megan Anderson inside a round earlier this month.
Bantamweights getting better with age
Kunitskaya, Pena: both 31
Aldana: turns 33 tomorrow
Nunes: 33 at end of May
de Randamie: 37 next month
Holm: 39
Picture source: Getty Images — information via ESPN