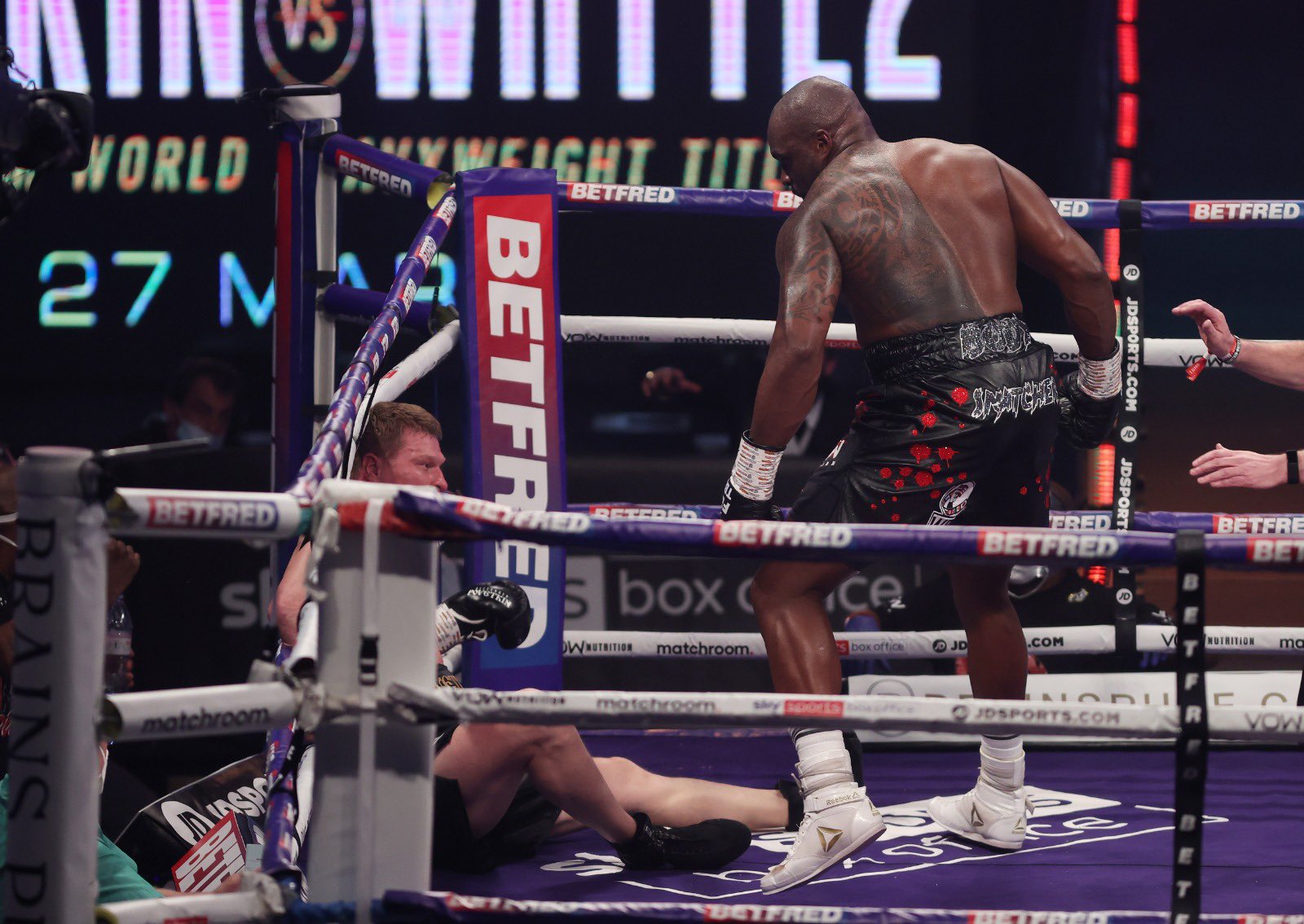 He had a seven-month wait and three rescheduled dates, but heavyweight title hopeful Dillian Whyte (28-2) produced a much-needed display to avenge his shock summer KO loss by Alexander Povetkin (36-3-1) with a fourth-round TKO win, reclaiming the WBC interim title as 500-odd fans cheered him on from Gibraltar's Europa Point Sports Complex.

Whyte reclaims wbc title with long-awaited r4 knockout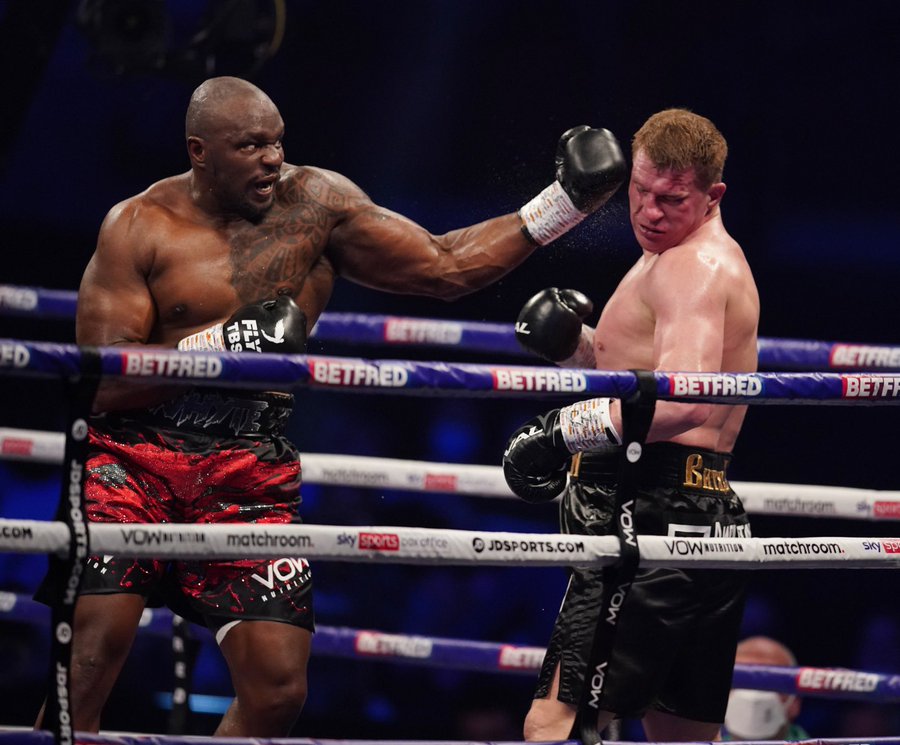 R4, 2:39 – Dillian Whyte beats Alexander Povetkin via TKO, becomes new WBC interim heavyweight champion
"I'm sad it didn't finish in the first round, could've finished him early. I'm willing to run it back again, if he wants the rematch – I shouldn't have lost the first time. All I had to do was be a bit smarter. I believe I can beat anybody."
Whyte was boxing well in the first fight, scored two knockdowns and looked certain to either secure a knockout or corner retirement before long last August. That was, until he wasn't.
Povetkin landed a beautiful, vicious uppercut that sent The Body Snatcher down to the canvas in a motionless heap, as his impressive display had been rendered worthless within seconds.
That's the caveat with boxing – not least at heavyweight – where your night can be over in a blink of an eye, if you get buzzed by a shot you don't see or needlessly over-exert yourself.
At times here, you could be forgiven for thinking he hadn't learned his lessons. He slipped up against the ropes early in round three, was willing to trade shots early on and while Povetkin wasn't exactly fleet of foot, still posed a dangerous threat that needed to be nullified throughout.
After the Russian was rocked by an uppercut and multiple right hand punches up against the ropes during a frantic first-round by both, he made sure to fire back with a few of his own. It had another slow-burning feel, almost as if those shots were needed to jolt the veteran into action.
Whyte led with his jab and was backing the two-time unified heavyweight challenger back, taking centre ring as Povetkin tried to engage by brawling in close with some good work there.
Intermittent charges forward were key as he applied pressure upon occasion, though Whyte was wise to his tactics and made sure to keep his distance.
Whyte's right hands continued to land in round three, while his jab was snapping the Russian's head back with increasing frequency. A welt on his back and increasingly marked up face rather told the story through nine minutes: Povetkin was firmly second best as Whyte asserted control.
That's perhaps why it was surprising to see him begin round four furiously out of the blocks unprovoked, as a sluggish Povetkin absorbed more damage but still looked willing to trade, aware that Dillian is at his weakest when he swings wildly with telegraphed head movement.
This time though, Whyte's distance-management was decisive as he continued picking the Russian off and more combos wizzed through the air with insufficient defence to stop them.
Two left-right combos and a bruising left hook saw Whyte finish with a flourish to score the first and only knockdown: the referee waved it off after watching Povetkin stumbling trying to recover to his feet in time to beat the count – moments before the towel was thrown in from his corner.
---
Post-fight comments, analysis on what's next for both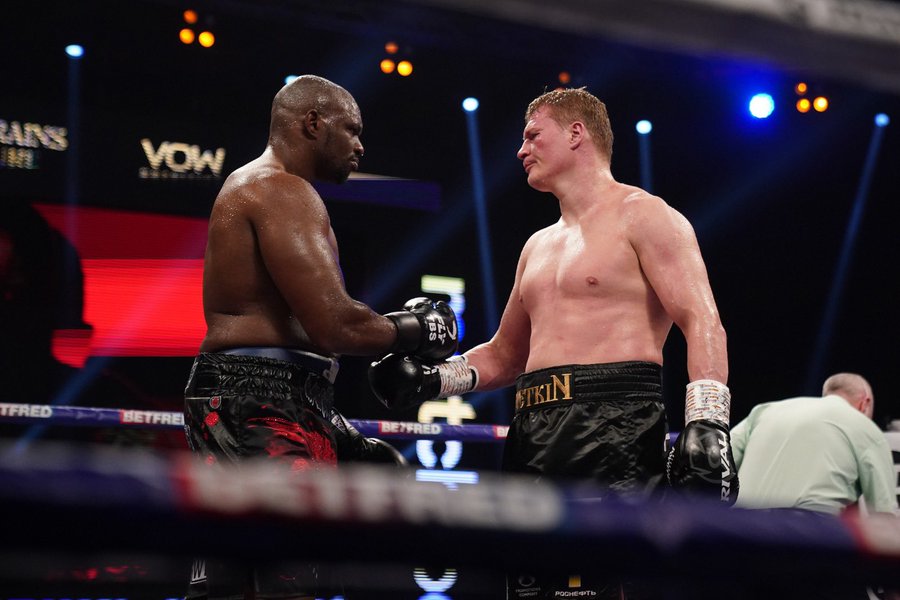 Although he came in five pounds lighter (247.25lbs) this time, Whyte said he was in better shape previously but due to multiple dates being rescheduled, was just itching to get this bout finished.
"It was a bit of an annoying camp, due to the reschedule. I changed up my nutrition but he had to pay [for that] tonight, man. That's probably the best knockout of my career – anybody who takes the left hook must go down."
As for promoter Eddie Hearn, there's an eagerness to get him a summer return – presumably Stateside – as he's unwilling to wait on the sidelines despite his clear world title aspirations.
"There was a lot of pressure, he carried on where he left off before the knockout. It was wild here tonight with the fans, he [Whyte] wanted the energy, his world championship dreams were on the line. Coming back wasn't easy but he manhandled Povetkin, battered him from pillar to post."
On the possibility of fighting former WBC heavyweight champion Deontay Wilder:
"We've called for the Wilder fight for a long time.

He DM'd and said he'd never give you [addressing Whyte] the fight, but got knocked out and now wants it, that's a stadium fight now. The ultimate game is for him to challenge for the heavyweight world title."
Former heavyweight champion Andy Ruiz Jr is slated to face compatriot Chris Arreola (38-6-1, 2 NC) on May 1 in his comeback fight – he's another on Whyte's radar, should he not manage to get an Anthony Joshua rematch or Wilder's conqueror Tyson Fury anytime soon.
Also read: Andy Ruiz's new coach Eddy Reynoso warned – watch him closely or he'll be lazy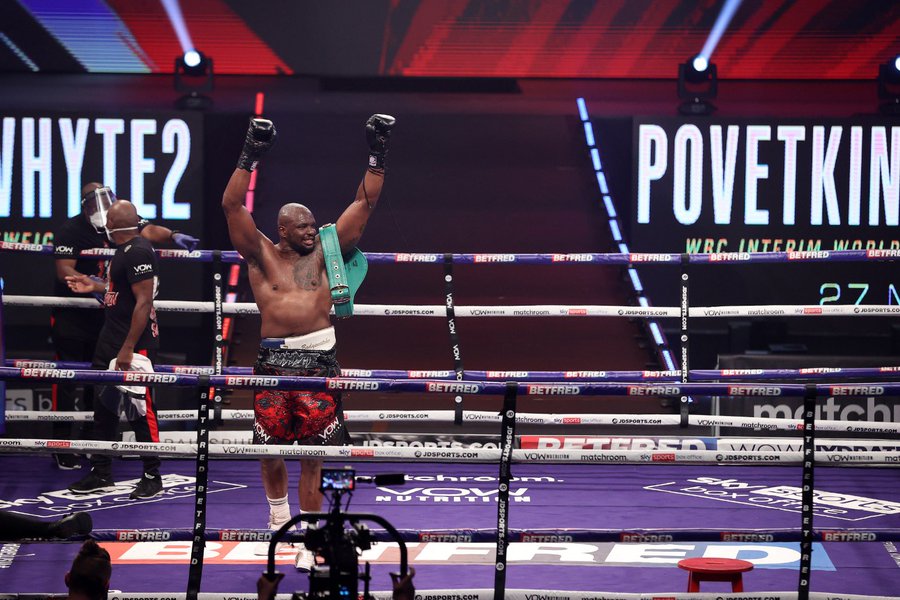 Both are high-risk fights which create intrigue and again put Whyte's hopes of title contention up in the air but at the same time, fans don't want to see him against overmatched opponents – there's a fine line Hearn and co must be mindful of, especially as he's a pay-per-view fighter.
Johnny Nelson, longest-reigning world cruiserweight champion of all-time, didn't agree with the notion Whyte boxed that well this time – calling him reckless at times in the Sky Sports studio.
However, Whyte said so himself that he was targeting an early knockout and to do it quicker than Povetkin (R5), so it's about better balancing risk with reward like his coaches have outlined.
After watching that display as well as the early rounds last August, it's hard to argue against Povetkin retiring – he's slower and wouldn't fare any better fighting someone with the reach and weight advantages Fury poses, no matter what his manager wants you to believe.
He's 41 now and considering his COVID-19 diagnosis was the main reason for such a delay between fights – the cameras showing Whyte bringing him a stool afterwards spoke volumes.
It'll be interesting to see how soon Whyte does return, though he'll like to keep the momentum going. Despite Sky's graphics suggesting otherwise, he turns 33 next month and has had Povetkin on his mind for essentially a year of his career – when it should've been three months.
Picture source: Matchroom Boxing