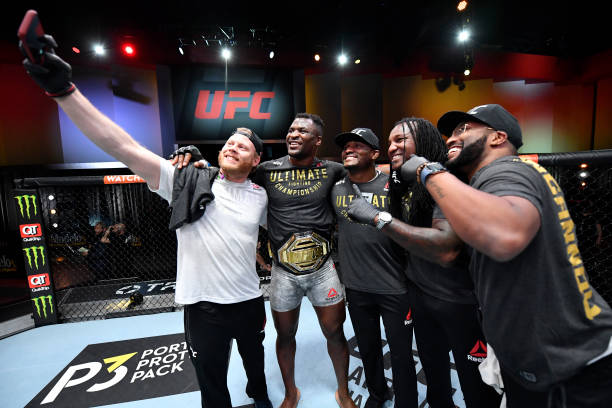 Francis Ngannou (#1) showed the requisite adjustments, was measured and importantly picked his moments methodically before dethroning Stipe Miocic during their main event rematch with a devastating second-round knockout – becoming the UFC's new heavyweight champion.

second chance seized: Ngannou clinches UFC championship dream
Miocic (c) vs Ngannou 2 – a memorable rematch 
R2, 0:52: Francis Ngannou (#1) beats Stipe Miocic (c) via KO, new heavyweight champion
"I don't know if I can find the words to express this, but it feels so amazing." 
With Eric Nicksick, Dewey Cooper and welterweight champion Kamaru Usman all in his corner, Ngannou produced an assertive display – needing just shy of six minutes to end Miocic's second reign as heavyweight champion and become the hunted one himself with Jon Jones up next.
Ngannou landed a handful of powerful kicks early before cleanly connecting with an overhand right which Miocic absorbed. Then, we saw what many predicted was likely to be an x-factor in this matchup: had the challenger's takedown defence truly improved from their first meeting?
Well, considering Stipe suddenly found himself turtled up on the mat and in deep water momentarily absorbing more ominous hammer fists, you certainly had an emphatic answer.
Ngannou landed a big head kick, though patience was key and he was more measured with the frequency of his attacks – such was the level of energy it took for him to throw strikes.
Eventually the horn sounded, first five minutes down and the champion was clearly down on the scorecards. His corner pulled no punches with their assessment between rounds – more activity.
Looking dishevelled, his left eye was red and less than a minute had passed in round two before referee Herb Dean was frantically sprinting to stop Ngannou landing more follow-up shots.
His left-right combinations scored another knockdown, they exchanged punches in the centre and the 34-year-old caught Miocic with a beautiful counter left hook that dropped him viciously.
Stipe's body contorted within moments, the exclamation mark on a devastating display by a challenger that had produced the necessary adjustments from their first encounter in 2018.
From the moment Miocic had his takedown attempt effortlessly stuffed, you could sense this wasn't lasting much longer. Inside the Apex Octagon – 30% smaller than usual – there's less room to manoevure and nowhere to hide, even more pronounced with big heavyweights tussling.
Stipe's coaches knew he needed more activity but how was he going to set up his offense against an increasingly patient Ngannou, growing in confidence with each passing minute?
Imagine putting your hand in fire to retrieve something before it disintegrates: you'll be bracing yourself for the pain, but your body can only take so much. Miocic couldn't afford to exchange in the pocket, while he was also getting picked apart at distance with those stinging leg kicks.
Statistic: With this victory, Francis Ngannou is now tied with Junior dos Santos and Cain Velasquez (both 10) for the second-most knockouts in UFC heavyweight history – behind Derrick Lewis, who took the record with his second-round stoppage vs. Curtis Blaydes last month. 
Jones was among those interested watching the fight at home, as the former light-heavyweight champion's long-awaited debut in a new weight class will be Ngannou's first title defence:
Although it's likely he'll be sidelined for the rest of 2021, it'll be interesting to see where Miocic goes from here – assuming he still wants to continue fighting.
During the post-fight press conference, Ngannou shared his belief there isn't truly a need for a trilogy but he's ready if the 38-year-old wants to run it back.
"He said I won't be a champion until he retires… maybe he will [now]."
---
Luque outlasts woodley during wild, one round co-main
R1, 3:56 – Vicente Luque (#10) defeats Tyron Woodley (#7) via submission
Woodley entered this clash on a three-fight skid that had seen him lose the welterweight championship against Usman two years ago this month, then vs. two title challengers post-lockdown last year in Gilbert Burns (May 30) and Colby Covington (September 19).
Increasingly gun-shy in all three defeats, it was important he began aggressively against Luque – who had Burns in his corner – if there was any chance he'd earn the Brazilian's respect early on.
He did precisely that, though Luque embraced their hard-hitting exchanges in the pocket and unleashed big shots too as both were stunned.
Woodley looked out on his feet and could barely stand, so Luque could smell blood and pushed Woodley up against the cage before finishing a frantic night's work with a D'Arce choke – the first submission defeat of Tyron's illustrious career, one continuing to age poorly in the latter years.
Statistic: With this latest victory, Luque is now joint-second for the most welterweight finishes in UFC history with Matt Hughes (2001-2011) – Matt Brown (2008-present) remains top with 13. 
"I knew Woodley was a legend, a champ. He really hits hard. He caught me a little bit there, but that's what I'm going to do, if I get hit hard I'm gonna keep pushing forward and look for the knockout every single moment."

I have a hard chin. I try not to use it, but whenever I need to use it, it's there. I'm going to take this time to call out Nate Diaz, last time … he didn't answer .. this is a big win – my style matches up perfectly, so let's go."
Woodley was aware that his UFC tenure could be on the line with another loss and during the post-fight press conference, company president Dana White effectively confirmed his departure.
---
Rest of main card as O'Malley returns to win column
R3, 3:52 – Sean O'Malley defeats Thomas Almeida via knockout (punches)
O'Malley had plenty of critics and doubters with an interested eye on this fight and he knew it, having lost his undefeated record – foot injury or otherwise – against Chito Vera last summer.
He returned in style, asserting himself as the early aggressor and making full use of his physical advantages to manage space well before landing a devastating first-round knockdown.
Although the commentators didn't think so, Sugar Sean stopped prematurely as he began walking away momentarily, though Almeida's durability allowed the Brazilian to absorb a big high kick and left hands rocking him back against the cage and continue forcing the issue after.
Spinning kicks and big shots continued to land for the bantamweight prospect, though Almeida survived the round before connecting with some big leg kicks of his own in round two.
He was being comfortably outstruck as O'Malley's crispy striking was on full display, before finishing his work with perhaps a punch too many – a vicious follow-up shot after referee Mark Smith let them continue.
"I thought [the referee would stop it], he's legit, a tough dude. I only get 15 minutes to perform a few times a year, have to do something sweet.

A lot of smart people were talking about [Almeida's gameplan to win] you've just got to kick his leg… I know how to check kicks, just had to prove a lot of people that they're stupid."
---
Maverick's star continues to blossom
30-27, 30-27, 29-28: Miranda Maverick beats Gillian Robertson (#15) via UD 
Women's flyweight prospect Maverick will have a number next to her name in next week's rankings update, but earned some invaluable Octagon experience after enduring some rocky moments en route to a decision win over grappling expert Robertson.
Still only 23 – two years younger than Robertson – she began well with two takedowns and was clearly connecting on the more impactful punches through round one. Gillian duly responded with three minutes' ground control time of her own in the second round, applying pressure before threatening a few submission manoevures that Maverick had to navigate her way out of.
Maverick's exhausting top pressure – armed with bigger thighs and an explosive physique in comparison – helped her control Robertson on the ground in R3.
Robertson did well to reverse position twice, though she was too slow completing transitions and that proved her downfall as she limped to another decision defeat.
"There's always improvements that can be made, hope I showed I can stay with the top of the division, both in grappling and striking.

I have training partners that beat my butt in the gym every single day – hardly ever win a round in the gym."
---
Mullarkey earns first UFC win in style
R1, 0:46 – Jamie Mullarkey defeats Kharma Worthy via KO (punches)
Mullarkey wasted no time in the pay-per-view opener, needing less than a minute to earn his first UFC win at the third attempt while handing Worthy an unwanted second straight first-round loss.
Feinting with his right, then letting fly with the left hook, the Australian lightweight watched as Worthy fell forwards before racing to land more hammer fists and finish an early night's work.
Afterwards, he praised featherweight champion and training partner Alexander Volkanovski – whose title defence on this card vs. Brian Ortega was cancelled last week – while saying:
"I know he's going to make a big statement when he comes back."
---
Prelim results, featuring wins for menifield and nurmagomedov
Light-heavyweight contender Alonzo Menifeld had an early night's work against short-notice opponent Fabio Cherant, who forfeited 20% of his purse after coming in over the 206lb non-title fight weight limit and visibly looked lost during a first-round shoulder choke submission to boot.
In the welterweight division, Abubakar Nurmagomedov – Khabib's cousin – displayed his stand-up skills, grappling and crucially composure under pressure to good effect vs. Jared Gooden.
He landed 100 total strikes, 60 of them significant – and was more accurate than a gamely Gooden during an impressive display to comfortably prevail via decision (30-27, 30-27, 30-27).
In a light-heavyweight clash, Michal Oleksiejczuk narrowly edged past highly-rated Modestas Bukauskas with a split decision win on the judges scorecards (29-28, 28-29, 29-28).
Bukauskas landed two more significant strikes (58-56) and the most impactful shots, though Oleksiejczuk outstruck him (77-62) with two judges scoring it in the Pole's favour.
Dana White's Contender Series graduate Omar Morales won comfortably in his featherweight matchup against Australia's Shane Young, stuffing four of five takedowns while also landing 23 more significant strikes over 15 minutes – outstriking him in all three rounds.
In the middleweight division, Canadian Marc-Andre Barriault earned a third-round TKO (punches) win over Germany's Abu Azaitar – with four seconds left to go.
After having his ground and pound finish win over Oskar Piechota overturned to a no contest last summer, this is the 31-year-old's first official UFC win after three straight defeats in 2019.
Picture source: Getty Images