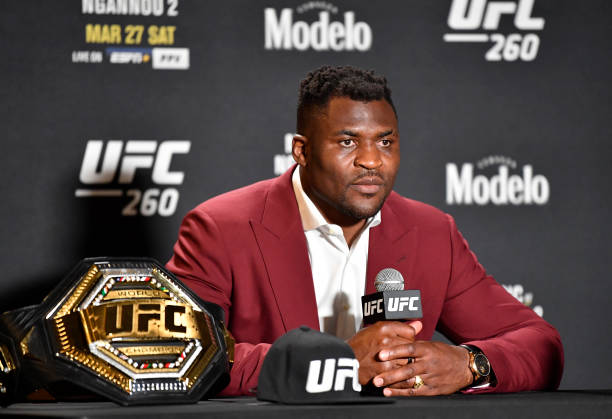 Newly crowned champion Francis Ngannou had plenty to say at the post-fight press conference, from reflecting on his arduous journey to world title gold in an unforgettable rematch, if there should be a Stipe Miocic trilogy, to when he'll be ready for his first defence against Jon Jones.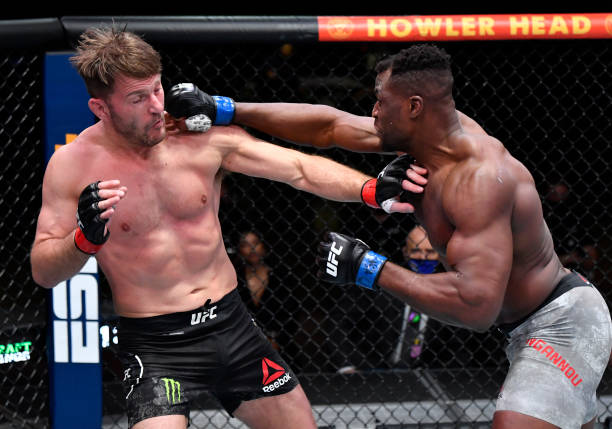 Ngannou's nasty R2 knockout of Stipe Miocic – widely regarded the greatest UFC heavyweight of all-time – saw him win what was previously elusive gold in their highly-anticipated rematch.
Staying composed, takedown defence, dismisses talk of trilogy
After falling short the first time around three years ago (January 2018 at UFC 220), he was asked about how it felt finally achieving his goal, at the second time of asking. He echoed the importance of remaining composed and how his team helped him to relax, which proved key.
"I feel great, three years I've lived without it, always thought I could have it [the heavyweight title].

Tonight there was no place for mistakes, me and my team [Xtreme Couture] have been working, they always reminded me to calm down, execute the gameplan perfectly and here we are. The goal was to be relaxed, not rush, calm down because my team know that's when I'm at my best.

I wanted to get lighter, I didn't want to deal with his great conditioning – if I can get 20 pounds lighter, I would. The only difference [between two fights], I wasn't trying to take his head off, was fighting and knew he could take a shot."
On whether he felt stuffing Miocic's takedown was a turning point as far as this fight was concerned:
"I didn't think about it at that moment. In the past few months, I've stopped a lot of takedowns and that has been most of my training – wrestling for six months – I know he's tough, so just needed to not get overwhelmed and reset."
On if he appreciates the title win more now, than if he had won it three years ago:
"Yeah definitely, when the journey is longer, the reward is always more [to appreciate]. I would've been happy but now, I have a different perspective, I'm happy with my improvement, fighting IQ, it [this fight] didn't last long but I listened to what my corner told me – there was no need to rush.

I didn't do anything right [during their initial meeting], was a mess but collected myself and approached it differently."
On whether he needs a trilogy fight to settle the score (currently 1-1) between them:
"Personally, no I don't. He said I won't be a champion until he retires… maybe he will [now].
Jon Jones, Miocic's toughness and being an active champion
If he had to pick between facing Jon Jones or a rematch with #2 ranked Derrick Lewis as his first title defence:
"Jones makes more sense for me, but either way, I'm going to fight. If he doesn't come to heavyweight, the division has to move and as the new champion, I'll put more activity than he has in the past 2-3 years.

I'm the champ but I don't make calls, yes I would like that [Jones next]."
Since successfully defending the light-heavyweight championship with a win past Anthony Smith at UFC 235 on March 2, 2019, Jones has only fought twice – a split decision against Thiago Santos four months later, and a much-debated decision win over Dominick Reyes at UFC 247.
Both of those encounters were closely-contested and razor-thin in Jones' favour, though his relative inactivity and decision to move up a weight class finally materialised last year.
Even with those questions in mind, that creates more intrigue ahead of a Ngannou-Jones superfight – but the latter wants to be paid handsomely to do so, citing Deontay Wilder money.
Ngannou praised Miocic's toughness, saying if he landed those first-round shots on any other heavyweight, they wouldn't have got up.
"It was an honour to be in the Octagon with him, we all know what he's done to become the greatest of all-time, to put me in this position, I appreciate him. He's a good guy but we're just doing business here.

He's still the GOAT – we're going to see [about his own legacy] moving forward, defending the title. My career isn't done yet, I'm expecting better than this."
He also stressed an eagerness to be more active, having only fought twice (Junior dos Santos, Jairzinho Rozenstruik) in the last 21 months leading up to this matchup.
It doesn't help that his Performance of the Night outings lasted a combined 1:31 either, with devastating knockout victories past them, Cain Velasquez and Curtis Blaydes beforehand.
"I always asked to be active, hopefully I will be more so now, 2-3 fights per year is my intention moving forward.

I'll take some time off, was very exhausted as it was a long training camp but would like to fight as soon as possible, ready by July or August."
---
Impacting children, proving people wrong, African trifecta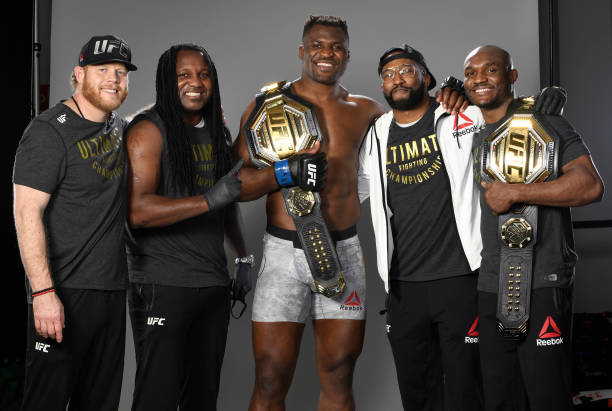 On how his win will impact young children in Africa, he said:
"This is a symbol of dedication and perseverance for those children. Someone asked me, what am I going to do with the belt… [pauses]

I said maybe we'll find a public place in Cameroon: some kids can look at it, be inspired, a symbol of determination, somebody coming from where they are [his homeland], to get there, it's possible to believe in your dream."
On whether he's filled the gap that he said he missed as a child growing up:
"Yes, this should be it.

It has always been my dream, to deal with my childhood, always felt like I needed this to be in the first stage as I promised myself 20 years ago – to be world champion, prove those people who thought I was beneath them wrong."
He said he had already called his mum, who was "in the middle of a party", though he was glad she saw the belt at least.
"It's great but just a medal, the most important thing is the principle behind it, the reason why you are a champion. I'll sleep with him [the belt] tonight, definitely though."
On what he said during his Octagon embrace with Usman immediately post-fight:
"I had that pressure, I didn't want to let them down, joined them [Usman and Israel Adesanya] as an African champion.

It's very important, we stand as hope for a whole continent when it comes to sport, for all those Africans who don't have an opportunity.

We want to put them on the map, get the UFC to go there and put on an event, make them believe in something, for those training to have extra motivation, one day they can end up somewhere."
And finally, his message to those on perserverance? I'll leave it to the new champion himself:
Picture source: Getty Images