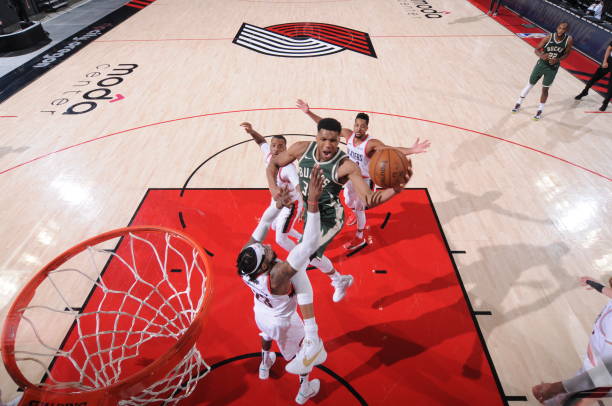 In a season where multiple players have staked their claim for Giannis Antetokounmpo's MVP crown, the power forward produced a dominant showing to reinforce the notion that he's quietly improving with less of the spotlight on Milwaukee after consecutive playoff disappointments, while the focus is centred around other contenders across both conferences.

Portland Trail Blazers 109-127 Milwaukee Bucks
Lillard and McCollum combine for 50 pts on 35 shots (48.5%FG)
mvp Giannis ties his season-high 47 on 18-of-21 shooting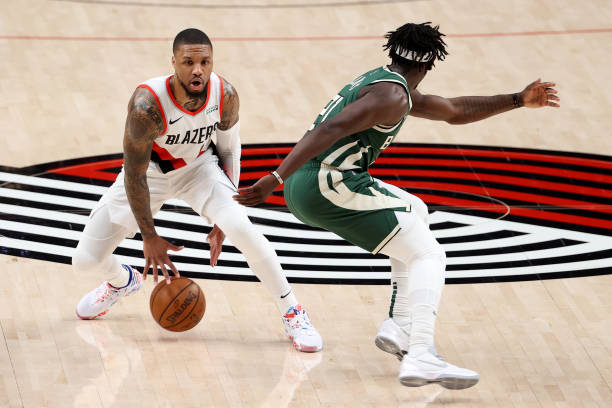 "At the end of the day, I just tried to be aggressive. Tonight was one of those nights I was able to be good in the paint."
Giannis is the league's two-time reigning MVP and currently holds a genuine – albeit increasingly slim – chance to become the first three-peat winner since Larry Bird (Boston Celtics) in 1986.
While his regular season success hasn't yet translated into the playoffs, the Bucks' aggressive offseason moves were with him and the supermax decision in mind. He's since committed his long-term future to the franchise, who have upgraded while sacrificing their overall roster depth.
Among those upgrades was point guard Jrue Holiday, who produced one of his more efficient games of 2021 – 22 points, 10 assists and two steals here – while small forward Khris Middleton enjoyed a similarly accurate scoring night with 20 points, eight assists and three steals.
Those efforts masked a rough night for promising third-year shooting guard Donte DiVincenzo, who shot just 1-of-7 from the floor and failed to establish any rhythm in 29 minutes of play.
Bobby Portis (New York), Bryn Forbes (San Antonio) and Pat Connaughton produced solid reserve minutes while veteran guard Jeff Teague (Boston) made his debut in a cameo too.
Mid-season acquisition PJ Tucker (calf) remains sidelined after playing just two games last month, with Giannis' older brother Thanasis earning additional opportunity at PF in his absence.
READ: Jury is out – Does Tucker have another deep playoff run left in him? We'll see
---
anomaly or a deep-lying issue? Assessing the Blazers' problem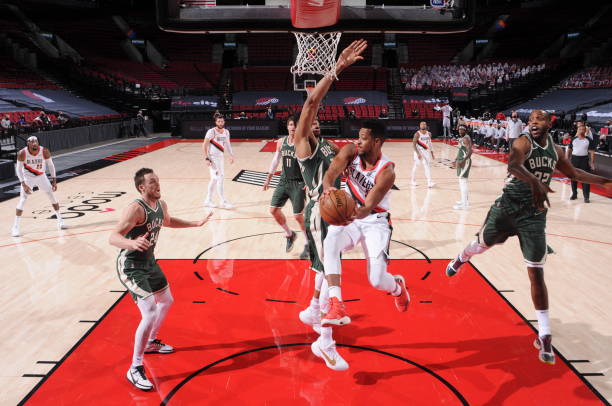 As for Portland, their four-game winning run came crashing down rather unceremoniously overnight with Giannis outscoring them on his own from two-point range and the free-throw line (47-46), during another disappointing outing where they were bested by strong opposition.
"He's just more naturally gifted than anyone else," Lillard said when asked about Antetokounmpo's performance post-game. 
Nine of their 19 losses this term have come against top-five teams across both conferences, which leaves them the sixth seed out in the West after earning considerable separation between themselves, Dallas (three games back, seventh) and the Spurs (two further behind, eighth seed).
There's still plenty of regular season games still to play, though this trend doesn't exactly bode well as far as their ambitious postseason aspirations are concerned.
In a battle between two top scorers, Lillard finished with 32 points for the Blazers, doing his utmost to keep the game competitive despite their collective struggle shooting efficiently.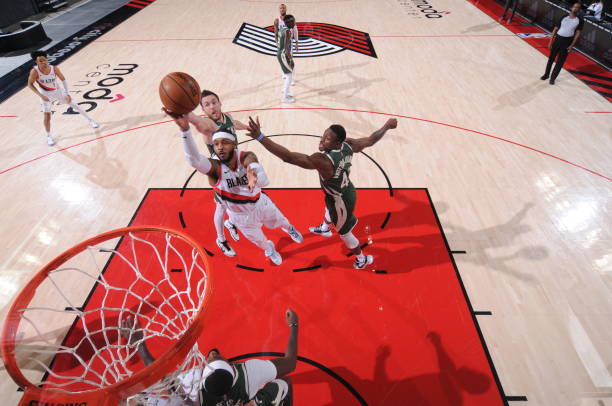 Robert Covington got hot midway through the third quarter, though his catch-and-shoot efforts were ultimately futile. Between him and trade deadline acquisition Norman Powell, they didn't exactly make the most of their three-point shots. Carmelo Anthony was ice-cold from the bench, finishing 2-of-12 in 28 minutes having been scoreless until the 7:44 mark in the fourth quarter.
This isn't the first, or the last time, that it feels as though Lillard's herculean scoring efforts are required to help propel Terry Stotts' sluggish team forward. Backcourt partner CJ McCollum has shown promising flashes but just not been the same player since fracturing his foot in January.
Portland's bench were 0-of-16 from the field through the first three quarters, a worrying statistic that could return when it matters most unless Stotts addresses his rotation and they improve.
Enes Kanter recorded his first and only points of the night, with 30.9 seconds to go in the fourth.
Slam Dunk champion Anfernee Simons snapped their scoreless streak from the bench early in the fourth, while Derrick Jones Jr and the aforementioned Carmelo struggled too – key reserves.
"He [Giannis] put us in positions that are difficult to double team, and at the same time you don't want to give up threes, so it's kind of pick your poison." – Stotts on the threat Antetokounmpo posed throughout
Portland ultimately scored 21 of 54 attempted threes – 58% of their offensive game – a necessary evil Budenholzer was prepared to sacrifice, in order to shut off the hosts' mid-range weapons.
Jokic enjoyed a 41-point outing against them on February 24, while the LA rival Lakers and Clippers have already proven themselves to be bad stylistic matchups when everyone is healthy.
Utah (37-11) have two-time Defensive Player of the Year Rudy Gobert, the surging Phoenix Suns (34-14) boast a devastating backcourt in Booker-Paul leading their season series 2-0 and even Luka Doncic's Dallas Mavericks would be bullish about facing the Blazers in a seven-game series.
"I thought we made them work, especially Lillard and McCollum, they're so good. We put a lot of emphasis on those two guys like the whole league does."

Budenholzer on the Milwaukee gameplan, despite giving up three-pointers
Nurkic (broken wrist), McCollum and Powell are getting acclimatised to different responsibilities but the manner of this loss is concerning for a Portland team with an MVP frontrunner in their ranks yet remain rightly overlooked as far as their championship aspirations are concerned.
---
Giannis' scoring surge – just a hot streak or true development?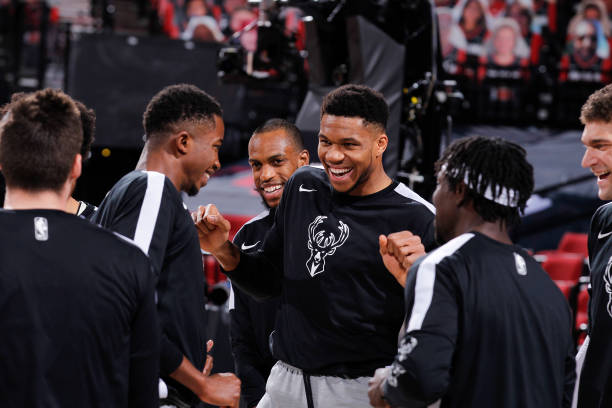 As for Giannis, perhaps less time in the spotlight is serving him well. But he knows it won't last long, should he continue to put up big numbers with the playoffs edging ever closer once again.
"I never liked people talking about us, it just adds pressure to me and my teammates to come in and do what we do. I like to be under the radar, we just come in, enjoy playing and get the job done – I just want to be left alone."
He made all of his shots in the paint, a lot of them tough and heavily contested near the basket, though he charged through unbothered and relished the contact with a delicate touch.
Questions over his jump shot and outside game remain, though he shot 39.4% from three-point range in the month of March and became just the third NBA player to score 45-plus points on 85% or better shooting – Wilt Chamberlain (December 1967) and Mike Woodson (February 1983).
Budenholzer praised him for his finishing ability, saying it was a "really special" game, showing he's capable of scoring in multiple mid-range areas. Whether that translates with specific defensive schemes and additional pressure on his plate in the postseason, is another thing.
Can he prove it's more than just a hot shooting streak?
After all, his playmaking has continued to improve – averaging a career-high 6.3 assists this term – while scoring 28.3 points per game with similar numbers to his previous MVP seasons. We'll see.
What's next? 
Portland host the rebuilding Oklahoma City Thunder, without franchise guard Shai Gilgeous-Alexander (plantar fasciitis). They'll be expected to return to winning ways overnight.
Milwaukee's Western Conference road trip continues against De'Aaron Fox and the Sacramento Kings (22-27) this weekend, which is likely to be a more competitive affair in California.
Picture source: Getty Images — quotes via ESPN