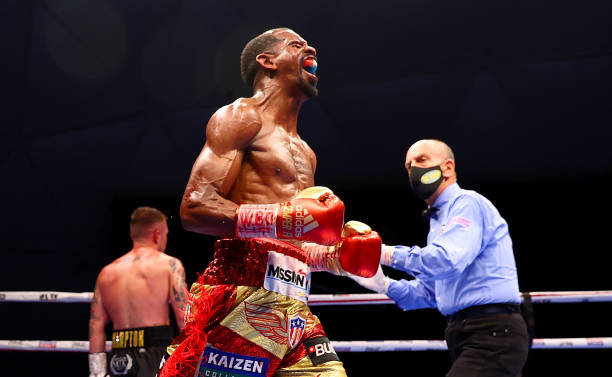 Jamel Herring utilised his height and reach advantages brilliantly, easing past Carl Frampton to ruthlessly end the Irishman's three-division champion attempt with a sixth-round TKO win in Dubai – retaining his WBO super-featherweight title before revealing his willingness to move up in weight, also calling out WBC title-holder Oscar Valdez for a possible bout later this year.

EFFICIENT HERRING OUTCLASSES GUTSY FRAMPTON EFFORT
R6, 1:40: Jamel Herring makes third title defence, beating Carl Frampton via TKO
Frampton knew it'd be a difficult evening's work, though probably not as relentless and mentally taxing as this. Herring picked him apart at range, nullified his attempts to close the distance and won every round before the Northern Irishman's corner threw in the towel deep in round six.
Herring made a concerted effort to target the body from minute one and Frampton was being caught a lot as the champion established centre ring while keeping him at range.
Whenever The Jackal tried to get inside, he found himself picked apart with punch-perfect shots by someone who only grew in confidence as his work was clearly paying off. Frampton started to bob and weave at times in rounds two-three, trying to be awkward and harder to catch clean.
Ultimately, he couldn't sustain good head movement against Herring – throwing a variety of different looks with success, whether it was a punishing left hook, wizzing a right cross or inflicting more damage to the body. Frampton's attacking tactic was effective, but to a point.
It was frustratingly fleeting, as the 34-year-old constantly got caught and the rhythm was firmly in Herring's favour – landing a series of one-two punches, good value for his increasing lead.
Herring had a big cut directly above his right eye in round four, presenting a sliver of hope for the challenger as Frampton needed to make the encounter messy and more competitive.
His hopes had faded drastically in the following round though, when Herring caught him beautifully with a left hook that caused a flash knockdown and a thorough referee's assessment.
Frampton suddenly felt an urge to rush his work and was taking too much damage for comfort, as Herring's early advantage had only doubled after an emphatic fifth round.
It proved the beginning of the end, as a big uppercut rocked him backwards in round six. Despite Frampton's efforts to survive an oncoming onslaught, Herring knew the end was near so continued to pile on the forward pressure before the towel was thrown in after repeated blows.
---
Post-fight comments as Frampton retires
Frampton said he'd retire if he lost in decisive fashion here and did so, confirming as much during the interview.
"I'm deeply upset, wanted nothing more than to dedicate this fight to Billy McKee [old trainer, who recently passed away]. I said I'd retire if I lost and that's exactly what I'm going to do… dedicate this to him, my wife and kids.

Sacrificed so much for them, boxing has been good and bad to me but the last few years have been the best of my career. I was beat by the better man, struggled to get inside, [he had a] perfect gameplan, sharp from a distance, no excuses, had an amazing camp but you should be interviewing the champion."
Herring meanwhile, was classy as usual and said he was honoured to share the ring with a two-division champion while reflecting on a tough few months for him personally – which included having to deal with COVID-19 and questions over his ability after a sketchy recent title defence:
"It was an emotional rollercoaster to get here, people doubted me, I wasn't going to give up or quit, he's a tremendous champion, I've been a fan [of Frampton] since day one, I'm glad he's able to walk out on his two feet.

I wanted to get another title and this was a great test.

Oscar Valdez wants to unify [the super-featherweight division], I had plans to move up but if that fight is available and they want it? I'd love to, let's make it happen – especially with that lineal title on the line."
Valdez (29-0, 23 KOs) became a two-division champion with a vicious R10 KO win vs. compatriot Miguel Berchelt on February 20, though issues elsewhere in the division make it difficult to envisage them agreeing terms on a bout with both super-featherweight belts on the line in 2021.
Herring would be the underdog in any case, though he's already used to that – this latest display providing him with renewed confidence of his capabilities against any opponent going forward.
Shakur Stevenson (15-0, 8 KOs) is #1 with the WBC and WBO titles, bided his time through postponements and will face Namibia's Jeremiah Nakathila (21-1, 17 KOs) in an interim title fight. The WBO has already issued a 30-day period for Herring: fight the winner or vacate.
Herring and Stevenson are close friends with the latter saying he doesn't want to fight him if they can avoid it, though the ball is in Jamel's court – go up in weight or make another title defence.
Earlier this week, he acknowledged time is ticking for him personally – turning 36 in October – with three or fights left before retiring himself. This was a successful legacy fight, for sure.
"I definitely deserve a shot if I stop a guy like Frampton, but I know what boxing is like, sometimes you need to play the political game.

I might vacate – Shakur is another guy who would pose a great fight. He's young, wants to fight everyone: a fighter like that is dangerous."
The lightweight division remains an interesting prospect, even though the four existing champions appear occupied with title defences of their own right now:
WBA, IBF, WBO champion Teofimo Lopez vs George Kambosos Jr – mandatory defence
WBC champion Devin Haney vs Jorge Linares – May 29th, confirmed
WBC interim title-holder Ryan Garcia vs Javier Fortuna – announced this week
WBA regular champion Gervonta Davis vs Mario Barrios – this summer, unconfirmed
Picture source: Getty Images