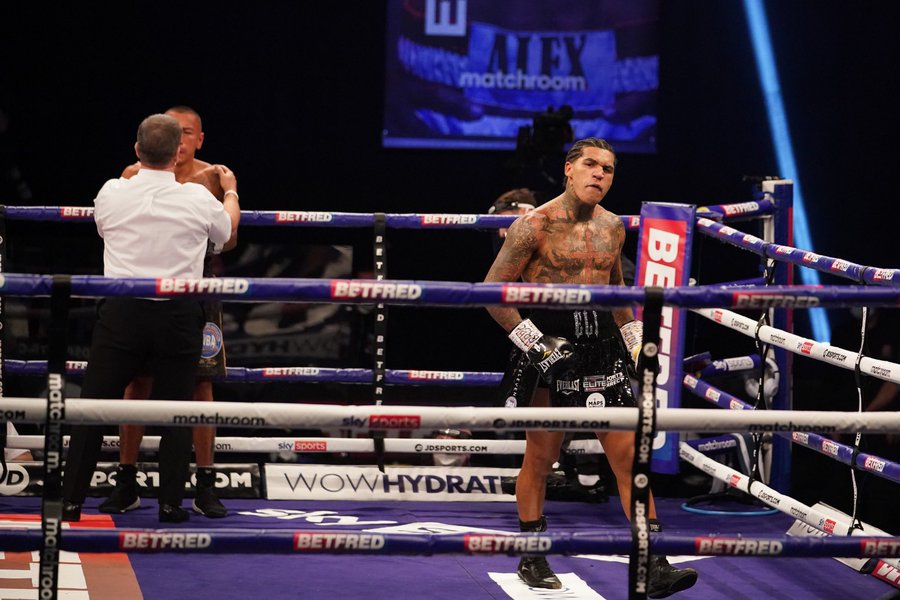 Conor Benn needed just 80 seconds to retain his WBA Continental welterweight strap with a devastating TKO win over Samuel Vargas, proving the launchpad for a busy night of boxing across American soil as there were also big wins for two heavyweight prospects before 23-year-old welterweight talent Jaron Ennis earned a R6 KO vs. Sergey Lipinets in his main event debut.

Benn blasts beyond Vargas in 80 seconds
He shouted out bullishly towards the outside of a largely muted Copper Box Arena ring, a warm embrace and some words with the defeated opponent followed while one of his coaches ushered him back to his own corner as he said "pay-per-view baby, I'm pay-per-view!"
After this overwhelming display, it's difficult to argue otherwise.
He landed a pair of one-two combos, an uppercut which split the guard beautifully, looping left jab and overhand right which stumbled Vargas even more towards the ropes.
The onslaught intensified as more punches continued raining down: 14 more in six seconds, before referee Michael Alexander stepped in after Vargas was surviving and not much else.
It looked worse in slow motion, precisely the statement Benn would've wanted to produce, even if he revealed his frustration post-fight that he didn't get to display his recent developments.
---
Post-fight comments as benn calls out khan, broner and porter
Benn is typically good to talk to and had plenty to say afterwards too during an impassioned interview – from namechecking an intriguing tro to how he continues improving – saying:
"Statement made. All those names, no-one banged him out in one round. Easy. Formella, easy. Give me a proper test, Amir Khan – I know he's too busy on reality shows and all that, but listen if he wants it, he can get it.

Eddie, you've got the phone, is he ready? I didn't gain any experience in there tonight, apart from dealing with pressure, I'm built for it. I can live with it, no problem. You know what they say about diamonds.

I'm ready for the top dogs, Shawn Porter, Broner at 147, I want them and to test myself. Forget all those others calling me out, I couldn't care less honestly. You think I lose sleep over them?

I was expecting a hard fight tonight. I'm always improving, the most rapid improved fighter global, forget the UK. Amir, let's go mate. I let my hands go, selected my shots and landed. Do I look like I'm joking? Give me Khan next.

I'm gutted you didn't see more, you would've seen me not waste shots, take my time, 99% accuracy, that's what I wanted to show you lot. He couldn't take those shots. The power is developing, I'm not even in my prime."
His promoter Eddie Hearn meanwhile, echoed Benn's sentiments while praising the 24-year-old for his hard work over the years and understanding how it's hard to keep the hype train at the station after impressive performances like this:
"Wow, what a performance. Vargas was in tremendous shape but couldn't handle the speed and the referee saved him from getting brutally knocked out.

Amir Khan is a big jump, the issue is after beating Vargas like that, the next fight is a top-15 ranked fighter in the world.

Benn-Khan is one of the easiest to sell I'll ever take part in. Whether Khan wants to bow out to a young man coming through the rankings is up to him, money will talk, I want to get him back out soon – at least twice more this year.

I want to see him win the European title, how can you not get aggressive and look at the big names?

He works so hard in the gym, in there you end up making it look easy. This isn't about [being] the legend's son anymore, this is the emergence of Conor Benn. It's hard not to get really excited, how can you not say he's ready after that? Long way to go, superstar in the making and a huge name in British boxing.

You never used to have the talent, when you mix hard work with that, doing the right things with [trainer] Tony [Sims], you're a world-class fighter."
---
Pay-per-view star in the making?
Besides his honest approach to interviews, the unapologetic vulnerability he displays and unavoidable links to father Nigel – who was a two-division world champion (WBO middleweight, WBC super-middleweight), he has repeatedly stepped up as the challenges have intensified.
That was especially clear last time out against Germany's Sebastian Formella (22-2), who had lost to two-time welterweight world champion Shawn Porter just three months prior. During his pre-fight podcast with fellow BBC boxing expert Steve Bunce in midweek, Mike Costello said this:
"The guys at Sky Sports tell me the numbers for Benn fights are very impressive, even compared with the most popular boxers they cover, that's backed up by viewing figures.

He's got this following in terms of nostalgia, but genuinely brings excitement to the ring, not unlike the style that his dad brought."
The bout – as short as it was – lived up to the billing, as Benn wasted no time justifying his prophetic comments. During the one-to-one interview with Costello midweek, he said plenty about this matchup and questioned the narrative this was a step up for him, rather than Vargas.
"Every single time I've stepped up, I've delivered. From a raw novice to a world contender, how can you not love the journey? How driven, motivated I am."

The difference between me and all the other fighters is the platform I've been given, the entertainment I bring, I bring the heat every single time. We'll see how good I am, these questions need to be answered.

There's no point me looking good in the gym, I want to prove to you [critics], prove my worth. Write me off as much as you want. Say it's a step up. He's [Vargas] lost every time he stepped up. Who is it a step-up for, really?"
Vargas has lost to an esteemed list of welterweights over the past six years: two-belt world champion Errol Spence Jr (April 2015), Danny Garcia (November 2016), Khan (September 2018), Luis Collazo (March 2019) and highly-rated youngster Vergil Ortiz Jr last July.
It's why Benn's callout of Khan and others makes sense – no guarantee he'll fight any domestic opponents like Amir or Kell Brook with both past their prime but if you don't ask, you won't get.
---
Elsewhere, an american heavyweight talent won again
America's highly-rated heavyweight prospect Jared Anderson (9-0, 9 KOs) continued his post-lockdown activity with a sixth knockout victory since boxing returned in the US last June.
This time, Jeremiah Karpency (16-3-1) was his latest victim after right-handed body shots floored him twice and the referee called a halt to the contest, at 2:26 of the second round.
Anderson had more than a 25lb weight advantage over the 30-year-old, who hadn't fought since May 2019 – just under 700 days ago. Timothy Bradley heralded Anderson as a future world champion, while fellow ESPN analyst Andre Ward is impressed but remains unconvinced.
Ward, a multiple world titlist at light-heavyweight who retired with an undefeated 32-0 record in 2017, stressing the importance of not having a misstep at this stage of Jared's budding career.
Although still only 21-years-old, Anderson has big ambitions going forward. He told Bradley during their fighter meetings that he wants one-time world title challenger Carlos Takam (39-5-1, 28 KOs) next if he could pick his opponents. Afterwards, he doubled down on his ambitions:
"We just keep asking for them [better heavyweight challengers]. They can't run for long, it's a race but eventually you'll get caught. 6-12 months?

I see title contention, me fighting some of the biggest … we going over the water, fighting UK boys, big boys, everyone who swears they are the biggest and baddest, come see Big Baby then."
Dillian Whyte's conqueror Oscar Rivas (27-1) required three rounds in 2016, Russia's Sergey Kuzmin (15-2) needed six rounds to knock him out two years later and Anderson made even quicker work by comparison.
Interestingly, I saw a compelling matchup down the line – Nigeria's Efe Ajagba (15-0, 12 KOs) – who blasted past Brian Howard with a thunderous third-round knockout on the main card.
It's probably too early to match them up, but there's no reason why they couldn't do similar to Joyce-Dubois in a few years' time should both continue on their respective pathways.
---
But wait, there's more – ENNIS SHINES IN acid test VS. LIPINETS
Minutes after the scorecards were read as Joe Smith Jr outlasted Russia's Maxim Vlasov via majority decision (114-114, 115-113, 115-112) in an entertaining firefight for the vacant WBO light-heavyweight title, the night's final bout got underway at the Mohegan Sun Arena.
Sergey Lipinets, the IBF light-welterweight champion back in 2017, had suffered just one professional defeat – UD (116-111, 117-110 x 2) to Mikey Garcia for his belt three years ago.
Highly-regarded American prospect Jaron Ennis had never surpassed round six in his previous 27 fights and after a no contest last time out against South Africa's Chris van Heerden on the week before Christmas, he was determined to return to his impressive finishing ways here.
That he certainly did, chipping away at Lipinets' durability and will with every passing round as both – especially the Russian – seemed to dismiss the referee's stern warnings for fouls, whether it be low blows, rabbit punches or excessive dirty boxing when he repeatedly told them to break.
After a competitive start, Ennis landed 30-of-40 power punches thrown in round three (75%) as you could sense him going through the gears – rocking Lipinets against the ropes with a left hand, but still maintaining composure and being aware to not get overexcited in the moment.
He alluded to that during his in-ring interview: being more relaxed while picking his openings more carefully. There was no such problem here, especially after a round four knockdown despite replays showing Lipinets had his left foot tangled and was already going down.
Lipinets was firmly second best by round five, where he landed an illegal low blow just after the midway point in the round with his back against the ropes and sensing danger.
Ennis quickly gathered his bearings, told the referee he was okay to continue and continued investing with body shots as the round ended. Lipinets tried to apply pressure to start the sixth, though whenever he landed a few punches, Ennis gladly returned fire with more of his own.
The closing sequence was more of the same: Ennis backing the Russian up against the ropes with clobbering blows to the body, head and repeated strikes. It wasn't much longer before you saw the medical officials tending to him, the night over with an emphatic finish made look easy.
Ennis landed 42% (125 of 300) of his total punches, with 91 of them being counted as power shots according to Showtime's stats. Lipinets threw 34 less punches and connected with 50 fewer (28%, 75 of 266) by comparison, before being clipped with a right hand and left uppercut.
Earlier this week, he was quoted as saying that a statement victory here would take his career to the next level. Now? He said he's ready for a top 3-5 opponent.
"Every time I fight, they always say it's a step-up, and then when I do what I do, they say I need to fight somebody better… he's a former world champion and fought a lot of top guys.

Making a statement against [Lipinets] is definitely a whole different level, it would boost me all the way up the rankings. I feel like after this fight, it's on to bigger and better things."
He certainly handled his business and with the likes of the aforementioned Garcia, Canada's Custio Clayton (#4 IBF, WBO) as well as former title challenger Egidijus Kavaliauskas ahead of him, it'll be interesting to see his next matchup.
Pictures source: Matchroom Boxing, Getty Images, BoxingScene, Showtime's Amanda Westcott