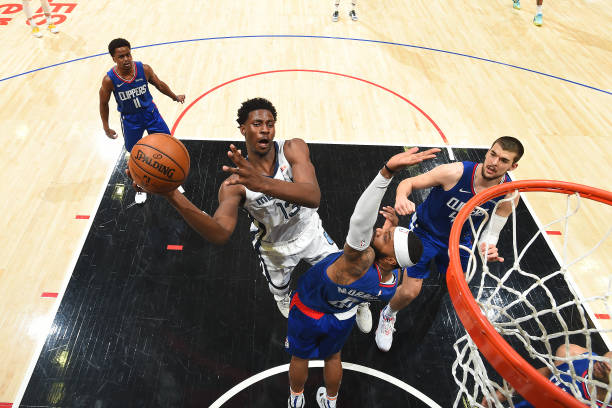 Having missed the first 56 games of the regular season after undergoing meniscus surgery last August, third-year PF Jaren Jackson Jr described his midweek return as a big win despite the Memphis Grizzlies (29-28) blowing an 18-point lead against an undermanned LA Clippers team.
Perfect timing with playoff push inbound: Jaren Jackson is back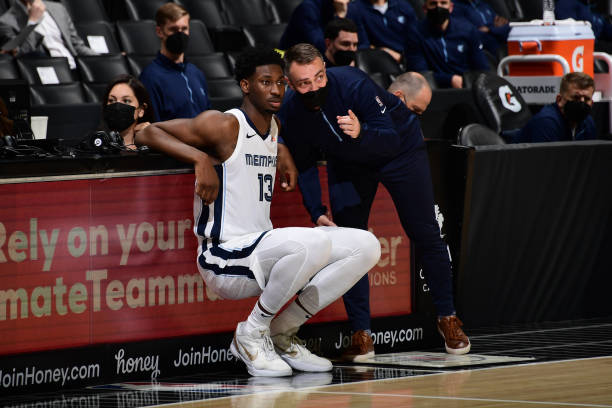 15 points, eight rebounds and four blocks in 18 minutes: an encouraging return after eight months sidelined watching helplessly for Jackson Jr, who many believe to be a cornerstone of the Grizzlies franchise long-term alongside last season's Rookie of the Year guard Ja Morant.
Did you know? Jackson Jr averaged 17.4 points (46.9 FG%, 39.4 3PT%) with 4.6 rebounds, 1.6 blocks and 1.4 assists in 57 regular season games during the 2019-20 campaign – his second-year.
They may have lost 117-105, he described the outing as one with mixed emotions, but also reflected on what had been a long road back to court action. As quoted by ESPN, he said:
"This is a big win, it's been a long stretch for me. As soon as I checked into the game, I couldn't help but laugh a little bit. Just being out there in general was a win for me, thank God that joint [the first shot] rolled in."
There were big scoring nights for Luke Kennard (28 points, 10-of-16 shooting) and Marcus Morris (25 pts, 9-of-19) while the same couldn't be said for their visitors at Staples Center midweek.
All-Star duo Kawhi Leonard (foot) and Paul George (rest) were among the notable absentees for the title-challenging Clippers, but it didn't matter.
Centred on hot shooting from deep (51.9 3PT%), they did well to overcome a 38-20 deficit against a Memphis team keen to build upon last season's disappointment by making the postseason proper after losing out to the Portland Trail Blazers in the Orlando bubble.
They currently occupy the Western Conference's eighth spot, but there's plenty of room for movement between now and their regular season finale on May 16 against the Warriors.
Morant, the Grizzlies' leading scorer this term (19.1 PPG), said he was thrilled to have the franchise's other promising star alongside him once more.
"It's a good sign, we are all happy for him. We know how hard he has been working to get back, I know he was very excited – everybody saw I was as well."
Their head coach, Taylor Jackson, reserved high praise for the 23-year-old's returning display:
"Defensively, blocking shots, going for rebounds, communicating out there, being part of his growth there on the defensive end. Being an anchor for us. Offensively, just making the simple play but doing it with aggressiveness and force – I really loved what he did.

He attacked the game and the biggest thing was, he was out there having fun, and I know he is going to continue to build on this one moving forward."
What's next?
Their road trip continues in Portland this weekend, with a back-to-back slate against Damian Lillard and co to come. Afterwards, they target avenging their heartbreaking double-overtime defeat by the Denver Nuggets next week – where MVP frontrunner Nikola Jokic had 47 points.