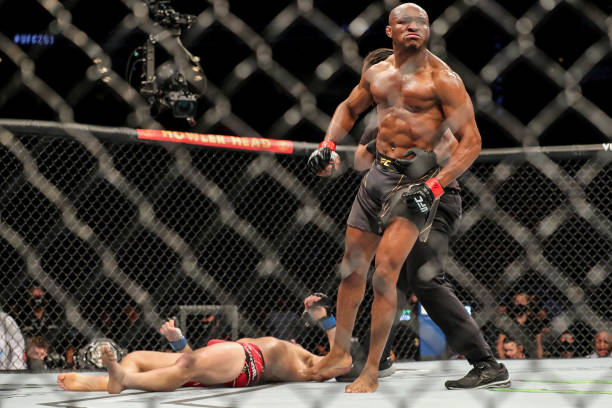 Welterweight champion Kamaru Usman vowed to produce a better display in their rematch and did exactly that: being the first to KO Jorge Masvidal (#4), retaining his 170lb strap for the fourth time with a devastating right-hand. Beforehand, Rose Namajunas made history becoming a two-time champion while Valentina Shevchenko completed another dominant title defence.

Usman blasts Masvidal with second-round knockout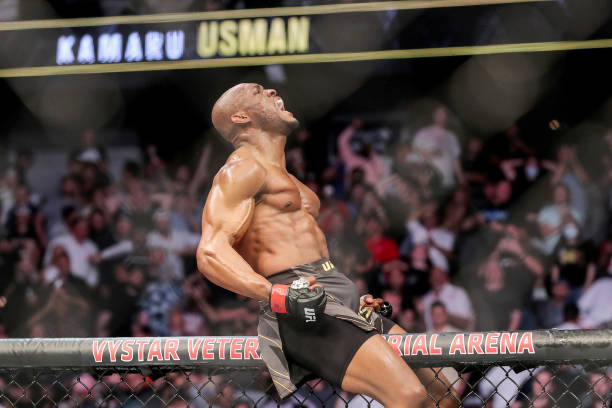 R2, 1:02 – Kamaru Usman beats Jorge Masvidal via KO (punches), retains welterweight title
Masvidal promised violence in his rematch, Usman viciously provided it as the UFC welcomed back fans (15,269) for the first time in 13 months at the VyStar Veterans Memorial Arena.
The challenger made sure to load up on his low leg kicks early, as Usman remained disciplined and landed multiple jabs – to the body and head – despite Jorge visibly shrugging them off.
They exchanged shots in the pocket and when Jorge threatened to have brief success, the champion responded by exploding into a takedown and landed punches in top position.
Masvidal landed some slicing elbows on the bottom, eventually got up – to raucous cheers – and connected more kicks before getting tagged by two beautiful jabs as Usman grew in confidence.
Jorge was inviting him to engage in a firefight as Usman started loading up on his punches, telegraphing them and looking human with Masvidal smiling after a competitive opening round.
Colby Covington (#1), who Dana White has already confirmed as the number one contender, had the camera pan towards him as he watched on Octagonside and had his say afterwards.
Masvidal landed more leg kicks but found himself countered twice in quick succession when he pushed forward – the first one barely whizzed past him, the second crumbled him clean to sleep.
It was a perfectly-placed right hand which knocked Masvidal unconscious, with his whole body going limp as Usman rained down hammer fists to end a special night on another high note.
Statistic: With this knockout victory, Usman holds the second longest win streak in UFC history (14). Anderson Silva (16, between 2006 and 2012) holds the record.
"Jacksonville, Florida. You wanted violence, you're welcome. No disrespect, thanks to Jorge, you elevated me, it's been a while since I've been extremely nervous for fights, had to sharpen my tools and put on a performance like that.

I told everybody: I'm still getting better, the sky is the limit for as long as I'm doing this. Coach [Trevor Wittman] told me to stay with the fundamentals, Trevor has said it for a while… Henri [Hooft] texted me and said keep it simple.

With my fundamentals, I am the best on the planet right now. I had to bring out my A-game. This [shows his father] is my pops, he's back and it's an amazing joy to have my family complete again… everybody drive home safe!
Masvidal meanwhile, had this to say:
"It hurts, Usman showed me something I didn't see the first fight. I was ready to wrestle for 25 minutes, nothing I can say but he had my number."
---
Two-time champion: Thug Rose does it again!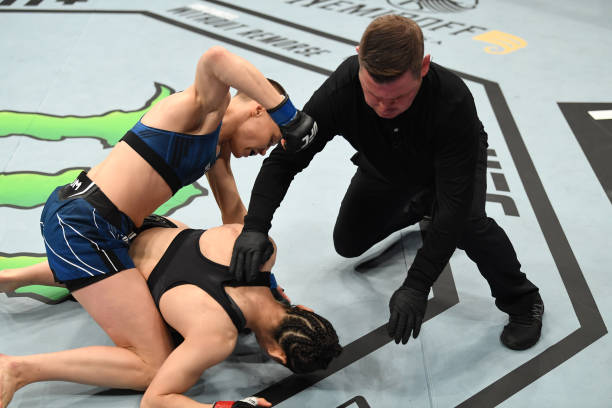 R1, 1:18 – Rose Namajunas beats Zhang Weili via KO (head kick, punches), becomes two-time strawweight champion
Namajunas became the first woman in UFC history to recapture a title, four years after beating Joanna Jedrzejczyk at UFC 217 – and did it in devastating style again. She landed a perfectly placed left high kick which caught Weili flush on the face, before landing hammer fists to finish.
Weili, booed on her way to the Octagon, disputed the stoppage immediately afterwards and during the post-fight interview but could have no complaints if she saw the replays. She was clearly motionless and not defending herself.
"I did it again! I am the best.

I didn't see her moving, wasn't sure if she was gonna come back from that. Just a couple of hammerfists and that's how it went.

All that stuff in the media, it was never my intent to personally attack her as a person – I love all people, cultures, everybody in the world." 
---
Shevchenko simply superb against Andrade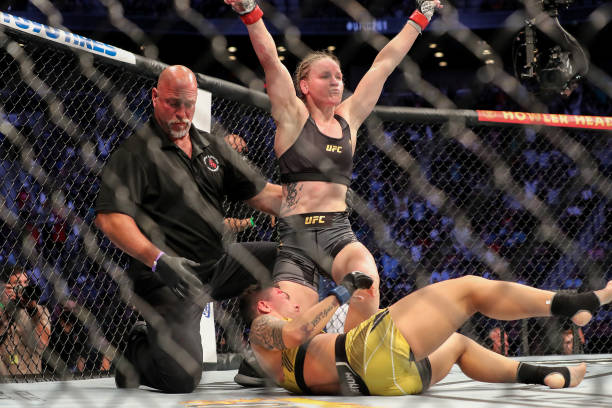 R2, 3:19 – Valentina Shevchenko (c) beats Jessica Andrade via TKO (elbows), retains flyweight strap
It was heralded as Shevchenko's toughest matchup since beating Jedrzejczyk to claim the vacant flyweight strap at UFC 231 in December 2018 and while the former strawweight champion was in her corner on social media, the 125-lb title-holder clearly didn't need anyone's help.
She was dominant against a plucky Andrade effort, though it was quickly clear a long night was in store for the former 115-lb champion after being taken down five times in the opening round.
Shevchenko, who had the crowd firmly on her side, landed nice one-two combinations and established her commanding presence with persistent wrestling against the 29-year-old, who was being shaken and stirred across the cage like an amateur.
She landed some clinch strikes but almost found herself in danger with a late R1 submission, though there was more where that came from in the next round.
As the strength discrepancy between them was emphasised even further during their exchanges, Andrade was being broken down by the champion at perhaps the one thing many had questioned as a potential chink in Shevchenko's armour. Not for long.
While she tried to lift her near the cage, Shevchenko blocked her attempts before wrestling back to the ground once more and tying the flyweight record for most takedowns in a single fight (7).
There, she got into the crucifix position, landing multiple ground and pound strikes to finish with a flourish. Andrade was clearly surprised by Shevchenko's decision to continue grappling, instead of sticking to her stand-up skills, and issued a warning to the contenders watching on:
"I wanted to surprise people, I can do everything! After I saw the blood, I knew I had to go harder to stop the fight. Here I am, anyone and everyone, I'm here. While you're looking for my weaknesses, don't waste your time, there is none."
---
Rest of main card marred by successive leg injuries
Weidman snaps his foot with first kick of the fight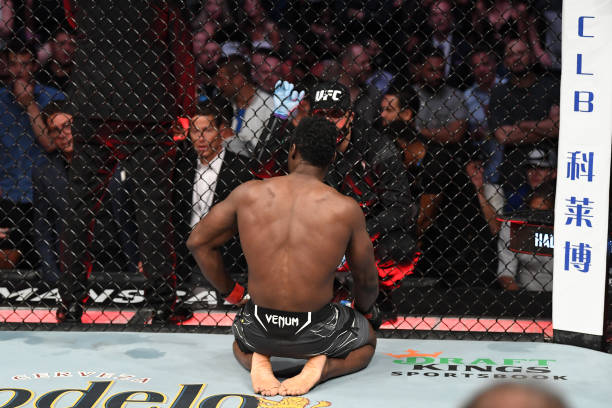 R1, 0:17 – Uriah Hall (#9) defeats Chris Weidman (#11) via TKO (leg injury)
Eight years after watching Anderson Silva snap his fibula and tibia on contact during their middleweight title fight, former champion Weidman had his first low leg kick checked and suffer the same injury – with the same referee Herb Dean – vs. Hall, 11 years after their first matchup.
This was billed as a pair of 36-year-old middleweight contenders seeking clarity in a division with plenty of recent movement, but instead proved a heartbreaking finish to watch as Weidman was stretchered out of the arena to receive medical assistance. Hall had this to say afterwards:
"I've got nothing but respect for him, a crazy story that he was the first man I fought that defeated me… it's crazy how we ended up here again, I wanted to put a great performance but man, I feel so bad for him.

Hopefully he's okay, I wish his family well. It's [sustaining injuries] a sucky part of this sport, hope he recovers and whatever rank I am in the future, I owe him this fight – you're still one of the best Chris."
---
Crute's cruel ending in main card opener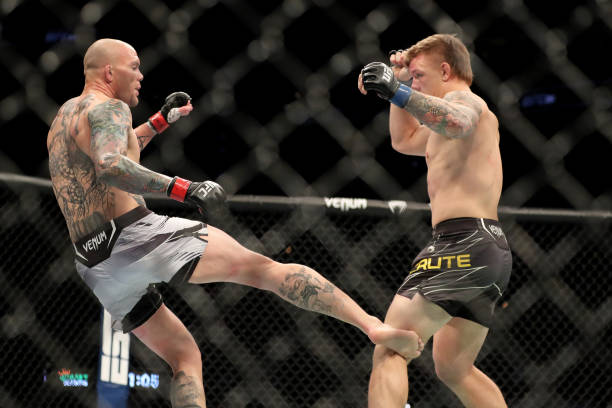 R1, 5:00 – Anthony Smith (#6) defeats Jimmy Crute (#13) via TKO (doctor stoppage)
After his R1 win over Devin Clark in November, Smith has now secured back-to-back victories for the first time since October 2018, albeit with an anti-climatic finish against rising prospect Crute.
After having early success with multiple jabs which caught the Australian flush on his face, Crute was already wearing the damage to the right eye but landed some leg kicks of his own.
Both connected with hooks as they exchanged in the pocket, before Smith let fly with his first leg kick of the evening – watching on as Crute had a staggered reaction but fell to the mat.
The delay suggested some injury had been sustained and within seconds, it was apparent: you could see him trying to fight his way through drop foot, as Smith had caused nerve damage.
Despite two takedowns late on, Crute couldn't mask the pain as his foot literally dangled awkwardly across the mat. After a doctor's assessment between rounds, the fight was called off.
Pre-fight he stressed the importance of not making any mistakes against a one-time title challenger and while there was plenty of respect between the pair, Smith managed distance well while proving he's still a viable top-tier threat in the light-heavyweight division.
---
Prelims, early prelim results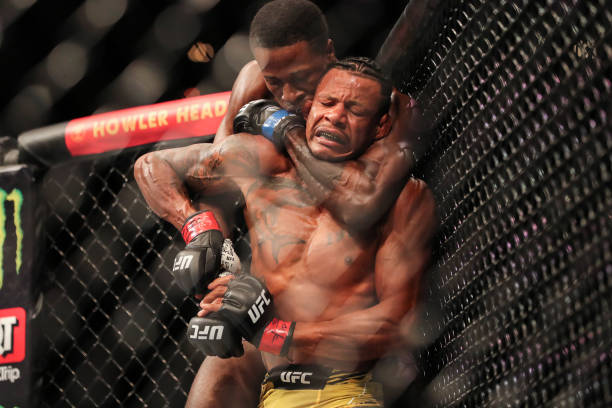 In the featured prelim at welterweight, Randy Brown returned to winning ways by earning a one-arm rear-naked choke against Alex Oliveira to finish an entertaining first-round affair.
Oliveira wobbled him early with some low leg kicks that weren't checked, before Brown had a flash knockdown with a vicious right hand and secured the stoppage by showcasing awareness and timing against the cage to capitalise on the Brazilian, who had no answers.
In a slow-burning welterweight affair, Dwight Grant outlasted the returning Stefan Sekulic with a split decision win (29-28 x 2, 28-29) but survived a nervy final minute after absorbing a one-two punch combination and tight guillotine choke attempt that could've finished things late on.
Having suffered his first UFC defeat vs. Sean Strickland in November, middleweight prospect Brendan Allen vowed to avenge that loss after racing to a R1 submission – heel hook – win over Karl Roberson, who relinquished a favourable position on the ground and was duly punished.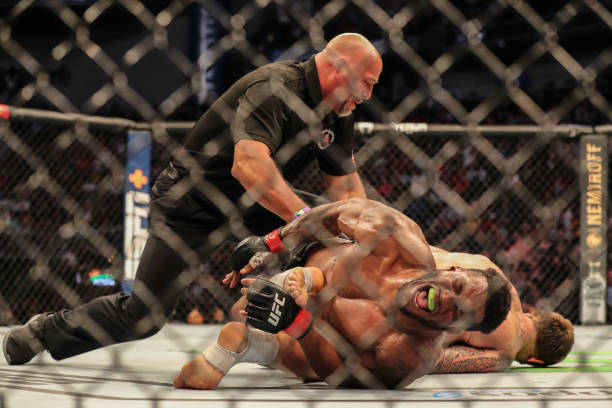 After two straight Cage Fury wins post-lockdown, featherweight debutant Pat Sabatini made his first UFC outing one to remember against Tristan Connelly – who had dropped two weight classes following an arduous 19-month period outside the Octagon since beating Michel Pereira.
Having clearly dominated the first two rounds on the ground, the 30-year-old would've known he was up 2-0 ahead of the finale. Despite Connelly's spirited third-round showing, where he stuffed an early takedown attempt and secured one of his own late on, it was ultimately futile.
There were UD wins for flyweight Jeff Molina (vs. Qileng Aori) and lightweight Rodrigo Vargas (vs. Rong Zhu), before bantamweight Danaa Batgerel – who last appeared at UFC 248 a year ago – earned a second straight knockout finish, needing just 50 seconds to finish Kevin Natividad after landing a beautiful counter left hook and following up with ground and pound strikes.
---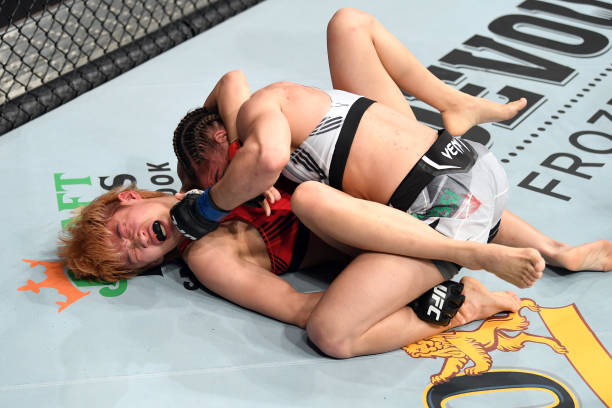 In the women's strawweight division, Ariane Carnelossi earned her first UFC win at the second attempt with a second-round TKO finish against debutant Na Liang during the night's opener.
Pictures source: Getty Images