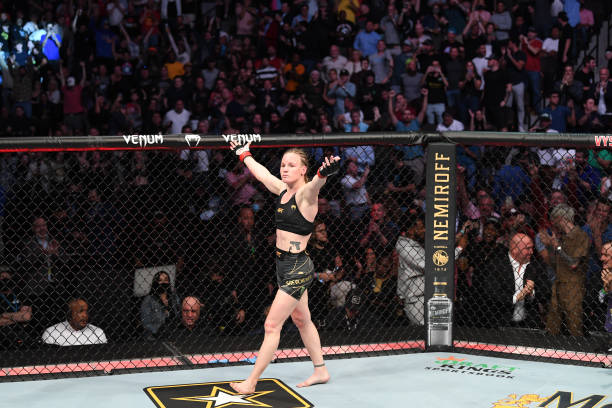 Promoter Dana White confirmed that UFC Africa is more than just a fantasy after all, a dominant Valentina Shevchenko spoke about next steps in her division as well as a possible Amanda Nunes trilogy, while Rose Namajunas – rematch aside – is eyeing a few possible contenders and reigning champion Kamaru Usman continues to see the fruits of his labour at welterweight.
Dana White: UFC Africa, Nick Diaz return and Usman praise
Promoter Dana White confirmed a UFC Africa card is in the works for 2022, while there will be surprises for Fight Island later this year. He confirmed one-time title challenger Nick Diaz wants to end a six-year layoff by returning too, and the 37-year-old welterweight was Octagonside here.
After revealing his willingness for Shevchenko and Nunes to continue building their own legacies without one another, Dana praised Usman's improvements as he's shown continued growth:
"I love watching Usman fight. Earlier in his career he was a wrestler that would try to grind you but has completely evolved as a fighter – standing and knocking out Masvidal.

The fight with him and Colby was one of the greatest I've ever seen, blasting each other until Covington went down with a broken jaw, he's unafraid to trade and stand with anybody, a well-rounded fighter, [already] one of the greatest ever and on his way to being the best of all-time. I don't think there's a queue [of contenders building up behind Colby], we'll go from there and see."
---
Shevchenko says a Nunes trilogy feels inevitable, eventually
During Valentina Shevchenko's portion of the post-fight presser, the women's flyweight champion said she's unsure who is next for her latest title defence but wants to be more active.
"It's hard for me to [pick who's next], I don't know who's fighting who. I was so focused on my fight, now I'm going home tomorrow, I'll see and help my sister [#12 ranked flyweight Antonina] from Monday in her preparation for UFC 262."
On the possibility of fighting Nunes a third time:
"I know it's going to happen again, where there is no other [fight to be made] than that. The fans will talk… when it's time, it'll be huge and I'm ready for this. I will gain some pounds back [laughs]."
She said she had an extra motor with the Florida crowd cheering her name, said it was an indescribable feeling and motivated her even more to dominate.
"This is the time for female MMA, women are so technically strong. If you look back a few years ago, it was more simple but now? You can see exactly the improvements while staying feminine, it's a combination."
---
Namajunas open to Weili rematch, eyeing Xiaonan-Esparza too 
As for two-time strawweight champion Rose Namajunas, she was understandably on "cloud nine" after a fast-and-furious finish and agreed with the notion this was the best overall display we've ever seen from her.
"My discipline, focus, preparation, the team, I was myself the entire time.

She [Zhang Weili] was quick, I expected that, very determined and ready. I was ready to go 25 minutes, obviously it was pretty short but I got my range and have really good timing.

I've been building my dexterity, it's happening over time. I have a taekwondo background and the longest – or up there – reach in the female category."
She created headlines with her controversial political comments in the lead-up to this fight, but doubled down afterwards by insisting there was nothing personal between them. Also, there is seemingly no definitive #1 strawweight contender, though a rematch appears in the offing.
"We'll see, I'm open to it. She's obviously upset with the way it happened, so quickly. I've wanted to be more active for a while now but life gets in the way, broken nose and all that stuff, if that [frequent fights] is in my path, I'll do that.
She also showed interest in seeing how the matchup between Weili's compatriot Yan Xiaonan (#3) and Carla Esparza (#4) plays out, a fight set to take place on May 22 – the card headlined by an exciting bantamweight bout between Rob Font and Cody Garbrandt next month.
On the defining moment in female MMA:
"Ronda [Rousey] opened the door for us, Amanda took it to a whole new level, I set my own record [first ever two-time champion]… I'm just humbled and flattered to be part of this journey."
Usman predicted a finish for his teammate during this week's Embedded Vlog series and Namajunas described the 170-lb champion's win as amazing and beautiful to watch.
---
Last but not least, Usman
Usman praised Masvidal for presenting himself as a challenge the champion wanted to conquer, once and for all, while detailing more issues in the build-up to their initial matchup last summer.
"Shoutout to Masvidal, he elevated me, gave that extra oomph that I needed. I envisioned it going two ways: he's a veteran, saw it [the first way] coming in the first-round but yeah, took care of business.

I felt nerves but not as severe as the first one, had four days to prepare for that one with a broken nose and bunion on my right foot, but still chose like a champion to defend my title and had a definitive finish.

On Monday, I wanna see #1 pound-for-pound next to my name."
On whether it felt extra sweet to knock Masvidal out in-front of his home crowd:
"I compete in a gym with maybe ten people, I've done it in sold out crowds, boos or cheers don't make a difference, I'm a professional and that's what I do best. I just need to continue doing what I do – dominate."
He said he's not worried about being in the conversation for the greatest welterweight of all-time, with Georges St-Pierre considered the Mount Rushmore of his division. As for statistics and numbers, they're nice but it's also important to take each fight as it comes, even if it's cliche.
"I don't worry about that, take it a fight at a time. I'm worried about the next one because if I don't win that, then the number [beating Silva's 16 win record] means nothing."
Importantly though, he's satisfied with this victory and did exactly what he said he would: blasting Masvidal out unconscious, for his fourth title defence.
Also read: Usman – Masvidal win left me unsatisfied, which is why I called for rematch
He's ecstatic about the possibility of a UFC Africa card, again stressed he wouldn't move up to middleweight unless his compatriot Israel Adesanya did the same before taking exception to a question about what Masvidal – a superstar in his own right – does after two successive defeats.
"I worked my ass off, a lot has been made about him being a superstar and more power to him but I'm those things as well and show it in a different way.

I didn't need to show a fast car or a private jet, I like nice things too but it's important for people to see the work that goes on behind [the scenes].

I worked for all these things, I didn't arrive in one [private jet] but I'm damn well leaving in one!
On Rose's win: "She's a special athlete, I saw it and knew it could land… I'm extremely excited for her, I know how much she put into this. I'm amazed to watch her."
"Growing up I didn't see role models like myself, I want to motivate everyone – this can be done and it was extremely satisfying. I definitely blessed him, he pushed me and those [hammer fists] were super necessary."
On Covington, the rest of the pack and what's next:
"I don't worry about these guys, my daughter is the only person I owe something to, she let me leave for a six-week camp.

I broke the kid's jaw, how satisfied can you be? I've lapped the field. I came through like a Miami hurricane… we'll see about [Nate Diaz vs Leon Edwards], just heard something about Nick too so… we'll see."
To finish, I'll echo what I said earlier this week. There are a few rematches left on the table before you can argue Kamaru has left no stone unturned in the 170lb division. Leon Edwards (#3, Diaz at UFC 262) and Covington – who won't stop talking – appear the most intriguing fights to make.
It'll be interesting to see how Stephen Thompson fares against Gilbert Burns at UFC 264 (July 10), as a fresh matchup that could test Usman's stand-up skills – but isn't getting any younger at 38.
Pictures source: Getty Images — quotes via UFC 261's live press conference broadcast