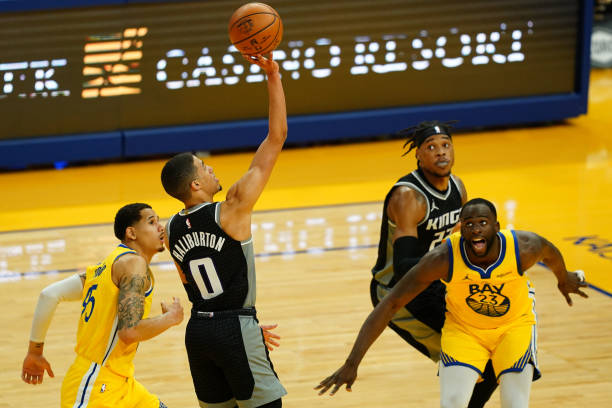 Rookie of the Year candidate Tyrese Haliburton had 15 of his 24 points in the fourth quarter, but it wasn't enough to snatch a hard-fought road win at Chase Center as the Sacramento Kings were bested 117-113 by a determined Golden State Warriors effort overnight – powered by MVP frontrunner Stephen Curry and others besides when things got tricky down the stretch.
Curry ices game at the free-throw line, breaks more records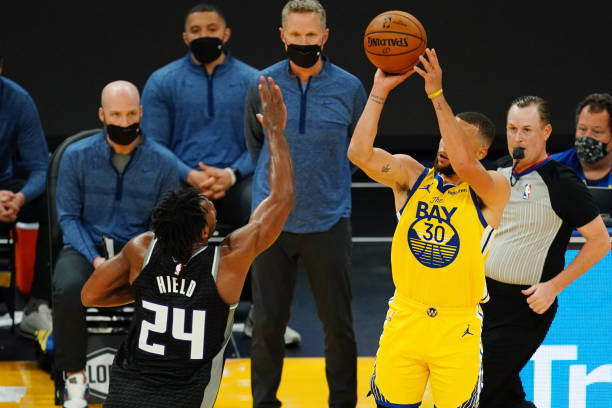 Golden State Warriors 117-113 Sacramento Kings
Curry (37 pts) breaks another NBA record, Oubre has 19 off bench
Haliburton and Hield combine for 49 points and 11 assists
It's a measure of Haliburton's ability, 54 games and 16 starts into his NBA career, that questions were immediately raised – on commentary and social media – that head coach Luke Walton was okay giving Harrison Barnes the final shot on an isolation play, rather than feeding the hot hand.
After all, this is a player who slid to 12th in last year's draft but had quickly established himself as a ROY frontrunner alongside LaMelo Ball and Anthony Edwards – two of the top three picks.
He started slow but as usual, came alive in the fourth with the game on the line: down 94-92 with twelve minutes to play. 15 of the Kings' 21 final points came from their 21-year-old rookie.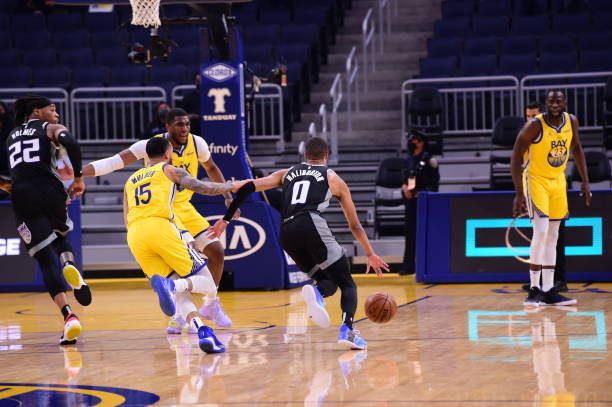 Welcoming extra defensive attention that came his way, the point guard scored multiple ways: floaters, driving layups through traffic, three-pointers and more as the lead changed hands.
De'Aaron Fox is averaging career-highs in points (25.2), eFG% (52.3) while maintaining his playmaking (7.2 assists) per game this term, though COVID-19 protocols mean he'll miss the next fortnight or so – an untimely blow considering their dwindling postseason play-in aspirations.
So with their franchise guard sidelined, who better to take the final shot than the rookie tipped to join him as a key man in Sacramento long-term? Or better yet, leading scorer Buddy Hield?
Despite a drop-off in Hield's offensive production in recent seasons, it's the eighth time the SG has led them in scoring this term and did so with 25 points on 13 shots (9-of-13, 6/8 from three).
Instead, both watched as Andrew Wiggins contested Barnes' stepback jumpshot and it missed with 2.8 seconds left. It would've been the go-ahead basket, but was an ambitious choice for a player who hadn't scored since 6:27 in the third and struggled to assert himself down the stretch.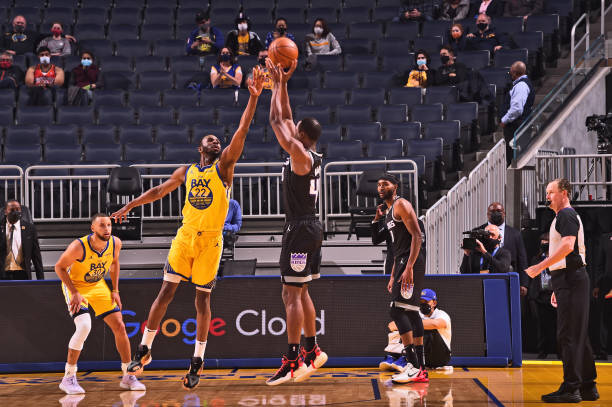 Even without Fox, another frustrating defeat to take
Of course, that wasn't the only defining moment. There were other opportunities, like big man Richaun Holmes – an 80% free-throw shooter – missing three chances for easy points at the line.
Curry set a new NBA record for three-pointers in a month at 85, surpassing James Harden's 82 (November 2019), but was clearly struggling with an injury late on and almost gave the game away with a late turnover under pressure by two defenders in pursuit as the clock ticked down.
Hield gladly stole the ball but lost his handle as he shaped to secure an easy layup, while Kelly Oubre Jr (19 pts, seven rebs) produced two big plays down the stretch.
Despite getting more hand than ball, Curry's block on Holmes at the rim was ruled clean while Draymond Green was typically solid and two points from a triple-double (14 rebs, 13 ast, 8 pts).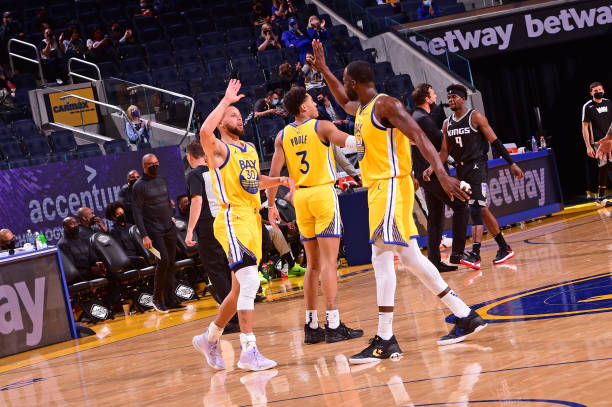 Love him or hate him, it was his 20th game with ten or more assists this term. You can't help but wonder where Sacramento might be, with an influence like his to count on during tight moments in games decided by the finest of margins.
Winning this would've put them a game behind New Orleans (11th) out West, but Sacramento (24-36) need a miracle to qualify for next month's play-in tournament in their final 12 games.
Picture source: Getty Images