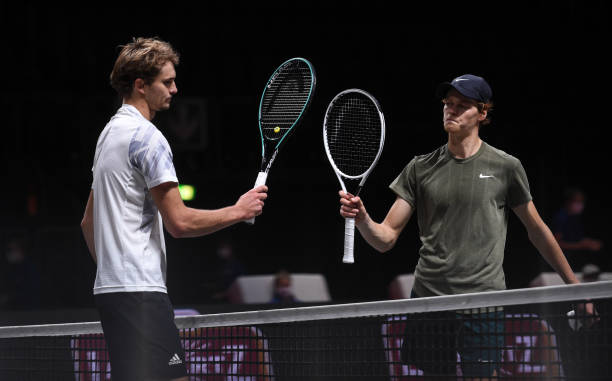 A semi-finalist at the Barcelona Open last week, armed with a new career-high #18 next to his name on Monday, Italian teenager Jannik Sinner – progressing fast – is destined to finally crack the top-10 sooner rather than later per US Open finalist Alexander Zverev's recent comments.
Zverev, who became the youngest player in a decade to finally crack the top-20 five years ago, feels Sinner will join him and the young crop looking to overthrow the Big Three's dominance.
Funnily enough, the previous record-holder before Zverev? World number one Novak Djokovic (2006): who has 18 Grand Slam titles, including a record ninth in Melbourne earlier this year.
Zverev, who beat Djokovic to the ATP Finals in 2018 and is a three-time Masters 1000 champion, has been an ever-present figure in the top 10 since joining that elite group four years ago.
As quoted by tennisworldusa, the German – who turned 24 last week – heaped praise on the teenager, seeing parallels to his current path and the one he personally had to experience previously:
"I have always thought that Jannik would be the youngster to beat soon; he is improving very fast. At his age, at 19 or 20, you can play without pressure and some high goals. That makes you feel good when you are on the court.

If he gets everything right, we will welcome Jannik in the top-10 soon. He is very talented, and his progress is quick and constant.

Every time I see him, I feel he has grown more. He'll lose some matches that he should have won, but will overcome that as a part of the process. All great players had to pass that phase, and it happened to me in 2019."
Sinner got to the semis in Barcelona last week, beating Spain's Albert Ramos Vinolas and third seed Andrey Rublev before losing to finalist Stefanos Tsitsipas as Rafael Nadal saved a match point deep into a gripping third set en route to clinching the title on home soil last weekend.
Sinner, who became the youngest ATP title winner since Kei Nishikori in 2008, earned his second ATP trophy before the Australian Open and has continued to succeed in recent months.
In addition, his ranking rise will have a positive impact on future Grand Slam seeding.
He was unseeded but beat David Goffin (#11) and Zverev among others on the way to an impressive quarter-final finish in Paris last year, before a deceptive straight-sets loss against eventual champion Nadal.
Maintaining a higher ranking, and tournament seed in turn, will help him avoid situations like the one at Melbourne two months ago: facing Denis Shapovalov (#11th seed) in round one just 24 hours after beating compatriot Stefano Travaglia to win an ATP title.
The rate of his development means Zverev's comments aren't particularly surprising, but instead emphasise the point he isn't exactly the young gun himself any more.
Felix Auger-Aliassime (20), Casper Ruud and Alex de Minaur (both 22) are all a work in progression but inside the world's top 25 while Tsitsipas (#5, 22yo) and 23-year-old Rublev (#7) are both younger than him too, enjoying career-highs themselves.
Picture source: Getty Images