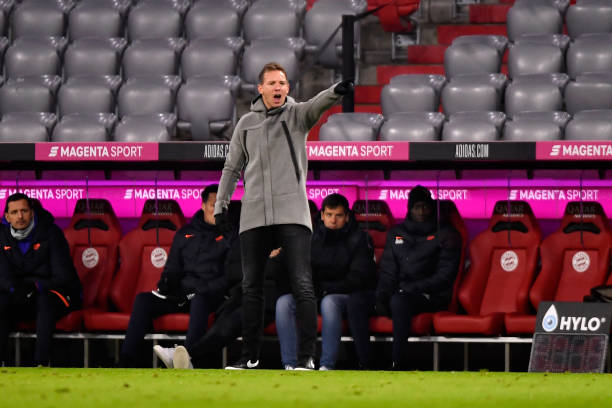 Football's worst kept secret is out: the Bundesliga's perennial champions Bayern Munich have announced RB Leipzig's Julian Nagelsmann will succeed Hansi Flick as their new manager this summer, agreeing terms for a lucrative five-year deal. However, sceptics shouldn't be so quick to begrudge a highly-rated boss joining his fiercest competitors, being Bavarian-born after all.

two months after upamecano deal, Bayern capture his boss too
After moving quickly to sign France international centre-back Dayot Upamecano – Leipzig's best player – for a reported €42.5m (£37m) in mid-February, this news represents another big long-term step as they've flexed their financial might and pull over a domestic rival again.
It's not the first time that's happened, nor the last, but Bayern are set to pay a world-record €25m (£21.7m) fee for Nagelsmann's services after Flick revealed his desire to leave earlier this month.
ALSO READ: Assessing Germany's 50+1 rule, in an uncompetitive league at the top table
On the club's website yesterday, they wisely highlighted Nagelsmann's Bavarian roots in the first paragraph before multiple quotes emerged from within the club's hierarchy, welcoming Nagelsmann while celebrating Flick's success.
After all, the 56-year-old is someone who vastly overachieved expectations, considering he was only initially supposed to be their interim head coach after Niko Kovac's dismissal in 2019.
Board member Oliver Kahn's comments felt well-intentioned while possibly foreshadowing the future, citing the five-year deal as one which highlighted "how committed" Julian is to Bayern.
Perhaps the goalkeeping legend has a foggy memory, but when was the last time a manager lasted a full five-year cycle at the Allianz Arena? Ottmar Hitzfeld, between 1998-2004.
Since then, there have been 13 managerial changes – including a second spell for Hitzfield (07-08), multiple terms for Jupp Heynckes and the well-documented Pep Guardiola era too.
Bayern are so dominant domestically that they can't help but judge overall success based on their work in Europe, the one significant slight against Guardiola's three-season stint (2013-16).
After three straight semi-final finishes under the Spaniard, they have been inconsistent among Europe's elite in the seasons since:
2016-17: Quarter-finals
2017-18: Semi-finals
2018-19: Round of 16
2019-20: Winners
2020-21: Quarter-finals
You could argue they'd be playing Manchester City tonight, if Robert Lewandowski wasn't injured and unavailable during their two-legged affair against PSG – who they beat in last year's final.
---
A word on english interest and his two managerial inspirations
Last year, Nagelsmann cited Jose Mourinho and Thomas Tuchel as two managers who've been key in shaping his managerial style and career to date. Among the quotes, this one stands out:
"For me, being a top coach means more than just teaching football.

That includes empathy, it means that you can speak to a group, can deal with the media – you have to be able to do all of that. I would not describe myself as blind in this regard, but a top coach also includes titles."
There's a sense Mourinho's previously successful style has been outgrown in today's game, where player power and adopting an empathic approach are two elements he often fumbles.
Tottenham sacked him last week, then proceeded to wilt rather characteristically in their 1-0 Carabao Cup Final defeat by Manchester City on Sunday. So with big expectations after Mauricio Pochettino's dismissal, perhaps it was the case of wrong team at the wrong time for Jose?
Then again, Tuchel was sacked by PSG just four months after leading them to their first Champions League Final. Fast forward another five and he's 90 minutes away from guiding Chelsea into their first UCL final since the Blues won the trophy in 2012. Timing is everything.
READ: Tuchel made PSG believe, but his time was numbered from the start
Nagelsmann, who lives and breathes football by his own admission, would've seen all of this unfold like the rest of us before Flick publicly decided to depart too.
Naturally, Tottenham were quickly linked with a bold move for Nagelsmann's services. News confirming the contrary has been described as everything, from a "hammer blow" and "setback" to more besides, but why would he join them at such a fragile stage in their expected rebuild?
Andre Villas Boas was the last talented 30-something manager who graced England with his presence, lasting only 120 games across two London clubs (W65, D28, L27) and abruptly discarded to Russia less than three full years later. That experiment began a decade ago in July.
Kevin Campbell's assertion that Mikel Arteta is a superior head coach to Nagelsmann – because he won the FA Cup in his first season – feels either like a flippant comment or just disingenuous.
This is a man who got RB Leipzig to the Champions League semi-finals last season – outsmarting Mourinho and Diego Simeone on the way – and had them as serious Bundesliga title challengers this term before his side ran out of steam in mid-March, dropping ten points in a six-game span.
It's the same lazy narrative used to criticise Mauricio Pochettino's successful-yet-trophyless time in north London, and Tottenham haven't been the same since he departed.
Why would he go there? If anyone, it feels like one of the two Manchester clubs would suit him far better or Liverpool, should Jurgen Klopp honour his existing contract through to 2024.
---
now though, nagelsmann's time for trophies awaits
It'll be interesting to see how the team dynamics between a youthful Nagelsmann and his new players develops over time, especially in the presence of some influential elder statesman – captain Manuel Neuer (36), Thomas Muller (32) and the aforementioned Lewandowski (33).
"The fact that some of his players are older than him has never undermined his authority. His tall stature and the conviction in his voice are helpful tools to create an aura." – German football writer Constantin Eckner for BBC on Monday
Just five years ago he was breaking records as the Bundesliga's youngest ever manager at Hoffenheim, yet inspiring success there helped Leipzig take the plunge for his services.
Things have come full circle and naturally, critics are unimpressed as another of Bayern's rivals have been raided again. But anyone who followed this story in its entirety knows how those doubters quickly became admirers and teams aplenty have tracked his managerial progression.
Bayern were among them. Two years ago this month, Nagelsmann said he could see himself managing them when asked by Bild (quotes via Goal):
"This [Bayern] is a nice club. Of course I can imagine that someday I will be a coach there, but I can also do that with Liverpool or Barca. In six years at the latest, I want to hold something silver in my hand."
He's got three-and-a-half years to make those quotes prophetic, and armed with another step-up in team quality is sure to help provide silverware going forward. However highly-regarded he comes though, the 33-year-old knows he'll ultimately be judged on Champions League success.
Picture source: Getty Images