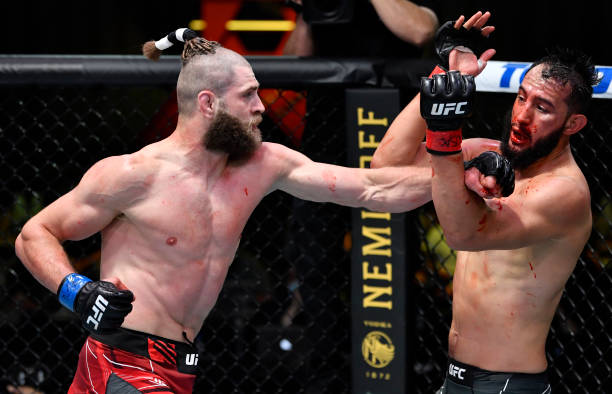 Rising light-heavyweight Jiri Prochazka (#5) handed two-time title challenger Dominick Reyes (#3) his third straight loss with a second-round spinning back elbow knockout – the third in UFC history – asserting his credentials as a genuine title contender at 205lbs. Before a chaotic main event, there were big wins for Georgian duo Giga Chikadze and Merab Dvalishvili among others.

unorthodox Prochazka propels himself into title contention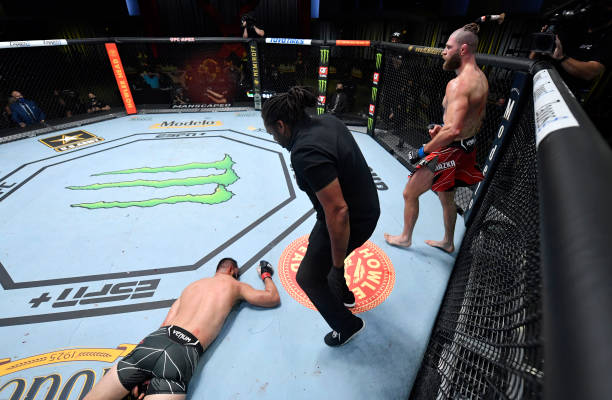 R2, 4:29 – Jiri Prochazka (#5) defeats Dominick Reyes (#3) via KO (spinning back elbow)
"I'm learning still, fight-to-fight. I just want to share the beauty of martial arts."
Prochazka blasted his way past Volkan Oezdemir (#8) on his debut in the night's featured prelim at UFC 251 last July, but the former Rizin LHW champion stepped it up another two gears against Reyes here, en route to another emphatic second-round finish inside the Octagon.
Precisely the sort of overwhelming display that has him mooted as the next title contender, even two fights into his UFC career, as someone with nine years and 32 MMA bouts under his belt.
Jan Blachowicz will make his second defence vs. Glover Teixeira at UFC 266 on September 4, but it'll be interesting to see how a division many critics believe is thin on top contenders shakes out.
Aleksandar Rakic (#2) looks the only other highly-ranked name that can realistically challenge Jiri's unorthodox fighting style but Reyes was in danger from their early exchanges – despite being keenly aware of the Czech's abilities and welcoming the challenge through fight week.
Reyes loaded up on leg kicks early, before the pair exchanged punch combinations in the pocket and Prochazka wobbled him with a straight right.
Reyes, sensing he was in some danger, did well to secure a takedown shortly afterwards. Just as the commentators were questioning Jiri's wrestling Octagonside, he explosively popped out of bottom position and settled himself once more before teeing off with strikes aplenty.
Reyes returned fire as expected, but limited head movement and having the cage cut down to size by an advancing fighter meant the danger was never far away. His counter-punching was accurate enough to survive round one, but not much more.
Despite also starting round two much better by comparison, it didn't last. He connected on a straight left that wobbled Prochazka, raced for a guillotine choke attempt but the Czech did well to timely pop his head out and recover. Then, they returned to exchanging blows in the pocket.
As evidenced by the video above, it's only a matter of time before someone goes down when you're landing bombs like those.
Prochazka's forward pressure continued to prove troublesome before his beautiful finish: landing a spinning left elbow up against the cage, flattening Reyes – who didn't see it coming – a violent ending to a slow-burning card, which unsurprisingly won Fight of the Night honours.
After a chaotic main event matchup, Prochazka couldn't mask his frustration about absorbing unnecessary damage while looking for the finish but remained humble on the subject of title contention when asked during the post-fight show shortly afterwards:
---
145-lb contender Chikadze caps big night for Georgia in co-main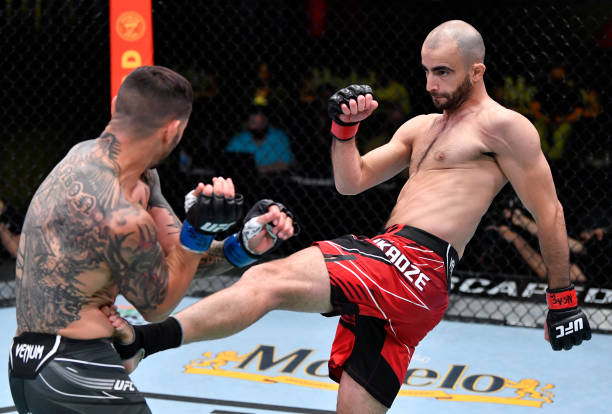 R1, 1:03 – Giga Chikadze (#14) defeats Cub Swanson (#15) via TKO (body kick, punches)
"I'm so happy, have a ton of respect for Cub but it is what it is. I had to tell all the top-15 guys, if you didn't know, now you do."
Up against another step up in competition, rising featherweight contender Giga Chikadze rose to the occasion with an impressive finish in this co-main event slot: racing to his fastest UFC finish yet against Swanson, stung by a succession of kicks – one to the head, another to the body.
Many backed the veteran to snap his five-fight win streak, which has accelerated post-lockdown and also included a Performance of the Night outing against Jamey Simmons back in November.
Although this matchup promised plenty on paper, it was over in a flash. Swanson simply had no answers for the Georgian, who landed a perfectly-timed left kick to the liver before finishing with ground and pound strikes akin to Jessica Andrade's win over Katlyn Chookagian last October.
While issuing an ambitious callout for #1 contender and former featherweight champion Max Holloway, he said he'd also be open to face the man Max handily beat in January – Calvin Kattar (#5) – who has already revealed he's eyeing a return later this year, regardless of opponent.
---
Rest of the main card
Cutelaba and Jacoby engage in light-heavyweight scrap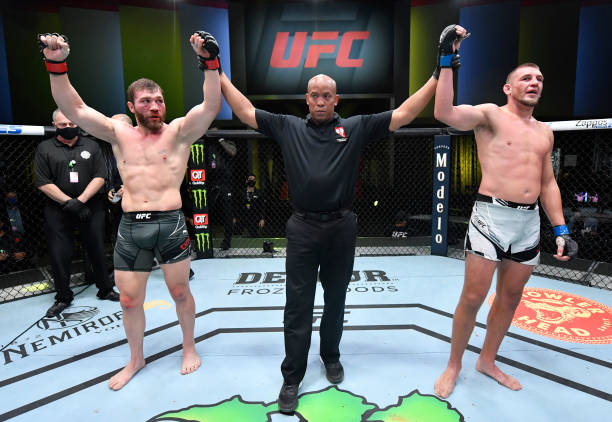 29-28, 28-29, 28-28: Ion Cutelaba vs. Dustin Jacoby ends in split draw
In an exhausting encounter for both, light-heavyweights Cutelaba and Jacoby both had their hands raised at the end after what proved a tale of two fights. Cutelaba started aggressively and applied pressure on Jacoby as he swarmed him: eight takedowns to his name after four minutes.
He was unmistakably dominant during this period and referee Mark Smith leaned in closer and almost stopped it, as Jacoby absorbed repeated head strikes against the cage on his haunches in a vulnerable position before eventually breaking free.
However, the tide began to turn early in the second as Cutelaba had an adrenaline dump while Jacoby grew into proceedings, outstriking him 43-21 despite briefly getting taken down once more as his ability to weather the wrestling-heavy storm in the opening round proved beneficial.
Considering round one was a 10-8 in Cutelaba's favour given his early success, who would come out stronger in the third? Both. They connected on 91 strikes thrown in the final round (46-45 Jacoby), with plenty of frenetic exchanges in the pocket and a Jacoby takedown to finish.
---
Strickland retains his top-15 middleweight ranking vs. Jotko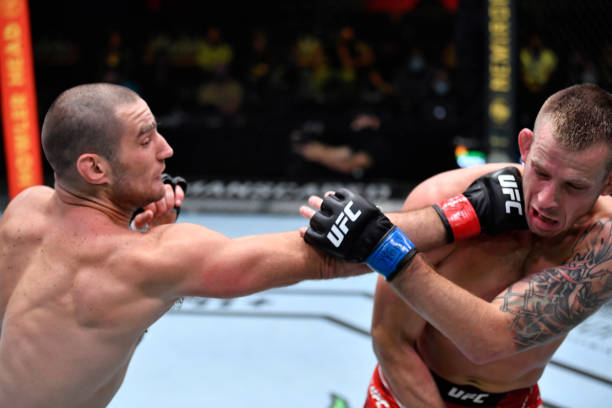 30-27, 30-27, 29-28: Sean Strickland (#15) beats Krzysztof Jotko via unanimous decision
In a scrap between middleweights on three-fight win streaks, it was apparent early on that a long night awaited Jotko – who has struggled against ranked opponents. The same occurred here.
He did well to survive Strickland's early flurry, while trying to mix up his own strikes with limited success – an inability to outstrike the #15 contender at distance, nor be first to engage in the pocket, saw his chances continue to diminish with each passing minute.
Strickland took advantage of such hesistancy by loading up on calf kicks, which were not effectively dealt with, chopping at the Pole's legs and admiring his handiwork as the 31-year-old had a bloodied nose and looked worse for wear in-between rounds.
He controlled distance well and would've known he was ahead on the judges' scorecards heading into round three, as Jotko had no answers for his elusive offensive skills.
This decision result means Strickland earned his tenth UFC win, third in eight months since returning to middleweight. While praising Dana White and co post-fight, he should be looking up the rankings in the next few months at other 185-lb contenders to target for his next matchup.
#7 Jack Hermansson vs #10 Edmen Shahbazyan confirmed for UFC 262, May 16
#11 Chris Weidman – broken leg last weekend, out indefinitely
#12 Omari Akhmedov
#13 Kevin Holland
#14 Brad Tavares
---
Dvalishvili's stock continues to rise with good win vs. Stamann
30-27, 29-28, 29-28: Merab Dvalishvili (#12) beats Cody Stamann (#13) via UD 
In a bantamweight scrap of top-15 contenders, it was surging Georgian contender Dvalishvili who earned yet another decision win – up against arguably the toughest opponent to date in Stamann. Since going 0-2 to start his UFC career, the 30-year-old has now won six straight.
He started fast here, looking to showcase his stand-up skills while securing an early takedown and outworking Stamann both on the feet and mat.
Cody did hold his own with counter jabs but Merab was landing frequent right hand punches which he struggled to block, so despite some alert takedown defence, R1 went Dvalishvili's way.
If round one was competitive and finely poised in all areas, the second felt much less so – despite Stamann securing an early takedown of his own. Why though? Merab landed multiple clinch strikes against the cage, then completed an unorthodox takedown of his own a minute later.
He threatened a submission finish by going for a guillotine choke shortly afterwards and despite Stamann popping his head out in time to avoid a tight squeeze in an compromising position, absorbed yet more damage even from top position as Dvalishvili's intense pace continued.
With more than 90 strikes absorbed after nine minutes, you didn't need to be an expert to know Stamann needed a third-round finish.
His corner stressed that to him between rounds and despite being 2-0 up, Merab still pressed the issues as he searched for a stoppage of his own. That approach, while exciting to watch, is risky.
He almost got stung with a flying knee at one stage, laughed it off and found himself on the receiving end of a takedown reversal as Stamann finished strong. Ultimately, it was too late.
Merab is impressive but needs to improve his fight management as he continues gaining traction in a difficult division stacked with contenders – inviting unnecessary danger trying to finish, rather than keeping his distance and picking Stamann apart at range.
He completed five takedowns and 47 head strikes at distance, so his tactics were clearly working.
Despite another impressive display, he'll have to be even better and more nuanced with his attacks as the challenges get tougherr, not least with callouts like these:
---
Prelim results, with no finishes for the first time since jan. 16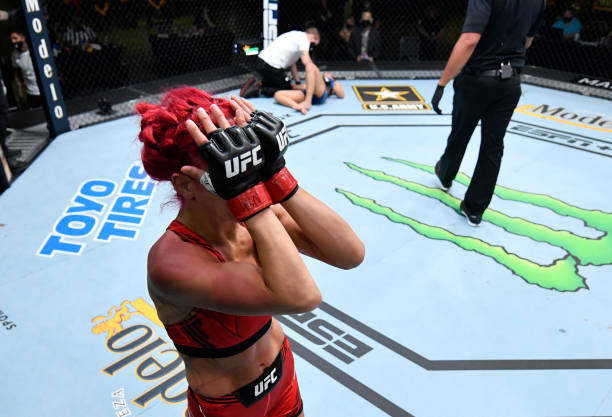 Six fights, one dramatic finish in the featured prelim, but no KO or submission finishes on the prelim card this time around – the first time that's happened since Holloway-Kattar in January.
In the featherweight division, Felipe Colares outlasted Luke Sanders (29-28 x 3), before Greek middleweight Andreas Michailidis earned his first Octagon win vs. KB Bhullar (30-27 x 2, 29-28).
Women's strawweight prospect Loma Lookboonmee was the card's biggest favourite but was made to work for her second straight win, going a full 15 minutes against Sam Hughes (29-28 x 3), ultimately securing successive Octagon victories having beaten Jinh Yu Frey last October.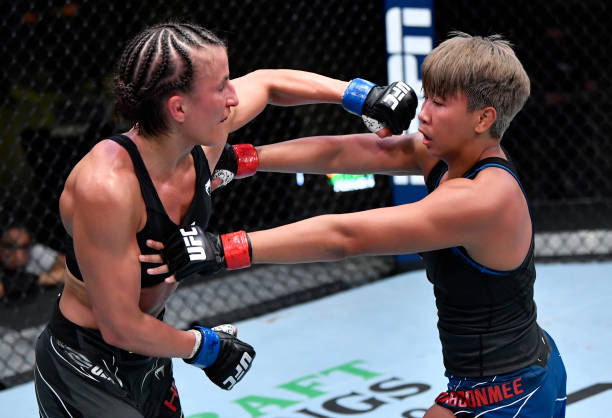 Brazilian flyweight Poliana Botelho was stunned to lose via split decision against Luana Carolina in their catchweight bout (128.5lbs), made worse by the fact her compatriot came in over the 126lb-limit and absorbed the more impactful strikes (87 total, 34 significant) over 15 minutes.
Afterwards, there was another split decision result as featherweight T.J. Brown won 29-28 on two judges' scorecards against a similarly puzzled Kai Kamaka III, who had a second-round knockdown and was more efficient with his striking – despite having less volume by comparison.
Kai Kamaka III
55% total efficiency: 85 landed, 155 thrown
48% significant strikes: 61 of 128 attempted
TJ Brown
45%: 110 of 243 thrown
39%: 82 of 211 attempted
In the featured prelim: Randa Markos was disqualified for landing an illegal upkick on Luana Pinheiro late in the first round, rendering the Brazilian incapacitated after a medical assessment.
If the result stands, it will mean she has lost five of her last six fights, dating back to a decision defeat by one-time strawweight title challenger Claudia Gadelha at UFC 239 two summers ago.
The decision felt harsh on first viewing and should be changed to a no-contest upon review – considering the upkick foul was accidental, Markos endured a long interval herself midway through the round after an eye poke needed a doctor's assessment before she could continue.
Pinheiro was criticised for a delayed reaction before falling to the mat, laying there looking dazed and asked her translator if she lost the fight – suggesting she lost consciousness. Only she'll know whether she was as hurt as visibly shown.
Picture source: Getty Images