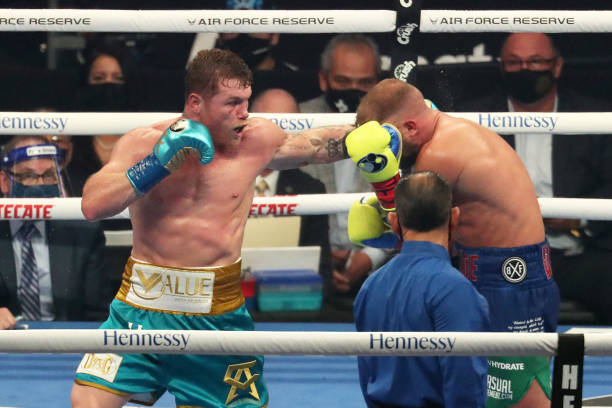 Billy Joe Saunders had his moments, started the busier and led behind the jab to good effect upon occasion, but the Brit's 30-0 unbeaten record and WBO super-middleweight title were both seized by the sport's pound-for-pound king Canelo Álvarez after an eighth-round corner stoppage following a competitive fight, albeit one that ended with an anti-climactic finish.
Canelo cautiously, cleanly cuts Saunders down
R8, 3:00 – Canelo Álvarez beats Billy Joe Saunders via TKO (corner retirement), wins WBO super-middleweight title while retaining his WBA, WBC belts
Canelo claims he broke Saunders' cheek post-fight, knew he would pull out
Calls out IBF title-holder Caleb Plant (21-0) next, Eddie Hearn cites September
It wasn't a punch-perfect display and most watching at home had it closer than the three judges ringside, but they ultimately weren't needed as Canelo improved to 56-1-2 with a second consecutive corner retirement victory – this time against a gamely Billy Joe Saunders effort.
73,126 spectators were in attendance from Arlington, Texas here in what was the third-largest indoor boxing crowd ever – behind two Anthony Joshua fights (Carlos Takam, Joseph Parker).
Promoter Eddie Hearn, who represents both Canelo and AJ, said the pair are the sport's biggest stars and while the much-anticipated Tyson Fury matchup remains unannounced, Saunders was heralded as Alvarez's toughest test at 168lbs in a division many critics have claimed is weak.
In fairness to the underdog, he started well but found out early on that the Mexican's power wasn't something he wanted to feel all too often. His problem? Canelo began patiently working to the body and head, against a taller and tricky southpaw who made him adopt a careful start.
It continued in rounds two and three, as Saunders jabbed well enough but with limited success given Canelo's continued tactic was proving fruitful – big shots to the body backing him up.
Biting on Álvarez's ever-increasing feints gave the impression that he didn't want to engage in the pocket, rightly so, but also would've subconsciously increased the Mexican's confidence too.
It's one thing to keep the fight at distance, it's another to be busier and win rounds while at long-range. Saunders tried masking Canelo's purposeful punches as the crowd roared with each one, but his bravado couldn't fool anyone as you heard the chopping sound when they flew his way.
Saunders showcased his head movement while increasing his punch volume in round four, but not without flirting with potential danger upon occasion as Canelo continued investing with body punches and loading up on big uppercuts that only just whizzed past their intended target.
Despite an encouraging start, the brash Brit clearly didn't have Canelo's full respect for his ringcraft yet, but did so by round five. He started letting his combinations go, landing with a double jab and nice left hook which connected cleanly. Gradually, he was estblishing a rhythm.
If round five was a good one for Saunders, a large part of round six was too. He caught Canelo with another short left hook and good body punch, but there was an increasing sense that the 31-year-old was falling in love with his work as a result – getting buzzed before the round ended.
As the second-half of the fight began, questions over whether Saunders would successfully sustain his intensity level and pacing proved justified. Canelo was going to intensify his attacks.
The crowd were heating up by round eight, as Saunders found himself being backed up repeatedly – just like upon occasion in the first few rounds – but this time, was clearly hurt.
Saunders missed wildly with a right-hand and received a nasty uppercut in return, precisely the same shot Canelo had been loading up on earlier, threatening but without success. This time, Billy Joe was visibly hurt as he immediately recoiled backwards, like he'd been stung by a snake.
He smothered and hugged his way to the bell, as the crowd booed his efforts stifling Canelo from what had quickly felt inevitable – a knockout blow most were confidently predicting pre-fight.
Mark Tibbs and the Saunders' corner opted against allowing him to continue, ruling it an eighth-round stoppage win for Canelo, who has added another belt to his ever-growing collection.
Post-fight comments, fight stats and final thoughts
Hearn on what's next for Canelo and the anti-climatic Saunders stoppage in-between rounds:
"It's the only fight that makes sense, hopefully he feels the same way [Caleb Plant], if we want to keep the great times coming, this is the one to make in September.

BJS couldn't see, Mark wouldn't let him go out, he boxed beautifully and is so tricky but he busted his eye socket, you can see his eye … Canelo came on strong, was too good. Canelo will fight anybody, you know who he wants to fight, it's over to Caleb now. That's the fight that must happen now."
The three judges' scorecards, were as follows: 78-74 x 2, 77-75 – all in Canelo's favour. He landed 58 power punches with a 53% success rate, compared to 30 (26%) for Saunders. Overall, the 30-year-old threw less and landed more accurately (73 of 206, 35%) than the Brit (60 of 284, 21%).
Saunders, who went to hospital with a suspected broken orbital bone, will be sidelined indefinitely and there's a chance he'll either retire or take an extended break before deciding upon next steps – similar to Callum Smith, another Brit left outclassed by Canelo late last year.
Ultimately, Saunders will be criticised for not going out on his shield and regardless of the injuries sustained, it's not surprising to expect any less social media backlash from someone very vocal about others – Daniel Dubois for example – as well as how he was approaching this fight.
He did well but the way things ended mean he'll be quickly dismissed in the grand scheme of things at world level – something many critics had already been questioning beforehand given his lack of credible high-level opposition besides Canada's David Lemieux in December 2017.
As for Canelo, the list of bullish contenders continues to linger after what wasn't a vintage showing by any stretch. It's why Demetrius Andrade was in attendance with a shirt implying Álvarez is scared to fight Boo Boo, before crashing his post-fight presser, calling him out.
Other boxers were interested spectators too:
Picture source: Getty Images unless stated