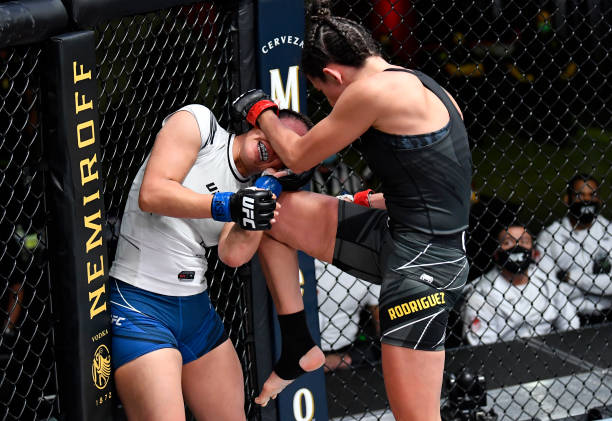 On an evening which was impacted by multiple card cancellations, not least the original Sandhagen-Dillashaw main event, #6 strawweight Marina Rodriguez produced a dominant display and almost finished a durable Michelle Waterson in their flyweight headliner before calling out former champion Joanna Jedrzejczyk (#2) as a potential new challenge to come.
Rodriguez victorious against Waterson in her first main event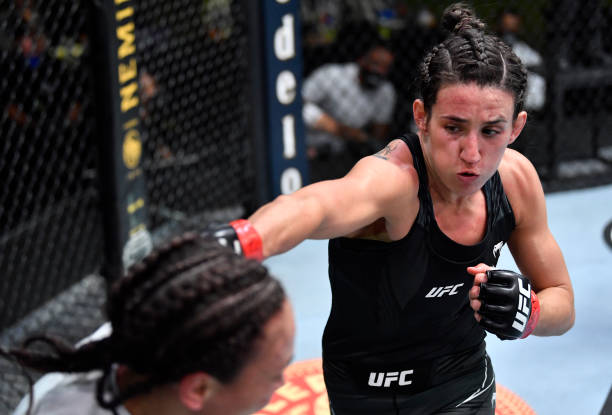 48-47, 49-46, 49-46: Marina Rodriguez (#6) beats Michelle Waterson (#9) via decision
Rodriguez, on 11 days' notice and having plenty to deal with before landing in Las Vegas midweek, outworked Waterson during her first – and unlikely last – main event matchup.
It was contested at 125lbs, more competitive than many sceptics expected and that was largely centred around Waterson's ability to continually absorb damage while happily returning fire herself through timely body shots, kicks and punches with her back largely against the fence.
Rodriguez almost forced referee Herb Dean to stop the action on a few occasions as she blitzed forward intently, hurting Waterson with combos and big strikes near the end of rounds 1-3.
In round four, Waterson turned the tables as she seized an opportunity once Rodriguez got sloppy to secure an unexpected takedown. There, she was in control on the ground but the stand-up exchanges for their first 15 minutes meant she still needed a big finale in round five.
The height and reach advantages were firmly in Rodriguez' favour, so much so that she rebounded in style despite being caught clean with a few too many strikes for her liking – including one that appeared to disfigure her jaw – she didn't do a post-fight broadcast interview.
However, as she showed Amanda Ribas at UFC 257, there are levels to this game and Waterson did well to compete at a larger weight against someone many expected would beat her handily.
The 34-year-old Brazilian did so, and is now eyeing Joanna Jedrzejczyk (16-4, #2) in an intriguing matchup that she might just get, depending on Joanna's timeline to return later this year:
"I would like to fight a couple more times this year, hoping a top-three opponent next time around. Yan [Xiaonan] is fighting [Carla] Esparza now.

If she wins, that could be a very good fight. Joanna is a fight I've always been looking forward [to], and I think the fans are, too. If she's back and considering fighting gain, I would be more than willing to fight her." 
---
Alex Morono also a big winner on short-notice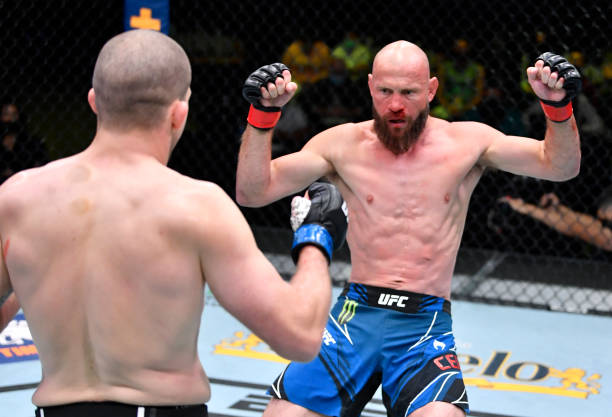 Donald Cerrone told Megan Olivi this was the hardest he'd trained in preparation for a fight, so short-notice opponent Alex Morono would feel what Diego Sanchez would've before that matchup fell through late last week. It was tough to watch though, and didn't last long either.
Morono wheeled away to celebrate as referee Marc Goddard waved him off with Cerrone's back against the fence, having wobbled him with a looping right-hand before following up – more looping punches, kicks and knees as Cerrone didn't offer much resistance or defence in return.
Morono has endured an inconsistent UFC run during his five-year tenure, and was 1-2 in the previous three fights heading into this latest clash after reeling off a three-fight win streak prior to Khaos Williams' 27-second knockout at his expense on the UFC 247 prelims last February.
He acquitted himself well but lost to Anthony Pettis on the week before Christmas, so hoped to atone for that decision defeat against another big name – albeit a fading legend in Cowboy here.
Cerrone hasn't won a fight since May 2019 against Al Iaquinta, going 0-5-1 during that span, which included a majority draw with Niko Price last September – he would've lost that one top, had Price not had a point deducted for repeated eye pokes.
Now 38 and looking his age, there's a reason why he was originally booked to fight Sanchez rather than a hungry alternative with something to prove. He maintained an insistence on not retiring just yet, but you can't help wonder how wise that decision is after this sluggish display.
---
Magny relishes underdog role, outworks Neal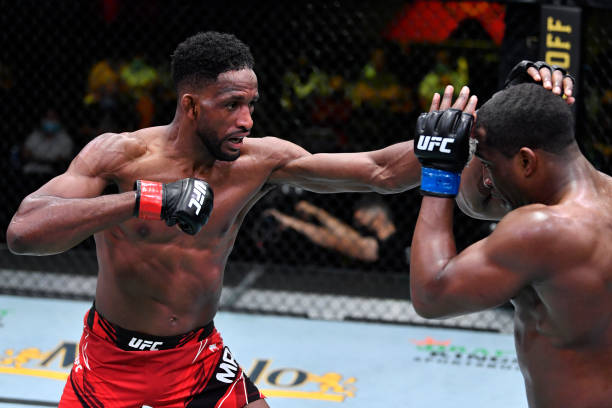 Neil Magny may be underrated and overlooked by many, but the #9 welterweight responded after his lopsided loss by Michael Chiesa, having lost 10-9 on two of the three scorecards in R1.
Neal was the early aggressor and showcased his fast hands in the opening exchanges, with 11 of his 12 strikes landed being recorded as significant – compared to nine of Magny's 27 connected.
Magny took Neal's best punches and rolled with them, as his cardio and nonstop pressure only intensified because he saw the #10 contender start to tire. Whether to lull him into a false sense of security or otherwise, this backfired for Neal, who was picked apart by Wonderboy on Dec. 19.
The Haitian Sensation outstruck him 62-25 over the final ten minutes, logged two takedowns and continued to wear on a man who landed the more impactful strikes but couldn't sustain the fight's high pace as they flowed from stand-up exchanges to grappling, then to the ground.
It'll be interesting to see what's next for Magny, who is still regarded as a high-level gatekeeper at 170lbs – not least with rising star Khamzat Chimaev's Octagon return expected late this summer:
---
Other results, including a fight of the night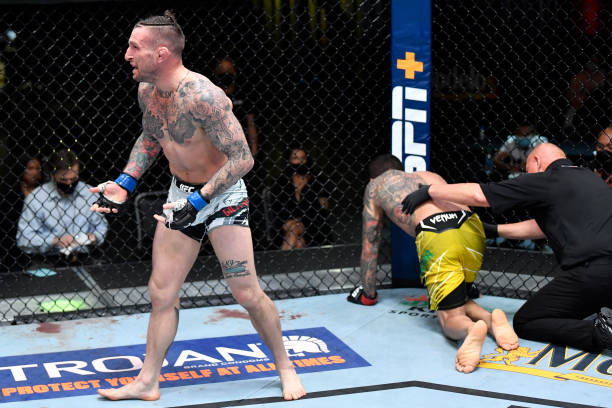 Main card
In the heavyweight division, Marcos Rogerio de Lima utilised his ground game to suffocating effect for Maurice Greene – winning 30-26, 30-26, 30-27 on the scorecards after 15 minutes.
During a catchweight bout at 160.5lbs, lightweight Gregor Gillespie (#14) ended Carlos Diego Ferreira's night: a second-round TKO (punches) win, with just nine seconds left of round two.
That encounter won Fight of the Night honours and as such, Gillespie won $100,000 – both bonuses – Ferreira's punishment after missing the 156lb weight limit yesterday.
At middleweight, Phil Hawes secured a second successive decision win of 2021 as he was impressive against Kyle Daukaus (30-26, 30-26, 29-27). He's now 3-0 since a R1 finish on Dana White's Contender Series last September, which saw him rewarded with his debut in October.
Prelim results
In the featherweight division, Michael Trizano earned his first UFC win since November 2018 with a UD victory over Ludovít Klein (29-28, 29-28, 30-27), having recovered from an ankle injury that saw him shelved from a scheduled matchup on the Blaydes-Lewis card three months ago.
At middleweight, Jun Yong Park earned a majority decision (30-25, 29-26, 28-28) win and handed Tafon Nchukwi the first defeat of his professional career (5-1). In the night's opener, welterweight debutant Carlston Harris earned a R1 submission win via anaconda choke vs. Christian Aguilera.
Picture source: Getty Images — quotes via MMAJunkie, ESPN