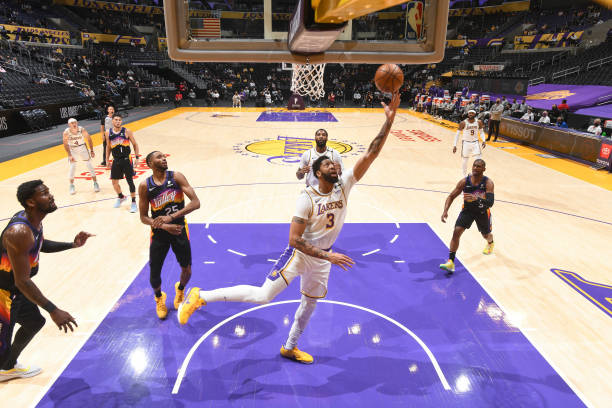 Helped as they raced to a 22-6 first quarter run, Anthony Davis and the Lakers earned an impressive 123-110 win over the Phoenix Suns – limiting their leading scorer Devin Booker's efficiency as Mikal Bridges and Cameron Payne were key in keeping things competitive.
Davis instrumental as Lakers earn big win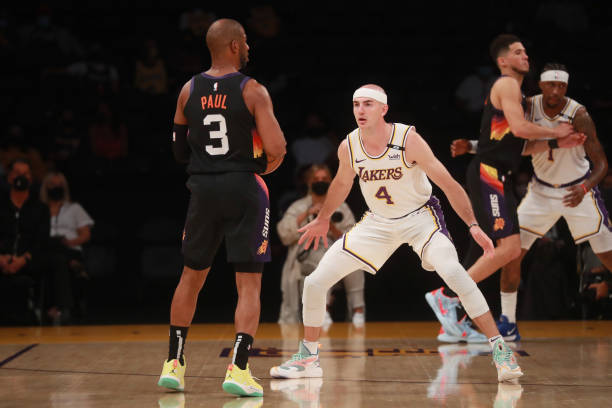 lakers 123-110 suns: Anthony Davis has new season-high 42 points
alex Caruso records 17 pts, new season-high eight assists
Devin Booker, Deandre Ayton among struggling suns

Phoenix may have won successive games in this regular season series, but Alex Caruso and Davis in particular took it upon themselves to avoid a season sweep, providing the limited attendance inside Staples Center with a myriad of emotions: worry, excitement and awe in the final minutes.
LA led throughout, as one of the duo scored or assisted on each LA bucket in their aforementioned run before reserve center Frank Kaminsky broke the cycle with an assist and four points of his own too at the opposite end as the Suns tried to shake off their sluggish start.
Booker, their leading scorer (25.6 PPG), was among those who began slowly and found himself swarmed by a persistent Lakers defence who gladly stood in his face, disrupting the guard's flow.
He finished with 21 points, six rebounds and a single assist on 5-of-14 shooting, with half of those coming at the free-throw line (11-13).
His backcourt partner Chris Paul worked well to energise his teammates (four steals) but still below his high standards despite a double-double (13 pts, 10 assists) – five turnovers and fouls.
As for their starting center Deandre Ayton, he finished with four fouls and didn't exactly do the best job on interior defence. He played 33 minutes but was quiet on both sides of the ball, not doing himself any favours for those questioning his consistency to perform come playoff time.
It meant two players who don't get much shine were standout performers for Monty Williams' men here: third-year small forward Mikal Bridges and reserve point guard Cameron Payne.
Bridges and Payne seize Suns' initiative
The latter shot 9-of-10 from the field, including four threes, recording a new career-high 24 points in 20 minutes from the bench. He would've been perfect, had the 26-year-old not missed with an audacious heat check triple from deep-range in the second-half. Bridges? Dependable as ever.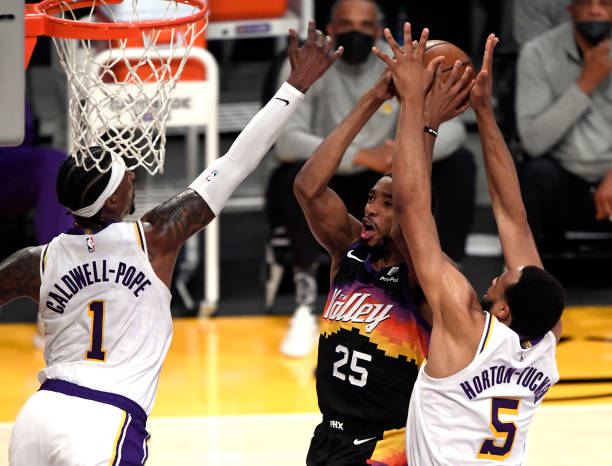 He had 15 points (6-of-8 shooting), four assists and team-high two blocks, but will be ruing his missed corner three that would've cut the deficit down to five points with three minutes left.
Finishing strong on both ends
As last season's Finals MVP LeBron James watched from the sidelines, the Lakers honed in on defence in the final few possessions – inspired by Davis' wingspan and multiple hustle plays, before finishing with a flourish. It was the type of execution that'll have LeBron itching to return.
Davis' length and lateral movement forced Booker to ditch a shot as he advanced towards the rim, instead passing back towards Paul. He missed the subsequent three-pointer, after LA had done well enough as a team to force Phoenix into multiple passes and relative indecision.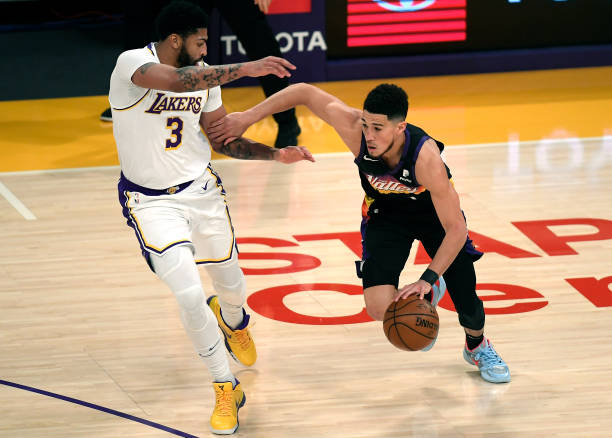 Caruso, who gave head coach Frank Vogel a look as he picked up his fifth foul moments earlier, was trust to stay in the game and produced an important defensive play to thwart Ayton barrelling towards the basket for an easy two-point play, deflecting the ball out to partial safety.
Kentavious Caldwell-Pope, who tied Payne for the game's most threes (4), lost his handle mid-air and should've been punished after a careless turnover. Instead, PF Jae Crowder missed a three that also would've cut the Lakers lead down to five, with little over two minutes remaining.
Davis' injury woes and pain threshold have been questioned, but he frequently flew to ground for hustle plays here and retrieved possession mid-air before audibly calling a timeout late on.
He did well to partially block another Crowder three in the corner, was bumped out of bounds and flexed his wrist in discomfort before combining with Caruso for an emphatic exclamation point on a memorable night for both.
There are many ways to finish a monster night, especially one when you go for a new season-high. But a backwards alley-oop dunk? Booker was caught ball-watching in the paint and made the smart business decision not to contest at the rim as Davis slammed home with aplomb.
---
What's next? 
This latest win means the Lakers (38-30) are a game behind the Portland Trail Blazers (sixth seed), and trying to avoid the much-debated play-in tournament that begins on May 18.
As it stands, Vogel's men – the defending champions – would have to face Stephen Curry's Golden State Warriors, but plenty can change over the next week with four matches left to play.
Up next for them is the bullish New York Knicks, who also have a 38-30 record after outlasting the Clippers 106-100 overnight courtesy of big nights from Derrick Rose and RJ Barrett in particular.
Phoenix (48-20) meanwhile, are already assured of a top-four berth in the Western Conference, but have relinquished ground as they aim to clinch the top seed from under the Utah Jazz's noses. They face the aforementioned Warriors in the early hours on Wednesday next.
Picture source: Getty Images