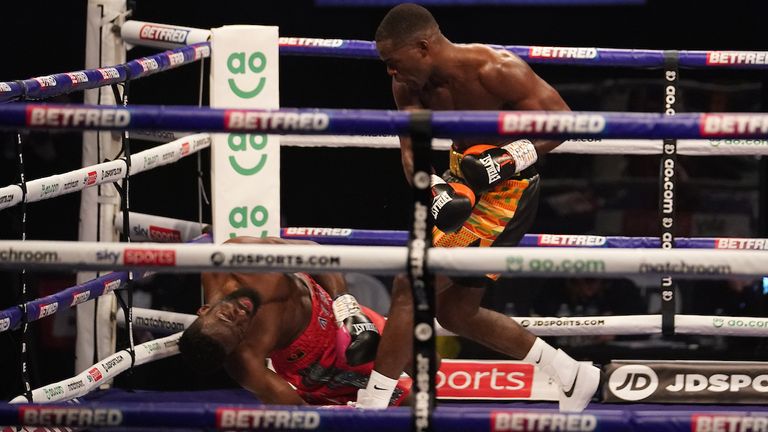 Daniel Blenda Dos Santos was unbeaten, unknown and had plenty to gain as an overwhelming underdog against Joshua Buatsi, but the British light-heavyweight contender ended his night in four rounds with a patient and potent display that certainly would've pleased new trainer Virgil Hunter even though the 28-year-old's pursuit of tougher opposition remains a pressing concern.
R4, 2:44 – Joshua Buatsi retains WBA international light-heavyweight title, KOs Dos Santos
A pair of contrasting unbeaten light-heavyweights looked to seize upon their main event slot in Manchester, but Buatsi worked brilliantly to defend his WBA International strap with a nasty KO.
He immediately took centre ring and made Dos Santos flinch with multiple feints, backing him up against the ropes with frequent jabs to the body and head. The Frenchman wasn't really throwing much in the form of resistance, though still possessed danger with his long reach.
Buatsi applied more pressure by landing a series of perfectly-placed left hands, which eventually put dos Santos down in R2. After beating the count, Dos Santos was ruffled and survived the round with frantic circling, tying him up and panicked as a finish felt increasingly inevitable.
Getting a bit desperate as he felt the fight slipping away from his grasp without much activity, Dos Santos rugby tackled Buatsi to the mat and referee Victor Loughlin gave him a stern warning.
It wasn't much longer before the ending was in store, with perhaps Buatsi's most emphatic finish of his 14-fight career to date. He staggered him halfway across the ring with a looping left hand, so much so that the Frenchman did well to stay upright despite continued distance struggles.
The jabs flowed from Buatsi's fists with stinging accuracy, avoiding predictability by mixing them up before connecting on a beautiful right-hand shot and a follow-up strike as Dos Santos was falling down – crashing to the mat as the ambulance responders raced to treat the 31-year-old.
Who next? Hopefully someone much more challenging, and higher ranked for Buatsi next, as he looks to shake off that rising star tag before soaring to new heights in the not-too-distant future.
---
Post-fight comments as buatsi needs a step-up, and fast
Buatsi said that while it may have looked easy for fans and critics watching on TV, he had to learn on the fly against a potentially tricky opponent with nothing to lose and a large reach to boot.
On the prospect of criticism and next steps after a difficult gut check last time out:
"There's always negative comments, I've learned [how to better deal with it] from Eddie Hearn, I block it out, don't read the masses.

People close around me matter, not anyone else. It's life. I spoke to Eddie earlier this week, June-July time but I'm all good and have no injuries." 
His new trainer Virgil Hunter was happy with the display too:
"Most definitely [happy], Dos Santos is much better than he showed tonight, had range, combinations, that's why he was inconsolable after the loss.

Inside two years, he can definitely [be a world LHW champion]."
Meanwhile, Eddie Hearn named WBA champion Dmitry Bivol (18-0, 11 KOs) as the level of fighter their team needs to base his matchmaking around going forward as he targets world titles.
"Dos Santos just came up against a world-class fighter, we need to capitalise on the momentum.. July 17th [America], 24/31 [UK Fight Camp], we have to [get him out again]. I do believe he can beat Bivol but we need to find the middle ground first. No holidays or injuries." 
Sky Sports' presenter Anna Woolhouse described Buatsi as a high-risk, low-reward opponent for most of the 175lb division, while Johnny Nelson highlighted next month's WBA (regular) LHW title matchup between Jean Pascal and Badou Jack as the sort of step-up he promptly needs.
He also cited a potential long-term issue surrounding where Buatsi resides permanently, as a move Stateside would appear more beneficial over the next phase of his career working alongside Hunter as the 28-year-old pursues world title aspirations, rather than juggling the two.
Picture source: Sky Sports, Matchroom Boxing