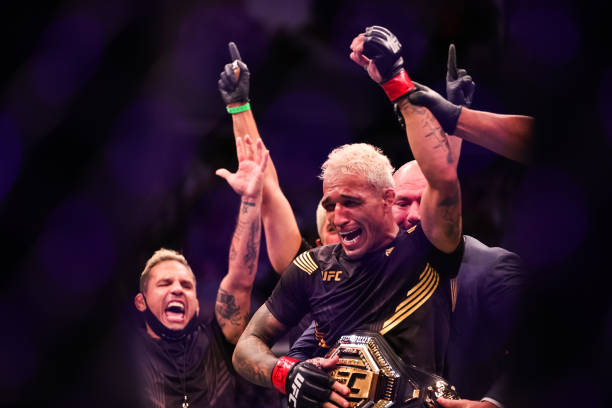 28 fights and eleven years after his UFC debut, Charles Oliveira made good on his promise to leave victorious – rallying from a knockdown and guillotine choke attempt to knock out Michael Chandler in the second round, winning UFC lightweight gold after Khabib Nurmagomedov's retirement last October. Beforehand, there were big wins for Beneil Dariush and Edson Barboza.
There's a new champ in town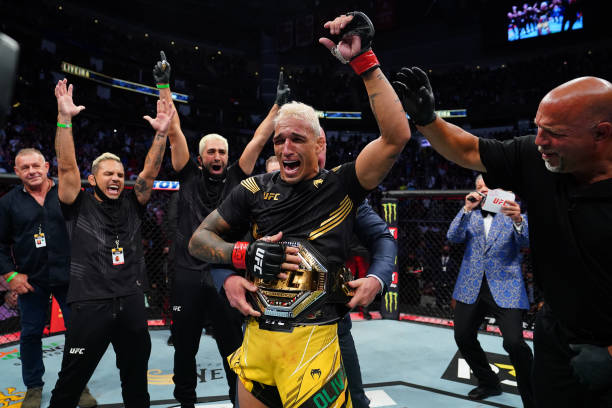 R2, 0:19 – Charles Oliveira (#3) beats Michael Chandler (#4), is new lightweight champion
Although this matchup was overlooked by most fans, largely as neither are seen as the UFC's best in a stacked 155lb division, no-one could argue Oliveira had deserved this opportunity.
Eight wins in a row, featuring a lopsided decision win at UFC 256 over former interim champion Tony Ferguson – after submitting Kevin Lee last March in the final pre-lockdown card.
Michael Chandler, a three-time Bellator champion and big free agency signing last year, not so much. He blasted a gun-shy Dan Hooker at UFC 257 the following month, though many felt he was fast-tracked with Dana White privilege, rather than earning it on merit with Octagon activity.
Although he lost here, the 35-year-old produced enough both during their stand-up exchanges and on the ground in the opening round to justify why he belongs on the big stage. How long this run lasts, remains to be seen, but it's exciting nonetheless and adds another spice at 155lbs.
Oliveira got the crowd engaged from the get-go, wobbling Chandler with a big leg kick. Roles soon reversed as Iron Mike showcased his fast hand speed that previously stunned Hooker.
He stumbled the Brazilian, who instinctively shot in for a takedown and suddenly found himself having to defend a deep guillotine choke in centre ring. After popping out, he took Chandler's back and slammed a body triangle, landing a few punches from a more commanding position.
Continuing the flow of this fast-paced round, that didn't last long either. Chandler waited for his moment to pounce and exploded out of the predicament, forcing himself upright once again.
Then, his power punches knocked Oliveira down against the fence without warning. Do Bronx survived by returning fire on the ground and turtling up, utilising his physical advantages to good effect as Chandler was caught in two minds – stand him up or try to finish it with hammer fists?
After the knockdown, I remember thinking: holy cow, this is gonna happen… it didn't, was pretty darn close to getting my hands on the belt. Now that I have a loss, maybe they [other lightweight contenders] want to fight me." 

Chandler during his post-fight press conference
Oliveira may have finished slow in round one, but began the second with a blisteringly quick stand-up approach and caught Chandler with a pair of straight left hooks that knocked him out.
They landed perfectly and without any wind-up, the first prompted Chandler to frantically backpedal as he tried to gather his bearings. The second was after a series of punches, up against the fence, as he could smell blood in the water and a finish of his own abruptly arrived.
Through a Portuguese translator Octagonside, the new titlist told Joe Rogan:
"You [Dana] brought this boy from Bellator, I told you I would knock him out, I am the lion of lions. We have a saying: it can rain stones but the stones are going to come back. Michael said I can't handle pressure, I'm still here." 
Statistic: With this second-round TKO win, Oliveira has surpassed Donald Cerrone for the most finishes in UFC history (17).
Meanwhile, Chandler described the Brazilian as one of the toughest dudes on the planet while also promising to be back in the title picture at some stage over the next twelve months.
"Hats off to Oliveira, surviving that first round and the barrage.

I'm living a dream so thank you to the UFC for this opportunity, zigged when I should've zagged, we move on. There were moments I didn't think I'd be fighting here [in the UFC] but a window opened, Charles is world-class.

This sport moves quickly and [lightweight] is an electrifying division, we'll see what happens. I got a taste of it tonight but will be UFC champion before my career ends."
---
Dariush dominant in big win over fan favourite Ferguson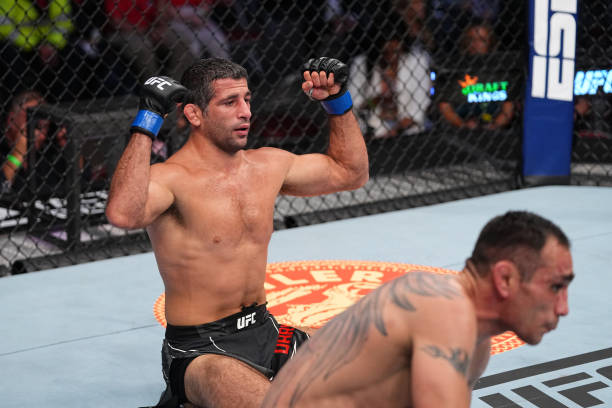 30-27, 30-27, 30-27: Beneil Dariush (#9) defeats Tony Ferguson (#5) via unanimous decision
Plenty predicted a Fight of the Night clash between two motivated lightweight contenders going in different directions, but Ferguson found himself in another must-win situation and looked a shadow of his former self despite having the 16,000-strong Houston crowd cheering him on here.
Dariush established an early foothold in round one, loading up on leg kicks and completing a double-leg takedown as he racked up 3:30 of ground control time with the raucous pro-Tony crowd being effectively quietened. There was a flicker of hope early in R2, but not for very long.
Ferguson held firm on a D'Arce choke attempt with his back against the cage as Dariush threatened to take the fight back to the mat, but remained calm and relaxed under duress before popping his head out of the submission, then reversing the position as Tony had visibly tired.
He landed ground and pound strikes before producing a submission of his own, a heel hook that had Ferguson grimacing in serious discomfort but defiantly refused to tap despite a very tight squeeze. He threw a few kicks as Dariush shifted position, reaffirming grappling dominance.
Ferguson's corner stressed the need for him to stay upright, but that wasn't possible given the damage he'd already sustained and how he looked second best in their stand-up exchanges too.
Din Thomas highlighted how his lack of fundamentals had become magnified with age on the PPV broadcast, but Dariush clearly rose to the occasion in his co-main event opportunity here.
He completed a slam takedown early in R3 and continued applying pressure nicely on the ground with more than 10 minutes' control time, as Ferguson was essentially just hanging on.
"I heard a big pop [during the heel hook], he's a zombie no doubt about it. Now, I'm in the [title] conversation. 20 fights in the UFC, finally I'm here. I'd like to see myself in a title eliminator, end of the year or early 2022." 

Dariush during his post-fight interview
During the post-fight press conference, promoter Dana White already confirmed Dariush will get one of the top-5 contenders next, in addition to a significant rankings upgrade come Monday.
Statistic: This latest victory means Dariush is tied with Islam Makhachev for the second-longest active win streak in the lightweight division, behind new champion Oliveira (9). 
As for former interim champ Ferguson, things don't look good. El Cucuy looked every bit his 37 years in there and considering his two dominant defeats last year to Justin Gaethje and Oliveira, some serious questions need answering – it's fair to say his last title chance has gone.
He's only landed 30 strikes in his last 30 Octagon minutes and is absorbing considerably more damage, for someone notorious for his superhuman toughness, how much is too much?
"He's tough as hell, his ankle definitely popped and looked like a golf or baseball, there's no quit in that dude – maybe too tough for his own good." 

Dana's comments on Ferguson in the presser
---
Rest of the main card – big wins for chookagian and barboza
In a catchweight bout (137lbs), #9 flyweight Rogerio Bontorin bounced back from his dramatic R1 defeat by Kai-Kara France at UFC 259 with a decision win over Texas' own Matt Schnell (#8).
Showered with frequent boos in what was largely a lowkey affair, the Brazilian won 30-27, 30-27 and 29-28 on the three judges' scorecards despite being outstruck 113-89 over 15 minutes.
He landed more significant strikes (72-65), was more accurate with his output (62% of 143 strikes thrown) and had a R3 takedown against Schnell, who appeared too measured for his own good.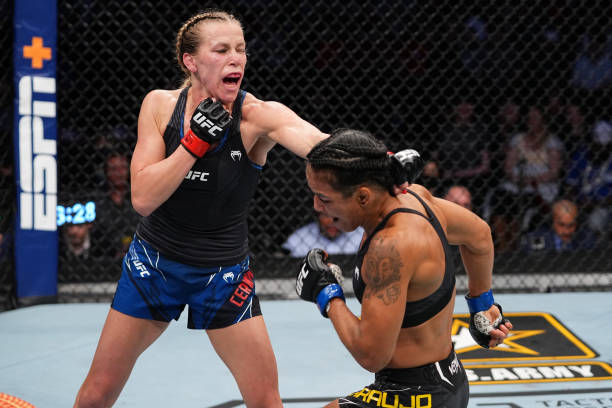 Katlyn Chookagian again defended her #2 ranking in the women's flyweight division and had to work for it, after losing R1 vs. a spirited Viviane Araujo (#7) showing during an entertaining scrap.
As she did against Cynthia Calvillo late last year, the former title challenger kept distance well in the latter stages and continued to pop her jab – even without always landing – as it became clear Araujo was suffering from an adrenaline dump following a second-round submission attempt.
Araujo's power was a problem in the early going, but Chookagian fought off two takedowns and could've potentially earned her first UFC stoppage win after enjoying a purposeful third round (55-35) to finish. Instead though, she was victorious on all three scorecards (29-28, 29-28, 30-27).
When asked on what the promotion do with Chookagian, who continues beating rising contenders directed her way but is no closer to a Shevchenko rematch, Dana responded saying:
"That's the problem when you have someone as good as she is, it's a good question but I don't have an answer!"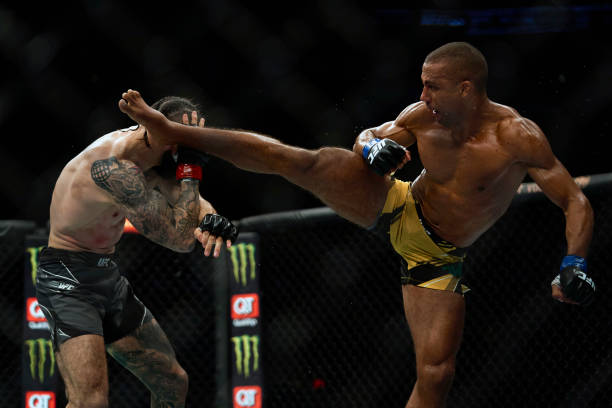 In the main card opener, #13 ranked featherweight Edson Barboza earned a big third-round knockout win over Shane Burgos (#8) – having loaded up with frequent chopping leg kicks and jabs early during a back-and-forth affair that intensified as both found their striking range.
Barboza continued to press the issue in the second, whether it was switch kicks, spinning attacks or powerful punches that wobbled Burgos backwards. However, Shane welcomed the challenge and fired back with deft offensive pressure of his own – frequent body punches and calf kicks.
Barboza, whose right foot was cherry red with blood after cutting it on one of his earlier leg kicks, continued to throw a variety of strikes regardless before a dramatic finishing sequence.
He connected with a one-two punch combo, an overhand right caught Burgos on the chin, before the 30-year-old staggered backwards seconds later in a delayed reaction to said strike.
---
Prelims, early prelim results 
In the night's featured prelim from the middleweight division, Andre Muniz raced to a first-round armbar submission win over Jacare Souza: who has now lost six of his last eight fights, including this one – the first time he has been submitted in a 18-year MMA career, breaking his arm.
Featherweight Lando Vannata returned to winning ways with a split decision (29-28, 27-30, 30-27) result over Mike Grundy, having lost to Bobby Green last August in a Fight of the Night winner.
Elsewhere in the middleweight division, Jordan Wright returned after suffering a second-round knockout loss to Joaquin Buckley with a fast finish of his own – needing just under 65 seconds to finish Contender Series signee Jamie Pickett, who now has successive defeats in six months.
Antonina Shevchenko had younger sister and women's flyweight champion Valentina in her corner, but fell to a third professional loss with a late R2 sub (triangle armbar) vs. Andrea Lee.
This result snaps a three-fight skid for the #11 ranked Lee, who most recently lost to Roxanne Modafferi last September and importantly avoids a further slide down the 125lb rankings.
Elsewhere in the women's flyweight division, Priscila Cachoeira returned from a 15-month layoff with her second straight KO win – finishing Gina Mazany via punches with nine seconds left in R2.
Contender Series signee Tucker Lutz improved to 11-1 on his UFC debut, doing enough to outlast featherweight Kevin Aguilar on all three judges' scorecards (30-27, 29-28, 29-28).
In the opener, lightweight Christos Giagos got things started with a second-round submission win via brabo choke over Sean Soriano, which earned him a Performance of the Night bonus.
Picture source: Getty Images