He capped another historic season with 46 points against the Memphis Grizzlies in a must-win matchup overnight, thus securing his status as the NBA's oldest scoring champion since Michael Jordan (age 35 in 1998). Now, MVP frontrunner Stephen Curry has sealed the Golden State Warriors' play-in fate vs. LeBron James and the defending champion Lakers later this week.
scoring champion Curry continues to defy the odds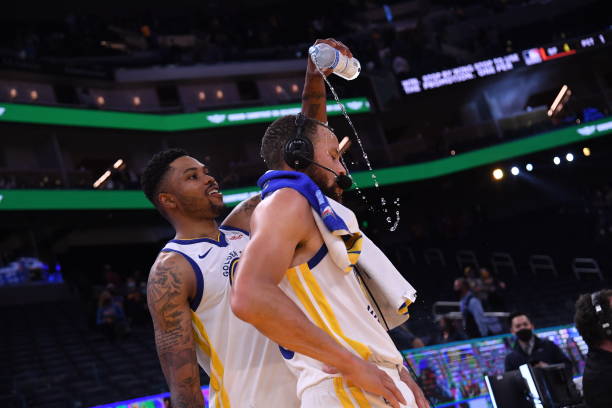 After having his 2019-20 season cut short by a freak hand injury, while All-Star teammate Klay Thompson suffered another season-ending Achilles injury setback weeks before this campaign was scheduled to begin, you couldn't begrudge Stephen Curry for feeling a little hard done by.
Here he was, a three-time NBA champion and two-time league MVP, watching helplessly as the prime years of his basketball excellence were being chipped away before his eyes. Questions surrounded the Warriors' roster construction, not least after Draymond Green's big extension.
Were the front office putting Curry in the best position to win now, after Kevin Durant left for Brooklyn? Not exactly, as no.2 draft pick James Wiseman's debut year was underwhelming. At one stage, some media questioned whether Steph would sign a mega extension to stay after all.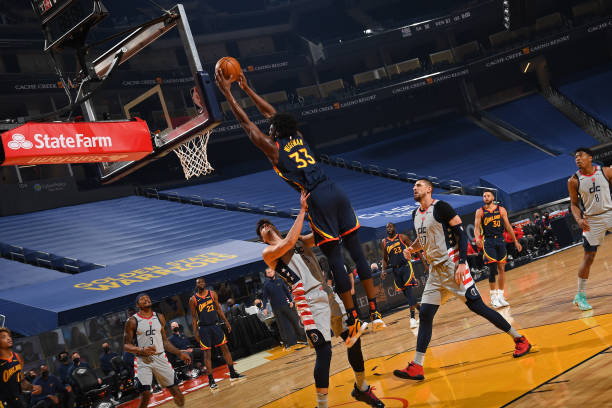 By comparison, LaMelo Ball (Charlotte Hornets) and Tyrese Haliburton (Sacramento Kings) were both taken after him and have made significant inroads as far as impact on winning for their respective ball clubs. Harsh but true: time is of the essence in an ever-changing league.
As far as players with a point to prove are concerned, Golden State entered this season with plenty and didn't get off to the best of starts either. They stuck to task and rallied through it.
Kelly Oubre Jr (15.4 points, 6 rebounds) and the much-maligned Andrew Wiggins (18.6 PPG, 47.6 FG%) are among those who've played their part in the Warriors' success this season, but make no mistake about it, Steve Kerr's men would be nowhere near the playoffs without Curry.
This is his 12th NBA year and the point guard's averaging career-highs in points (31.8, league-high) and rebounds (5.5), alongside other important stats (5.7 assists, 1.2 steals, 48.3 FG%).
"I've been blessed to be back healthy, playing night in, night out at a high level. The work that goes into it pays off, and it's something I really rely on, especially at this point in my career. 

As the years go on, that is the difference-maker. Nobody really sees it on a day-to-day [basis], but I'm really proud of what I put into it, and the team that help push and motivate me. I'm going to keep doing that until I can't anymore." 

Curry, after attempting a career-high 36 shots and 22 threes vs. Memphis
Green has quietly enjoyed a good season too, despite being patchy at times and noticeably hesistant with shot selection (6.9 PPG on 44.5 FG%). Averaging a career-high 8.9 assists, alongside 7.1 rebounds and 1.7 steals per game – showing his ability to deliver off-ball numbers.
Injuries, COVID-19 protocols and other factors have indirectly helped the league establish precisely the sort of matchup they had in mind to pique viewer interest: Lakers-Warriors.
Considering it's Curry vs LeBron and the various storylines considering what's at stake. The loser faces either Memphis or San Antonio to determine who plays Utah in the first-round, while the winner's reward is a tricky clash against Phoenix – they didn't even make last year's postseason.
Critics questioned whether Steph would be able to spearhead a considerably weakened team on his own and in fairness, he's answered those doubters rather emphatically this season.
"He's never been better, I can say that. He's been great for a long time though, so it's hard to say he's at his best now because he's been like this for years.

I think what's different is the supporting cast, we've got a much younger team; he's been asked to do a lot more with this group, gone above and beyond wht we've asked of him. Just an incredible season, I'll leave it at that."

Steve Kerr after Curry's inspired 46-point showing against the Grizzlies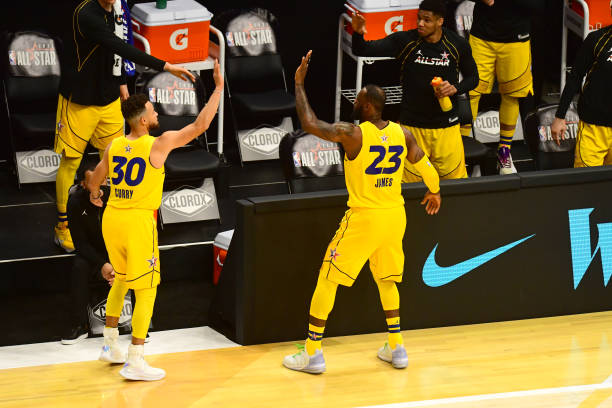 This year's All-Star game reinforced how things would be different for Curry in more harmonious circumstances with another star alongside him. It's why, win or lose this week, there's a sense of inevitability about next season and beyond: he wants more rings, not a valiant first-round exit.
As James Harden – winner of three straight scoring titles – found out the hard way, this electrifying style in the regular season is mightily impressive but unsustainable in the playoffs.
Stranger things have happened. He's not as ball-dominant either so over to you then, Curry…
Picture source: Getty Images — quotes via ESPN