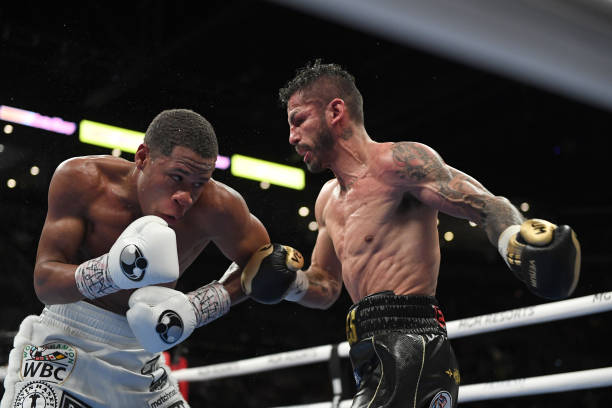 He had to absorb some dangerous moments in the final three rounds, but Devin Haney (26-0, 15 KOs) successfully retained his WBC strap during an entertaining main event matchup against Jorge Linares at the weekend – a display that rightly has the lightweight division on notice.
Haney impresses, but not without fault against wily Linares test
116-112, 116-112, 115-113: Devin Haney beats Jorge Linares, retains WBC lightweight belt
Briefly disregard Teofimo Lopez's subtle response on social media, Haney's aggressive approach largely proved a welcoming change to the risk-averse approach adopted vs. Yuriorkis Gamboa last November – met by widespread criticism as he laboured beyond a declining veteran.
But, as evidenced by the final paragraph in my piece earlier this month, questions would be asked. Haney, for all his accuracy and impressive movement here, kept Linares believing he had a chance as the 22-year-old's punching power didn't threaten the experienced Venezuelan.
Haney spoke of his enthusiasm, fighting in-front of family and friends in Las Vegas here, but the near 5,000 in attendance were forced to watch an anticlimatic ending unfold before their eyes as the hometown champion absorbed a sharp right hand just before the bell sounded in R10.
He utilised his three-inch reach advantage to good effect early, establishing a commanding lead on the scorecards and investing with persistent body work, jabs aplenty.
Linares started letting his attack go in round four, enjoying sustained success in the pocket during their exchanges in close, but Haney responded by firing more and aggressively at that.
The crowd roared him on in round six, as he flirted with risk and reward a little too much for comfort – precisely what many critics have been waiting for in previous fights – looking to connect with haymakers, uppercuts and explosive hooks, outworking Linares at range.
Linares sensed danger and snuffed it out early in round eight after absorbing two perfectly-placed left hooks, continuing to bide time patiently and apply more pressure on the champion.
They exchanged punch flurries in R9, Linares landed a left uppercut on the break and despite receiving multiple warnings for hitting behind the head in the clinch, the tide began changing.
The lightning fast combo caught Haney flush and as he wobbled back to the corner, alarm bells were ringing. For all of his refreshing boxing work over the previous half-hour was at serious risk of being thrown into insignificance, if he wasn't able to recover or survive the final six minutes.
"This is boxing. If you go in there thinking you're not going to get hit with any punches in a 12-round fight, that's unbelievable.

Especially against a guy who's been in there with the greatest fighters and dropped a guy with the best ring IQ in [three-division champion Lomachenko].

I showed grit, I'm a true champion and thankful for this opportunity to showcase my skills at the highest level."

Haney in reflective mood during the post-fight presser
Linares could smell blood but Haney counterpunched well enough to hold him off, while also managing to hold when possible too. Two shaky rounds and suddenly the whole narrative shifts.
---
Interested audience with contenders and champions watching on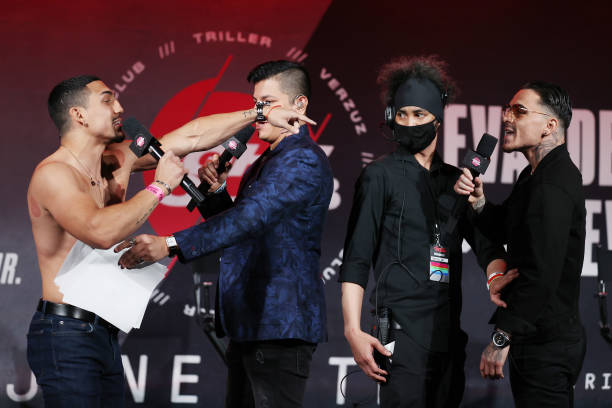 That, is where Lopez and others enter the equation. One emoji was all it took, but perhaps this was precisely the sort of display Haney needed to entice bigger future fights after all. No UFC event at the weekend, nor primetime NBA playoff action in this US timeslot, so all eyes on him.
Lopez, who defends his unified titles against IBF mandatory George Kambosos Jr on June 19, cannot afford to overlook upcoming opposition. But, assuming he successfully navigates beyond the Australian next month, why not this matchup next?
Javier Fortuna (36-2-1, 2 NC), who faces Joseph Diaz (31-1-1) for the right to Ryan Garcia's now-vacated WBC interim title on July 9, didn't mince words with his view on Haney's display.
"I knew before he fought, I would beat him. Now, I believe it without a doubt. If he had this kind of trouble with Linares, what do you think I'll do to him?

He ended up looking like a lady clinging on desperately to a man who was leaving her. What I took from this, knowing I will get physical with him, is that he's not strong and mean enough to beat me."
That's certainly fighting talk, from a man who had scheduled bouts vs. Luke Campbell and Linares cancelled due to COVID-19 last year. He, just like Lopez, has business to attend to first.
As does Gervonta Davis (24-0, 23 KOs), who is moving up in weight to fight undefeated WBA light-welterweight champion Mario Barrios (26-0, 17 KOs) the weekend after Lopez's title defence.
That night will also feature Vasiliy Lomachenko's in-ring return after losing to Lopez in mid-October, against Japan's Masayoshi Nakatani from Las Vegas.
Also read: After Lopez loss, Lomachenko ready to leave no doubts this year
There's plenty happening across the division, compelling fights to be made and while Haney's shrewd fight-management tactics weren't sexy to watch, it certainly answered some critics. If anyone should understand that, it's certainly Teo himself after that gutsy R12 eight months ago…
Picture source: Getty Images unless stated — quotes via The Athletic