Having agreed a five-year max contract with the Dallas Mavericks in 2019, teaming up with fellow European import Luka Doncic, it's unsurprising that reports have surfaced over the big man's disapproval at his role as an afterthought to their star guard – but things need to change.
Struggling or not, Porzingis' frustrations are understandable
Having expected to be part of a potent duo with Doncic, Porzingis has been gradually reduced to a secondary role as a useful big man who occasionally gets the shine his play truly deserves.
Having turned 25 last week, the Latvian is in an awkward space – two completed seasons in a five-year max contract agreement, but also a situation that already has the internet spinning with potential trade rumours as Dallas look to drastically strengthen their core this summer.
After all, the easiest criticism of the Mavericks since Doncic's rookie year is that they haven't truly improved beyond a tag of plucky underdogs. Although they've come unstuck against tougher opposition in the Clippers, they can't be wasting a talent like Luka with multiple first-round exits.
In a detailed piece that has been heavily analysed over the last 24 hours or so, ESPN's Tim MacMahon discussed the Doncic ascent and how Dallas find themselves with a proverbial time window to maximise his creative gifts before he potentially gets restless and looks elsewhere.
That prospect shouldn't appear for a while at least, though their overall roster bill will get expensive quickly once other contracts – including Doncic's supermax extension – are inked. They want to keep upcoming free agent Tim Hardaway Jr and others, which isn't going to be cheap.
---
the value of patience with young stars in small markets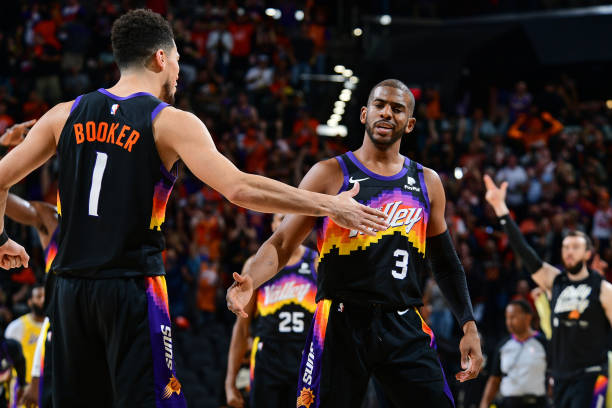 Six years into his NBA career, Devin Booker is finally reaping those rewards out in Phoenix with Monty Williams' Suns – partnered in the backcourt by future Hall of Fame point guard Chris Paul.
Donovan Mitchell (Utah Jazz), Trae Young (Atlanta Hawks) and Ja Morant (Memphis Grizzlies) are examples of supremely talented youngsters drafted 2-4 years after Porzingis was, yet currently thriving in small-market areas with rosters built around them. However, the trio are all guards.
From the 2014 draft class, first-time All-Star duo Julius Randle (New York Knicks) and Zach LaVine (Chicago Bulls) are now blossoming, albeit in contrasting circumstances out East. It can take multiple years for stars to develop and find their groove, even if that wasn't the case for Doncic.
"Doncic, at age 22, will soon become a two-time All-NBA selection, and just averaged 35.7 points, 7.9 rebounds and 10.3 assists in the second playoff series of his career. But that happened in a losing effort.

The Mavericks fell to the Clippers in a seven-game series: one of the most prominent storylines was how little Dallas relied on Porzingis, battling injuries and adapting to a secondary role over the past two seasons.

Porzingis averaged 13.1 points and 5.4 rebounds, often utilized offensively as a decoy while Doncic carved up a Clippers defense designed to slow him down. The Mavericks are obviously Doncic's franchise. But one of the biggest questions for the Mavs moving forward, is how Porzingis fits into the picture."

Tim MacMahon's take on the Dallas outlook
Karl-Anthony Towns and close friend D'Angelo Russell, who find themselves in a tricky situation alongside no.1 pick Anthony Edwards in Minnesota, serve as evidence that it can be difficult to strike the right balance in a league increasingly centred on star pairings or so-called big threes.
The aforementioned pairing, both All-Stars in their own right, were picked first and second in the 2015 draft class – where Porzingis was ultimately taken fourth by the New York Knicks, behind fellow big man Jahlil Okafor (Philadelphia 76ers, now with the Detroit Pistons).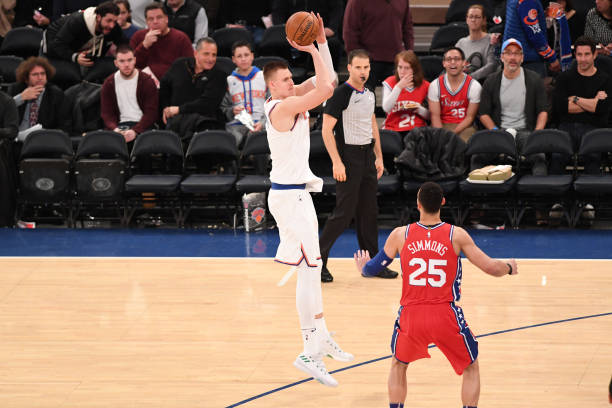 He averaged 22.7 points, 6.6 rebounds, 2.4 blocks per game and 39% from three-point range in 48 regular season games three seasons ago – where he was named an All-Star with the Knicks, but sustained a season-ending torn ACL injury and didn't return to Madison Square Garden.
Reports of some off-court issues appeared, while Porzingis made clear to management his desire for a fresh start elsewhere, so in came Dallas with a seven-player swap deal which included the aforementioned Hardaway and point guard Dennis Smith Jr (now in Detroit).
Smith Jr, who averaged 15.2 points and 5.2 assists in his rookie season, was rather ruthlessly viewed as expendable once Doncic's arrival created a dilemma with two ball-dominant guards.
Despite a promising start in New York, persistent injuries and a lack of continuity with low minutes have hurt his stock – where he's now looking to rebuild with a struggling Detroit side.
Although it's not exactly on the same level, the way Dallas handled this situation rather speaks volumes for how they are looking to retool to better build around Doncic and his needs.
That's also, in part, why the way Porzingis has previously revealed discontent at how he fits into the Mavs' Doncic-based playstyle is intriguing. However, perhaps patience is a virtue in this case.
After their Game 7 loss on Sunday night, he stressed the importance of putting in work, listening to coaches and doing what was asked of him for the team's benefit. However, even he knows that's a poisoned chalice for a young All-Star earning max money in a testing environment.
He said he tried channelling the focus from his rookie year, playing hard and doing subtle things to help where possible.
"I try to keep it simple for myself, so I'm not overthinking, and try to focus on what I can control. That's being a better basketball player, going into the offseason hungry. I want to get better physically [and] on the court. I'm going to put that work in to get better, and then the rest of the stuff will resolve itself.

And whatever I do, it seems like it's always something. I just try to be as professional as I can."

Porzingis on his approach, offseason goals and lingering scrutiny that follows him
This is a player who'll earn $101.4m over the next three seasons, has been linked with trades to the Golden State Warriors and Indiana Pacers among others in recent months, and still averaged respectable numbers during a shortened 72-game regular campaign.
20.1 points on a career-high 47.6% FG, 8.9 rebs, 1.6 ast and 1.3 blocks per game in 43 starts
Time will tell whether they cut their losses or wait over Porzingis, especially if the return on offer for him isn't worth it. Also, things must improve and quickly if Dallas are serious about emulating the other small-market sides in building a genuine championship-contending roster long-term.
Picture source: Getty Images