After enduring a forgettable return in mid-March, can the welterweight contender cement his standing as a top dog gunning for a Kamaru Usman rematch against a true fan favourite?
A golden opportunity awaits
He features as one-half of the promotion's first ever non-title five-round bout, sandwiched in the middle of an intriguing UFC 263 card which is headlined by two contrasting yet compelling championship fights. The Englishman doesn't need to be reminded of the task that awaits him.
During Thursday's press conference, he didn't mince words when talking about what he needed to do to stand out here. As quoted by MMA Junkie, the 29-year-old said: 
"I have to go out there and prove my case, you know. If I smoke a guy like Nate, they'll [the UFC] put me in a spot that I deserve.

That's nine [wins] in a row, and the third most in the history of the promotion. So I'm looking forward to it, he's a tough guy and durable.

Skillset wise, I'm leaps above him and will show that on Saturday night – I know he [Diaz] said it's kill or be killed, but I'm here to kill, so I can't wait."

Leon Edwards as he eyes a maiden welterweight title shot
Guess who's back again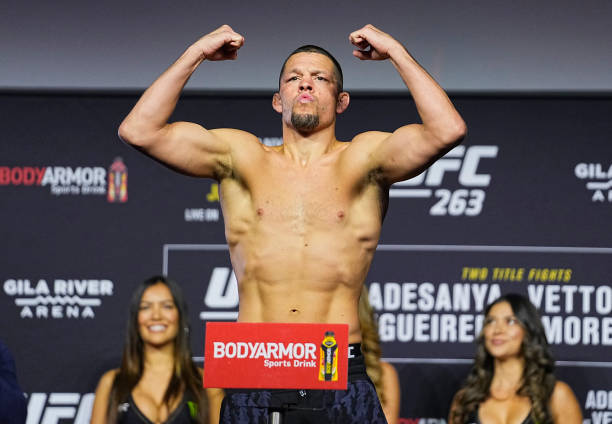 Diaz withdrew from their originally scheduled co-main event bout at UFC 262 with an undisclosed injury during fight camp, but the delay may prove a blessing in disguise for both.
Also read: Dana White confirms Volkanovski-Ortega rescheduled for UFC 266, Sept. 4
Despite a spotty record, Diaz is one of the fight game's biggest names (20-12 MMA, 15-10 UFC), and makes his Octagon return for the first time since November 2019 – losing against two-time title challenger Jorge Masvidal via TKO (doctor stoppage).
During a Rolling Stone interview, Diaz said he'll eventually fight for the 170lb title – win or lose – identifying Rocky as the most credible contender that he can benefit from, ending his win streak.
"He's the top guy, beating everybody, so why wouldn't I fight the best guy? It's impressive when somebody can win that many times in a row in the big show."
Picture source: Getty