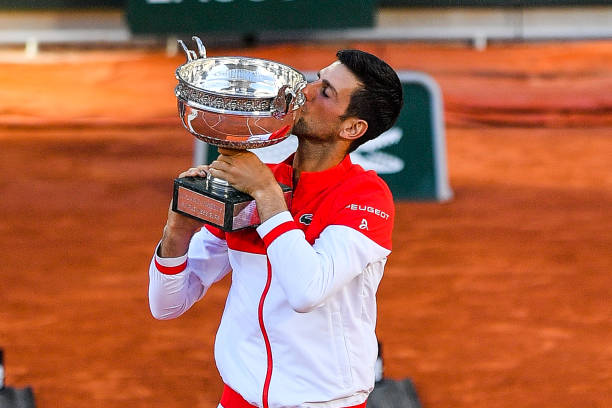 Having dethroned reigning champion Rafael Nadal during an unforgettable semi-final battle on Friday night, Novak Djokovic remarkably managed to recover from two sets down, leaving first-time finalist Stefanos Tsitsipas (#5) heartbroken – while securing his 19th Major title.
far from pretty, but vintage viewing: Djokovic does it again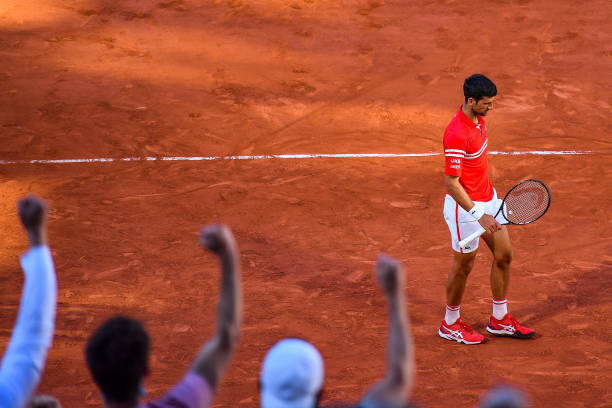 6-7, 2-6, 6-3, 6-2, 6-4: Djokovic beats Tsitsipas in 4h12m, wins his 19th Grand Slam title
Djokovic becomes first male player to win all four Slams at least twice in Open era
Now one Grand Slam title behind Roger Federer and Rafael Nadal (both 20) in all-time pursuit
Tsitsipas reached his first Slam final here, after three previous semi-final losses (2019-2021)
"I couldn't be happier and more satisfied with this kind of scenario in the last 48 hours, probably ranks at the top three all-time achievements and experiences that I had in my tennis career."

Djokovic after clinching his second French Open title
Even when you've exhausted superlatives and synonyms to describe Djokovic's relentlessness, mastering big moments against the odds, he conjures more magic that won't ever be forgotten.
I predicted he'd lose but produce a better fight vs. Nadal on Friday. After seeing him frankly gift the first set away after some surprisingly routine errors, my view was further reinforced.
I was proven wrong. There was again another period like that against Tsitsipas, who battled ahead before consolidating an early second set break as Novak's error count quickly increased, fatigue set in and suddenly tennis was about to crown a new first-time Grand Slam champion.
But alas, Djokovic had other ideas. The way he beats top-ranked opponents feels more taxing and difficult to perfect than before his age-30 days on tour, though he always seems to find a way through adversity. Even when he looks physically spent or generally uninterested in playing.
It's hard not to emphathise should he be feeling that way when he has a determined Tsitsipas firing beautiful backhand winners past him, or finishing most of their more pulsating rallies:
Instead, it's that steely defiance – a word synonymous with the Serbian – which sees him refuse to lie down or shrink here. That's why he's the world number one though, you might reply.
Rewind eight months ago to the rescheduled 2020 French Open and Tsitsipas took Djokovic to the proverbial trenches in a frantic five-set matchup, albeit in the semi-finals. Two days later, Novak was flat and left frustrated by a fantastic Nadal display: blitzing past him in straight-sets.
This year's edition, the inverse was a very real possibility given how the draw unfolded. Nadal was ultimately a won tiebreak away from, at the very least, forcing a deciding set on Friday.
Tsitsipas held his nerve early on and was rewarded for that purposeful approach by earning a two-set advantage on the scoreboard, but couldn't sustain it as Djokovic went through the gears.
Just like he did against exciting Italian teenager Lorenzo Musetti in round four on June 7, Novak raised his level as the stakes increased and the crowd could sense momentum starting to turn.
Tsitsipas, who established a double break and won the second set 6-2, was now under pressure. He saved a whopping four break points but Djokovic continued coming back with waves of more resistance, eventually outlasting him in a breathless game to take a 3-1 third set advantage.
Role reversal as Djokovic seizes momentum shift
It still didn't seem likely at the time but eventually proved the key turning point, as far as the Greek's championship hopes were concerned. Djokovic honed in on limiting his mistakes and did just that: recording a mere four unforced errors in set three, compared to Tsitsipas' 11.
For someone who looked in discomfort and serious trouble of another straight-sets final defeat less than half-an-hour prior, Novak summoned his second wind at an opportune time.
Tsitsipas meanwhile, had a medical timeout at the start of the fourth set – receiving treatment on a suspected back or pelvis issue that had been bothering him. Was he starting to doubt himself?
Cracks were starting to show, ever so slightly. Why wouldn't they be though, when you're being forced to consistently (and accurately) return fire while faced with powerful shots like these?
Djokovic was able to grind out the big moments, even without playing particularly well – evidenced by how the first set could've gone in either's favour up until the final tiebreak point, as well as the numbers being broken down in this telling graphic late on:
Novak did put pedal to the metal and despite squandering a few promising half-chances, he levelled the scores again at two sets apiece with a forehand down-the-line winner to make it 6-2.
Incorporating deft drop shots and keeping the Greek constantly guessing what was next, Djokovic made Tsitsipas work for every point – physically and mentally – as he was manoevuring in all sorts of directions, while trying but failing to keep a level head as the lead slipped away.
This ultimately proved, both a forgettable final for Tsitsipas, and another legacy-defining Djokovic win.
While an incredible achievement, this summer is packed with more for the Serb to keep the train rolling so there's not much time to bask in his glory with the grass season already underway.
The prospect of finally clinching Olympic Gold, after retaining his Wimbledon title before the US Open begins, is tantalising. While that feat would seem near impossible for most on tour, Djokovic can foreseeably achieve it. Fitness permitting, just try telling him otherwise.
Picture source: Getty Images — quotes, GIFs captured via Eurosport Player