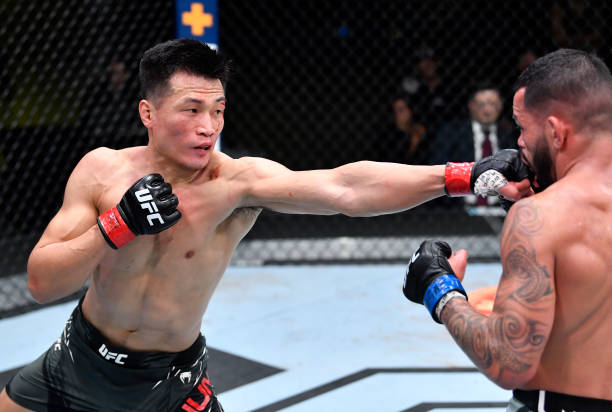 The Korean Zombie rebounded from his humbling defeat by title challenger Brian Ortega, with a shrewd show of ringcraft and timely tactics to stifle Dan Ige's stand-up skills while retaining his #4 spot in the promotion's featherweight rankings. Elsewhere, there were credible wins for welterweight prospect Khaos Williams and bantamweight Marlon Vera (#15) among others.
after closely-fought start, Zombie seizes control vs. Ige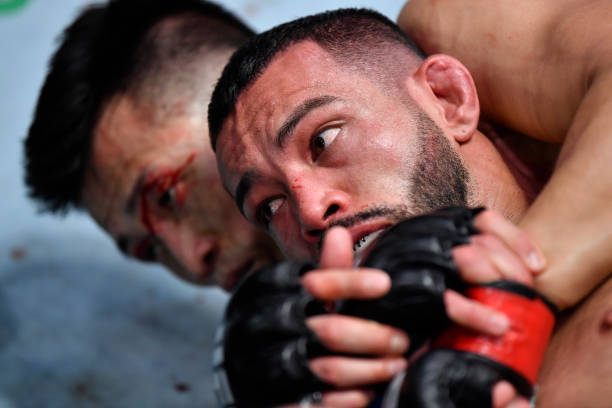 48-47, 49-46, 49-46: The Korean Zombie (#4) beats Dan Ige (#8) via unanimous decision
"I wanted to show all my skills, and a submission [finish]… I feel a bit upset about [not achieving] that, but wanted to show the qualities of a champion."

Zombie, via a translator, during his post-fight interview with Michael Bisping
Bisping may have felt compelled to issue some motivational words his way, insisting that he had no reason to feel upset after a display like that one, but The Korean Zombie importantly returned to winning ways against a rising contender who had nothing to lose and plenty to gain here.
Chan Sung Jung, whose Zombie nickname often feels like a hindrance rather than a benefit, didn't want to engage in a five-round war against someone with Ige's fast hands.
It's why, after being narrowly outstruck in R1 (17-15 Ige), the experienced South Korean didn't need telling he needed to step it up as time wore on. He didn't waste time doing that either, scoring early credit in the judges' minds with a furious flurry to start round two – wobbling Ige.
Having begun the evening with some heavy leg kicks and a timely R1 takedown, some slick ground transitions were on display in round two as he was probing for submission opportunities while subtly controlling the fight's tempo – making Ige duel on his terms where possible.
Combine that with the fact his power had more fizz compared to Ige, as well as an increasing number of calf kicks that were landing, this fight was quickly fading away from the 29-year-old.
Between the first and second rounds, Eric Nicksick – Ige's head coach – warned him to stop trying to kick TKZ's head off, as those telegraphed shots were being countered.
Before long, the early momentum he was riding from a purposeful R1 start found him in bottom position trying to hand-fight his way out of a first stoppage defeat in 19 professional outings.
Zombie logged more than five minutes' ground control time by the midway stage in round three, with Nicksick calling for anti-wrestling strikes and imploring Ige to avoid going back to the mat.
That proved easier said than done, despite the #8 ranked featherweight chaining together some good punch combinations while showing the same furious urgency that was present in the opening round. Even still, Zombie bided his time and waited for a moment to take control again.
Right on cue, Ige went for a high head kick near the fence and was dropped to the ground once more as the 34-year-old veteran continued to halt his flurries with methodical grappling tactics.
He refused to give up, landing more head-then-body combinations in the final round, but Jung continued outgrappling him near the cage and softened him up whenever potential danger reared its head with more ground and pound strikes, before submission attempts returned.
Great ringcraft and grappling skills, the one-time title challenger's shrewd tactics nullified Ige's approach – as well as his underwhelming attempts to take the initiative with takedown attempts of his own (0-of-4 completed). He'll surely learn from this, but is now 0-2 in these pivotal fights.
"I went out there, fought my best, have no excuses. He's an absolute legend, I've watched him since graduating high school, is still one of the world's best.

I want to test myself against the best… truly believe I can still be a champ, just a little few things to work on. My wife and son Bam motivate me to be better."

Ige in reflective mood after going the distance
The Zombie is targeting Max Holloway (#1) next, but it'll be interesting to see when the former champion's proposed clash vs. Yair Rodriguez (#3) is rescheduled after withdrawing with an undisclosed injury last week. Judging by post-fight comments, he's very confident he'd win…
---
Other results, featuring a bantamweight Fight of the Night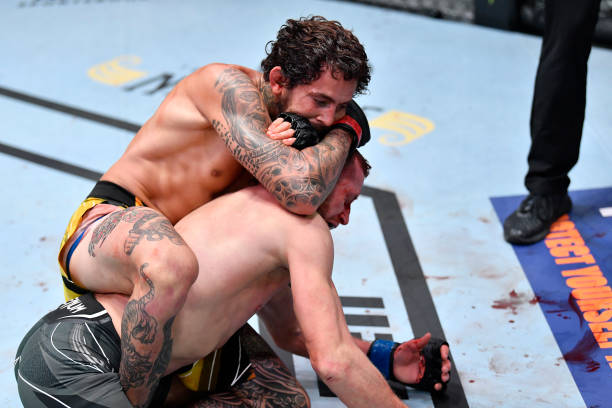 In the heavyweight division, Sergey Spivak overcame a slow start – losing the first round on all three judges' scorecards – to outwork Aleksei Oleinik (#15). He'll find himself in the rankings with a number next to his name next week, after edging past the Ukranian-born Russian veteran here.
During a bantamweight rematch five years in the making, Marlon Vera (#15) ended Davey Grant's three-fight win streak and importantly avenged his one-sided decision loss with a gritty turnaround result to also retain his top-15 ranking after losing to Jose Aldo in mid-December.
29-27, 29-28 and 30-26 were three very different scores, but the Ecuadorian had no doubt about the outcome and it's hard to argue with him after finishing strong on the ground (35-16 strike differential in R3) while applying multiple chokeholds, even if the Englishman refused to quit.
There were three emphatic knockouts to kick off the main card.
First, welterweight veteran Matt Brown produced a KO of the Year contender while also securing a handy Performance of the Night $50k bonus for blasting past Brazil's Dhiego Lima in two rounds – back to winning after contrasting losses vs. Miguel Baeza and Carlos Condit last year.
Then, Brazilian middleweight Bruno Silva had a debut to remember – a R1 finish vs. Wellington Turman, who started well and didn't waste any of his early output (100% success, 12 strikes landed) but suddenly found himself stifled by his compatriot after takedown attempts galore.
Not to be outdone, South Korean featherweight Seung Woo Choi needed just 97 seconds to end Julian Erosa's night in thunderous fashion with a vicious counter left hook that flattened him:
After starting 0-2 in the promotion two years ago, the 28-year-old is now riding a three-fight win streak, which includes an impressive decision win over Morocco's Youssef Zalal back in February.
---
Prelim results, including khaos' return to winning ways
In the light-heavyweight division, Romania's Nick Negumereanu earned a split decision win over Contender Series graduate Aleksa Camur (29-28, 28-29, 29-28). It's his first victory with the promotion, having lost to Russia's Saparbeg Safarov on his debut in March 2019.
As for the women's strawweights, Virna Jandiroba (#13) had a competitive matchup but was just too much for former Invicta strawweight champion Kanako Murata. She applied a tight armbar which dislocated the Japanese' elbow, forcing a doctor stoppage at the end of round two.
---
One to watch – Khaos Williams' return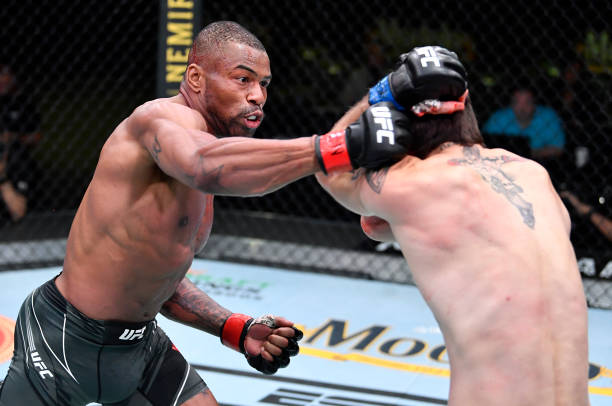 30-27, 29-28, 29-28: Khaos Williams beat Matthew Semelsberger via unanimous decision
In a prelim matchup that I had circled to focus on here, welterweight prospect Williams returned to winning ways past a dangerous but equally frustrating foe in the form of Semelsberger.
It went the full 15 minutes and after his close-but-preventable loss against Michel Pereira last December, the 27-year-old had another acid test, this time with a fellow relative UFC newcomer.
Semelsberger, who had blasted Jason Witt in just 16 seconds on the Edwards-Muhammad prelims in March, rode a five-fight winning streak and many felt this wouldn't go the distance.
Perhaps the fact it did will prove beneficial to both long-term, such was the pacing and unmistakable tension surrounding a matchup which felt unjust to be scheduled so low.
Williams landed 114 total strikes (91 significant) over 15 minutes, but his accuracy (40% of 286 thrown) wasn't as sharp as Semelsberger (47% overall strike success, 68 of 146 thrown) – even though there was a clear discrepancy in the pair's punch output throughout.
Semelsberger was visibly setting up his shots, while Williams regularly pushed the pace by attacking with flurries and keeping him uncomfortable.
That's not to say he didn't get caught at times – he certainly did – but rather than apply some urgency, Semelsberger stayed patient and was made to pay, even if Khaos wasn't faultless.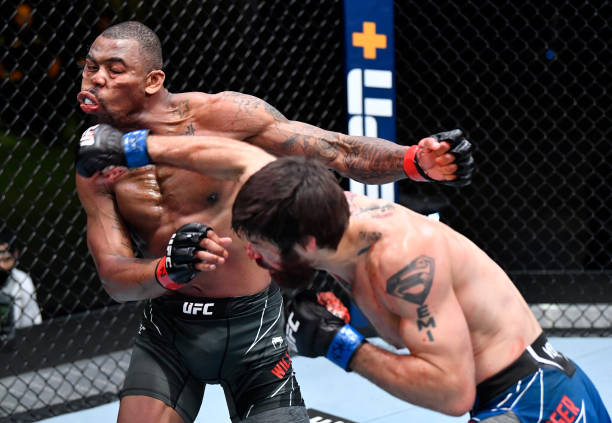 It'll be interesting to see how the UFC book Khaos now, he's still a young up-and-coming player at 170lbs but displays like these prove he's more than just a knockout artist – even if he does need to clean up some of the aforementioned wasted movements against better opposition.
---
Elsewhere, there was another heavyweight split decision result as Contender Series graduate Josh Parisian squeezed past Roque Martinez on the judges' scorecards (28-29, 29-28 x 2) – earning his first UFC win, having dropped a decision defeat to Parker Porter last November.
Rick Glenn needed just 37 seconds to end Joaquim Silva's night in the lightweight division, after Australia's 23-year-old prospect Casey O'Neill recorded her second career submission win (RNC) to end Lara Procopio's night in the women's flyweight division, kicking off this 12-fight card.
Picture source: Getty Images – quotes via ESPN broadcast