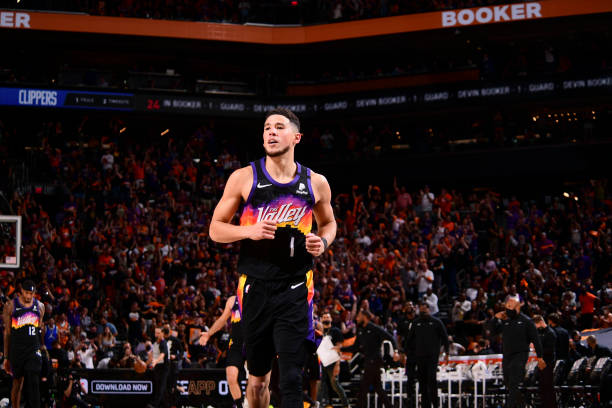 Devin Booker had 40 points, 13 rebounds and 11 assists as the All-Star guard seized the initiative and lead by example in Chris Paul's absence to record his first career triple-double, earning a hard-fought 1-0 series lead over the Los Angeles Clippers – who had big games from Paul George and Reggie Jackson, but eventually ran out of shooting steam down the stretch.
no paul, no problem: Booker heats up as Suns seal Game 1 win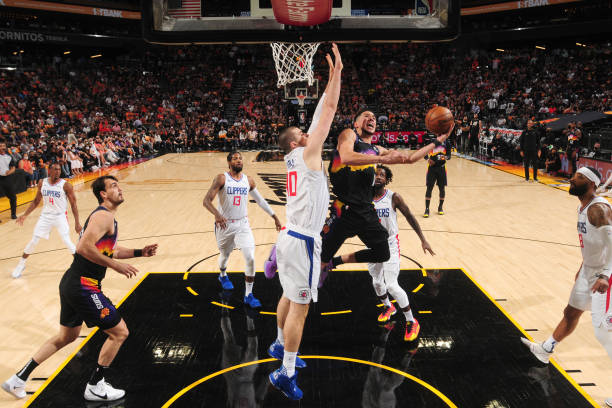 Suns 120-114 Clippers: Booker has first career triple-double
George, Jackson combine for 58 points, 10 rebounds, nine assists
Just over 40 days removed from their double-digit loss at Staples Center against the defending champions, Booker started slowly but shone brightly during a 40-point triple-double as the Suns beat the Lakers' local rivals to take Game 1 of what many are expecting will be another fun series.
Plenty has happened in the six weeks between these two scorelines, including Booker and co ending the injury-plagued Lakers' hopes of repeating last year's championship run in six games.
That was round one of this year's playoffs, before they swept this season's MVP winner Nikola Jokic and the similarly injury-stricken Denver Nuggets in the Western Conference semi-finals.
Here, they entertain a defiant Clippers team who made history with successive comebacks themselves to even get into this position while also appearing a stronger quality team on paper, even without two-time Finals MVP Kawhi Leonard (knee), whose status remains murky at best.
Also read: Kawhi delivers in the clutch vs. Mavs again, as Clippers handed Game 7 lifeline
Paul George starts well as Clippers establish early foothold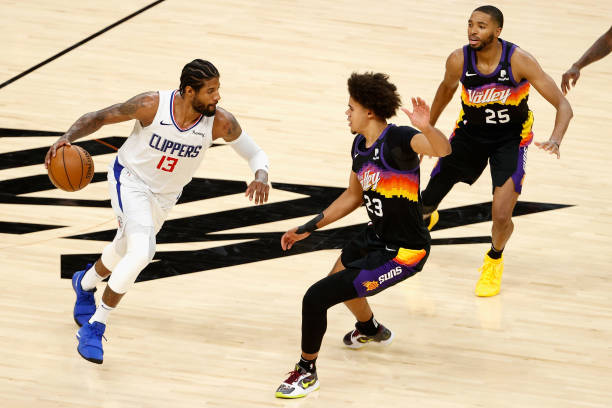 Powered by the aforementioned George and Jackson's three-point shooting, they went on a handful of impressive runs: 7-2 start and a 16-2 surge after half-time before Booker took over.
After being hurt by a number of sloppy turnovers and struggling to stifle DeMarcus Cousins' 11-point barrage off the bench early on, they knew more was needed.
Cameron Johnson proved invaluable in their bench unit, while starting center Deandre Ayton was a constant threat in-and-around the paint as they looked to keep pace with their visitors.
Booker's early struggles were centred around his tendency to go for tougher shooting looks, either through traffic or off-balance at tricky angles.
George made a thunderous block up one end, then Jackson scored a pair of driving layups down the other as a timely reminder that his struggles couldn't last if they were to prevail here.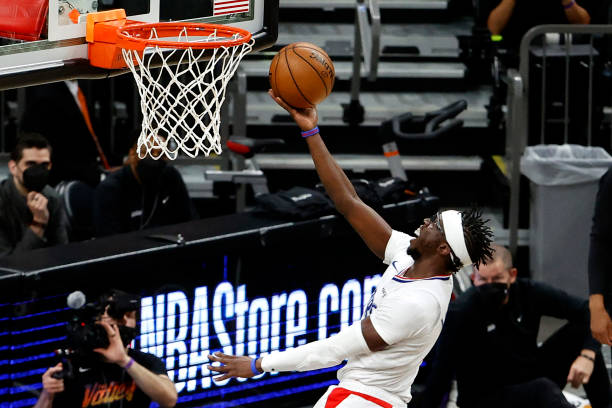 That he managed to sink a pullup jumper with the final shot of an eventful first-half, was perhaps the motivation he needed as they took a three-point lead into the break.
Mikal Bridges and Johnson were doing well as Phoenix's ball movement was key to finding open looks, though perennial All-Star forward George had found his rhythm.
He missed a tough jumper but didn't get down on himself and continued in the same vein – something he doesn't do enough – hitting three straight triples midway through the third quarter.
Jackson added another as the Clippers were suddenly up 79-78, their urgency and aggressiveness could not be questioned. It was merely overwhelmed by a strong Suns finish.
Booker's bullish barrage
Booker got hot and scored seven straight points, exchanging buckets with George who did his utmost to silence an increasingly raucous crowd in Arizona. It wasn't enough.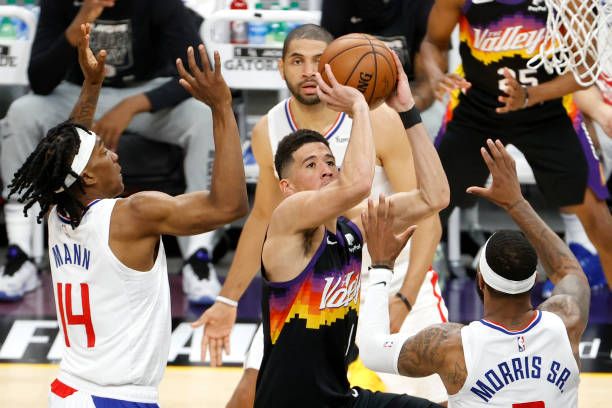 93-93 with 12 minutes to play, Johnson produced a big offensive rebound after Booker missed two threes on the same possession – embarking on a 10-0 run of their own.
Booker fed another crafty assist into Ayton's path, before the evening's action was rather emphasised by a Booker-Bridges transition sequence with 2:35 left in the fourth quarter. Jackson had an audacious pass stolen, the pair exchanged passes before the latter slammed a dunk.
Statistic: Booker is the sixth player in league history to record multiple 40-point games in his first career postseason, and first Suns player since Steve Nash (2005) to record a playoff triple-double.
Offensive rebounds almost proved the Suns' downfall late on as Terance Mann kept this one finely poised in the last minute with a three, before Phoenix took advantage of a defensive breakdown on an inbounds pass – Booker scored a quick layup, then iced the game at the line.
After Marcus Morris' made two-point effort at the 11:14 mark in the fourth, the Clippers missed 15 of their 22 subsequent shots to finish the game. But make no mistake, Phoenix still had to earn it.
"I don't understand why everyone's surprised at this point. This is his first time on this stage but he's capable, more than ready – prepares like no other."
Booker stressed the importance that every next game is the biggest, precisely the attitude he should have.
Chris Paul (COVID-19 protocols) will return at point, but it'll be interesting to see if they can do what both the Mavericks and Jazz couldn't – sustain this level of performance throughout.
Picture source: Getty Images — quotes via ESPN