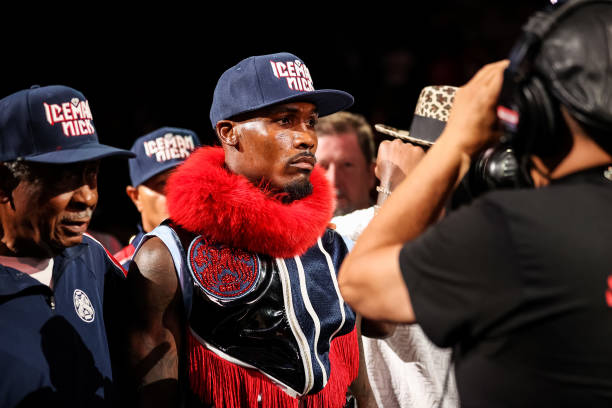 Jermall Charlo (32-0, 22 KOs) made the fourth defence of his WBC middleweight title, earning a unanimous decision win over gutsy challenger Juan Montiel on Saturday night, before calling out Gennady Golovkin and Canelo Álvarez during his post-fight interview ringside. Will he manage to do what many haven't, getting in the ring with either man before it's too late?

Many critics and fans weren't expecting it would go the distance but with the three judges' scores reading 118-109, 119-109 and 120-108, Charlo was commanding in retaining his middleweight title during Showtime's main event from his hometown of Houston, Texas last weekend.
"I saw the crowd behind me, my city was behind me. I put them on my back. Career high in punches thrown? I still have more to come."

Charlo referencing the crowd's energy after his latest title defence
769 punches thrown was a new career-high announced for Charlo, though Montiel embraced the challenge and continued walking through the proverbial fire – despite being outstruck more than twice by the final bell (258-127), with 201 power punches landing.
The Mexican's resiliency and bullish attitude certainly impressed many who overlooked him beforehand, but that Charlo couldn't add an exclamation mark to his display with an impressive finish late will have weakened his case. After all, he's still searching for a Golovkin or Canelo bout.
"It took a real warrior to get in the ring with me, he fought every round as hard as he could, I could tell by his eyes that he's a true warrior. It didn't matter what I hit him with, he wanted more. I love that spirit, he's going to be great."

Charlo praising Montiel's toughness afterwards
Charlo was cut for the first time in his 13-year professional career in round eight, as Montiel connected with a counterpunch which opened up a gash above the champion's right eye.
Despite being outclassed as far as pure ability and athleticism were concerned, the 27-year-old refused to waver in the face of adversity. Ranked #20 in the world at 160lbs by BoxRec, Montiel was knocked out by #1 WBC and WBO contender Jaime Munguia (37-0, 30 KOs) four years ago.
Now, Munguia – who needed just six rounds to beat Poland's Kamil Szeremeta earlier on Saturday – may face either Charlo or WBO titlist Demetrius Andrade next given his current status.
Charlo has been calling out Canelo and Golovkin for the last half-decade, dating back to his time as an IBF junior-middleweight champion in 2015.
Since moving up in weight, those public demands for that fight to happen have been more deliberate and again here, he namechecked the latter in pursuit of an intriguing unification bout.
"160 [middleweight] is my weight division, I want to unify, get Golovkin in the ring… Canelo in the ring… I'm going to stay here, reign at 160, many more [title defences] to go. I'm young, hungry and ready.

Golovkin is about to unify [facing WBA champion Ryota Murata], so maybe we can fight for all those belts he gonna get… I fight the winner. The other one [Canelo] is hiding in the weeds, you know what a lion does when they hunt."

Charlo on what he plans to do next and whether a Golovkin fight is realistic
Picture source: Getty Images — quotes via BoxingScene, Showtime broadcast