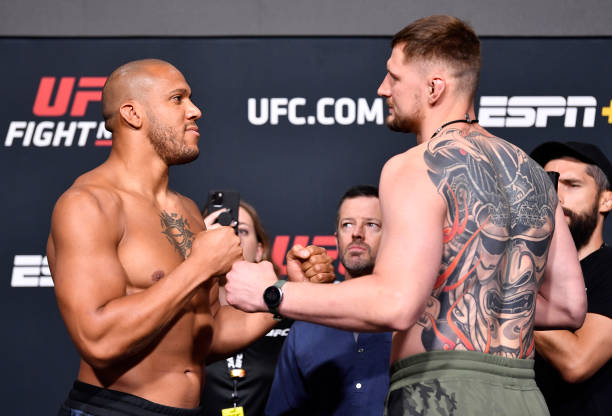 In a division that has been deemed imbalanced for a while, this matchup pits two of the top five heavyweights against one another – something they both expect will help produce the best version of themselves with the lure of a potential title shot dangling for Saturday night's winner.

Gane welcomes tougher challenges as volkov awaits next
Volkov's violent punch combos rendered Alistair Overeem helpless four months ago and after earning successive second-round TKO wins, the Russian eyes an even bigger scalp Saturday.
Gane (8-0 MMA, 5-0 UFC) is both undefeated and a surging contender who hasn't been caught in much trouble despite growing an increasingly impressive resume – including former champion Junior Dos Santos and #6 ranked Jairzinho Rozenstruik less than three months later.
While some fans and media alike were quick to criticise him for failing to go for the kill during his first main event opportunity on February 27, the Frenchman went a full 25 minutes in the Octagon for the first time as a three-year pro and answered important questions in doing so.
"This is a big opportunity, because for me, I think it's the biggest challenge I have of my career. Volkov, for me, is one of the best in the division.

[The] more the challenge is big, the more I'm excited – I'm new to MMA, want to prove because I really don't know myself. I want a challenge and maybe this proves a new version of myself, maybe I'm going to show something new."

Gane during Wednesday's UFC Vegas 30 media day
As I've said since then, you only have to look at Derrick Lewis' stunning win over Curtis Blaydes to see that one heavyweight punch can often change fights without warning.
READ: "He's been in the game a long time," Blaydes' warning to Jon Jones says plenty
Blaydes, who outpointed Volkov twelve months ago, was punished for being a tad too comfortable in Lewis' striking distance and paid the ultimate price. Suddenly, the #4 heavyweight saw his stock – and title talk – derailed. Why would Gane risk doing the same?
He can redeem himself upon his return, scheduled to face Rozenstruik on the UFC 266 card (September 25), but will watch other contenders battling for a spot that was previously his own.
---
Volkov gunning to end Gane's unblemished 8-0 record
Volkov believes this matchup will be an exciting one for viewers, namely given their stand-up abilities. Blaydes was largely successful against Drago because of his wrestle-heavy tactics, something the 32-year-old hopes does not happen this weekend after a few punches land.
"This fight, I think will be one of this year's best because it's two big, really high-level striking fights, and going to be really interesting.

I'm more excited with it because I look at him, a really good striker, and one time I feel like I [will] meet him anyway – it's a good time for both of us.

I want to fight with anybody who uses their striking, I hope he will not go to wrestling after some punches hit him, and we continue this in the standup."

Volkov during Wednesday's media obligations
Francis Ngannou vs. Derrick Lewis 2 may happen in September and while Jones lurks as a possible challenger for the winner, Volkov knows a big win could see him earn the next shot.
He refused to look past this matchup as you'd expect, but it'll be intriguing to see whether his 12 years' fight experience proves the key difference vs. Gane should this fight goes long. After all, Bon Gamin doesn't know how to lose and won't want to start anytime soon either as he soars.
Picture source: Getty Images — quotes via MMAJunkie