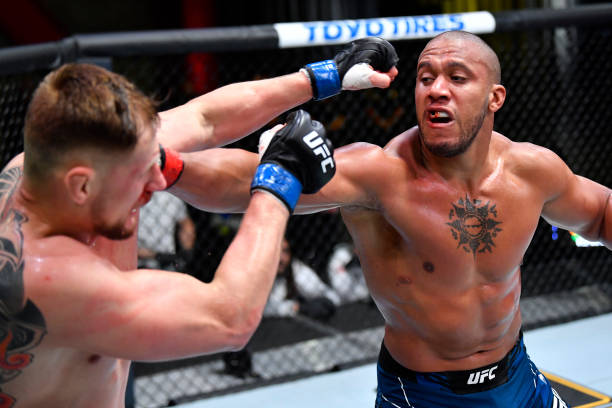 After five tests of increasing difficulty, Ciryl Gane knew the Volkov challenge was a necessary litmus test to see whether he was more than the UFC's rapidly-growing hype machine. During an entertaining striking battle, the Frenchman passed with flying colours and won all five rounds on two of the three judges' scorecards, before eyeing a title shot vs. Francis Ngannou.
evasive, composed Gane embraces Volkov challenge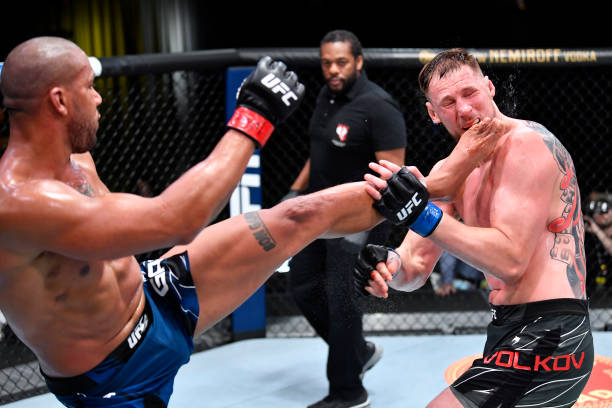 Despite a measured start by both, Gane outstruck Volkov 139-115 over 25 minutes and really took control of their stand-up exchanges in round three (42-23). Whether he'll get what he wants next or not is both unlikely and irrelevant: the promotion has a bonafide heavyweight contender.
His movement was excellent, while also remaining composed riding Volkov's power punches and despite failing to take the Russian down (0-of-4 takedown attempts), the intent was there – mixing up his striking with timely threats to take the fight into deep waters on the ground.
Referee Herb Dean twice paused the fight for accidental eyepokes by Gane, the second time with less than a minute remaining in the fifth. After a lengthy medical assessment, Volkov was given the okay to continue – perhaps the only blemish on another otherwise shrewd display by someone who effectively proved his mettle without much trouble: he's where he belongs.
One-time title challenger Derrick Lewis (#2) is expected to rematch Ngannou for the strap before 2021 ends, though a date remains unclear.
Also read: Crazy or not, Derrick Lewis has opportunity to justify unlikely title ambitions
Stipe Miocic, emphatically flattened by the new champion at the end of March, is entitled to a Ngannou trilogy as he looks to reclaim gold – presumably sometime in 2022.
Jon Jones, widely considered the greatest fighter of all-time, has tweeted plenty but still hasn't made his HW debut, and is unlikely to do so until the new year. Plenty can change before then.
It's a thought-provoking question that needs answering, in the same way Ngannou responded to those doubting whether he'd improved before the intriguing Miocic rematch three months ago.
The beauty of this sport is, the best fight the best, so we'll have a definitive answer before long – HW logjam or not – with Jones and Stipe both in the lurch. We'll just have to wait and see.
---
controversial co-main & fight of the night bantamweight battle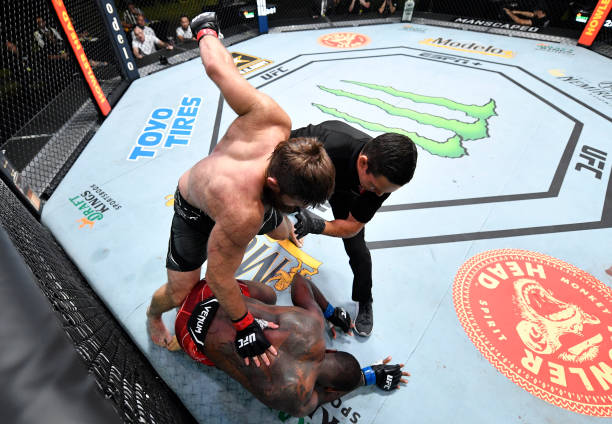 In the night's co-main, Tanner Boser – who lost a split decision to Ilir Latifi just three weeks ago – earned an impressive second-round knockout win over Ovince Saint Preux: a veteran who went up in weight after original opponent Maxim Grishin withdrew from this bout after visa issues.
However, the Canadian's victory was clouded in controversy after referee Jason Herzog appeared to pause the action by touching OSP's back with the pair on the ground in round two as Boser grabbed the fence trying to avoid being put into a submission manoevure.
Seconds later, he got up and recovered sufficiently before starting the fight's finishing sequence – something the 38-year-old former LHW title challenger has since confirmed he'll be contesting.
A memorable bantamweight battle, despite dubious scoring
In what comfortably won Fight of the Night honours, Russia's Timur Valiev earned a gritty majority decision win (28-28, 29-28 x 2) vs. Brazilian bantamweight Raoni Barcelos – unbeaten in five Octagon appearances and had just one career loss heading into this matchup (April 2014).
He almost lost after Barcelos scored two knockdowns in round two and tired himself out trying to finish the fight, but only one of three judges gave Barcelos a 10-8 round for his dominance – Valiev's cardio held up as he edged the other two in terms of output and general activity.
Total strikes: Barcelos – 81 of 144 (56%) // Valiev – 77 of 190 (41%)
Significant: RB – 69 of 131 (53%) // TV – same as above (41%)
Valiev, who lost his professional debut in 2010 and avenged his other loss to Chris Gutierrez under the WSOF banner five years ago, directed anger at matchmaker Sean Shelby's way:
---
Other results, as moicano returns to winning ways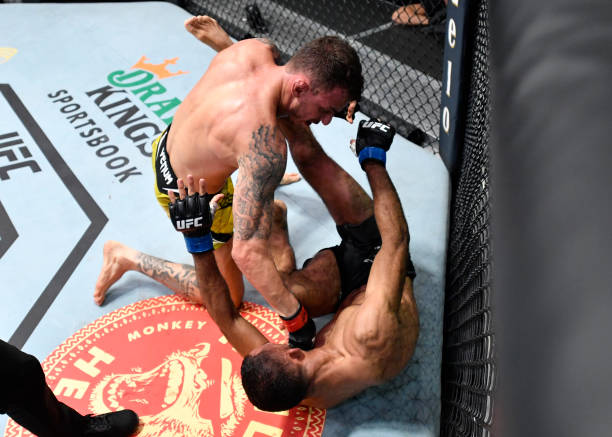 The featherweight matchup between Andre Fili and Daniel Pineda ended in a no contest, after an accidental eye poke rendered Pineda unable to continue early in round two.
In the welterweight division, Tim Means earned a unanimous decision win (29-28 x 3) over Nicolas Dalby – the 36-year-old now has three straight victories for the first time since April 2015.
As for lightweights, Renato Moicano opened the main card with a late second-round submission win (rear-naked choke) vs. Jai Herbert, returning to winning ways in a new weight class after Rafael Fiziev blasted him on the UFC 256 prelims.
Previously, he's fought top-ranked featherweights including Korean Zombie, former champion Jose Aldo, perennial challenger Calvin Kattar and upcoming challenger Brian Ortega.
---
Prelims as Rakhmonov, Prachnio earn impressive victories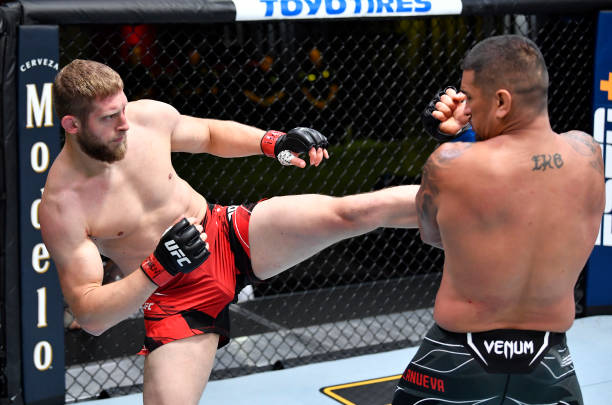 In the light-heavyweight division, Kennedy Nzechukwu earned a comeback victory over Danilo Marques – third-round TKO, to earn a Performance of the Night bonus for his third straight win.
Having done well when rallying from adversity to knock out Carlos Ulberg at UFC 259 in March, the Contender Series signee's stock continues to grow with defiant displays like these.
Kazakhstani welterweight prospect Shavkat Rakhmonov earned a second-round submission win over Michel Prazeres, while improving to 14-0 (2-0 UFC).
Elsewhere at 170lbs, Cage Fury champion Jeremiah Wells enjoyed a memorable UFC debut – sending Warlley Alves to sleep with a right hook before raining down ground and pound strikes.
Marcin Prachnio had lost three straight (2018-2020), but has begun 2021 in style with successive wins in five months. After earning a decision win over Khalil Rountree on the UFC 257 prelims, his vicious body kick proved too much for Ike Villanueva to handle here, earning a $50,000 bonus.
In the women's bantamweight division, Julia Avila returned to winning ways after losing to Sijara Eubanks on the Waterson-Hill card last September, with her first UFC submission win (rear-naked choke), late in the final round against Julija Stoliarenko.
Plenty was said about featherweight Justin Jaynes and his decision to publicly bet on himself ahead of this fight, though the 31-year-old ultimately fell short against Charles Rosa with a split decision defeat (30-27, 28-29, 29-28). He's now lost four straight and his UFC tenure is likely over, despite what was an unforgettable debut display against Frank Camacho this time last year…
Speaking of losing streaks… in the night's opener at lightweight, Damir Hadzovic earned a UD win over Yancy Medeiros (29-28 x 3). A Diaz protege, the latter has also now lost four consecutive fights dating back to a Fight of the Night win over Alex Oliveira in December 2017.
Picture source: Getty Images – quotes via ESPN broadcast