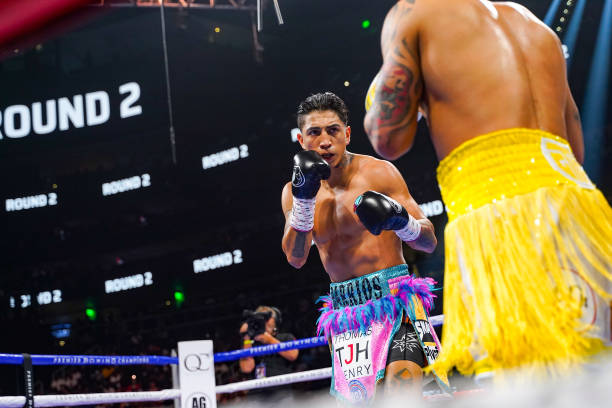 After experiencing the first defeat of his eight-year professional career last weekend in a round 11 KO by new super-lightweight titlist Gervonta Davis, former champion Mario Barrios (26-1, 17 KOs) promised to be back better than ever when he does eventually make his in-ring return.

Barrios didn't win, but his display helped gain new fans aplenty
Although he believed that Davis would be biting off more than he could chew going up two weight classes in their heavily-anticipated battle of two unbeaten champions last Saturday, Barrios emerged with credit aplenty despite losing on Showtime PPV at the State Farm Arena.
He received a hero's welcome upon arrival back home in San Antonio, earning new fans worldwide after an admirable display – where many felt he was winning – before Davis cranked up the pressure in the latter rounds, especially after Floyd Mayweather's ringside comments.
As quoted by BoxingScene, the 26-year-old was effusive in his praise for Tank but also showed pride in his own performance.
"It was an honour to step in the ring with Gervonta, who in my opinion is one of the top pound-for-pound fighters in boxing. Although I didn't come out on top, I left everything in the ring and showed the world my warrior spirit.

I always told myself if I ever lose a fight, I'm going out on my shield and that's what I did. I'm going to take this experience, grow as a fighter and promise I'll be back better than ever."
He managed to survive a dicey round eight where Davis scored two knockdowns in quick succession, tried recovering from more trouble after being dropped three rounds later before the referee finally waved the contest off as the Mexican was in danger.
"The love I've received from the fans has been incredible, my social media has been blowing up and I'm grateful for everyone who has shown support. In boxing, it's a must to give the fans an entertaining fight, and that's what I plan to do every time I [compete]. It was a great fight, fans were the real winners."
Barrios, who earned a TKO win over Ryan Karl on the undercard of Davis' knockout victory against Leo Santa Cruz, wasn't even expected to face his agemate until multiple reputable sources were reporting a deal was close to being agreed for a summer bout in early March.
Virgil Hunter, his trainer, said Mario's showing has created a blueprint to beat Davis in future – while praising the 26-year-old's attitude in a matchup many thought he'd struggle in.
"I'm very proud of him, he held his own for a while and showed toughness, heart, and it's just a growing fight. I think it was the speed, he did well when he had Tank backing up, let him come forward and that confused him a little bit.

You saw for yourself that he was successful doing it, it's a blueprint to follow for somebody on another level so to speak."
It'll be interesting to see who's next for Davis, likely to drop down in weight again for his next matchup given he now has belts and multiple options in three divisions (130, 135 and 140lbs).
Picture source: Getty Images