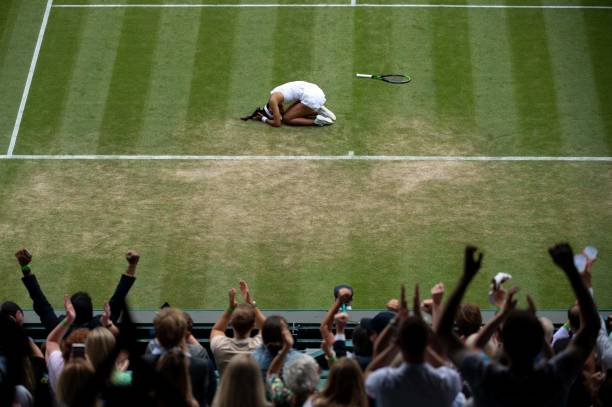 British wildcard Emma Raducanu's memorable week continued as she beat Romania's Sorana Cirstea, while fellow teenager Coco Gauff punched her ticket into week two dropping just six games against Kaja Juvan. Nick Kyrgios (abdominal) retired vs. Felix Auger-Aliassime, before bullish title challenger Roger Federer ended Cam Norrie's hopes in four sets on Super Saturday.
Relentless Raducanu into round four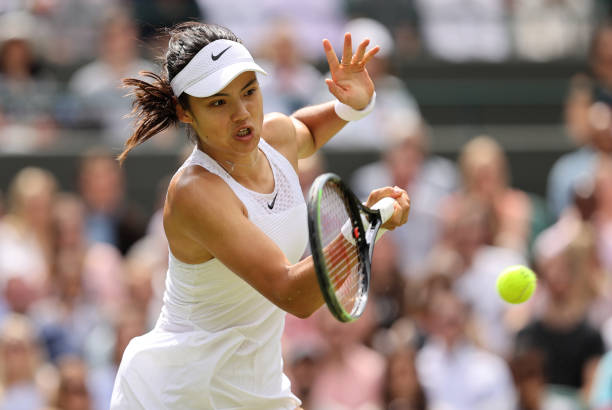 Although speechless during her on-court interview afterwards, 18-year-old Raducanu displayed nerves of steel to claw her way back into proceedings from a 3-1 first set deficit – then took control with a commanding lead – past Victoria Azarenka's conqueror Cirstea on No. 1 Court.
She had considerably more winners (30-18) and one less unforced error (18-17) compared to the Romanian, who did well to save a whopping 11 break points.
But, just as Ons Jabeur displayed yesterday, the fearless teenager kept coming back with more forward pressure and finally seized the intiative during a nervy second-half of the final set.
She joked that her parents questioned whether she had packed too much match kit in preparation for this Slam, naturally not expecting to go on a deep run as a wildcard, but she'll use the tournament's laundry service with Australia's Alja Tomljanovic to come in R4 next week.
Ranked world no. 338 before the Championships began, this latest victory has guaranteed herself a place in the top-200 regardless of Monday's result. Per the live rankings, she currently sits at #175 – a swift rise that can continue with the crowd and momentum firmly behind her.
Ranked world no. 338 before the Championships began, she's guaranteed a place in the top-200 regardless of Monday's result and currently sits at #175 – an unexpected rise that can continue.
Tomljanovic is also currently enjoying the best Grand Slam run of her career to date, having turned professional just before 2010. Involved in a fiery three-set encounter with 2017 French Open champion Jelena Ostapenko earlier today, she came back to eventually win 4-6, 6-4, 6-2.
---
Kyrgios' promising return ends with injury-induced retirement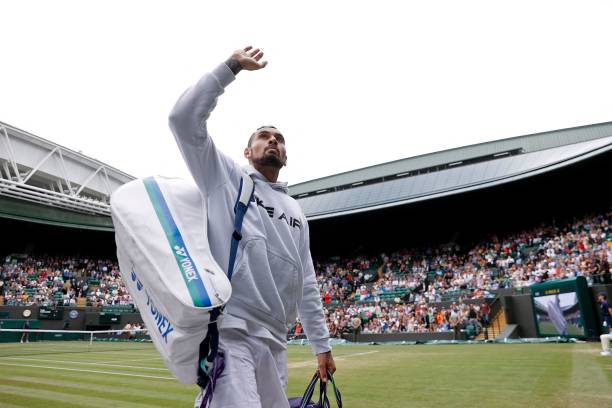 6-2, 1-6, ret: Kyrgios retires, Auger-Aliassime through to second week
Although he won the first set, largely by making less errors than a sluggish starting Auger- Aliassime, the writing was quickly on the wall for Kyrgios here. He kept grimacing and didn't look pumped up, even as the talented Canadian crumbled so he could gladly snatch set one.
As those courtside soon found out, there was an obvious reason why. On came the masked physio, a medical timeout was called, and treatment administered on-court to the charismatic Australian – struggling with an abdominal complaint which only worsened as he continued.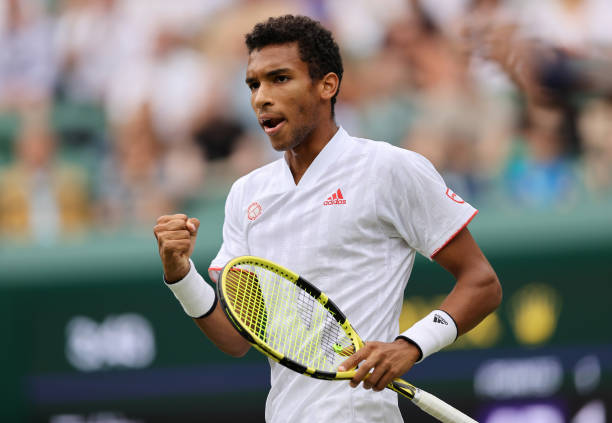 Auger-Aliassime, who recorded 11 unforced errors in set one alone, only made one more during a 22-minute second set that saw this exciting matchup come to an underwhelming end. He knew, as well as those watching, Kyrgios was severely hamstrung by whatever was ailing him.
"It's [the injury] already getting worse. I'll get to the end of the set but I don't wanna completely tear the shit out of it. I can't serve, can't roll my arm over anymore, I'm trying but can't do it."

Kyrgios' comments to his physio, caught by the courtside microphones
The crowd on No. 1 Court tried firing Nick up as he battled through the pain threshold, though his promising tournament was quickly drawing to a close as every point was a physical struggle.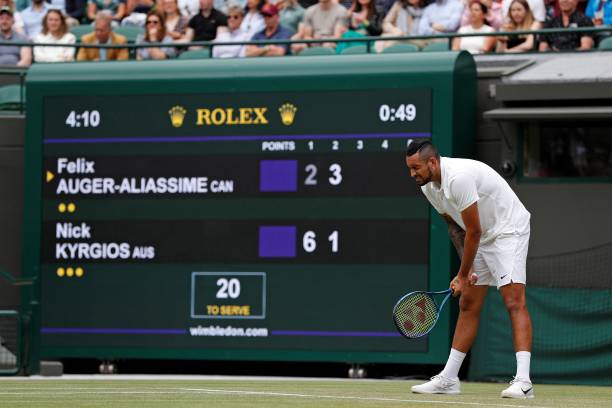 He apologised to the crowd, both during the match and afterwards, though one suspects this sort of injury wasn't helped by his lack of match practice after so much play in quick succession.
He's had a five-month break between tournaments and there was a sense of foreshadowing surrounding his fitness here, as quotes this morning emerged:
"Man, I'm hurting. Physically, I'm actually getting out of bed and struggling. Obviously this sport demands a high amount of preparation and training, it's a physical week and I'm doing the best I can.

Trying to eat well, get some rest, recover as much as I can and stay hydrated – doing all the right things. My body is holding together now. But yeah, I'm definitely in pain and wouldn't be feeling like this the year I made quarters (2014), my body was so used to it. I've got enough, I think, to continue."
---
Post-match comments, what's next for Felix?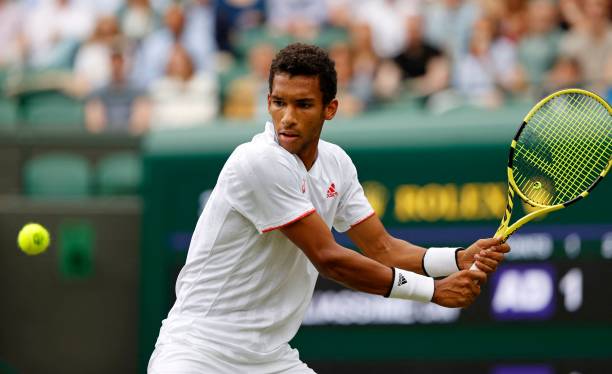 Kyrgios applauded the crowd and had his head in his hands as the realisation sunk in.
"I haven't played this level of tennis for a while and need my main weapon [serve]. Felt my ab [go], definitely did something but that's just the way it goes… playing someone like Felix, you'll see a lot of him in the future but this [atmosphere, crowd love] has given me a second wind, I'll be back."
Felix meanwhile, expressed regret that this intriguing matchup didn't have an opportunity to truly catch fire with Nick's injury.
"First of all, I'm sorry for Nick. It's really unfortunate, we both love playing here and there were big expectations for this match, I hope it's nothing too serious and he's back on the US swing.

One step better than last time, moving in the right direction, this is my favourite tournament, the prestige and crowd, so thanks [to fans] for that. You have to start believing in your chances, keep pushing and that's what I'll do."
This result means it's the first time in the Open era that two Canadian men are into the second week at Wimbledon, as FAA looks to build on an eventful passage thus far. Can he though?
Felix and close friend Denis Shapovalov will face true acid tests vs. US Open finalist Alexander Zverev (#4, who beat Taylor Fritz in four sets today) and Roberto Bautista Agut (#8) on Monday.
---
Other results, as Federer fires ahead and berrettini safely through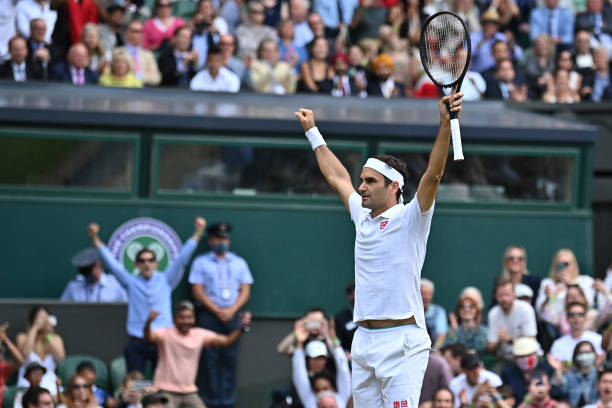 Here are some other results and things to note from another eventful Day 6 at Wimbledon:
Roger Federer didn't need telling that he'd be experiencing a new atmosphere against Britain's Cam Norrie here and had to navigate beyond some nervy moments, but won 6-4, 6-4, 5-7, 6-4 in 2h 36m to reach the fourth round at a Grand Slam for the 69th time in his career.
Italy's Lorenzo Sonego (#23) stands between the Swiss and a quarter-final place on Monday, after the 26-year-old won in straight-sets against Australia's James Duckworth.
Matteo Berrettini (#7) recorded an eyewatering 20 aces en route to winning 6-4, 6-4, 6-4 vs. Slovenia's Aljaz Bedene, punching his ticket into the second week. He'll play Belarus' Ilya Ivashka next, who is currently enjoying his best run at a Grand Slam since turning pro in 2013.
Championship grit was on show for Angelique Kerber (#25) and newly-crowned Roland Garros titlist Barbora Krejcikova (#14), needing to fight adversity but ultimately winning in three sets vs. unseeded duo Aliaksandra Sasnovich and Anastasija Sevastova respectively.
Ashleigh Barty prepared herself for a three-set thriller and didn't play her best tennis… Czech Republic's Katerina Siniakova pushed her close in set two, but it wasn't enough as the world number one ultimately won 6-3, 7-5 in 99 minutes. Up next? The aforementioned Krejcikova.
After another straight-sets win, this time against Kazakhstan's Alexander Bublik, Polish 14th seed Hubert Hurkacz is into the second week for the first time at Wimbledon. His reward?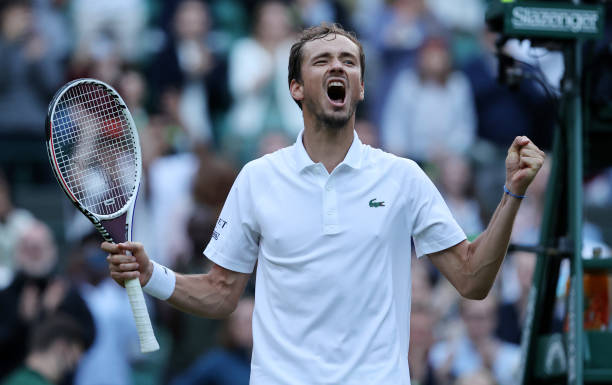 A fourth-round matchup against two-time Grand Slam finalist Daniil Medvedev, who did well to recover from a very precarious situation down two sets… winning a match from that position for the first time in his career against 2017 Wimbledon finalist Marin Cilic – 6-7, 3-6, 6-3, 6-3, 6-2.
"An unbelievable match, I always like watching that sort of comeback [happen] on TV. Finally I can talk about this, because it's my first one…

Marin is an amazing player and he destroyed me in the first two sets, so I'm really happy to come back and win the match."
Picture source: Getty Images