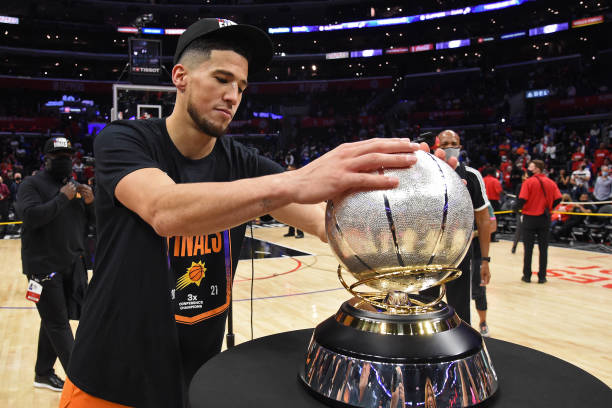 During Monday's NBA Finals media conference, the Phoenix Suns' star shooting guard was bullish when asked about what many believe has been a fortunate run to the league's showpiece event – profiting against three Western Conference teams suffering pivotal injuries.

phoenix in the finals: Just a big slice of luck Or well deserved?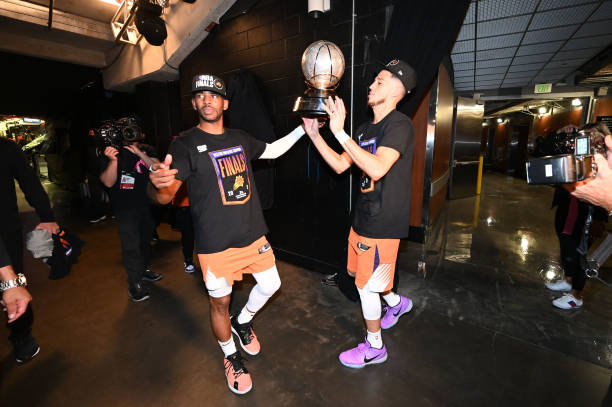 After eliminating the LA Clippers last Thursday in a six-game series packed with twists and turns, the Phoenix Suns are into their first NBA Finals trip since 1993. Milwaukee Bucks await them next.
They surprised many critics by earning the number two seed out West during a shortened 72-game regular season, having missed the playoffs for ten consecutive years prior. That includes last year, despite going unbeaten during seeding games in the Orlando bubble post-lockdown.
Booker rubbished questions over the Suns' run to date, before detailing some of the team's habits and mentality en route to elevated circumstances with bigger stakes than ever before:
"We're not here to justify what we're doing to anybody else," he told reporters. Truthfully, what else is he going to say? They were fortunate to face teams who were less-than-100% fit but didn't exactly rest on their laurels, with COTY Monty Williams leading his players to unexpected heights.
LA Lakers' star duo Anthony Davis (groin) and LeBron James (ankle) clearly weren't right, while the Denver Nuggets had MVP winner Nikola Jokic on the court but the Serbian center couldn't do it alone as their second scoring option Jamal Murray (torn ACL) was sidelined from mid-April.
Paul George silenced some of the critics who've ridiculed his historic playoff displays, though the Clippers were without two-time Finals MVP Kawhi Leonard (knee) as their franchise player – who previously did well to reignite their postseason hopes – missed the entire series.
There won't be much focus on how third-year center Deandre Ayton (16.2 PPG, 11.8 REB) rose to the postseason's various challenges, just like Atlanta PG Trae Young in the East or his own teammate SF Mikal Bridges' dependable play. That 2018 NBA draft class certainly was special.
In year 15 of an illustrious career, future Hall of Fame guard Chris Paul (18.1 PPG, 8.7 AST) has finally earned his first Finals run while Booker's faith in the franchise (27 PPG, 44.4 FG%) paid off.
ALSO READ: NBA Q+A from mid-March which took a look at the surging Phoenix Suns
---
Giannis a big injury doubt before suns-bucks gets underway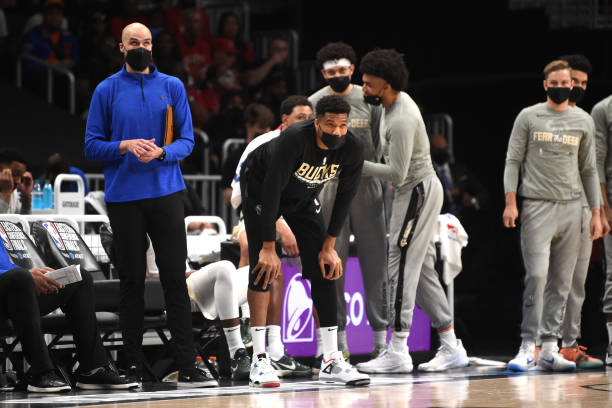 Even the Finals – which start overnight – pose a major question mark for their opponents.
Two-time MVP Giannis Antetokounmpo is trying frantically to recover from a hyperextended knee injury suffered in their Atlanta Hawks series, but missed their last two games and is listed as doubtful on the injury report. Considering the nature of his injury, it's 50-50 whether he'll feature.
Jrue Holiday and Khris Middleton have stepped up in Giannis' absence but while both are All-Star quality players, neither has maintained efficient scoring production in the biggest games.
Injuries are part and parcel of the game, as last year's Miami Heat team will tell you, but for a team already without starting point guard Donte DiVincenzo (ankle) and struggling for true depth, Giannis' continued absence will seriously impact their chances of winning this series.
Booker won't care and neither should he. After five seasons without any playoff basketball and rumblings of discontent, the 24-year-old is four wins away from reaching the league's pinnacle.
"It won't hit me until it's all over. We are on this pursuit of doing what we set out to do … our focus is to win four basketball games."
Picture source: Getty Images