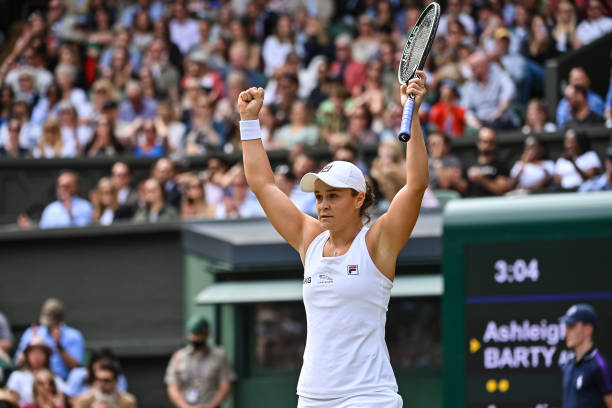 Saturday afternoon will feature two first-time Wimbledon finalists, as world no. 1 Ashleigh Barty and 2016 US Open runner-up Karolina Pliskova (#8) were victorious in their respective semi-final matches earlier today – against former SW19 titlist Angelique Kerber and Aryna Sabalenka (#2).
Barty's historic run continues, launches herself into the final
Barty beats Kerber 6-3, 7-6
Armed with a 5-2 H2H record, which includes three successive victories, Barty enters this weekend's final with the psychological advantage over someone four years older.
She's endured a tougher route to reach this point: including gritty wins vs. Pliskova's compatriots Katerina Siniakova and French Open champion Barbora Krejcikova when not at her best.
They've both dropped just one set this tournament, albeit at completely different stages over the past fortnight – Barty during an emotional first-round matchup against a retiring Carla Suarez Navarro, while Pliskova found herself just two games away from defeat at one stage today.
Kerber's best Grand Slam results have come on grass during her career and given her playstyle, it shouldn't be that surprising she's enjoying a resurgence at Wimbledon this year. Or should I say was, considering the way Barty impressively dismantled her – despite the competitive scoreline.
Her on-court interview said it all really:
"This is incredible, I think this is close to as good a tennis match as I'll ever play. I think Angie definitely brought the best out of me today, a hell of a match right from the first ball.

I knew it was gonna have to be that good just to compete with her, I'm incredibly proud of myself, my team and now we get a chance on Saturday to try to live out a childhood dream."
Having overcome a tentative start, where she had to save two break points in the opening game, the Australian almost surged to a 4-0 start. The roles were reversed in set two, down 3-0, but the world no. 1 won three straight games to avoid dropping that set – from 5-2 down to 5-5.
Bullish Barty
8 aces, 88% 1st serve points won (36/41)
5/6 BPs saved (83%)
38 winners, 16 unforced errors – Kerber 16 WIN, 23 UE
They exchanged service holds and during the tiebreak, Barty raced to a 6-0 lead before eventually sealing the victory on her fourth match point opportunity.
---
Pliskova recovers, seizes her break points to beat Sabalenka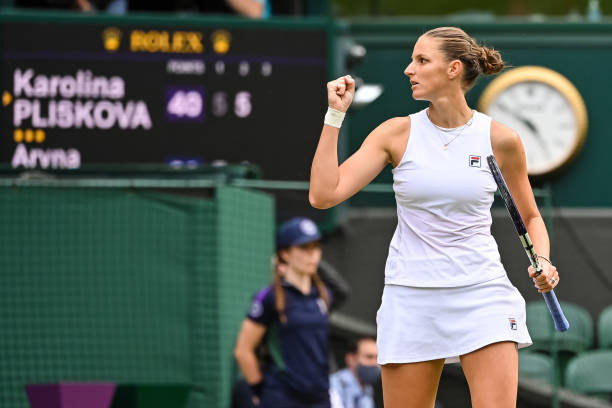 Pliskova (#8) beats Sabalenka (#2) 5-7, 6-4, 6-4
Two Wimbledon semi-finalist debutants were embroiled in a much tighter three-set clash here, with Karolina Pliskova recovering from a set down to prevail against Aryna Sabalenka.
Sabalenka recorded a tournament-high 18 aces and Pliskova praised the Belarusian's ability to pick up the pace whenever she wanted, resulting in a tough, high-intensity battle.
The match statistics largely favoured Sabalenka but ultimately, Pliskova only needed two break point opportunities to find her rhythm and take the lead (2-2 in set two, first game of set three).
As Khachanov and Medvedev can attest over the last few days, this really is a game of fine margins so Sabalenka will be hurt knowing how close she was but needs some perspective too.
After all, she's broken new Grand Slam ground as a semi-finalist debutant – proving that there's more to her game than just impressive WTA tournament victories, instead capable of plenty.
"It's tough to enjoy [the match], because she plays so fast. Sometimes you don't even have time to think about what you want to do. There were some good rallies in the end, she's super powerful [like me], so it was a lot of winners and quick errors too.

Until now I hadn't passed the fourth round [at Wimbledon]. So it's an incredible achievement, it was an amazing match from both of us, close but super happy how I managed to stay in there and find a way to win."
Picture source: Getty Images