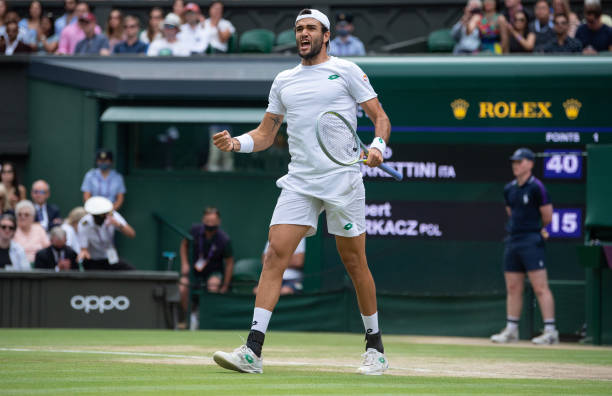 Sunday will be a big day for Italian sport: the football team play England in the EURO 2020 final, after history-maker Matteo Berrettini (#7) contests his first Grand Slam final against defending champion Novak Djokovic. He earned a four-set win over fellow semi-final debutant Hubert Hurkacz (#14), before the Serb's gritty three-set thriller to outlast Denis Shapovalov.

Berrettini blasts past plucky Hurkacz effort
Berrettini (#7) beat Hurkacz (#14) 6-3, 6-0, 6-7, 6-4
Guido Pella, lucky loser Botic van de Zandschulp, Aljas Bedene, Ilya Ivashka, Felix Auger-Aliassime (#16) and now Roger Federer's conqueror Hubert Hurkacz (#14) have all fallen to the bullish Berrettini barrage of power and excellent serving over this fortnight. One more to go.
"I have no words, I need a couple hours to understand what happened here. I played a great match, really happy to be here – never dreamed about this as it was just too much. I wish the two [semi-finalists] the best of luck, we'll see."

Berrettini during his on-court interview
22 aces, an eyewatering 60 winners to Hurkacz's 27 and it's easy to see how this match quickly went in the 25-year-old's favour. The Pole lost ten consecutive games – including a second set bagel – so as he stared down a two-set deficit, found a second wind to keep things competitive.
Despite conceding eight aces in set three, he won 85% of his first serve points (17/20) as the pair exchanged service holds until racing ahead 4-0 in a tiebreak, helped by a timely Berrettini error.
READ: First-time finalists Ashleigh Barty and Karolina Pliskova to collide on Saturday
After a brief break between sets, the Italian was noticeably irritated – feeling aggrieved he didn't win that set – and probably took offence to Hurkacz's subtle attempts at trying to rattle him.
Whether it was taking time to change his socks and trainers during a changeover, or audibly celebrating every Berrettini miss for a period, he was quickly broken in the first game of set four and couldn't recover from that position after failing to convert any break point opportunities.
Despite saving a match point to defend his serve and return the pressure Berrettini's way, there were no more tension for the seventh seed – besides his first and only double-fault of the match – securing his first Grand Slam final, even if father Luca could barely watch from the stands.
He'll play defending champion and world no. 1 Djokovic again just 32 days after their memorable four-set quarter-final matchup at Roland Garros last month, ending Denis Shapovalov's spirited semi-final run 7-6, 7-5, 7-5 in a tense but exciting two hours 44 minutes.
---
Djokovic defies Shapovalov surge in gritty three-set clash
Djokovic (#1) beat Shapovalov (#10) 7-6, 7-5, 7-5
Novak Djokovic's serving struggles returned in stages, but he bided his time brilliantly to repeatedly fend off a spirited Denis Shapovalov effort and reach another Wimbledon Final.
The world no. 1 saved two break points barely ten minutes into the match, but an untimely double fault presented Shapovalov with an advantage to gladly seize.
He did precisely that, helped by a good service hold, and Djokovic's shaky serving continued as the Canadian suddenly found himself serving for a one-set lead.
The last set Novak lost, was greeted with surprise aplenty on Centre Court in round one against British teenage wildcard Jack Draper. Having lost just two points on serve through the opening set, Shapovalov's errors increased as Djokovic raised his level with blood in the water.
5-4 quickly turned into a 6-5 deficit for the 22-year-old, who served well enough to take it into a tiebreak. But again, as we've become accustomed to, Djokovic's level rose during the big points.
Shapovalov, for all his guile and enthusiasm, was his own worst enemy as he lost a 7-3 tiebreak – preventable errors at key moments gifting the world's best player motivation he didn't need.
Djokovic wasn't playing his best tennis or being particularly aggressive by any means, with problematic serving gifting Shapovalov three more break points early in set two.
He saved all of them, winning five straight points – which ultimately proved a recurring theme – extending the length of their rallies and grinding his way through the match's trickier moments.
Shapovalov unhappy and rightly so, 1/8 on break point opportunities through the first two sets.
But playing an extra three-four shots on every point was taking its toll as you could sense his belief was starting to wane ever so slightly, even with the crowd on side and roaring him on.
Djokovic incorporated the serve-and-volley tactic well, kept himself in points he shouldn't have been with ridiculous shot defence and growing in confidence. Shapovalov double-faulted as Novak didn't need a second invitation to break before serving out to seal the second set 7-5.
Both had to recover from staring multiple break points down as set three got off to a tense start, Shapovalov holding serve the hard way (three BPs saved) and importantly keeping his spirits up even though the errors and serving issues were lingering in the background, waiting to pop up.
They certainly did, at 5-5 in the third.
Two double-faults and more unforced errors gave Djokovic two break point opportunities, he took the second and roared into his final service game with intent. After an unsuccessful Shapovalov challenge, three match points were on offer and he took the first.
"The scoreline doesn't say enough about the match… he was serving for the first [set], the better player for most of the second and had many chances. 

I would like to give him a big round of applause for everything he's done, today and these few weeks – his first semi-final and he was emotional, we're gonna see a lot of him in the future.

I'm trying to take out the maximum of my own abilities every single match and see what happens but giving up is never an option. Grand Slams are everything for me, really.

They count the most, I've been very privileged to make history in the sport I love, it [making more history] motivates me but at the same time I have to balance it with winning only the next match, only one exists in a few days…" 

Djokovic on Shapovalov's efforts, looking ahead to Sunday
Barty-Pliskova first tomorrow, before Berrettini-Djokovic to finish the weekend's singles finals.
Picture source: Getty Images