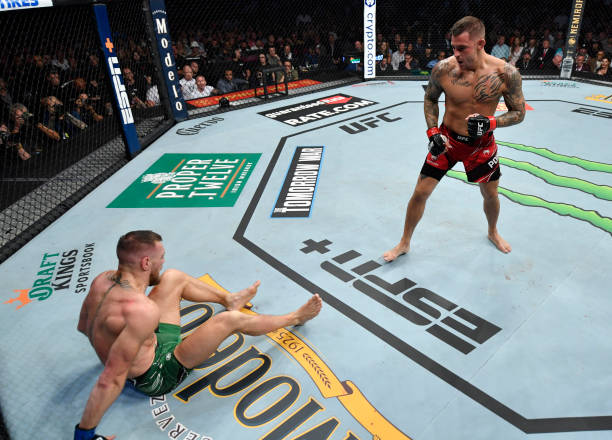 After an electric start, Dustin Poirier landed vicious ground and pound strikes, raining down on Conor McGregor up against the fence as they exchanged various attacks before an anti-climactic finish. The former two-weight world champion landed awkwardly on his left leg and has a suspected fracture, contorting it after they both missed punches in the final seconds of R1.

Poirier wins trilogy, but Dana White insists bad blood isn't over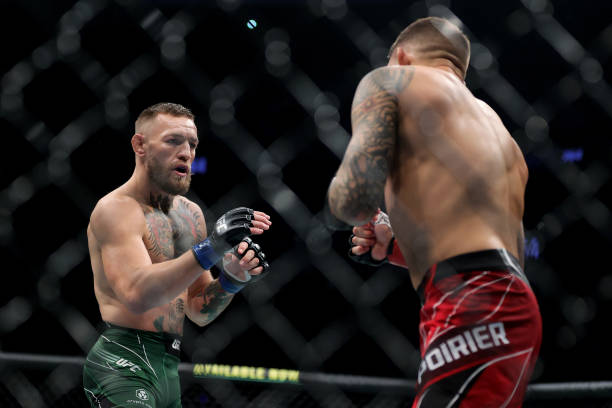 Poirier passes Edson Barboza and Melvin Guillard for most lightweight knockout victories
McGregor to have surgery overnight, suspected broken lower tibia of the left shin
Charles Oliveira's first lightweight title defence vs. Poirier, presumably end of this year
Dana White reveals bad blood remains, hints at fourth fight in future
R1, 5:00 – Dustin Poirier beats Conor McGregor via TKO (doctor stoppage)
On a night where Gilbert Burns produced a workmanlike display to seemingly end Wonderboy's title hopes at welterweight, Conor McGregor's resolve to return atop the lightweight division was given a big blow – a nasty leg injury saw his eagerly anticipated trilogy fight end prematurely.
McGregor loaded up on kicks early, both to the body and legs, while throwing spinning attacks as he tried to outwork Poirier during the opening moments. Instead, that purposeful start only served as motivation for the Diamond to respond with more offensive skills of his own.
That he did, after watching a furious left-hand punch wizzed past his ear.
Both landed kicks, before he landed a big punch forcing McGregor backwards a step, then they engaged in clinch work up against the cage as Conor locked in an audacious guillotine choke.
The awkward position and questionable pressure applied to his squeeze didn't exactly work in his favour though, instead giving Dustin top position with almost three minutes to utilise.
That he certainly did, but not before absorbing slicing elbows and a big defensive upkick as McGregor was aware of the precarious situation he found himself in.
His own elbows, big right-hands, ground and pound strikes flew before a graphic showed his ground control time – almost three minutes – then they stood to trade punches for the final few seconds of round one. That's where the gruesome injury rendered McGregor unable to continue.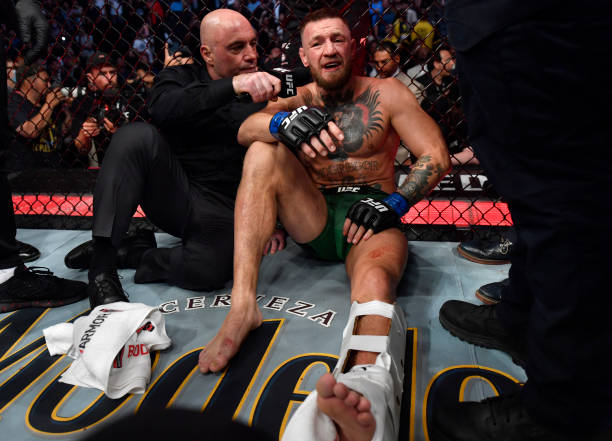 Oliveira had a perfect seat Octagonside and was interviewed by Megan Olivi. The 31-year-old, who beat Michael Chandler to win gold on May 15, also bemoaned the way this fight ended – saying you never know what might've happened – but is ready for "war" against Poirier next.
---
Burns embraces heel role, bursts Wonderboy's title aspirations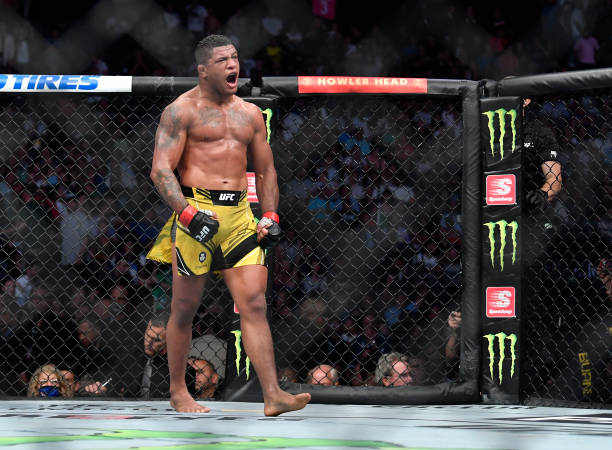 29-28, 29-28, 29-28: Gilbert Burns (#2) beats Stephen Thompson (#4) via UD
Even with the chorus of boos echoing around the arena as he repeatedly took the fight to the ground, Burns relished the challenge of being the first in a while to solve the Wonderboy puzzle.
It was an intelligent gameplan by the one-time title challenger, who revealed post-fight his training camp and partners helped equip him with the confidence to execute a frustrating gameplan, stifling Thompson's karate style mixing up stand-up with patient but timely wrestling.
Burns was efficient with his striking output and needed to be (101 of 126, 80% success), while completing a joint personal-high three takedowns from six attempts as he benefited from applying continuous pressure on Wonderboy against the cage. This picture sums it up well: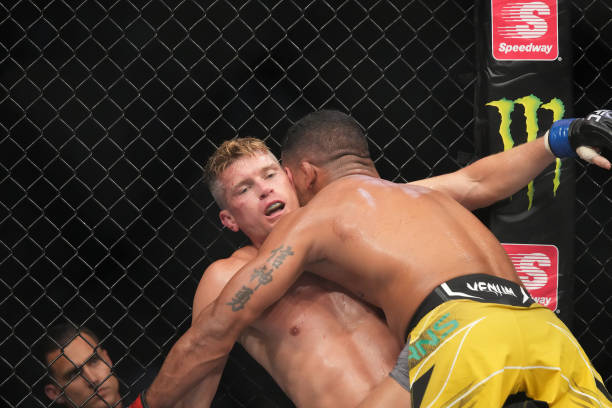 However, the Brazilian didn't always avoid dangerous moments throughout and that was evident early in round three given Wonderboy probably needed a finish to win at that stage:
Alas, those fleeting moments excited the crowd but were also too infrequent for Thompson to edge this one on the scorecards – despite winning round two on all three judges' scorecards.
---
Tuivasa blasts Hardy to continue his first-round frenzy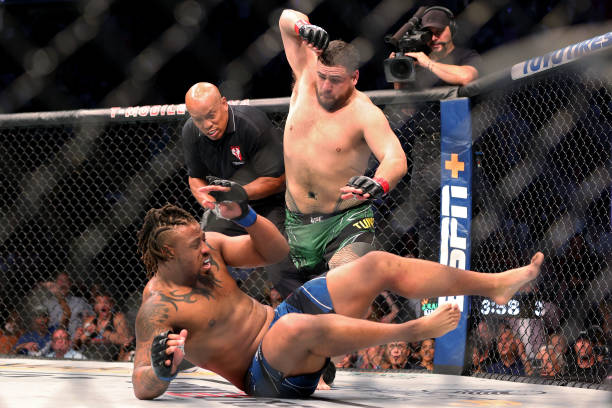 After three straight defeats to ranked heavyweight opposition, Tai Tuivasa has now steamrolled three unranked competitors post-lockdown and wants to test himself against the top-15 again.
Tuivasa's fast starts
UFC 264 – July 10: Greg Hardy, 1:07
UFC Vegas 22 – March 20: Harry Hunsucker, 0:49
UFC 254 – October 24: Stefan Struve, 4:59
Considering how quickly the Las Vegas fans took to him and the way he counterpunched to victory against a determined Greg Hardy, the likeable Aussie will likely get his wish before long.
After quickly destabilising Hardy with heavy leg kicks, the 28-year-old found himself under pressure as Hardy landed a good three-punch combo, pressing Tuivasa back towards the fence.
Next thing he knew though, the former NFL defensive end had to regain his bearings. Referee Mark Smith attended to him in a crumpled heap on the mat: Tuivasa flattened his advances with a looping one-two, connecting on the left hook and landing ground strikes to furiously finish.
Aldana back to winning ways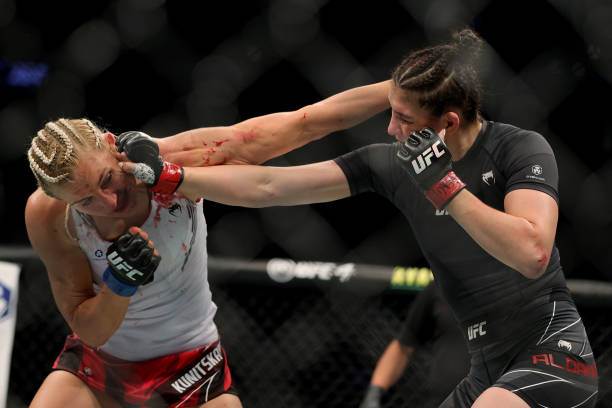 UFC promoter Dana White couldn't mask his disappointment upon hearing Irene Aldana had missed weight (catchweight bout at 139.5lbs), having pledged to give her a post-fight bonus minutes earlier, while the post-fight press conference was given room to feel briefly awkward.
But even still, the #4 ranked bantamweight acquitted herself well and importantly returned to winning ways vs. Yana Kunitskaya (#5) after being outclassed by Holly Holm last October.
Despite the strike differential being minimal (37-30), this fight was anything but.
O'Malley involved in Fight of the Night clash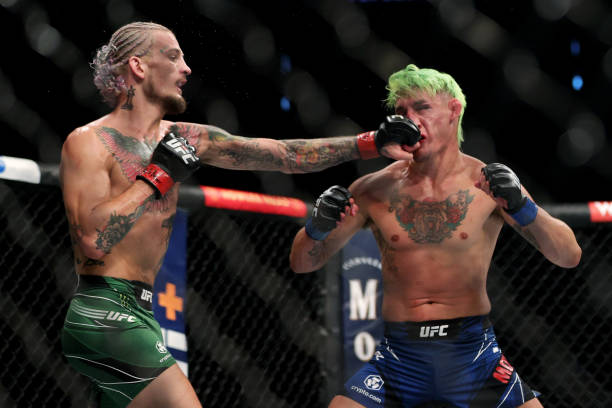 Although initial opponent Louis Smolka pulled out with a staph infection and questions aplenty surrounded a possible replacement, no-one expected what we got to kick off the main card…
Highly-rated bantamweight Sean O'Malley landed an eyewatering 230 strikes alongside scoring a first-round knockdown against promotional newcomer Kris Moutinho, before referee Herb Dean stopped their Fight of the Night opener with less than 30 seconds left in the finale.
O'Malley's dominance, strike totals
R1: 77-24
R2: 70-19
R3: 83-27
While the gamely 28-year-old American (9-5 MMA, 0-1 UFC) was unhappy with the stoppage, Dana said afterwards that it could've easily been stopped a few times before it eventually was.
---
Prelims, early prelim results as topuria, du plessis star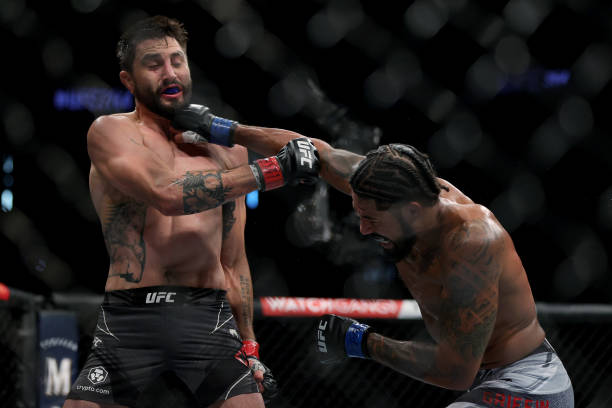 In the welterweight division, Max Griffin earned his third straight win – this time on the scorecards against former interim divisional champion Carlos Condit (29-28 x 2, 30-27). It means the 35-year-old is now enjoying his best streak in the promotion, dating back to November 2014.
Fellow welterweight Michel Pereira similarly earned a gritty decision win (29-28 x 3), inflicting Niko Price's second loss in the last 14 months.
Ilia Topuria's featherweight rise within the UFC has been admirable since beating fellow prospect Youssef Zalal last October on his debut, and it's continued as the bullish Georgian ended Ryan Hall's night late in the first-round – albeit with an unorthodox, abrupt stoppage win.
Topuria (11-0 MMA, 3-0 UFC) was unfazed by Hall's awkward style and profited after an acrobatic 360 kick attempt quickly backfired – raining down punches on the ground before it was stopped.
South African middleweight Dricus du Plessis produced another impressive display and won Performance of the Night honours ($75,000), this time ending Trevin Giles' three-win streak with a second-round knockout from seemingly nowhere – securing successive KOs in the promotion.
The 27-year-old (16-2 MMA, 2-0 UFC) responded well in the face of adversity, covering up to block punch combinations with his back against the fence early in round two. Giles didn't know what was coming next and, in fairness, neither did anyone else in the 20,000-strong T-Mobile Arena.
Using the momentum to good effect, the relative newcomer pushed his back off the cage, pawed at him with a left jab before a perfectly-placed right cross dropped Giles immediately.
He raced to the finish with hammer fists, much to the crowd's pleasure.
In the early prelims, one-time women's flyweight title challenger Jennifer Maia (#4) defended her spot in the top-five rankings against Jessica Eye (#7) during a gritty 15-minute battle where a whopping 550 strikes were thrown between them.
Eye completed two of her three takedown attempts, though Maia outworked her in the first two rounds and was marginally more accurate with her output (38% striking success) by comparison.
Eye, who turns 35 at the end of this month, has now lost three straight via decision for the second time in her eleven-year professional career.
Tavares ties anderson silva for a stat in middleweight history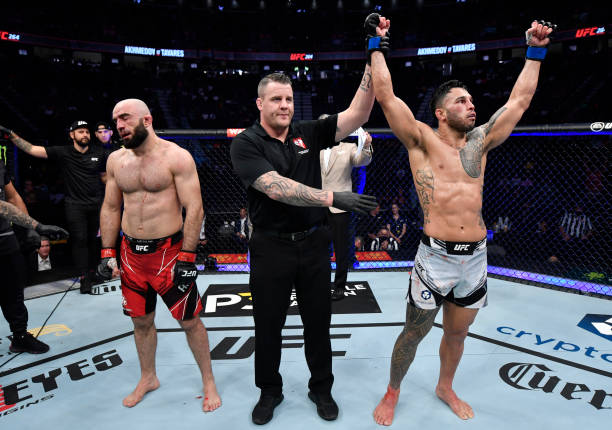 By contrast, Haiwan middleweight Brad Tavares (#15) continued his promising resurgence up the ladder by earning a split decision win over #13 ranked Omari Akhmedov (28-29, 29-28 x 2).
The 29-year-old landed 88 of his 155 total strikes (57% success), more than 25% more accurate than Akhmedov – while fending off seven of the Russian's nine takedown attempts.
With the scores finely poised before the final five minutes, he scored a third-round knockdown and left his most dominant round to the end (20-39 R3 total strikes).
Statistic: This victory means Tavares is now tied-second for middleweight wins, with Anderson Silva (14). Former champion and Hall of Famer Michael Bisping is the outright leader, with 16.
"It's awesome to be tied for something with the GOAT of the division. I'll definitely pass [Bisping], it feels good to be up there with guys who helped build this division. To be right up there with them, I'm very humbled by it."
Kazakhstani flyweight Zhalgas Zhumagulov wasted no time in the night's opener, earning a R1 submission victory (standing guillotine choke) to inflict Jerome Rivera's fourth straight defeat – third this year alone – earning his first UFC win at the third attempt after defeats on Fight Island.
Next UFC event: Makhachev-Moises, featuring Miesha Tate's return on July 17
Picture source: Getty Images