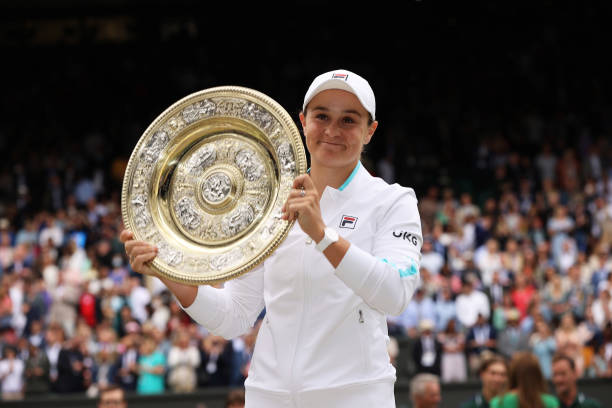 World number one Ashleigh Barty was made to work for it, but eventually outlasted Karolina Pliskova (#8) 6-3, 6-7, 6-3 to secure her second Grand Slam title – making history by being the first Australian since Evonne Goolagong Cawley in 1980 to win the Venus Rosewater Dish too.

despite injury worries, barty is firmly back on top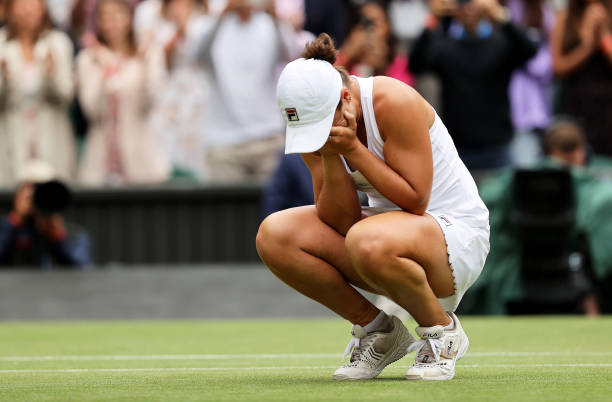 Barty (#1) beats Pliskova (#8) 6-3, 6-7, 6-3
In a deliberately low tone very close to Centre Court where Karolina Pliskova served during her warm-up routine, John McEnroe told Sue Barker he favoured Ash Barty to win in three sets.
His prediction proved true, but this matchup could've easily gone either way between two first-time Wimbledon finalists – a first time such an occasion had happened at SW19 since 1977.
Three-and-a-half weeks before Wimbledon began, Barty retired from her second round matchup against Poland's Magda Linette at the rescheduled Roland Garros with a new hip injury.
Her team purposely didn't disclose the severity of information they received from medical specialists, who believe it should've taken two full months to recover from.
Yet here she was, later describing this all as a miracle, in her first Wimbledon Final after failing to surpass the fourth round in seven previous attempts as a professional.
"It took me a long time to verbalise the fact that I wanted to dare to dream, to win this incredible tournament. Being able to live out my dream right now with everyone here has made it better than I ever could have imagined.

I think them not telling me just proved how much we were against the odds, to be playing pain-free through this event was incredible. It's funny, sometimes the stars align, you can think positively, can plan and chase after your dreams."

Barty on her Wimbledon dream and playing injury-free ahead of schedule
---
Pliskova nervy as Barty enjoys a blistering start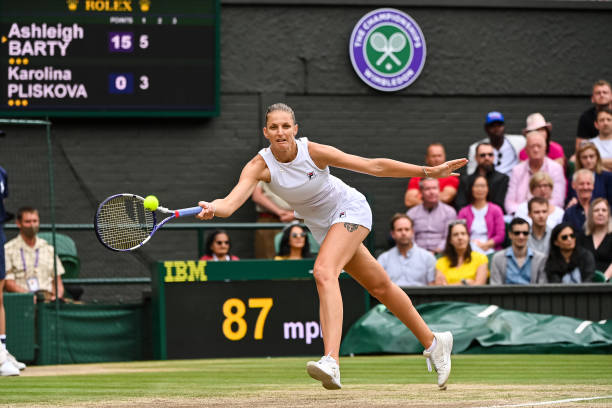 You could be forgiven for thinking different after Barty's fast start, where she won 14 successive points to start the match – breaking Pliskova's serve after just four minutes. The Czech was sluggish to retrieve balls and looked nervous, but how long would this hot streak last?
The crowd firmly got behind her as Barty hit a backhand slice into the net, finally presenting a point on the scoreboard in her favour, before the Australian hit a deeper variation of the same shot which brought another Pliskova unforced error.
Two break points on offer, the world no. 1 gratefully snatched the second after Pliskova's first double-fault of the afternoon. 11 minutes played, 4-0 down.
She couldn't hide the wry smile across her face as Barty's hot streak slowed down, with a handful of errors helping her earn the break back and finally get on the scoreboard – 4-1.
Barty served for the set at 5-1, but Pliskova's movement had noticeably improved and she did well to grab a foothold despite eventually losing that set 6-3. Ultimately, her slow start was too much to recover from in set one, but the 29-year-old refused to lose without a fight.
Pliskova pushes back in second set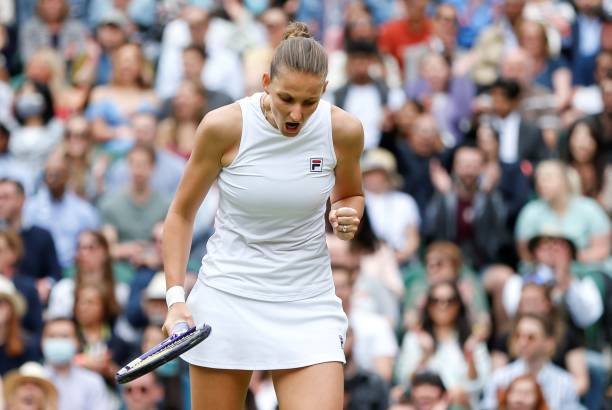 Admittedly though, she had a funny way of showing it. After handing Barty another early break in set two – inconsistent serving and more unforced errors – the eighth seed watched helplessly as her opposite number aced to a 3-1 second set lead. Not for long though.
Responding well to an unsuccessful line call challenge with the scores finely poised at 30-all on serve, a timely ace and more powerful serving saw her avoid going down a double break.
A Barty double-fault and debatable call by one of the line judges gave Pliskova a two-point advantage on the Aussie's serve, before she fired a forehand return ace up the line. From seemingly nowhere, three break points were on offer. Only one was needed.
Pliskova had clearly start to hit her ball-striking stride as Barty defended well, but not enough to stop the incoming surge in its tracks. Suddenly, she was serving to stay in set two at 4-5.
That she did, before serving for the championship at 6-5 after seizing another break point from seemingly nowhere. Overcooking two forehands long saw the balance shift once more to a tiebreak, that Pliskova roared – literally – into a commanding 6-2 advantage.
Although she needed three set points to level the score, importantly it was done.
Finishing on a high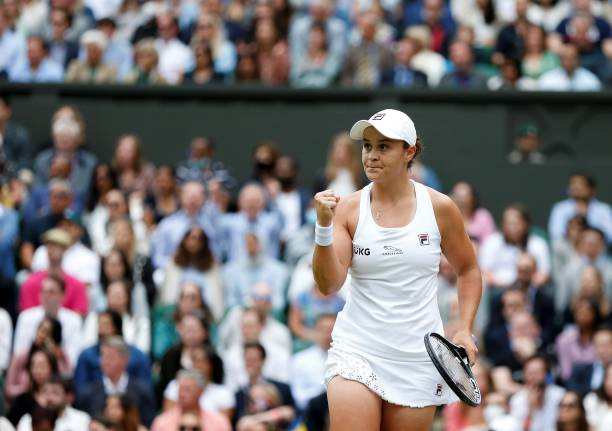 So, a deciding set showdown to settle a finale that had suddenly burst into life half-an-hour earlier? Barty, previously just three points from the championship, won three straight games.
Her overall level and confidence had increased, welcoming longer rallies and happily matching Pliskova with winners from the baseline.
There were some gutsy points, pulsating rallies and venomous volleys by both as the pendulum continued to swing one way then the next, before Barty closed the door when a second opportunity to serve for the title arose at 5-3. It wasn't without difficulty though.
After firing two routine forehands into the net, she forced deuce as brilliant shot defence forced Pliskova to play an error ball – one fired wide. An ace presented match point, before the Czech's 32nd unforced error ended a three-set affair that could've gone either way until the last point.
---
What's next?
Barty has already outlined her intentions for the Tokyo Olympics and US Open swing, so the 25-year-old won't return to her native Australia until afterwards.
On paper, it's surprising this is only her second Slam title considering she's held the world no. 1 status for two years now. However, this fortnight – while not perfect – reinforced the notion she's certainly good enough to avoid surprise defeats before venturing deep into Major tournaments.
Pliskova meanwhile, should take solace in the fact that she overachieved pre-tournament expectations for a 2016 US Open Finalist who hasn't historically excelled at Grand Slams.
This losing feeling will hurt, of course, but she acquitted herself well even after a worrying start that had many expecting a comprehensive beating by the end.
Whether she continues this form in future Slams is the question. Since reaching the Australian Open semis two years ago, she's failed to surpass round four in eight Majors prior to this one.
"I realised now, in the last two years, that even if I don't win a Grand Slam, there are some girls that win one and never win anything anymore – they are not even top 10; they can't hold the level. Honestly, I don't know what's better.

With age, I somehow appreciate the level I've been able to hold more. Maybe that's even more difficult than to just have an amazing two weeks once in life."

Pliskova on her pursuit of success, how that compares with others on tour
This summer's Olympic Games (July 24-August 1) and the US Open (August 30-September 12) present a big opportunity for many to assert themselves, new world no. 7 Pliskova included.
Picture source: Getty Images