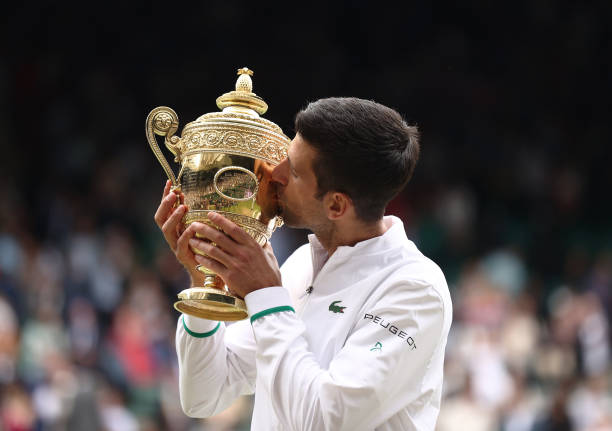 It was dicey at times, but world number one Novak Djokovic levelled Rafael Nadal and Roger Federer for the most Grand Slam men's singles' titles of all-time with 20 – three consecutive Majors – after recovering from a set down to beat first-time finalist Matteo Berrettini in four sets.

Djokovic charges ahead against error-prone Berrettini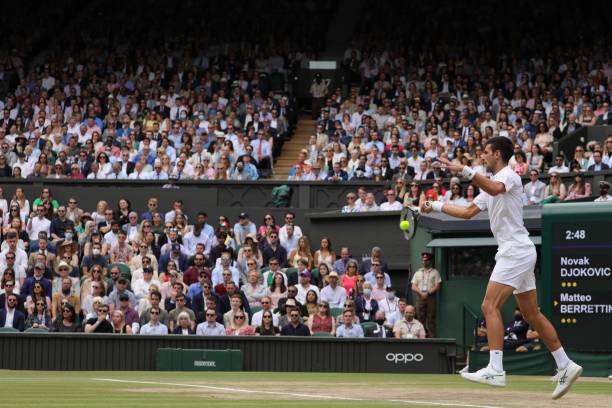 Djokovic (#1) beats Berrettini (#7) 6-7, 6-4, 6-4, 6-3
Djokovic – who defended his 2019 crown – is now the first male player to win Australian Open, French Open and Wimbledon titles in same calendar year since Rod Laver in 1969
The last to win Majors on three different surfaces was Rafael Nadal in 2010
Berrettini was Italy's first Grand Slam finalist since Adriano Panatta at the 1976 French Open
"Winning Wimbledon was always the biggest dream for me as a kid, I have to remind myself how special this is, to enjoy and be aware this is a huge honour and privilege.

From improvising with materials in my room as a seven-year-old to make a mock-up trophy, today standing with my sixth [title] is incredible."

Djokovic after clinching another title on hallowed turf
Considering his serving struggles over this fortnight, it wasn't a surprise to see Djokovic start the Final with two double-faults and hand Berrettini an early break point opportunity.
Just as quickly as it arrived, it was gone – through no true fault of the Italian – though he failed to take advantage of considerably weaker second serves by the world no. 1, who eventually got himself on the board after watching another error fizz into the net from his opposite number.
Much like Denis Shapovalov found on Friday, staying competitive meant Berrettini would earn half-chances to snatch a break point opportunity as Djokovic's serving remained shaky.
He almost had one in the match's third game, but hit a forehand return into the net during a rally he should've finished as he approached the net. Things spiralled rather quickly after that, being broken in the very next game (3-1) while Novak silently pumped his fists towards his players' box.
You could sense the Centre Crowd fearing the worst as he fired a volley into the net in the first point of another service game, this time down 5-2 and trying to extend a set quickly evading him.
34 minutes gone, multiple points (in the same game) later, Djokovic had a set point opportunity.
Berrettini battles back, to his credit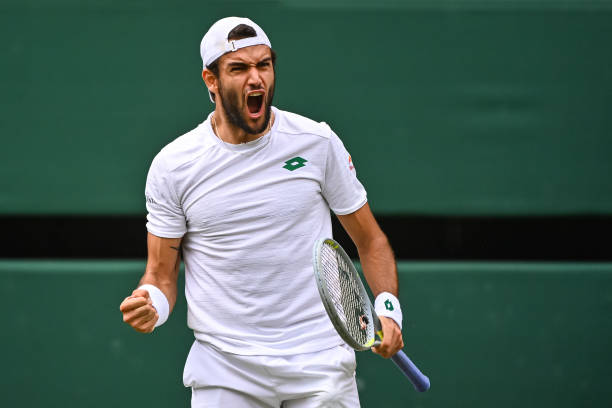 He looked to the heavens in frustration moments after skewing a forehand return wide, and though no-one knew it at the time, that was the closest he got to winning set one.
Eight deuces later, Berrettini finally got the breakthrough he'd been waiting for, but things were going to improve as he had nothing to lose down 5-3.
More preventable errors flew from Berrettini's racquet, before an overturned line call (30-30, rather than 40-15) gave him the licence to chip away at Djokovic as the crowd roared him on.
He got the break back, down 5-4, and before you could blink it was time for a first set tiebreak. So much for his frustrating start, after all.
A comfortable 3-0 Berrettini lead quickly turned to 3-3, before a pair of forehand winners and net approach shot to finish a rally saw him with a set point at 6-4 – then a thunderous ace saw him win the set from 2-5 down. An hour 10 minutes, 35 minutes after Djokovic's chance had passed.
Following a familiar pattern? 
first set: Djokovic had 6 winners, 10 unforced errors — Berrettini 17 winners, 20 UE
next three sets: Djokovic 25 winners, 11 UE — Berrettini 40 winners, 28 UE
Djokovic responds the way a champion should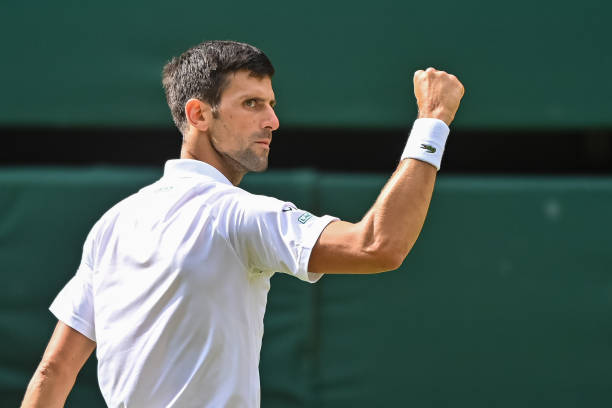 Djokovic was rightly aggrieved after losing a set that was quite literally in his hands, so began the second with even more vigour than the first. A delicate drop shot and net winner helped him establish an early break – from 30-0 down – before he seized a double break and was 4-0 up.
He fired a devillish two-handed backhand winner up the line but Berrettini, buoyed by winning a pulsating rally with a tweener, broke back before saving three set points as Djokovic's error count suddenly increased as the set's end drew closer. Surely it wouldn't happen again?
It didn't. 6-4, second set Djokovic. One set apiece, with Berrettini to serve. He just couldn't afford to go down an early break and play catch-up again, not least against someone on a mission here.
They exchanged service holds to start set three, before successive Berrettini errors into the net saw Djokovic break him. He consolidated that lead at 3-2, before saving two break points as the Italian's power briefly proved too much for him to handle – skewing two forehand returns wide.
The subsequent service holds flew by, before Djokovic raised his level with some frankly ridiculous shot-making to take a definitive 2-1 set lead.
Berrettini was making more errors, but Novak drew them out of him as the rallies got tighter and pressure increased for both, considering how closely-contested this match had now become.
Unhappy with the unpredictable bounces going against his favour, not to mention a crowd seemingly energised as Berrettini rise to the occasion and didn't shy away with multiple winners of his own, you could argue the Serbian felt disrespected. Not for long, with shots like these:
Up 4-3 as the Italian fluffed his lines with a double-fault on break point, Djokovic could sprint to the finish and did it his way: whipping difficult forehands into the corners, more excellent court coverage with his returns on big Berrettini serves and needing three championship points…
But the sense of relief and achievement when he finally clinched it spoke volumes. Might as well savour the moment with limited time to soak it in, with the Tokyo Olympics starting on July 24:
What's next? 
Djokovic paid tribute to fellow 20-time Slam champions Rafa and Roger afterwards, two legends that are why he is where he finds himself today. Those were his words post-match, not mine.
"They helped me realise what I need to do to improve, mentally, physically and tactically. When I broke into the top-10, I lost all the big matches to these guys over three/four years. Something shifted at the end of 2010, start of 2011 … the last ten years has been an incredible journey that isn't stopping here."
Less than a month ago, I wrote how this summer was packed with more opportunities on various surfaces for the in-form Serb to keep the train rolling. It's not over yet either.
That goal remains the same, as Tokyo and Flushing Meadows loom large for the world no. 1. Clinching the latter completes the calendar Grand Slam, while he's still eyeing Olympic gold.
"I could definitely envision that happening, hoping I'm going to give it a shot, in great form, obviously playing well and my best tennis at Slams. It's the highest priority at this stage of my career, so let's keep it going."

Djokovic on continuing his quest for the calendar Slam at this year's US Open
Berrettini will hope this weekend was the first of many Grand Slam finals, because at 25, he's at a phase of his career where his pedigree is justified but more consistency is needed at Majors.
This year alone, he's had two deep runs – both ended by Djokovic – while an abdominal injury saw his Australian Open campaign derailed before an intriguing clash against Stefanos Tsitsipas.
He's at a career-high world no. 8 and there's no reason why the Italian shouldn't back himself against those above him, besides the world no. 1 right now.
His reticence to serve-and-volley stuck out throughout this past fortnight, while it'd be nice to see a mix of shot selection rather than rely on the powerful winners and special serving displays.
These subtle adjustments got Djokovic to the ever-improving level he's enjoying today – a complete player on all surfaces not yet satisfied as he rapidly continues adding to his accolades.
Picture source: Getty Images